Last Updated on December 24, 2015 by Kristi Linauer
Well, my plan totally backfired.  For a year now, I've dreamed of having a painted piano (teal, perhaps) in my music room.  And until yesterday afternoon, that was the plan.  But now, those plans have changed.  Let me explain…
I have a piano in storage somewhere in east Texas.  It's the piano that my mom learned to play on when she was a little girl, and then I learned to play on it when I was a young girl.  When Matt and I moved into our tiny condo, I didn't have room for it, so my sister took it.  And then when they moved, it went into storage somewhere in east Texas.  My plan all this time has been to move it back here to Waco and put it in my music room.  The problem?  Moving a piano is no easy task.  And moving it 160-ish miles is even more difficult and expensive.
Other than being sentimental, that piano is not valuable in any way.  It's a spinet, and if you know anything about pianos, you know that spinets aren't necessarily sought after, and many (most?) piano aficionados turn their nose up at spinets.  But I still had planned to use it in my music room.  But I also wanted to paint it, and my mom kind of had an issue with that.
So I've been keeping an eye out for an old, free upright piano on Craigslist — one that had no sentimental value to me (or anyone in my family), and one that I could paint without ruffling any feathers.  So the other day, my sister texted me and said that a free upright had just been posted.
I took a look at the listing, and it was just what I had wanted.  It was obviously old.  It was an actual upright piano (not a spinet).  And it was pretty and looked to be in good condition.  I contacted the owner and asked if all of the keys were in working conditions, and he assured me that they were.  It was in the house that he and his wife had purchased, but they didn't want it, didn't have room for it, and just needed it gone.  So he (and several other men) hauled it out to his back patio and put some plastic over it.  And now he was giving it away for free because he just needed it gone.  (His wife had told him if he couldn't find someone to take it, it would be chopped up and thrown away.)  I told him I definitely wanted it and would make arrangements for moving it ASAP.
After thinking through the logistics of moving an 800-pound piano (borrowing a truck with a hitch, renting a trailer, gathering several strong men, borrowing furniture dollies, finding someone who actually knows how to strap an 800-pound piano to a trailer securely enough to make the trip without damaging the piano, etc.), I decided to hire someone to do it for me.  And rather than call general movers, I called a local piano company that sells, tunes, restores, and moves pianos.  They quoted me a price of $185 to move and tune the piano.  Sold!
Of course, the man I spoke with then went on to tell me that most of these old uprights aren't really worth saving (and spending the money to move). Then he asked me where it was, and I said that it's currently sitting on someone's back patio.  At that point, he all but guaranteed that it was probably a piece of junk, and that I shouldn't get my hopes up.  I wanted to say, "That's okay.  I've been told that all of the keys work, and as long as it's pretty and I can paint it, I'll be satisfied," but I didn't.  People get weird about painting pianos, and I didn't want the conversation to drag on.  I just wanted to schedule the move.  He assured me that they come across old, free pianos all the time, and that he could certainly find a piano for me.  But I wanted this one.  Plus, if it wasn't worth anything, I shouldn't feel the least bit guilty painting it, right?  That seemed like a bonus to me!
So I scheduled them to move the piano yesterday afternoon.  They arrived and introduced themselves.  Burt sells pianos — old, new, and restored.  Robert is an actual piano technician.  He not only tunes pianos, but he completely rebuilds and restores old pianos.  So these guys know pianos.
We walked around to the back patio, and as soon as the Robert saw the piano, he said, "Oh wow, this is a Goggan!"  I had no idea what that meant, but I could tell he was impressed, and I got excited.  As they both started looking over the piano, they both remarked at how great the condition of the piano was, and how impressed they were with it.  In fact, they said several times that most old uprights they come across aren't worth saving, but this is a piano that's definitely worth saving.
I didn't really understand, though.  Was the piano valuable?  I wanted clarification, so I asked, "Are you telling me that this is a valuable piano?"
Robert responded, "It's not valuable.  It's special.  It's very special."
Still a bit unclear, I asked, "Okay, so do you mean that it's not necessarily monetarily valuable, but it's historically valuable?"
He said, "Yes, exactly."
And again, for a split second I got really excited, but that split second of excitement was followed by a thought of, "Well, crap.  It's valuable.  I probably can't paint the dang thing now!"
They went on to tell me that Thomas Goggan was one of the only (or maybe the only) Texas piano manufacturers back in the 1800's.  He started his company in 1866, and only ever put his name on about 500 pianos.  Today, there are only a handful of these upright pianos left (and Robert happens to own one of them), and mine looks to be about 100 years old.  Thomas Goggan was very particular about the pianos that were sold under his name.  Quality was important to him, and Robert said that these pianos are every bit as good (or can be once once tuned and serviced) as Steinway uprights of the same age.
And then as they were about to load the piano into their trailer, Robert pointed to the side of the piano and said to me, "Look right there.  You've got burled walnut under that old finish."
What?!  Burled walnut?!  I have no idea how he could tell that since the current finish is so thick, old, rough, and cloudy.  But that's what he said!
I got very excited again.  What's 100 times better than a painted piano?  A refinished 100-year-old burled walnut piano, of course!
Oh my…I've got quite a job ahead of me.  Because right now, the current finish isn't very pretty at all.  It's so rough that it feels like sandpaper, and it's so dark and cloudy that it's almost impossible to tell that there's actual wood under all of those layers of lacquer.
But it has such potential.  Just look at the detail on it!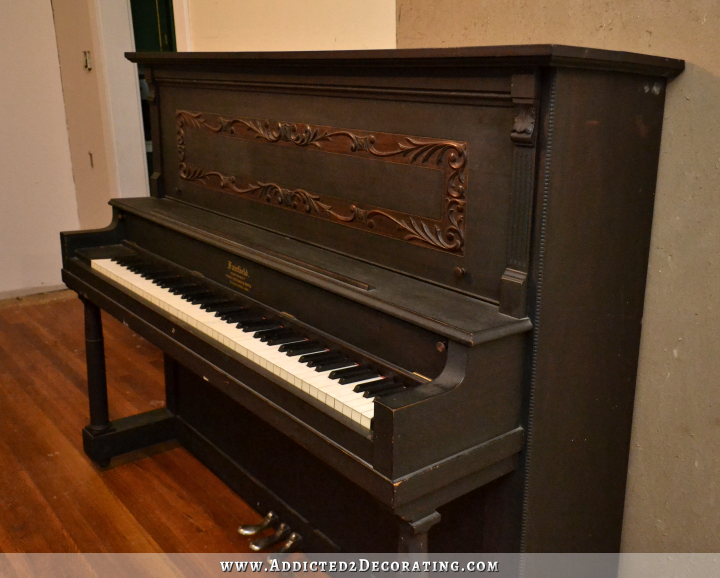 Oh, how I love pianos!  To me, they are the most beautiful of instruments — both in sound and in appearance.
And for the low price of the movers, I now have my hands on a valuable piece of history.  And a piece of Texas history, at that!
And I'm not the only one who loves it.  🙂
I'm excited about refinishing this piano and bringing the finish back to it's original glory.  Robert showed me a picture of a similar piano that he recently refinished, and it was so incredibly beautiful!  He said that mine could be at least that beautiful, if not more so, so I really have high hopes.
But I'm even more excited about filling my music room with actual music now.  I haven't played a piano in about eight years, so I'm sure I'll be rusty.  But hopefully it'll all come back to me once I sit down and start plucking away at the keys.  I'm excited to have a piano in my life and in my home again.  And I would have been happy with any piano that had all working keys, so the fact that I got my hands on such a high quality, beautiful piano with such a wonderful history is just the icing on the cake for me.
Addicted 2 Decorating is where I share my DIY and decorating journey as I remodel and decorate the 1948 fixer upper that my husband, Matt, and I bought in 2013. Matt has M.S. and is unable to do physical work, so I do the majority of the work on the house by myself. You can learn more about me here.
I hope you'll join me on my DIY and decorating journey! If you want to follow my projects and progress, you can subscribe below and have each new post delivered to your email inbox. That way you'll never miss a thing!