Pantry Storage Progress — What's Done And What Still Needs To Be Done
I've been working steadily (although at a somewhat slower pace) on my pantry, but I still don't have the final "taaaa daaaaa" to show you just yet. But I also didn't want to go an entire week without giving y'all an update, and since tomorrow is Thanksgiving here in the States, and Matt wants me to take off on Friday as well, that pretty much left today.
While I've been working diligently, it doesn't really show a whole heck of a lot. Again, I'm at that last 10% that seems to take just as long as the first 90%. I feel both completely sick of looking at and working in this room every day, and also excited to press on and see it completely finished.
I shared last week in this post about how I decided to do the blind corner storage in the two lower corners, but I still had to figure out how to finish the drawer fronts. I got one of them finished, and I'm quite pleased with how it turned out…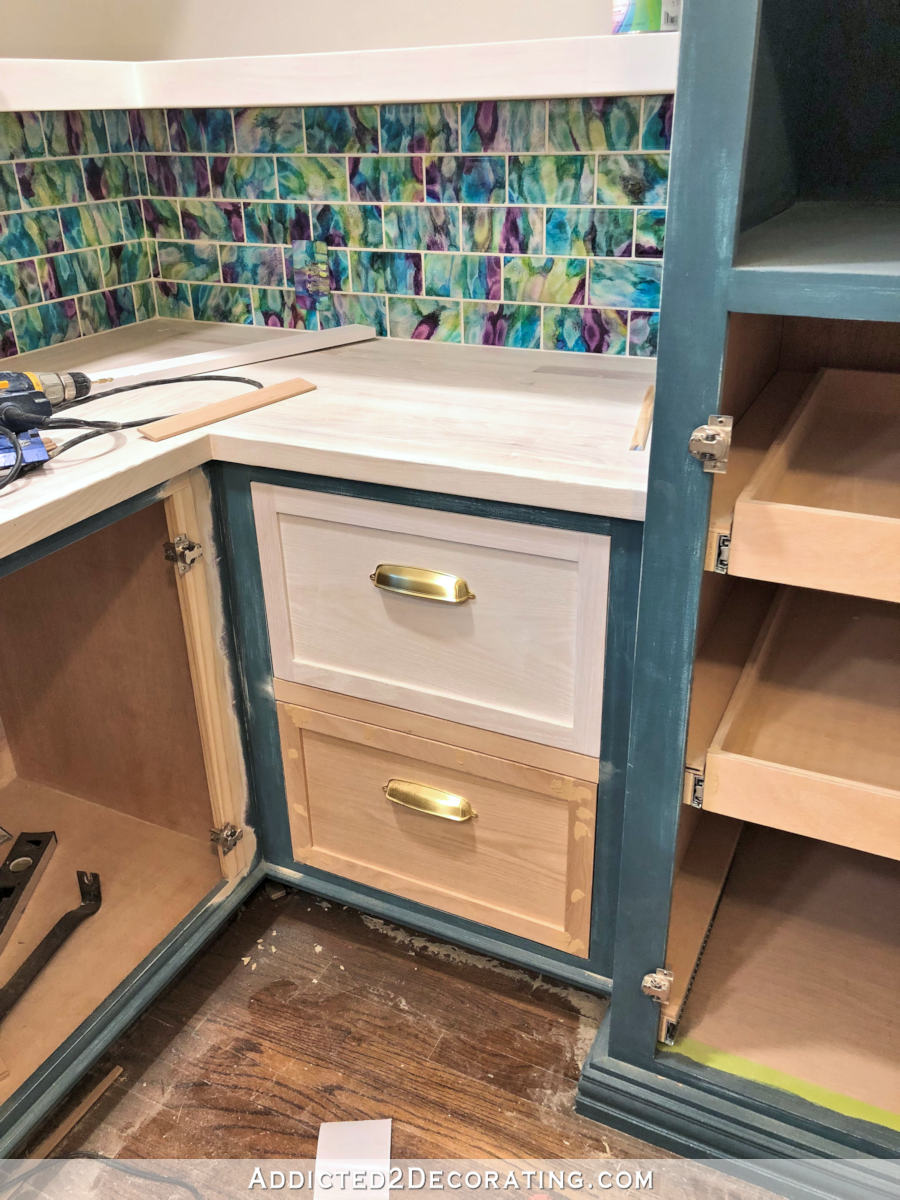 I used red oak for the drawer fronts, and eventually they'll all be treated the same way I did the red oak hardwood flooring that I used to make the countertop — bleached and then whitewashed. (You can read more details about that here.) So far I have the one drawer front completely finished, and it is an almost perfect match to the countertop.
I still have three drawer fronts to finish, but I did at least get the other side completely built with the blind corner pull-out shelves and the two main drawers, so that feels like a big accomplishment to me.
I also decided to make a small adjustment to the two side cabinets along the back wall. But that one small adjustment led to a whole lot of work. I wasn't really pleased with how close the cabinet door was to the side drawers when the door was open. It was one of those things that I could have lived with, but it would have always felt like a miscalculation that I was just dealing with. And after putting all of this work into this room, I didn't really want to have anything that I had to "deal with" on a daily basis. I just wanted it to be right. So I removed the door hinges, added a 1″ x 2″ piece of lumber to move the door over 1.5 inches, and then reattached the door hinges.
I repeated that on the cabinet on the left side of the center drawers as well. But that one small change meant that my original doors would no longer fit, so I had to remake four cabinet doors. It was a frustrating setback, but I'd rather be frustrated once and get it done right than get frustrated every single time I went to open those cabinet doors in the future.
And speaking of those side cabinets, I'm still undecided on how I want to arrange those. More pull-out shelves? Non-pull-out, adjustable-height shelves? I also saw a video of different kitchen/pantry storage ideas that showed a pull-out storage drawer with separate slots in the top for storing things like cookie sheets, casserole dishes, pizza pans, etc., so that's another idea. And I also need to decide how to arrange the cabinets on either side of the pantry — the one above the freezer and the one on the opposite side above the microwave shelf.
I actually might hold off on those for a while. There's really no need for me to make these decisions right away. I've lived without this pantry for this long, so it's not like I'm in desperate need for all of this storage ASAP. I could take my time, get things arranged in the storage areas that are finished, and then decide later what other types of storage I need or want. For now, they'll have doors on them so I won't have to look at empty shelves, and it'll take the pressure off of me to decide right now how to arrange those cabinets.
So that's the progress! It doesn't seem like much over the last week, and yet, I've been working diligently. Where the heck does the time go?
---
---
Update:
My pantry is finished! Want to see the entire project from start to finish? You can find every single post about the pantry build right here…
Or you can skip to the end and see how it turned out. Here's a peek of the finished pantry…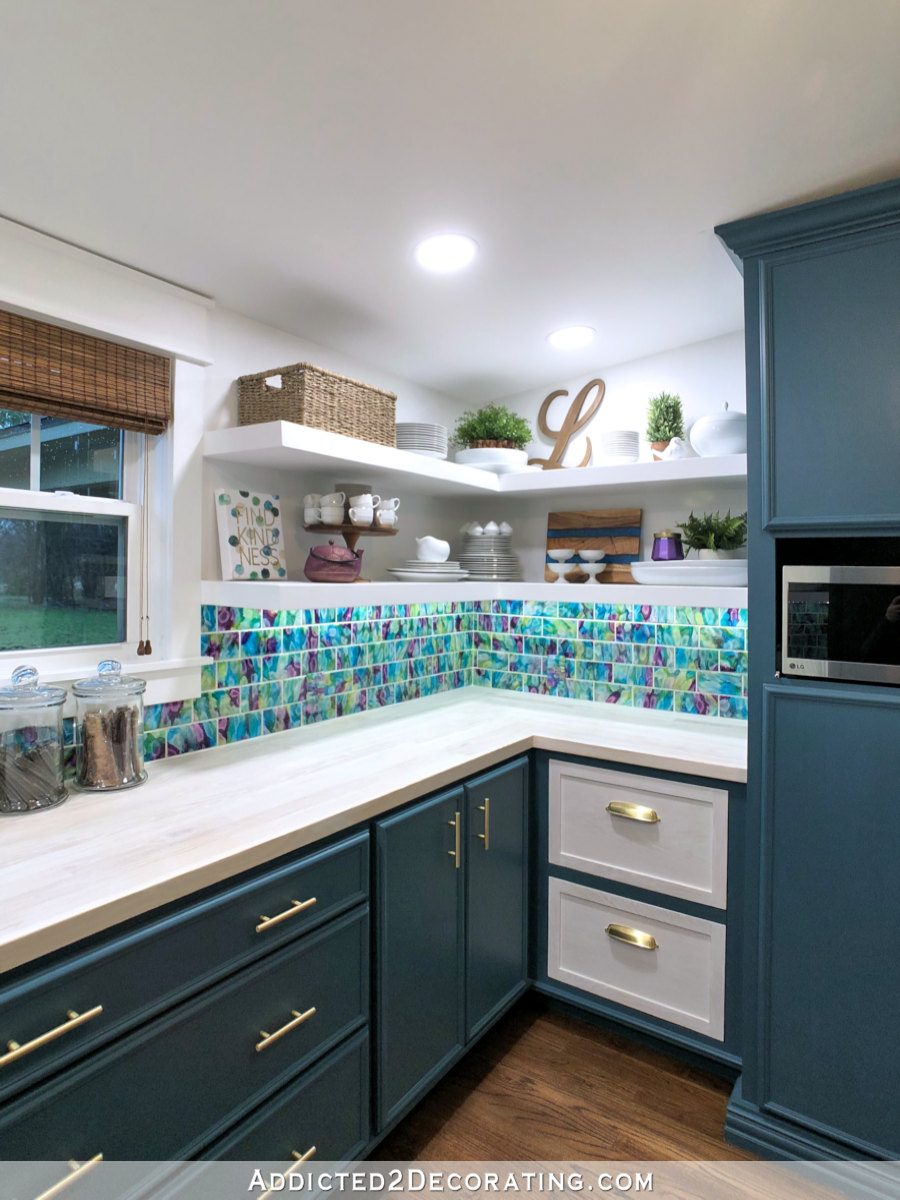 You can see more pictures on the before and after post right here…
Addicted 2 Decorating is where I share my DIY and decorating journey as I remodel and decorate the 1948 fixer upper that my husband, Matt, and I bought in 2013. Matt has M.S. and is unable to do physical work, so I do the majority of the work on the house by myself. You can learn more about me here.