Updates: Carport, Studio, and Cooper
Progress is being made on the carport, but I'll admit that this stage of the project is way slower than I'd like. It didn't help that we had a ton of rain on Sunday, so that delayed progress because the ground was way too wet.
But at least a bit of progress has been made now. I can actually see just how big the carport will be, so that's exciting. It doesn't look like much in a picture, but it's 20′ x 24′, so it's a pretty good size.
Several of you asked me about the tree last week, and I didn't have an answer. But now I do, and unfortunately, it's going to have to come down. We won't necessarily have to take it down immediately. It's not going to get in the way of the carport. But my concern is that when we build our addition where the sunroom currently is, this massive oak tree will have an area that's about 10 feet wide, and will sit in a little "courtyard" area (much like the "courtyard" area at the front of the breakfast room) with the carport on one side and the family room on the other side.
Ten feet just isn't enough for a massive tree like that, especially considering that this tree drops huge limbs on a fairly regular basis. And I'm talking about huge limbs– limbs that could do some real damage if they ever dropped on a roof. And the roots could cause some real damage to our concrete on the carport and/or the concrete footer that will be poured for the addition.
The fact is that this massive tree never should have been allowed to grow so close to the house. (This lot had no trees on it at all when the house was built, so the trees — even the two massive oak trees — are around 65 years old and started growing after the house was built.) I hate to lose such a massive oak tree, but there's no way around it.
Anyway, I know nothing about pouring concrete, so I'm not really sure what's going on here. I've only ever seen it done on HGTV, where it takes no more than five minutes from start to finish, so it's quite disappointing to see how long they're taking to do mine. 😀 Just kidding. Kind of. They've put up the forms, and dug deep trenches around the perimeter and through the middle.
When I asked what's on the agenda for today, he said they had to "get rid of all of this dirt" and bring in the gravel. So I'm just waiting and watching.
Before they could even start on the prep work for the concrete, they had to bust out the original concrete steps that went to the storage room at the back of the garage. You can see where the steps were if you look under the bathroom window in the picture above. But then they also discovered that this gas line is live, and it sits about six inches inside where the concrete needs to be poured.
That's the gas line that went to the old furnace, and for some reason I thought I had my plumber cut that line completely, so I thought it was dead. I was wrong. So now they're going to have to move it, which will cause a bit of a delay. But every project has these little surprises, so you just have to factor them in from the start.
So with the carport in progress, my progress on the studio wiring has come to a complete stop. Right after we planned to move ahead with the carport right now, my plan was to finish the actual studio, and have it insulated and drywalled, but wait on the wiring, insulation and drywall in the mudroom and half bath until the carport (including the reframing of the mudroom and bathroom) was all finished. Then I could do the wiring, insulation and drywall in those areas.
But to be honest, I'm kind of afraid to move forward on anything. I'm so afraid that I'll get the studio wiring done, get the insulation and drywall up, and the realize down the road, as I'm trying to finish up the bathroom and mudroom, that there's some reason I need to get into the ceiling in the studio. So as much as I hate it, I think I'm just going to hold off on all of that until the carport is done, or at least far enough along that the reframing on the mudroom and bathroom is done. At least that's the plan for now. I just can't shake this feeling that I'll regret jumping ahead on the studio and not waiting until it can all be done at the same time.
So I kind of feel like i'm in a holding pattern right now, which I hate. I don't want to spend a lot of money doing other projects just in case there are any surprises on the carport that will cost more than we had anticipated.
Anyway, enough about all of that for now. Let's talk about Cooper. So many of you have asked how he's doing, so I thought I'd give y'all an update. And again, don't let this innocent face fool you. 😀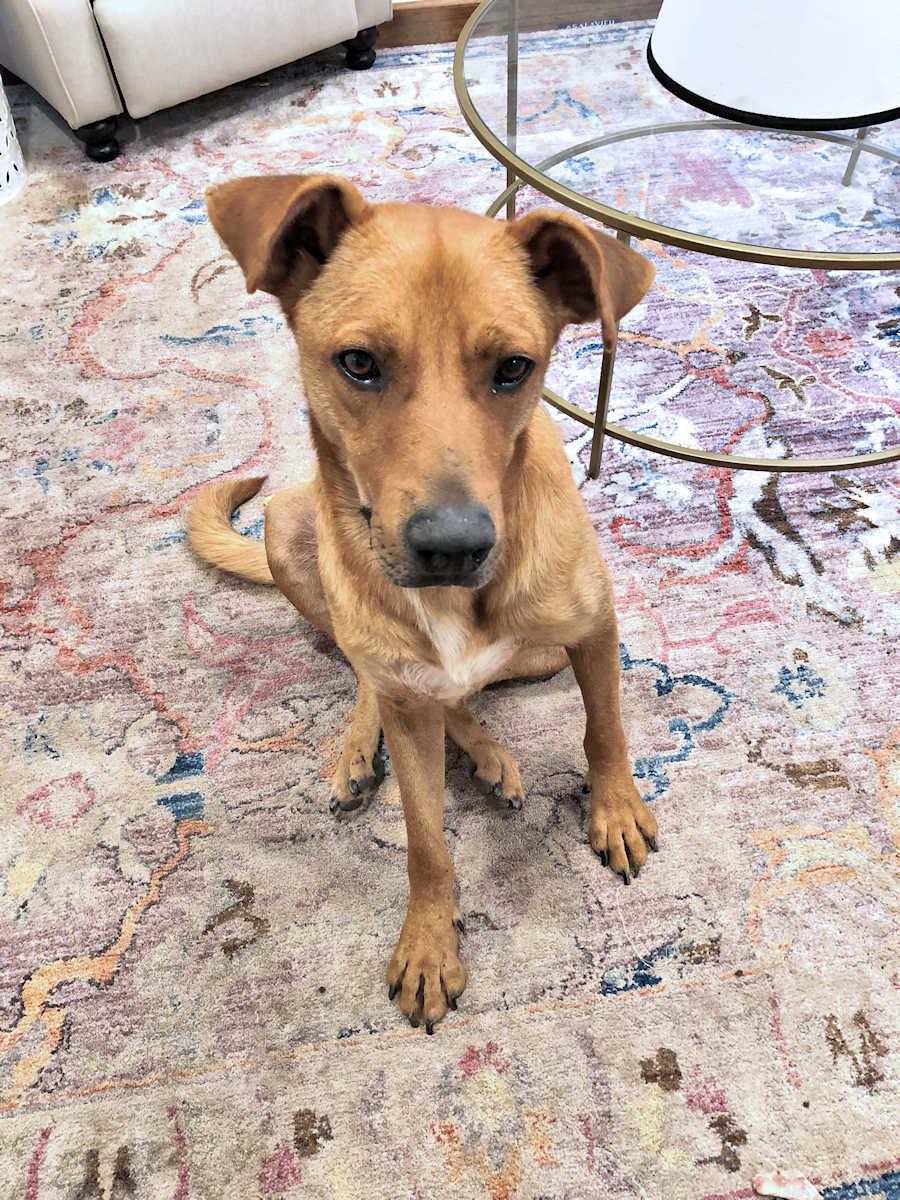 He really has made a ton of progress in the two months that he's been with us. I've been working on training him so that he behaves better indoors, and he's getting there. He still gets super excited when someone else is here at the house, so we still have a way to go.
Cooper is definitely looking healthier now. If you remember, he was a bag of bones when we brought him home.
That poor pup had so much anxiety and nervous energy that he just paced all day long, every day. But now he's at quite a healthy weight. It's hard to get a picture of him, though, because he never stands still. This is as good as I could do.
He weighs at least 70 pounds now, and there are no more protruding ribs or hip bones. And I could be imagining it, but I'm pretty sure he's grown since we got him. As in, not just gained weight, but has actually grown bigger. Taller. I know I'm short, but when he stands on his back legs, he can put his front paws on my shoulders and lick my face. I don't remember him being that tall when we got him. And that, of course, makes me doubt that he's four years old, which is what the Humane Society told us.
He's no longer afraid of the back yard (i.e., the creaking noise of the big metal door on the neighbor's workshop, or the neighbor's dogs). That has made my life so much easier. Now when I open the door, he goes right out. And when he hears the creaking noise of the big metal door, he doesn't whimper and whine and beg to be let in. Instead, he runs towards the neighbor's yard and barks like crazy. The barking is a bit annoying, but I'd rather deal with that than deal with a dog who's afraid of the back yard.
So his willingness to go outside now has resulted in there being no more accidents in the house, which I'm obviously thrilled about.
But there's still one huge hurdle we have to jump. In the two months he's been here, he's only had one bath. And he's filthy. It's not because I'm unwilling or too busy, but it's because this dog is deathly afraid of the bathtub. And I'm not even talking about him being afraid of water. He's afraid of the bathtub.
I have tried everything I know to coax him into the bathtub and get him to relax, but nothing works. I've tried putting a piece of cheese in there. He wanted the cheese, but not enough to actually get in. He lay down by the bathtub and wouldn't move.
I tried putting two of his favorite treats in there. That was enough incentive to make him at least put his feet on the side of the tub…
But that's as far as he got. There's something about his feet touching the bottom of the bathtub that scares him to death.
The one time I got him in there and gave him a bath was when I actually put his food in the tub and wouldn't let him eat unless he got in. I kid you not, it took about two hours of coaxing and petting him and encouraging him, but he finally got in and ate. And while he was in there, I turned the water on. He freaked out, but I made him stay and I gave him a very quick bath. He still wouldn't let me get water on his neck or head, though, but at least most of him got lathered up and washed.
But I tried again on Sunday, and he was having no part of it. And y'all, I just can't spend two hours coaxing and bribing this dog to get into the tub every time he needs a bath. And it's not a matter of him just being disobedient and preferring to play instead of getting bath. This is a matter of him being TERRIFIED of the bathtub, so forcing him will only make it worse. Plus, a terrified dog is a potentially dangerous dog. But I couldn't force him even if I wanted to, because when he's fighting against me, he's way too big and heavy for me to lift anyway.
So I honestly don't know what to do. Someone suggested that I use the hose outside. The problem is that we only have one hose bibb, and I don't have a good place to wash him anywhere in the vicinity of that hose bibb since we don't have grass and everything just turns to mud. That would kind of defeat the purpose.
I'm hoping that some of you have dealt with this and will have some great advice for me. Living with a filthy dog who never gets a bath is really not an option, but that has been our only option for the last two months. If you have a solution, please pass it along!!
Addicted 2 Decorating is where I share my DIY and decorating journey as I remodel and decorate the 1948 fixer upper that my husband, Matt, and I bought in 2013. Matt has M.S. and is unable to do physical work, so I do the majority of the work on the house by myself. You can learn more about me here.