Last Updated on December 24, 2015 by Kristi Linauer
That (and variations on that theme) has become the single most-asked question I get lately.  "When are you going to paint your cabinets?" "Are your cabinets next?" "How long until you paint your cabinets?"
I swear, it's like I'm on a long road trip with small children.  "Are we there yet?"  "Are we there yet?"
😀
Awww…I'm just kiddin' around with y'all.  Kind of.  😀
I'm as anxious as the rest of you to see paint on those cabinets.  But no…sadly, they're not green yet.
I went into the kitchen on Saturday morning, ready to get started with the prep work on the cabinets so that I could get started painting, and I realized that I still had one pretty big project that needed to be done before I could even think of working on the cabinets.  It was a dreaded project — a project that I've been putting off as long as I could.
The ceiling.
Until this weekend, the ceiling still looked like this…
Let me just say that, in my humble but accurate opinion, there is no worse home improvement project than taping, mudding and sanding a ceiling.
It's the sanding that gets me.
I absolutely have to wear a mask over my nose and mouth or I'll fill my lungs with dust.  So a mask is absolutely necessary.  On top of that, I pretty much have to wear goggles or I'll spend most of the time with my head down, tears streaming down my face, as I'm trying to get dust out of my eyes.  But as soon as I put the mask plus the goggles on, I feel like I'm going to suffocate.  I can't stand to have that much of my face covered.  (I could never go scuba diving.  Just the thought of it makes me panic.)
But somehow I managed.  And survived.  I only wore the goggles about half the time.  The other half, I just put up with the tears streaming down my face and pressed on towards the finish line.
I taped, mudded, sanded, mudded again, sanded again, primed, and painted.  And I did finish…at 10:30 last night.  Then I got up at 6:30 this morning to put the trim kits on the recessed lights just so I could really feel that sense of completion.
It's not perfect, but it's good enough.  🙂
What's not good enough, and in fact, is very frustrating is that two of the trim kits didn't cover the cut outs completely.  So after all of that work, I still have some repairs to do.  You can see what I mean on the light in the top right corner of this picture.
I know it's an easy fix, but it's frustrating nonetheless.
I've said it before, and I'll say it again.  This is the last room in which I will be doing any drywall work.  From here on out, I'm hiring the pros to do that job.  What took me all weekend to do, they could have had finished in a couple of hours.  And they probably wouldn't have charged me very much to do it.
But the good news is that now, after three months, I'm finally able to install my new light fixture!  You know the one — the light fixture that Matt bought for me.  The light fixture that started this whole kitchen remodel in the first place.  😀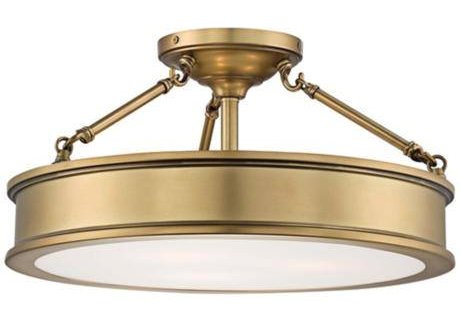 That's going to be first on my "to do" list today, just because I can.  And just because I'm ready to see something pretty and finished in that room.
I guess officially, it will be the third "pretty and finished" thing to go into the room.  The floors are done, but they've been covered so I can't really enjoy them at the moment.  And my countertops are finished, but at the moment they're covered with a thick layer of drywall dust.  But let me just say…
I've only had them a week, but I love them.  I've dropped things on them, dripped drywall mud and paint on them, stood on them, scraped stuff off of them, and they still look perfect.  After living with butcherblock countertops for six years, and kind of having to baby those countertops, it's so nice to have countertops now that are so hard wearing and can stand up to just about anything.
In other news…
THE PLUMBER IS COMING!!!!  He'll be here either today or tomorrow, and y'all, I can't remember the last time I felt so excited about something.  Not only will we finally have a kitchen sink after not having one for three months, but we'll also have a garbage disposal and a dishwasher.  We haven't had those things in nine months!!!
It's gonna be a good week.  I'll have running water in my kitchen.  I'll be able to wash those dishes that are piled up in my bathtub.  I'll finally (hopefully) see some green on those cabinets.  And I'll finally have my pretty new light in my kitchen.
Yep…a good week, indeed.  🙂
Addicted 2 Decorating is where I share my DIY and decorating journey as I remodel and decorate the 1948 fixer upper that my husband, Matt, and I bought in 2013. Matt has M.S. and is unable to do physical work, so I do the majority of the work on the house by myself. You can learn more about me here.
I hope you'll join me on my DIY and decorating journey! If you want to follow my projects and progress, you can subscribe below and have each new post delivered to your email inbox. That way you'll never miss a thing!