Last Updated on February 9, 2019 by Kristi Linauer
My DIY concrete countertops are finished! If you missed the previous posts on this countertop project, you can see those links below.. The first post shows how I prepped the countertop areas with concrete backerboard, the plastic edge forms, and the fiberglass mesh reinforcement. You can see that here…
And the second part is about how I actually poured, screeded, and floated the concrete. You can see that here…
I sealed my new concrete countertops yesterday, and that means they are now completely finished! And y'all, I absolutely love the way they turned out! I honestly don't think I could have been any more pleased had I gone with my original idea of using marble.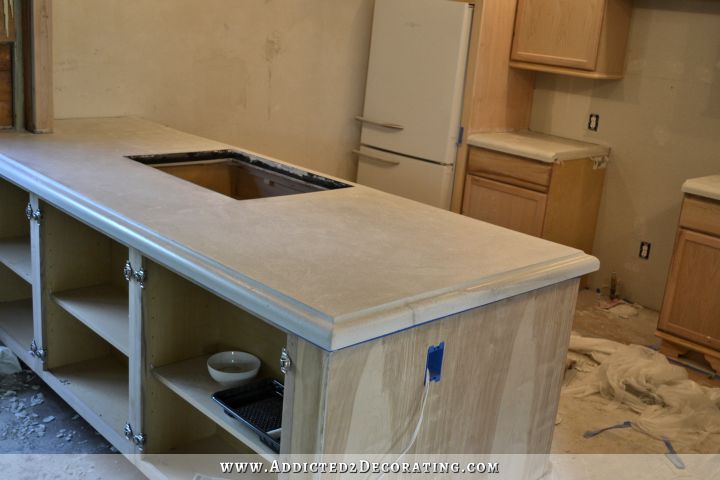 The subtle "movement" in the color is just gorgeous and looks like some sort of stone. And the Z SiAcryl 14 sealer I used gave it a very nice satin finish. (They have a glossy finish available, but I'm not really a high gloss kind of person.) 🙂
So let me back up just a second and go over all of the finishing steps.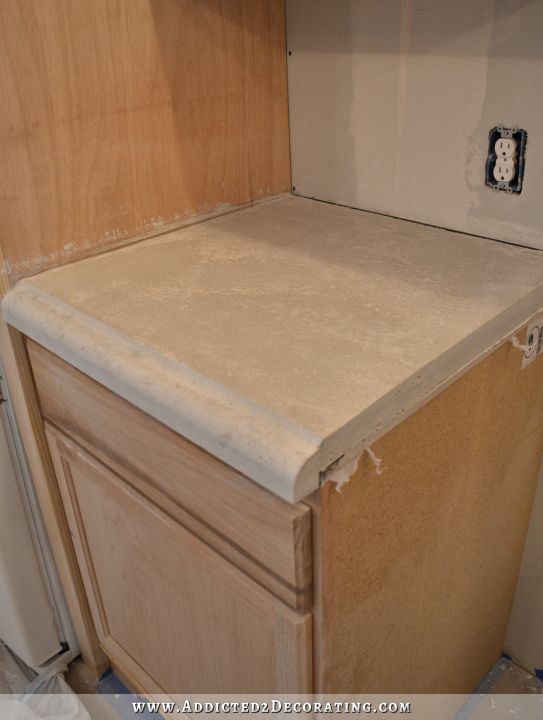 Steps to finish my DIY concrete countertops:
1. Snap the edge forms off of the concrete countertops.
After screeding, floating and troweling the countertops, I let it sit and harden for about 24 hours. Then I snapped off the plastic edge forms. This was fairly easy to do. I just pried it away from the concrete carefully, then bent it down towards the floor and it eventually snapped off.
2. Sand the concrete countertops.
I sanded the concrete countertops using my rotary sander and regular sanding discs from Home Depot. For the edges, I used regular sandpaper and sanded those by hand. I started with 60-grit, and then moved to 100-grit, then 150-grit, and finally 220-grit.
*Note: In some of these pictures, you'll notice that everything is covered with dust from the sanding. If you have a regular 5-inch rotary sander (like most DIYers do), you can hook up your Shop Vac to the spout on your sander where the dust bag attaches, and your Shop Vac will suck up almost all of the dust. That's what I did when I refinished the butcherblock countertop at the condo, and the dust in the room was very minimal. The reason I didn't do that this time is because my 5-inch sander stopped working a few months back, so I was using my big 6-inch Rigid sander (which I hate, by the way), and my Shop Vac hose won't stay connected to it because of the design. Just one more thing I hate about that sander. It's definitely time to get another 5-inch sander.
With the 60-grit, I could tell that it was really making a difference because it was removing all of the film that has risen to the top, and was exposing the aggregate in the concrete. But with the rest of the sanding, the difference it was making was minimal. I mean, I could feel a difference between the concrete sanded with just the 60-grit and the concrete sanded all the way to 220-grit, but the difference wasn't huge.
After all, I was sanding concrete, so regular sandpaper isn't going to do much to concrete. But it's enough of a difference that I would still highly recommend doing all of the steps, and taking your time with each one. The finished sanded countertops were very smooth.
3. Apply the sealer to the concrete countertops.
Next I used a small 1/4-inch nap roller to apply the SiAcryl 14 sealer from Concrete Countertop Solutions.
The first coat really absorbed into the concrete and initially it changed the color considerably. You can see the right section (as well as a couple of spills on the left) that have the first coat of sealer on them and how it darkened the concrete.
That was just temporary. It lightened back up to its original color once it was dry.
The second coat changed the color only slightly, and the third coat didn't change the color at all. I used a total of three coats of sealer on the countertops. They recommended that I do four (presumably since I'm not planning on using the Z Counter-Shine that is the final shiny sealer), but I ran out of product at three coats so I'll have to get another bottle to do the fourth coat.
After the third coat had dried, I was a bit disappointed in the finish because it was much shinier than I had expected…and than I wanted. Then I decided to read the directions on the bottle.
(When all else fails, read the directions. That's my motto.) 😀
The directions said it could be buffed with a buffing cloth or a buffer after it's dry. Since I don't have a buffer, I got out my fancy buffing cloth (a.k.a., a soft white pillowcase) and buffed the countertop by hand. That process removed the shiny film on the surface (which almost felt like some kind of a wax-like substance), and I was left with a gorgeous, smooth satin finish on the countertops. Just what I wanted!!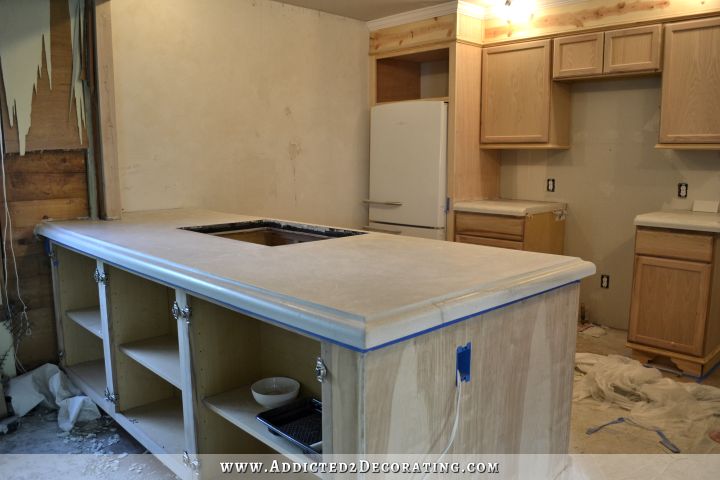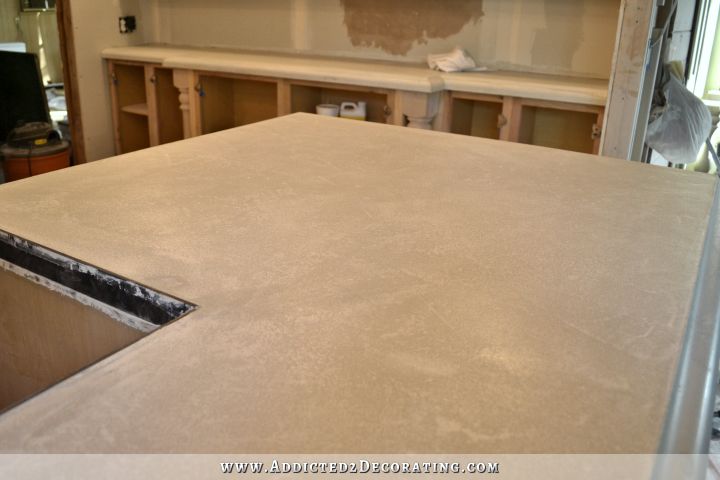 I really could not be more pleased with the final product. It was a lot of hard work, but none of it was especially difficult.
So let's talk about cost. Just a reminder that Concrete Countertop Solutions provided me with all of the products from their company free of charge. I did still have to purchase the additional products and supplies that I needed from Home Depot on my own.
DIY Concrete Countertop Cost:
DIY concrete countertops are a great option if you want a solid surface countertop, but don't want to pay the high price of stone (granite or marble) or an engineered material (like quartz). Here's the breakdown of the costs of my DIY concrete countertops…
Z Counterform White Countertop Mix – 19 bags: $551 ($29 per 50-pound bag)
Ogee Edge Package – 1 package: $199
FG50 Fiber Mesh Reinforcement – 1 roll: $49.99
Z-Clips – 2 boxes: $39.98 ($19.99 per box)
SiAcryl 14 Sealer – 1 bottle: $39.00
Freight (for 1400 pounds of product): $425
Products & supplies from Home Depot:
Hardiebacker concrete board – 5 sheets: $57.35 ($11.47 each)
Screws – $20
Steel finishing trowel: $12.28
Magnesium float: $21.99
Sandpaper: $75
Small roller, replacement roller covers and trays: $10
5-gallon bucket: $2.85
Mixer paddle for drill: $9.97
TOTAL COST: $1,523.41
That's for my kitchen with 55 square feet of countertop.
Cost of DIY concrete countertops per square foot: $27.70
That's not too bad compared to other solid surface countertop options! In fact, let do a quick comparison…
Price of concrete countertops compared to granite and marble:
Since I haven't worked with granite or marble in about two years (when I stopped working with clients), I wasn't sure what the prices were like now. So this morning, I called a local granite and marble supplier that I used to use in my city for client projects, and they gave me some general info. So how much would it cost to have granite or marble installed in my kitchen?
Granite (common granite like New Venetian Gold): $50 per square foot, for a total of $2,750 (an undermount sink cutout would cost extra)
Marble (carrara marble): $60 per square foot, for a total of $3,300 (an undermount sink cutout costing extra)
So you can see that while DIY concrete countertops aren't cheap, there's a considerable cost savings over granite or marble. And you end up with a very durable, solid surface countertop with a natural, stone-like appearance.
Final thoughts on my DIY Concrete Countertops:
There's nothing particularly difficult about pouring your own concrete countertops, especially using the Liqui-Crete system from Concrete Countertop Solutions. It's a lot of physical work, mixing, lifting, carrying, and pouring out 56-pound buckets of concrete. But there's not really any specialized skill required. Now that all is said and done, I still maintain that the most skill required is in cutting the mitered corners for the edge forms.
I don't think I would ever use standard concrete to pour kitchen countertops. The Liqui-Crete system, with it's really liquidy consistency, just makes it so simple and really takes the guesswork out of working with concrete, especially if you're like me and you've never worked with concrete before.
Pour in place concrete countertops are the only way I'd ever go for a kitchen. I'm a pretty daring DIYer, and generally not afraid to tackle projects, but I honestly can't imagine building a form for that peninsula or the wall of cabinets to make a pre-cast countertop and then carrying those and putting them into place, hoping and praying that I made the form correctly and got all of the measurements correct. Just…no. I would never attempt that.
I prefer a more natural look, but if you prefer a more perfect finish (like a polished granite), concrete can be smoothed and shined to a super smooth, glass-like finish using a wet grinder.
The natural finished color of the Z Counterforms White Countertop Mix that I used is very interesting. It definitely reads as white, but it's most certainly not a bright white. It's more of what I would call a bone white. It does have kind of gray undertones, but it's a very warm gray…almost a light taupe undertone. In other words, if you're looking for something to blend with a cool gray, like those in carrara marble or something like that, this probably isn't what you're looking for. But I do think it blends very nicely with bright white. You can see in the photos above how it looks with my bright white refrigerator, as well as with the slightly warm white of the subway tile from Home Depot.
I wanted to stick with the natural white color of the concrete mix, but concrete can be stained before it's sealed. So really, the end result is up to your imagination. you can stain it all one color, or you can use several different colors to produce a final result that looks like marble, granite, or anything else your imagination can come up with.
Ladies, y'all know I'm a fiercely independent woman, and I take great pride in doing as much as I can on my own. But this is NOT something you can do on your own. Don't even try it. Find a strong man who can help with the mixing, lifting, carrying, and pouring of the concrete. (There's no shame in that!) There's no way I could have done this project without my brother.
One final thing…the patch that I did on the dent did turn much darker when I added sealer. It turned very gray. So I ended up having to do a little faux painting over it with some acrylic paints before I did the final two coats of sealer. It's not perfect, but I honestly don't think that a person who doesn't know about the dent and my repair would ever notice it.
And I think it looks far better than a dent.
And just one more point about the final color of the countertops…
The paint colors that I used to patch that area were bright white mixed with a little bit of a light warm gray, as well as an antique white that had quite a bit of yellow in it. And you can see that the patched area still looks a bit "cool gray" compared to the rest of the countertops. So again, the final color of this concrete is very hard to describe, and very difficult to show accurately in a photo. But it's a very warm white with warm gray/taupe undertones.
I think that pretty much covers everything! If I've left anything out, or if your questions still remains unanswered, feel free to ask and I'll do my best to answer.
Update:
Want to see how my DIY concrete countertops held up two years later? (Hint: It's not great…but I fixed them, and they're amazing!) You can see how they looked before I fixed them here…
And then you can see how I fixed them. Here's the first part of the process…
And you can find the second part here…
And my final refinished concrete countertops are here…
Addicted 2 Decorating is where I share my DIY and decorating journey as I remodel and decorate the 1948 fixer upper that my husband, Matt, and I bought in 2013. Matt has M.S. and is unable to do physical work, so I do the majority of the work on the house by myself. You can learn more about me here.
I hope you'll join me on my DIY and decorating journey! If you want to follow my projects and progress, you can subscribe below and have each new post delivered to your email inbox. That way you'll never miss a thing!