Bathroom Makeover Day 7 – Faux Wood Plank Walls, Part 1
Do you have your "I can tell this will look amazing when it's finished" goggles handy? Because you're definitely going to need them as you read this post and look at the pictures. 🙂
Here's my vision for the walls. I'm doing a faux wood plank wall treatment on the lower 55(ish) inches of the wall. Those "wood planks" will be painted a crisp, bright white…or actually, a not-quite-pure-white called Polar Bear. It's the same white that I've used on all of the trim in my condo.
So when I say "wood plank", imagine something like my kitchen ceiling, except now it's going on the walls.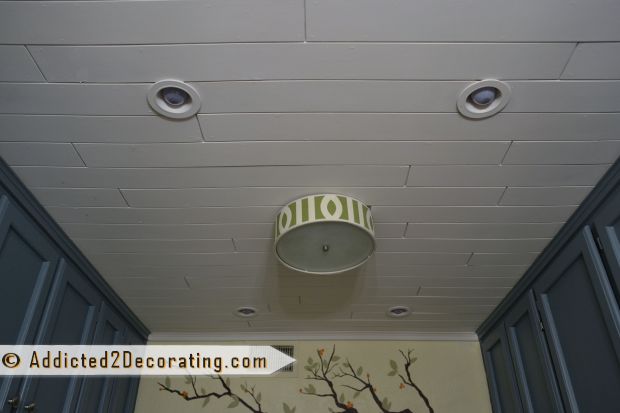 The faux wood plank wall will be topped off with some sort of chair rail moulding, and then above that to the ceiling, the walls will be painted a deep teal color that is one step darker than the teal that's on my kitchen cabinets.
Can you picture it? Dark teal next to crisp, bright white? Aaahhhhh…I can't wait!
To do my walls, I purchased a product called hard board. It's about 3/8-inch thick, and comes in sheets that are 4 feet by 8 feet. It's located in the section of the home improvement store where all of the plywood is. It's dark brown, and has a very smooth finish. It's also called eucaboard, because it's made from eucalyptus.
The sheets cost about $14 each, and I used two of them for the bathroom walls.
I had the good people at Home Depot cut the sheets into 4-inch strips for me. That took quite a bit of convincing to get them to do it for me because evidently they have some kind of company policy that they can't cut anything narrower than 12 inches.
Well, phooey on that. In my humble but accurate opinion, that's just a stupid rule. And of course, when they were explaining the reason for the rule (something about safety, and blah, blah, blah), I think they thought they were talking to some ignorant woman who had never used a power tool in her life. Ha! Little did they know! 🙂
Sorry, Home Depot, but your rule is stupid, and the "safety" argument has no validity whatsoever. In my humble opinion, of course! 😀
So once I finally got my 4-inch strips, I set to work. I started on the sink side, with the piece that goes right behind the countertop.
The reason I started with that particular piece is because I wanted to avoid having to cut pieces lengthwise to fit around the vanity. I also put the board behind the countertop (rather than on top of the countertop), because I wanted to avoid having to notch a piece to fit around the lip of the countertop on the left side.
This way, the project only required straight, 90-degree cuts.
I wanted spaces between the boards, so I had to find something to use that would give me the perfect spacing. I considered washers, but they were too thin. Nickels? Too thin. Then I found that the 3/8-inch tile spacers that I used for my floor tiles were the perfect size.
To attach the boards to the wall, I used Loctite paneling adhesive, and then followed up with 3/4-inch finishing nails in my brad nailer. The Loctite adhesive is a must when you're working on projects like this alone. I've come to love my Loctite, and always have some on hand. (And they're not even paying me to say that!) 🙂
I continued adding the boards up to my 55(ish)-inch mark.
Then I worked on the area behind the toilet. That was such a pain! I considered just remove the toilet completely, but since I've already uninstalled and reinstalled the toilet twice during this makeover, I just couldn't bring myself to do it a third time. So I worked around it.
I also finished out the small wall next to the door.
Then I moved on to the other wall. After all of the boards were installed, I used wood filler to fill in all of the nail holes.
Keep in mind that this will all be sanded smooth and then painted bright white. 🙂 And of course, I'll use quarter round trim to make the corner by the vanity, and the edges by the wall and the tub look all neat and tidy.
I still haven't decided what type of moulding I'll use to top off my faux wood walls. That's still TBD.
And I know that some of you will be concerned about the wallpaper. No, I didn't remove the wallpaper, but I did peel any loose edges as I went just to be sure that the 3/8-inch spaces will be smooth after they're painted. And I'll use oil-based primer first, so that it won't loosen any of the wallpaper.
And I'm also not planning on removing the wallpaper on the top portion of the walls either. I hate removing wallpaper, and this stuff is stuck on pretty securely. I just can't bring myself to do it. But don't worry…it'll all turn out just fine. I promise. 🙂
Addicted 2 Decorating is where I share my DIY and decorating journey as I remodel and decorate the 1948 fixer upper that my husband, Matt, and I bought in 2013. Matt has M.S. and is unable to do physical work, so I do the majority of the work on the house by myself. You can learn more about me here.