I have a confession. I've wanted to cover a countertop (or table top) in pennies and epoxy ever since I first saw the bar tops at Fuddrucker's many years ago. I love the idea, the color variation, and the overall effect of pennies en masse coated with a thick layer of epoxy.
But I've never done this project that's been on my "to do" list for years now, because there's something about it that really overwhelms me. Perhaps it's the headache of lugging all those pennies home from the bank, or maybe it's the idea of sorting through thousands of pennies to find the best ones. More than likely, it's the thought of mixing the epoxy and then having to deal with the air bubbles (I've heard talk of blow torches…that scares the heck out of me).
But Ashley at Domestic Imperfection took on this task, lived to tell about it, and has provided great instructions and tips for making an epoxied penny countertop.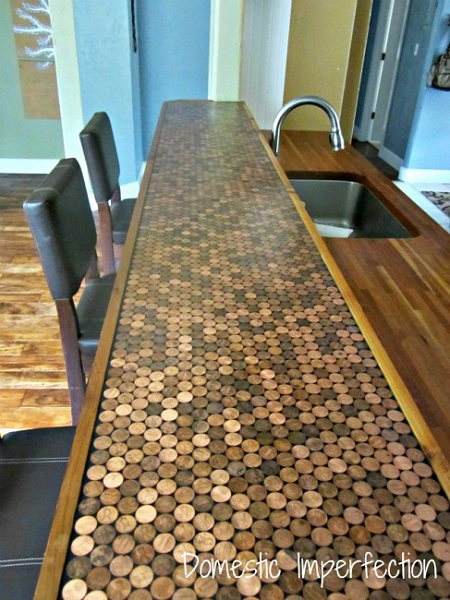 To see the details of this project, head over to Domestic Imperfection.
**Have a project you'd like to share? Come join the link party every Friday at 9:00am (CST)! Have a project you'd like me to feature, but don't have a blog? No problem! You can click here to send your pictures to me.
---
---