Last Updated on December 24, 2015 by Kristi Linauer
The end of day five of my bathroom makeover ended on a high note, with my new flooring installed, and my bathroom vanity completely finished.
Now all of that pretty is covered in dust and debris. But I keep reminding myself that this is, in fact, progress.
Let me start at the beginning of day 6…
Remember that massive eyesore of a cabinet that was above the toilet?
Not only was it just plain ugly, but it was way too big and made the room feel so small and closed in. And now it's gone.
I knew in my mind that removing that cabinet would make the room feel so much more open, but I didn't realize the full impact until it was gone. The room feel so big now!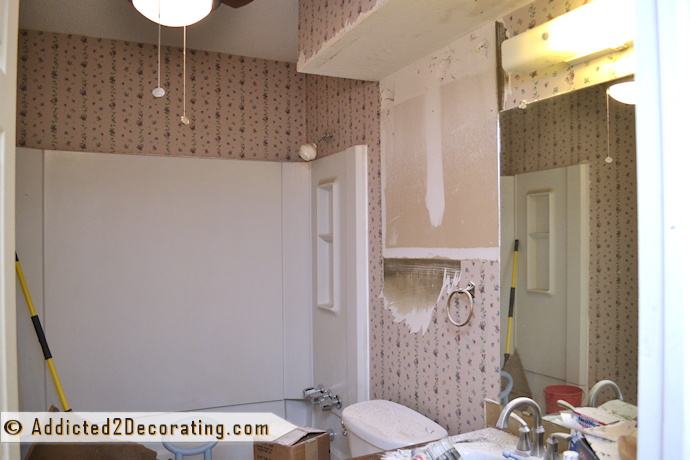 But let me tell you…getting the thing off the wall was not an easy chore. And you can see that I even left some holes in the wall. I pried and pried and pried until I was almost in tears, and the thing simply wouldn't budge.
I didn't think it would be hard, because the whole cabinet was being held on the wall with only one strip of lumber inside the cabinet with about five or six nails going into the wall.
But those nails were 3-inch nails, driven into the studs, and they had been there for almost 30 years. They were there to do a job (to keep that cabinet securely on the wall), and they were determined not to give up easily.
I was beyond frustrated. After about 30 minutes of prying, pulling, pushing, with absolutely no progress, I finally made a trip to Home Depot to get a special tool that I was sure would work. Similar to a crowbar, but flat instead of rounded, I was sure the Wonder Bar would be just the thing I needed.
It wasn't. Instead, it punched holes in my wall, even though I was using it INSIDE the cabinet. Yep, it punched right through the back of the cabinet and into the wall. And the nails didn't even budge.
At one point, Matt came in to see if he could offer some advice or encouragement. He was almost about to suggest that I just leave the cabinet on the wall, but once he saw that fire in my eyes and the sheer determination on my face, he suggested instead that I just get a hammer and take out my frustration on the cabinet by whacking away at it and taking it apart piece by piece.
It worked. And boy, did it feel good! I whacked away at that thing, and took out every bit of my frustration on it. Not only did I finally get the thing off the wall, but it was incredibly therapeutic at the same time. 🙂
With the cabinet finally off the wall, I moved on to scraping the popcorn ceiling and the popcorn texture off of the soffit (is that what these things are called?) above the sink area.
Unfortunately, that ugly thing has to stay because there are air ducts in there. It's a bummer, but I can live with it.
One more thing that I accomplished was uninstalling the door that the "professionals" installed, and reinstalling it the correct way. Remember how it was raised off the floor about 1 1/2 inches?
Now it sits right on the floor, just as it should…
And instead of the gap being at the floor where it shows, the gap is now at the top, where it will be covered by trim.
So that's my day 6 progress. It doesn't seem like much in hindsight, but after wrestling with that stubborn cabinet for so long, and the installing the door, I was exhausted.
And you know what? I didn't even clean up the mess before I went to bed. Nope, I just left it. 'Cause that's what I do when I'm exhausted.
Oh, and one more thing…
I keep having people ask me stuff like, "Why did you do the floor first?" or "Why didn't you do such-and-such first?" So let me answer that question once and for all. 🙂
I work on these projects alone. While Matt is my biggest fan, and offers all kinds of wonderful support and encouragement, he can't help me with any of the physical work. And I don't have helpers showing up at my door each day. It's just me and my power tools.
So when I start a project, I know from the beginning that if it's going to get finished, it's all on my shoulders to get it done. That thought can be overwhelming, and when I get overwhelmed, I don't get anything accomplished. Plus, not getting overwhelmed was one of my goals for this year.
So the way that I'm learning to work with my personality (instead of continually fighting against it and getting frustrated with myself) is to allow myself to do projects as I feel inspired to do them, if at all possible. In other words, if I wake up in the morning, and I feel totally inspired to make a countertop for my bathroom vanity, that's what I do. If I feel super inspired to do one thing, I just go with it if I can. That often means that I end up doing things in an order that isn't completely logical, but somehow when I do that, it always seems to work out in the end. 🙂
Next I'm moving on to the walls. Stop in tomorrow and see my progress!!
Addicted 2 Decorating is where I share my DIY and decorating journey as I remodel and decorate the 1948 fixer upper that my husband, Matt, and I bought in 2013. Matt has M.S. and is unable to do physical work, so I do the majority of the work on the house by myself. You can learn more about me here.
I hope you'll join me on my DIY and decorating journey! If you want to follow my projects and progress, you can subscribe below and have each new post delivered to your email inbox. That way you'll never miss a thing!