Last Updated on February 15, 2019 by Kristi Linauer
I've made a bit more progress on the bathroom, and if all goes as planned, I should have it finished today. And I've made a few changes that I think made a pretty big impact.
If you'll remember, this is what it looked like two days ago…
And this is what it looks like now…
I like this current version so much more!
First of all, the series of nine separate framed resin petries is gone, and based on the suggestion that about half of you made, I put them all in one frame. And since I didn't want to build another frame, I just decided to use the one that had been there all along. If you'll remember, it used to look like this…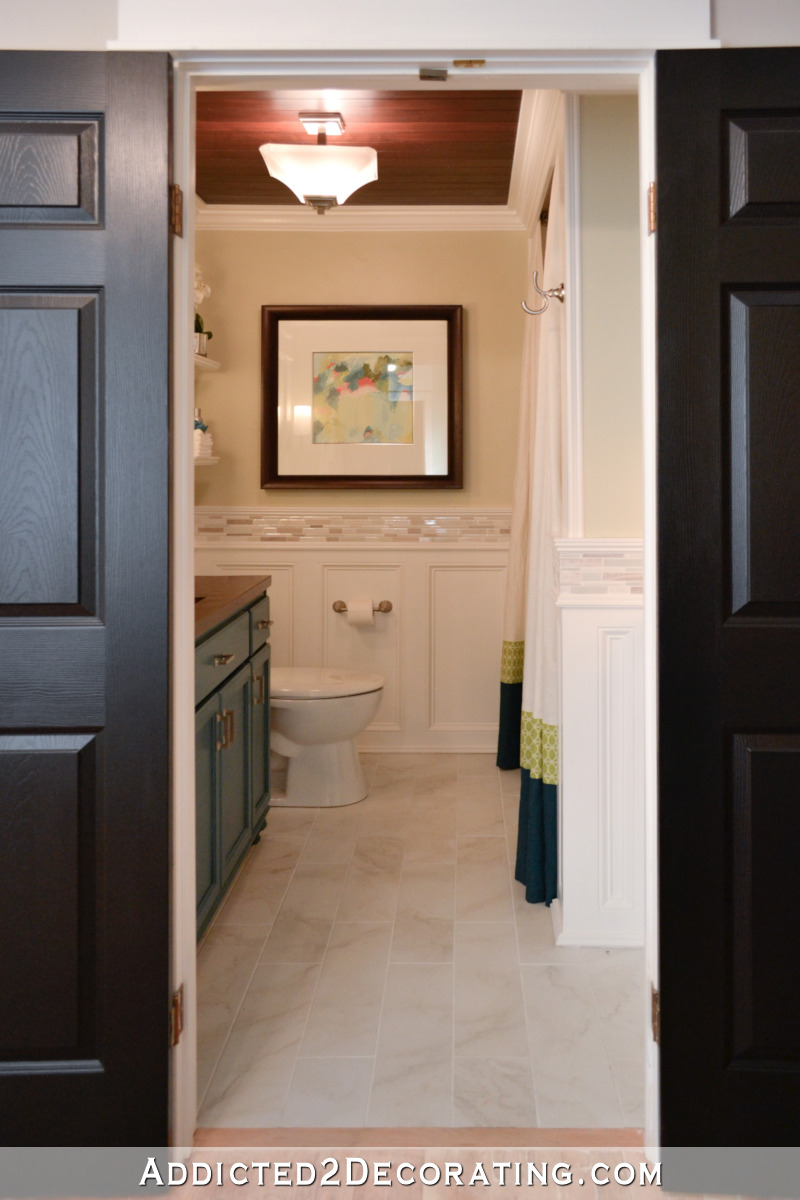 I like that the frame carries the stained wood look from the countertops and the ceiling to that far wall. I do wish the frame were a bit lighter in color, though. I'd prefer it to match the countertops and not the ceiling, but unfortunately, that frame isn't real wood. If it were, I would have refinished it by now. But it's actually a cheap paper veneer with a printed wood grain on it wrapped around MDF moulding.
I've had two of those frames since about the first week we lived in the condo, and while they're not exactly something I'd spend money on today, at least it works better (to my eye, at least) than the nine separate white frames.
I also tried different spacing on the petries and found that I preferred them closer together with a large border. This made them read as one singular art piece, where more spacing between them looked a little discombobulated to me. So I basically made this with the same idea as the original shadow box frames, with a center portion that is raised to accentuate the area where the petries are attached.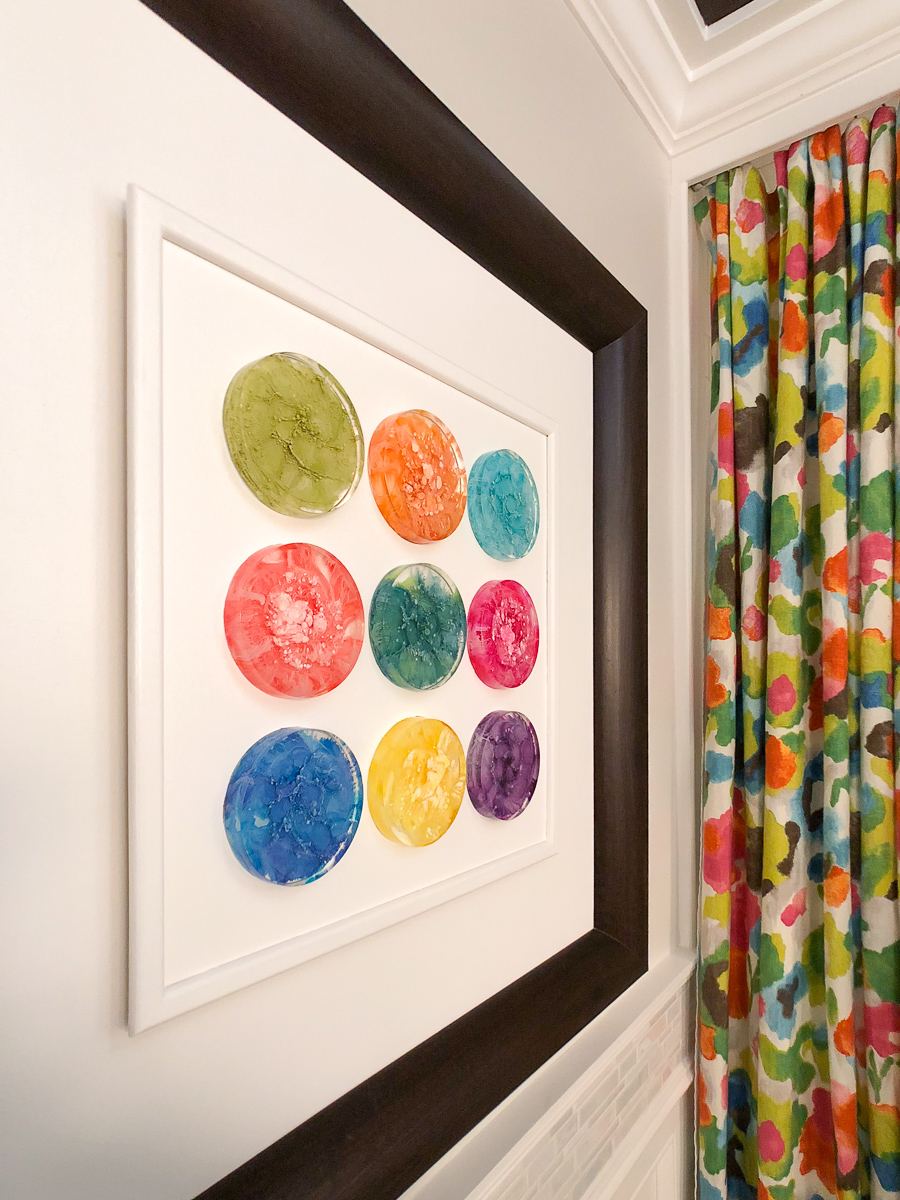 So in addition to the new artwork arrangement, the bathroom also has a new wall color — Benjamin Moore Classic Gray. I can't believe how much lighter the bathroom looks now! I hadn't realized how dreary the previous wall color (a muted, grayed light green custom color) was making the room feel until I repainted it Classic Gray, and it just feels like a breath of fresh air in there now.
That barely-there gray is pretty much the only neutral wall color that I really like. I have it in every room of my house that I've painted so far, with the exception of the pantry (where white walls just seemed to work, for some reason) and the kitchen (which has fully-tiled walls). But this barely-there gray gives just enough contrast so that white crown moulding and door/window casings still show up.
And finally, did you notice a change in the tile?
As I was making changes to add more color to the bathroom, it became obvious to me that the tile just wasn't really doing much for the bathroom. And then as I read your comments on my last post, it became obvious to me that the same was obvious to you. 😀
So I pondered and mulled over some options, and I finally decided that the tile had to go, and I would get new tile. I got in my car and headed to Lowe's (because they have a much better selection of mosaic and wall tile than Home Depot), and headed for the tile section of the store. After looking at all of the options, I finally decided that a white penny tile was the best option from the tiles they had in stock. It's all white, so it wouldn't be distracting. The tiles are small and round, so that would give some curves to an otherwise rectangle-filled room, and would echo the round petries.
And after I filled my cart with all of the tile I'd need to install the new accent tile around the room and the matching accent tile at the back of the open shelves, I started heading for the cash register like a woman on a mission. When I got about a third of the way there, I stopped. It's like I had been running on some sort of adrenaline-fueled urgency to just get the stuff and get the project done.
But all of a sudden, the engine ran out of fuel, and I stopped and thought, "What the heck am I doing?" I realized that I'd rather shove a fork into my leg than completely redo the tile in that bathroom. I was just creating needless busy work for myself, and this project that was supposed to be a quick bathroom makeover was starting to spiral out of control. If I didn't put the kibosh on this, before I knew it, I'd be swapping out the floor tile, and then redoing the wainscoting, and then redesigning the mirror, and then purchasing new sconces.
So I turned around, put all of the tile and supplies back, and grabbed a quart of my favorite Zinsser oil- based primer, and left. (I mean, I paid for it, and then left.) 😀
And using a small square artist brush, I just painted over the dark tiles. That mosaic tile is comprised of honed stone (marble?) tiles and very shiny glazed porcelain tiles. The honed stone tiles are the dark ones, and those were the problem to my eye. So I just strategically primed over those with the oil-based primer, and then went back and used the Classic Gray (i.e., the same color I used on the walls) to finish them off.
Is it perfect? Nope. But is it finished? Yep. And in a fraction of the time it would have taken me to completely re-tile that accent border and the back of the open shelves. If I were designing this bathroom from scratch and planned to use that wall color, that vanity color, and that shower curtain fabric, that's certainly not the tile (even in it's current, more neutral state) that I would have chosen for that border. But I'm happy with it. At least now, it's quieter and not shouting for attention. It's just an added neutral texture.
So I just have a few things left to do. Two of the walls need a second coat of paint. The small stained wood countertop in the area with the open shelves needs two or three coats of clear coat finish. And then I need to re-install the cabinet doors on the vanity. Then I need to clean up all of my tools and supplies and dust, and it'll be finished.
Helpful sources and products:
If you want to see how I made those original shadow box frames, you can find that here…
Benjamin Moore Classic Gray — My favorite barely-there neutral wall color that I used on the bathroom walls above the wainscoting.
Zinsser Cover Stain oil-based primer — This is my absolute favorite primer. I use it on everything except drywall. If I need to prime new drywall, I'll use a water-based product made for priming drywall. But for everything else — kitchen cabinets, furniture, ummm…mosaic tile 😀 — this is the only one I'll use. It can be brushed or sprayed (although on wood with deep grain, like oak, brushing is better), and when it's completely dry, it sands beautifully to an amazingly smooth finish with 220-grit sandpaper. And then you can use either oil-based or latex (i.e., water-based, emulsion, acrylic) paint on top. This is my go-to primer for just about everything.
---
---
Update:
My bathroom makeover is finished! Want to see the entire project from start to finish? You can find every single post about the bathroom makeover right here…
Or you can skip to the end and see how it turned out. Here's a peek of the finished bathroom…
You can see more pictures on the before and after post right here…