Hallway Trimmed Out & New Bathroom Vanity Color Options
Well, there are just under two months left in the year. I think it's pretty safe to say that I won't finish my list of house goals for 2017 by December 31st. 😀 I'm actually perfectly fine with that. Unfortunately for some of you who have been patiently waiting for me to tackle my pantry, that's the project that's getting bumped to the beginning of next year.
So the next almost-eight weeks will be all about my hallway, hallway bathroom, music room, and living room.
My hallway is finally all trimmed out. I got the crown moulding, baseboards, and shoe moulding installed, and got all of the nail holes filled with wood filler. I have about 2/3 of those nail holes sanded smooth. So I have just a bit more sanding, and then lots of caulking, and I'll finally be ready for paint.
Gah! I've been working on this hallway for so long, and I'm quickly losing interest. You have no idea how much self-discipline it's taking to stick with it. 😀 I have so many projects that I'd much rather be working on for my living room and music room, but I'm pressing on, because this hallway is soooo close to being finished.
And as far as the walls go, I've decided on horizontal stripes in Behr Polar Bear and Benjamin Moore Classic Gray, which are the same two colors that I used on the stencil on the music room walls.
They'll be subtle, and I'll finally get my stripes.
Once that's done, the vanity in the hallway bathroom will need a new color since the current color clashes with the new hallway door color. The tile that I used in the border around the room has various shades of white, gray, and taupe, so I tried a sample of Kendall Charcoal on the vanity.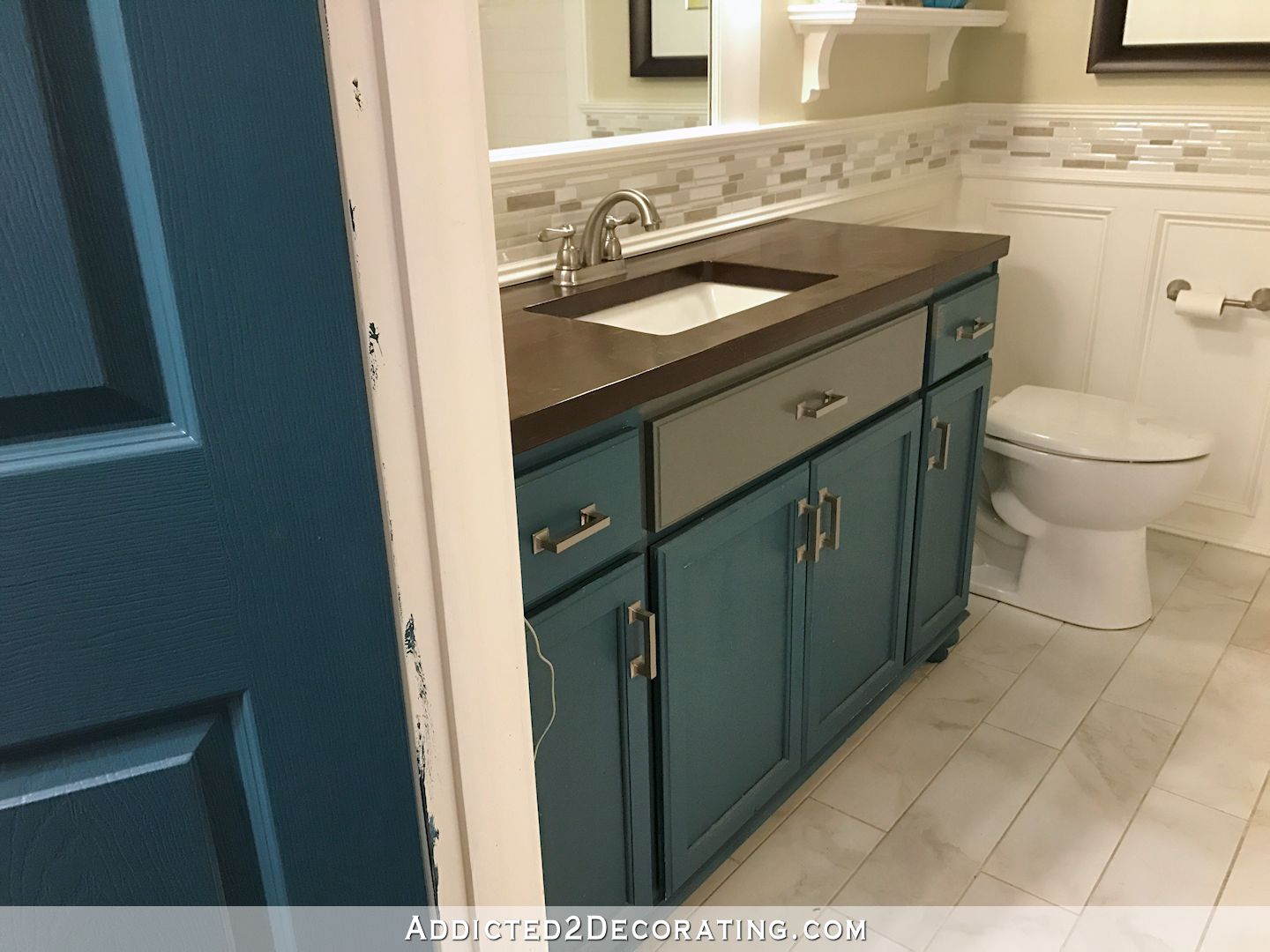 I hate it. How can I love a color so much on my living room fireplace, but hate it so much on a bathroom vanity? It looks like my vanity has been smeared with concrete, and not in a good way.
So now I'm leaning towards purple. I originally thought of doing a dark purple, similar to the color I used on the buffet in the breakfast room…
But the more I thought about it, the more I didn't really like the idea of a dark purple vanity right next dark teal doors. I think something lighter and brighter would be better, especially in a small bathroom with no natural light. So I'm thinking a lighter grayish purple…
I have no idea how that will look with the light green wall color, but I have a sneaking suspicion that I'll need a new wall color. If that's the case, I'll stick with Classic Gray. I've never been a neutral walls kind of person before, but it's really growing on me.
Anyway, progress is being made. Things are happening. I ordered a coffee table for my living room, which should be here on Thursday. I hope I love it as much as I think I will! I show y'all which one I chose on Friday (if it arrives on time).
I also made my trim selection for the living room draperies. I did end up going with a 4-inch-wide sari trim, although it wasn't the one I originally wanted. I spent about an hour going through the trims again, opening up every trim I really liked in a new tab on my browser, and then narrowing them down to my absolute favorite one. I only selected trims if there was enough yardage available (I need 18 yards), and when I finally selected my favorite one, there were only two yards. I think someone literally bought it right out from under me during that hour I spent making my final selection! 😀
I wrote to the store owner to see if they'd get more of that trim in, but after getting no answer for the fourth day, I just decided to go with my second choice. It was a very close second, so I don't feel too terribly disappointed.
Anyway, before those items arrive and I get sidetracked even more, I need to get the hallway finished. It's so close!!
Addicted 2 Decorating is where I share my DIY and decorating journey as I remodel and decorate the 1948 fixer upper that my husband, Matt, and I bought in 2013. Matt has M.S. and is unable to do physical work, so I do the majority of the work on the house by myself. You can learn more about me here.