Last Updated on December 24, 2015 by Kristi Linauer
My wainscoting is going to take me a day longer to complete than I thought, so I'll be finishing it up today, and show you how it turned out tomorrow.  In the meantime, I want to share some ideas I had about the built-in linen storage area, and you tell me what you think.
As you know by now, the linen storage area will go on the same wall as the bathtub, in the same exact spot as the old linen closet.
I'll have that cabinet on the bottom (obviously) with a built-in open shelf area above.  It'll have about three shelves, and I'm leaning towards using glass shelves.  So overall, it'll be very similar to the built-in bookcase that I built at the condo, except with glass shelves instead of wood shelves, plus a few other modifications.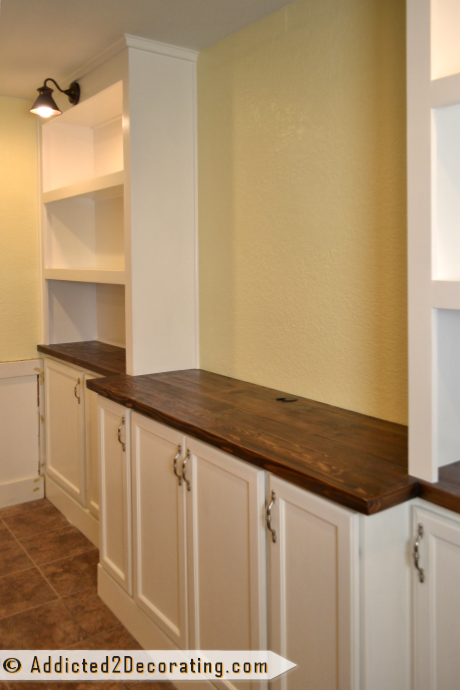 At the very beginning of this remodel, I just assumed that I would do this area the exact same way as the vanity — paint it teal and add pretty feet.  But now that the room is coming together, I've decided against that.  I'd like to keep the teal and the furniture feet unique to the vanity so that it really does look like a separate piece of furniture.  The linen storage will be an actual built-in storage unit, so it won't have furniture feet, and I'll paint it the same color as the trim (Behr Polar Bear).
But I've been thinking that rather than paint the whole thing white, I could add an accent to the back of the upper open shelving area.  I love that look on a bookshelf or glass-front or open-front kitchen cabinets, and I think it could work well in my bathroom as well.
Although I love the look in general, I ruled out wallpaper almost immediately.  I don't want to add yet another pattern in such a small room.  I also thought about "wallpapering" the back of the shelves with the shower curtain fabric, but then that would be two pretty significant uses of the same fabric on the right side of the room, with none on the left side of the room.  That seems unbalanced to me, so I'd rather keep the fabric to just the shower curtain.  And then there's the option of painting it the wall color (Behr Crisp Celery), but I'm afraid that'll just look like I forgot to build a back onto the built-in and the wall is showing through.
But there are three options that I came up with that I think might actually work.
The first option is covering the back with mirror.
Transitional Living Room by Los Angeles Interior Designers & Decorators Smith Firestone Associates
I love how mirror makes things look light and bright since it reflects more of the light in the room. It's also not really a surface that will compete with anything, and since I'll already have a mirror in the bathroom above the vanity, it'll just be a repeat of a finish that's already in the room.
Transitional Living Room by Toronto Interior Designers & Decorators Jane Lockhart Interior Design
What I don't like about a mirror back is that not only does it reflect the backs of the items displayed, but it makes it appear as though there's twice as many items displayed on the shelves. So if you're not careful, mirror-backed shelvescan start to look cluttered very easily. But it's still such a light and airy look that I would consider it for my bathroom.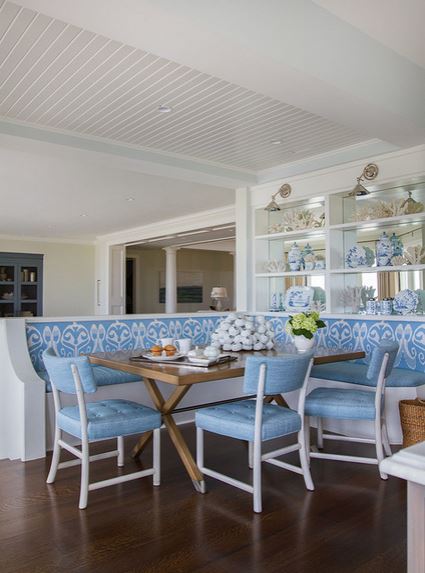 Beach Style Dining Room by Jacksonville Interior Designers & Decorators Schulte Design
However, with my bathroom, this mirror-back storage would be directly across from the vanity mirror. Would those two mirrors directly opposite each other produce that weird infinity mirror look? If so, I don't want it. Talk about looking busy!
The second option is to simply paint the back. I could repeat the dark teal of the vanity, which may look something like this.
via Emily A. Clark
Or I could use the lighter teal color (the one I ruled out for the vanity), which would still coordinate with the room.
Transitional Living Room by San Francisco Interior Designers & Decorators Angela Free Design
I even thought about doing some sort of painted design in the light green wall color and the light teal. Stripes? Y'all know how much I LOVE my stripes! But then we're back to adding another pattern to the room, and I'm afraid that might look busy.
And the last idea I thought of is to use the accent tile of the wainscoting and tile the entire back of the built-in.
Contemporary Bathroom by Basalt Interior Designers & Decorators Cathers Home
I really like the examples that I've found with this idea used in other bathrooms, but I'm afraid that the mosaic tile I have might look busier than these.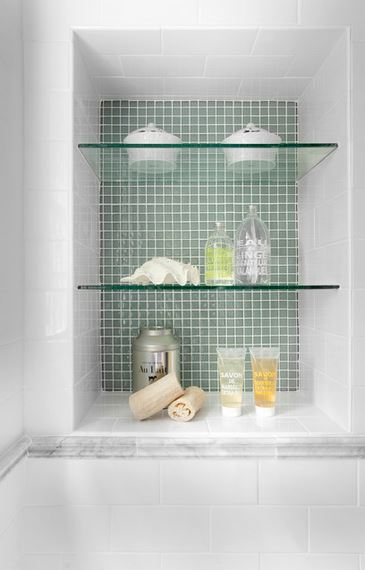 Traditional Bathroom by Atlanta Interior Designers & Decorators Niki Papadopoulos
Traditional Bathroom by Minneapolis Architects & Building Designers Yunker Associates Architecture
So, I'm torn. I love the light and airy look of the mirror, but I'm also afraid that with two opposing mirrors, it'll create that infinity mirror illusion, and that's the very opposite of peaceful and pretty. I like the painted back idea, but I'm just not sure what color would work best. And I LOVE the tile idea, but I'm a bit concerned that my particular mosaic tile might look much busier than the samples above.
Any thoughts? Are there other options I've missed? Or should I just paint it white and be done with it? 🙂
Addicted 2 Decorating is where I share my DIY and decorating journey as I remodel and decorate the 1948 fixer upper that my husband, Matt, and I bought in 2013. Matt has M.S. and is unable to do physical work, so I do the majority of the work on the house by myself. You can learn more about me here.
I hope you'll join me on my DIY and decorating journey! If you want to follow my projects and progress, you can subscribe below and have each new post delivered to your email inbox. That way you'll never miss a thing!