Last Updated on April 3, 2015 by Kristi Linauer
Yesterday I got another project checked off of my bathroom remodel "to do" list.  I made a very easy DIY vanity mirror with sconces incorporated into the design.
When I switched gears from a temporary bathroom makeover to the long term bathroom remodel, I decided that with the larger vanity, I also wanted a really large mirror since large mirrors make a small bathroom feel so much bigger.  But I didn't want to just hang a decorative framed mirror on the wall and call it good. I wanted something that would integrate with the whole design of the room (and my house), and I also wanted the sconces incorporated into the mirror design.  So I decided to frame out the mirror the same way that I'm framing out all of my doors, and add the sconces onto the frame of the mirror.  Here's how it turned out…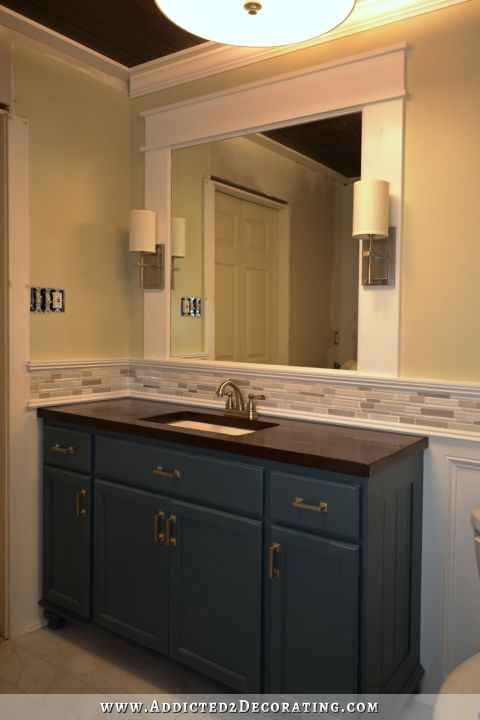 This was so unbelievably easy to do.  I already had my junction boxes in place for the sconces. I put those in way back before I installed the new drywall.  So all I had to do was cut the holes in the frame pieces to match up with the junction boxes.  l cut the side pieces to length (I used 1 x 6's for the sides), then marked where the holes should go, and used an extra junction box as a pattern for the holes.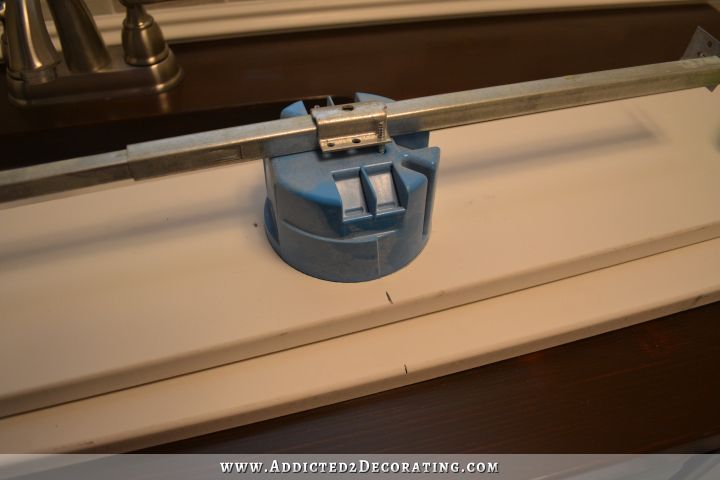 Then I used my jigsaw to cut out the holes.  I attached them to the wall with construction adhesive and 2-inch finishing nails.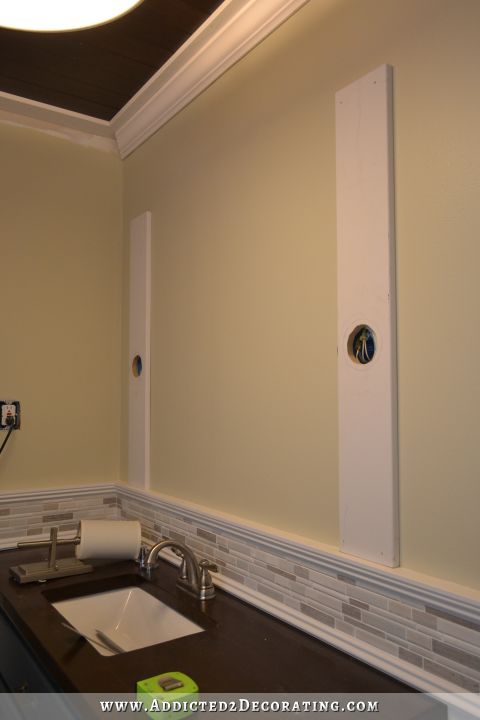 Then I built the top piece out of one 1 x 6, cut to the exact width of the mirror frame, and two 1 x 2's, cut to that same width plus one inch.  I put this top piece together on the floor, using wood glue and 2-inch finishing nails.
And then attached it to the wall above the side pieces using construction adhesive and 2-inch finishing nails.
Then I used wood filler on the nail holes and sanded those smooth after it was dry.  I caulked all of the joints, and then primed the whole frame (again, with my favorite oil-based primer — Zinsser Cover Stain) and painted it with my trim color (Behr Polar Bear).
At that point, I could finally install the sconces.  I had the mirror cut at a local glass and mirror company, and adhered it to the wall using mirror mastic.  (Don't ever use regular construction adhesive for mirrors!  Glues that are not made for mirrors can affect the silver reflective backing on mirrors.)
And to finish up the construction, and cover up the edges of the mirror, I attached some tiny trim all the way around the inside edge of the mirror frame.  (Don't forget to paint the back of the trim before attaching it!  Some of it WILL reflect in the mirror.)
I wish I could give you a name/link for that trim, but I couldn't find anything that would work, so I basically ended up making my own.  I had some scraps of the panel moulding left over from the wainscoting.  That moulding looks like this…
So I used my table saw to cut off a small edge from that moulding to use on the mirror.
It worked out perfectly!  I have used that table saw constantly since I got it.  I honestly have no idea how I went so long without one!
Anyway, with a little more wood filling, sanding, priming, and painting on that small trim, it was finished.
I love the simple design, and how the sconces are incorporated into the frame.  But most of all, I love how much bigger this room feels now that the mirror is installed!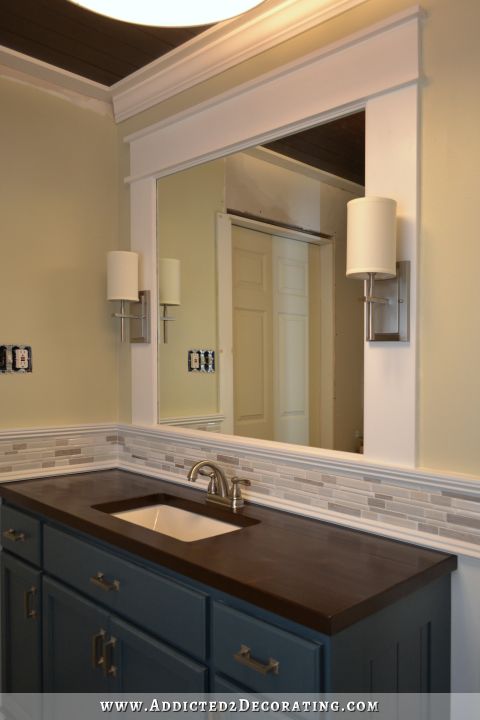 Of course, now it reflects all of my unfinished projects.  🙂  I really need to get those doors finished, and you'll notice that I still have some crown moulding missing.  I can't install that until I build the linen storage built-in since the crown will wrap around that built-in.
There's still plenty to do, but at least my list is getting shorter!
Addicted 2 Decorating is where I share my DIY and decorating journey as I remodel and decorate the 1948 fixer upper that my husband, Matt, and I bought in 2013. Matt has M.S. and is unable to do physical work, so I do the majority of the work on the house by myself. You can learn more about me here.
I hope you'll join me on my DIY and decorating journey! If you want to follow my projects and progress, you can subscribe below and have each new post delivered to your email inbox. That way you'll never miss a thing!