Bathroom Remodel Day 27 — The Emotional Breakdown
Sometimes I wish I could live in one of those home remodeling t.v. shows, where everything — from purchasing the house to having it completely remodeled and furnished — is wrapped up in a neat little bow in the span of an hour.  Oh sure, they run into problems.  The HVAC system is completely shot and needs to be replaced, or there's a serious drainage problem in the back yard that's causing flooding in the house.  But with one phone call it's all taken care of, and fifteen minutes later, the house is finished and everyone is tickled pink with the results.
The majority of those shows give such an unrealistic view of what remodeling is actually like, whether you're using a contractor or doing it yourself.  Real life remodeling isn't nearly so tidy or painless.  Bringing an old house that has fallen into disrepair back to life isn't nearly so romantic in real life as it appears on those shows.  The process isn't always fun and exciting.  Sometimes it's difficult, and frustrating, and emotionally draining, and overwhelming, and leaves me slumped over my table saw bawling my eyes out.  That's what happened last night.
It all just came crashing down on me.  I knew I had been "on the brink" for a few days now.  I've been working non-stop on this bathroom, because I desperately want to get it to a point where I can at least use the shower.  It's really been grating on me to have that shower out-of-commission, because I refuse to use the shower in the other bathroom (when I turned the water on in that tub the other day, the water was literally brownish red from rust), so I've been going to my mom's house to shower.  That's getting old.
And then yesterday — the 27th day that this remodel has been "in progress," and this bathroom has been out-of-commission — I still hadn't gotten to any of the pretty stuff.  After working on it again for an entire day, all I had to show for it was a few sanded and re-mudded drywall seams, and a glowing red tub surround.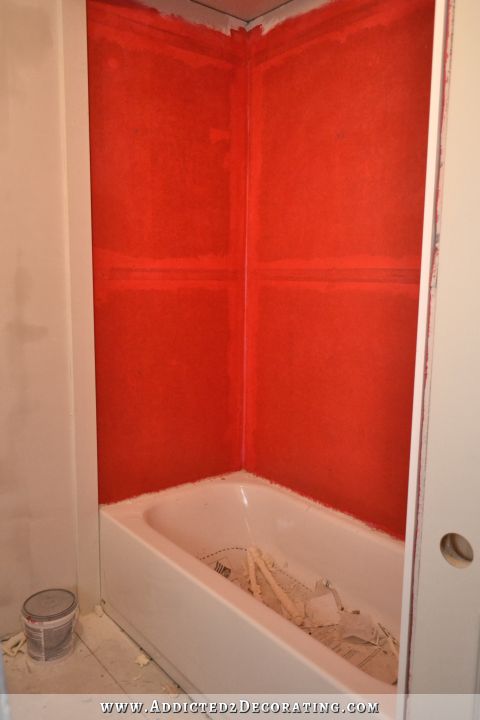 I was determined that by the end of the day, I'd at least begin on a pretty project.  Just something.  Even just a tiny little beginning of something pretty would make me feel better.
I decided what project I wanted to work on, and needed to use my new table saw for it.
*Sidenote:  I have a table saw now!  Remember that DIY contest a few weeks back?  Well, I won, thanks to all of you!  I won a $250 gift card to Home Depot, which I promptly spent on this bathroom, probably on something really exciting like drywall, cement board, mortar, drywall mud, and screws.  And then I got a $250 gift card to Ryobi Tools, which I used to get myself two tools that I've been wanting and needing for a very long time now — a table saw and a router.  So thank you, thank you, THANK YOU!  🙂
I hadn't used my table saw yet, so it was still packed in the box that it came with.  I lugged it to the sunroom, opened the box, and tried to get it out of the box.  It wouldn't budge.  I pulled and pried, and finally got it out of the box only to realize that it wasn't so easy as plugging it in and using it.  I tried to put the stand together, but one of the plastic parts was broken, so the stand wouldn't go together.  I tried to set the saw up, but I had a heck of a time getting all of the styrofoam packaging out from around the blade.  I finally got it out by breaking it apart into small pieces, but by that time, I was incredibly frustrated.
Then I needed to put the blade guard on.  I got out the instruction manual (I HATE reading instruction manuals!!) and read the instructions, written in microscopic print and illustrated with awful pictures, on how to install the blade guard, but I just couldn't get it.  No matter what I tried, I couldn't get the blade guard to go on properly.  I read and re-read the instructions, looked at the pictures countless times, and tried it exactly as it was described, and it just wouldn't work.
I was so unbelievably frustrated at that point.  Poor Matt didn't know what had happened when I stormed into the bedroom, where he was lying down in bed, yelling and ranting and flailing my arms in the air.  He tried to calm me down, but he's learned that when I get that frustrated, it's best to just let me get it out.
I headed back into the sunroom to try again.  I re-read the directions, looked again at the pictures, and tried about three more times to get that blade guard on.  It still didn't work.  And that's when I really lost it.
I slumped over that stupid table saw, and all of the frustration and exhaustion of the last few days…weeks…came bubbling the surface.  All of my irritation at still working on the "bones" of this bathroom remodel and not yet working on the pretty stuff.  All of my immense frustration at the current state of my house, with everything covered in dust, my hallway packed full of tools and construction debris, and my entire entryway filled with new bathroom items on one side, and bagged up debris on the other, creating a barely usable path from the music room to the front door.  All of my exhaustion from at least three weeks of not being able to sleep well because my arms fall asleep so easily from nerve issues caused by extreme physical exertion.  All of my annoyance at constantly being covered head to toe with dust, and not having a usable shower at my own house. All of my frustration at the weather, turning cold and rainy again, while I've got a huge, sucking hole in the hallway ceiling pulling out any bit of heat our little space heaters are putting out.
In that moment, it all came out.  I bawled my eyes out, in loud, wailing sobs, for a good ten minutes. (Matt claims it was more like 30 minutes.)
It's amazing how cleansing and therapeutic a good, long cry can be.  When I finished, I wiped the tears from my eyes, picked up that instruction manual, gave it one more read, and installed the blade guard on my saw on the first try.
But I decided to put the tools and work aside for the night.  I walked back into the bedroom, where Matt asked me, "Are you alright now?"  I told him I felt better — not great, but better — and I guess I had just needed a good, long cry.  He said, "Kristi, I haven't heard you cry like that since your dad died."  He's probably right, and my dad died four months after Matt and I got married.  We've been married for 12 1/2 years.  I'm just not much of a crier.  I'll throw temper tantrums, yell, throw things (never at anyone, by the way, but I will throw things that make me mad, like when I couldn't get my circular saw to cut anything and I finally got so frustrated that I chucked that piece of junk across my front porch onto the concrete), but I don't really cry.  But last night, it's exactly what I needed.  I felt so much better.  Not great, but better.
I put work and tools aside for the evening, and had dinner with Matt.  Then I relaxed for a bit, watched a show, and went to bed.
And I slept like a baby last night, getting my first good night's sleep in at least three weeks.  Everything looks much better to me this morning.
I wouldn't trade this experience for anything.  I've always wanted to buy an old fixer upper and remodel it myself.  I wished it, and now I have it.  But it's nothing like those t.v. shows.  Nothing gets wrapped up in a nice, tidy bow in the span of an hour. That would be nice, but it's just not reality.
Addicted 2 Decorating is where I share my DIY and decorating journey as I remodel and decorate the 1948 fixer upper that my husband, Matt, and I bought in 2013. Matt has M.S. and is unable to do physical work, so I do the majority of the work on the house by myself. You can learn more about me here.