Customizing Stock Cabinets For A Bathroom Vanity – Two Design Options
I worked pretty much non-stop for the last three days on my bathroom, and still haven't gotten to any of the pretty stuff. *Sigh* I'm close, though. Very close. I got all of the drywall up, cement board installed around the tub, and all of the seams taped and mudded. I still need to do a bit of sanding, and then do a second coat of mud. Don't look too closely. I don't exactly mud the correct way. 🙂
Oh, and I still need to tape and mud around the top of the walls/ceiling.  Fortunately, that doesn't have to be pretty since it'll be covered with crown moulding.  🙂
I thought that this room would look so small and strange once the window was covered up, but it actually looks like it was always meant to be this way. And I don't think it looks smaller at all. Of course, once the mirror goes in, that'll open up the room quite a bit. (Have you ever noticed how small bathrooms appear when you remove the mirror?)
The bathtub surround is just about ready for tile. In fact, I think it will definitely be ready by the end of the day. I caulked all of the seams and screw holes with a flexible waterproofing construction sealant (I think it was DAP brand — I got it at Home Depot in the paint section with the caulk, and it actually said it was meant for concrete, which I thought was perfect since I was using it on cement board). Then once that was dry, I put a layer of cement board mesh tape and mortar over the seams.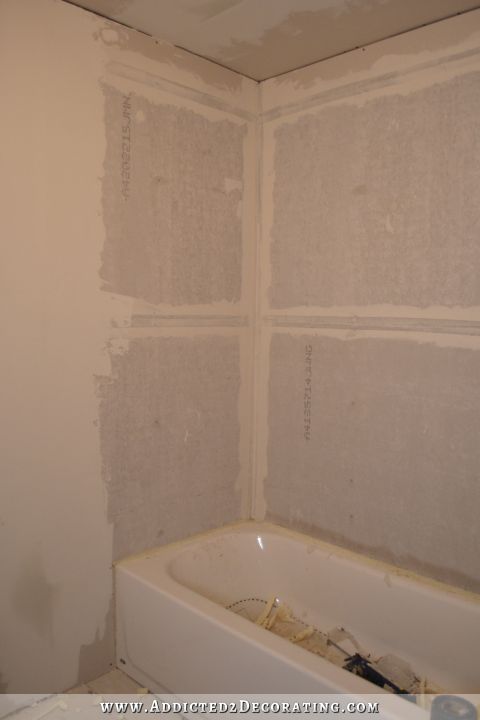 Today I'll add the waterproofing membrane. I decided to use RedGard since a few of you highly recommended it. It looks easy to apply with a brush and roller, and requires two coats that each take about two hours to dry.
Once it's dry, I'll be ready for tile!
Now one thing I learned in researching how to do all of this, and that I thought was important to pass along to you, is that when it comes to waterproofing, you either want to waterproof behind the cement board (this is generally done with a layer of thick plastic behind the cement board), or you want to waterproof on top of the cement board with a brush-on, spray-on, or roll-on membrane like RedGard. But you never want to add a waterproofing barrier on both sides of the cement board. The reason is because if water does happen to penetrate the top membrane and get behind the cement board, you want the water to be able to evaporate. But if you've got a second waterproofing membrane behind the cement board, the water won't be able to evaporate, and you've created the perfect environment for mold growth. So only use one waterproofing membrane, and put it either on the front or the back.
So I feel like I've almost gotten through the boring (and hardest) parts of this bathroom remodel, and the fun stuff is about to begin.
One thing I've been daydreaming about while working on this boring stuff is the vanity. If you'll remember, I decided to use stock cabinets and customize them like I did in the kitchen.
But I don't want to customize them in the same way as I did the kitchen cabinets. I want it to look different, so I needed some new ideas. In searching for "furniture-style bathroom vanities" for design ideas, I narrowed it down to two different styles that I really like.
The first idea would be to simply remove the toekick from the stock cabinets, and add furniture feet and trim to the bottom. That would make it look more like a piece of furniture rather than a standard vanity, and the bottom would look similar to this…
via Wayfair
That would be quite simple to do, and would also be the cheapest option.
The second option would be something like this…
via Direct To You Furniture
That would require quite a bit more construction/modification, as I'd have to cut the existing cabinets off above the doors, which means I'd lose the drawers.  That's not a huge loss considering that the big drawer in the middle would be non-functional anyway since that's where the sink will be.  So I'd only lose two very small drawers.  I also like that the bottom area is open, which might help to keep things open and airy in such a small bathroom.
So those are the two designs I'm considering right now, and I've gone back and forth between the two of them at least ten times this weekend.  Which one would you choose for my small bathroom?
Of course, regardless of the style, the color will be much different from the pictures shown above.  Mine will be painted rather than stained.  I still haven't decided on the color, and I probably won't until I find the perfect shower curtain fabric.  Then I'll go from there.  For now, I just need to settle on a design.
Addicted 2 Decorating is where I share my DIY and decorating journey as I remodel and decorate the 1948 fixer upper that my husband, Matt, and I bought in 2013. Matt has M.S. and is unable to do physical work, so I do the majority of the work on the house by myself. You can learn more about me here.