Bathroom Progress – Three Pretty Projects Finally Underway!
I'm finally working on some pretty things for my bathroom! Okay, I realize that "pretty" is highly subjective. They're pretty to me. 🙂
First up, I started tiling the bathtub surround. It's nothing too terribly exciting — just subway tile. I love subway tile because it's cheap, white, bright, and clean-looking.
The mortar and tile go right over the dried RedGard waterproofing membrane that I had painted on the day before. I'm anxious to get all of that red covered up because right now it's casting a pink glow in the entire bathroom.
And just like in the kitchen, I decided not to use spacers.  I did use spacers along the bottom row to keep the tile off of the bathtub about 1/8 inch.  I'll caulk there later.  But for the tiles, I opted for no spacers because I like the grout lines to be as small as possible.  I haven't decided which grout color I'll use yet, but I do know it'll be light and neutral.  I know black is a popular color to use with white subway tile, but I just can't get myself to like it.  I prefer something with far less contrast.  In the kitchen, I used a color called Bone, so I might use that in here as well.
That's as far as I got with the tiling because I got sidetracked by my table saw and the pretty weather. Since it was so pretty outside, I decided to take my table saw out to the back patio and take it for a test drive by cutting the wood needed for two different projects.
The first wood project is a stained wood ceiling that I want to do in the bathroom. I have no idea how this will turn out. It could be a huge flop, and I might end up painting it all white. But I have this vision in my mind of a stained wood ceiling "framed" with wide white boards, decorative moulding, and crown moulding. Here's one of the inspiration pics I found while searching on Pinterest.
via Erin Gates Design
 Now I realize that that room is large, has very tall ceilings, and is filled with tons of natural light.  My bathroom has none of those things.  🙂  But I kept going back in my mind to the dramatic effect this dark ceiling has in this small bathroom that I shared quite a while back.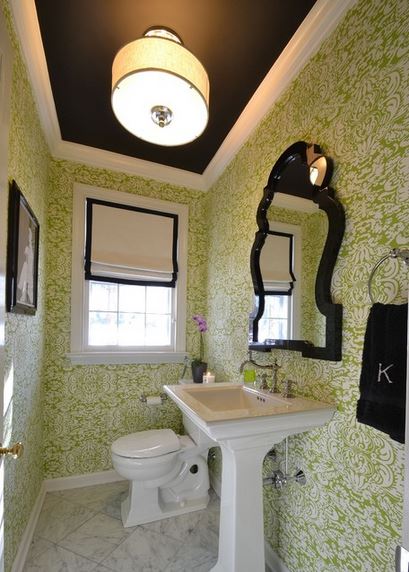 Contemporary Powder Room by Villanova Architects & Building Designers Priscilla Fenlin Interiors
But again, that room has natural light.  Mine doesn't…yet.  (I will install a solar tube at some point in the future to flood the room with natural light now that the window is gone.)  I may end up hating the look, and the room may end up feeling like a dark cave.  If that happens, I won't hesitate to paint it all white and be done with it.  But until I know for sure, I know I won't be satisfied until I at least try it.  You have to take chances in decorating, right?  That's part of the fun for me!  Some things work out, and some don't.  But I love to try.
So with this design idea in my head, I went in search of stainable wood V-groove tongue-and-groove boards I could use on my ceiling. (I don't like beadboard, so that wasn't an option.)  I couldn't find anything that I liked.  Most everything I found was filled with knots, and a rustic, knotty look is definitely not what I'm going for.  So I opted instead for 1/4-inch cabinet grade plywood.  I had Home Depot rip two pieces in half for me (i.e., cut down the middle the long way), and then I used my table saw to rip those into strips that were 3 7/8 inches wide.
After I cut all of the strips, I sanded the edges smooth.  Now I have a whole stack of slats ready to be installed on my ceiling and then stained.  Now I just have to find the perfect stain color!
The second project that I cut wood for was my countertops.  I've decided to go with wood countertops, but I couldn't find a ready-made product that I was completely satisfied with.  Evidently IKEA doesn't carry their really thick butcherblock anymore (like I used in the condo kitchen), and I didn't want the thinner stuff.  I checked at Lumber Liquidators, and theirs was the thin stuff as well, and the only one of theirs that I actually liked was the walnut, which is way out of my price range for this bathroom.
I had considered using the old oak floor boards that I took up from the linen closet area in the bathroom, but it turns out that I'll need to use quite a bit of that flooring to patch the floor in the hallway where I removed the closet.  So I don't have enough left for a countertop.
So that left me with the option of making my own butcherblock-type countertop out of lumber.  Home Depot carries a 2 inch x 2 inch x 8 foot select pine lumber that has perfectly square edges for around $8.50 per board.  I almost went that direction, but then I came across these 2 inch x 3 inch x 8 foot pieces that were something like $1.98 each.
But you can see that they didn't fit together right because the edges of the boards are rounded rather than square.  So I used the table saw to cut 1/4-inch off of each side of each piece to remove the rounded edges.  That gave me square edges so that the pieces will fit together to form one smooth solid piece for the countertop.
I'll use my Kreg Jig to put the pieces together, so that will pull them very snugly against each other.  And I'm sure the top will still need quite a bit of sanding with my belt sander to get everything perfectly smooth.  But at least I'm starting now with wood that has square edges rather than rounded edges.  If this works out, that means that my countertops (both for the vanity and for the linen storage area) will come in at just around $24.
It's so fun finally getting to the pretty stuff!  I was starting to feel like I'd never get to this point.  Now if everything will just cooperate and turn out exactly as I envision it in my head, I'll be in good shape.  I'm hoping for a "no redo" bathroom project from here on out, but no guarantees.  🙂
EDIT:  Just out of curiosity, do you think the stained wood ceiling and the wood countertops need to be the same color?  Or do you think they could be two different, but coordinating, stain colors, like a lighter color on the ceiling, and a darker color on the countertops?  I can't make up my mind on this, so tell me your thoughts!
Addicted 2 Decorating is where I share my DIY and decorating journey as I remodel and decorate the 1948 fixer upper that my husband, Matt, and I bought in 2013. Matt has M.S. and is unable to do physical work, so I do the majority of the work on the house by myself. You can learn more about me here.