Last Updated on December 24, 2015 by Kristi Linauer
Well, I've reached that point in my bathroom remodel where I'm thinking to myself, "Why the heck is this taking so long?! What could I have possibly done that required this much time?" I'm starting to get more than a little anxious to have this room finished so that I can move on to something else.  (I get bored easily, which is why I generally get sidetracked so easily.  But I'm really trying this time to stay on task!)
So I hope you'll indulge me as I review my progress so far, and then go over what still needs to be done in order to call this room finished.
I started off with a very outdated bathroom that had tile everywhere.
So the first thing I did was start smashing out the tile on the walls.  That was hard work, and removing the wire mesh that it was attached to was quite a challenge.
Once that was off, I went to work on the floor.  That tile was set on a 2-inch mortar bed.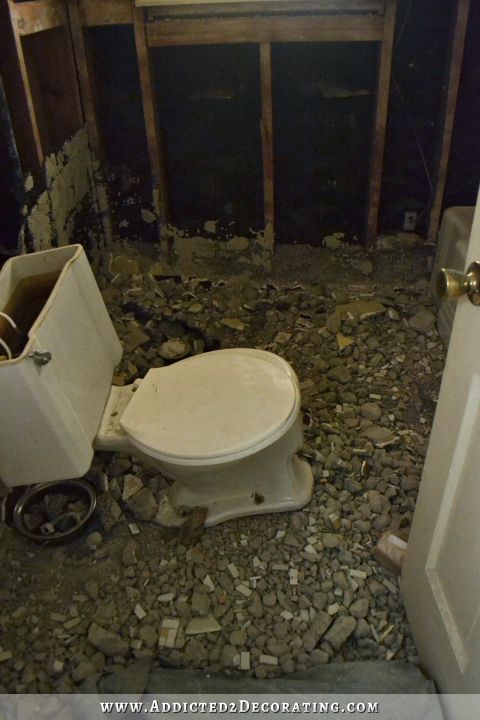 I ended up bagging up 39 bags of tile and mortar just from this small room!  I couldn't believe how much tile and mortar came out of here.  Then I decided to remove the original cast iron tub.  Obviously I couldn't do that myself, so I enlisted my neighbor, his friend, and his son to help me with that.  Once it was gone, it was obvious that an animal or two had made its nest under that tub at some point in the last 65 years.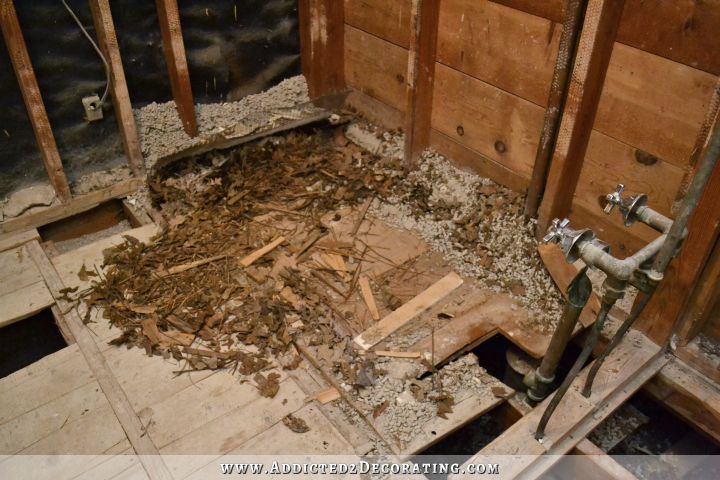 With all of that cleaned up, and the tile, mortar, and drywall gone, I could finally start rebuilding this room.  I started by running new electrical wiring, which I ended up changing a bit later.
Then in went some of the new subfloor, concrete board, a new tub, and a reframed wall to separate the tub from the linen storage area.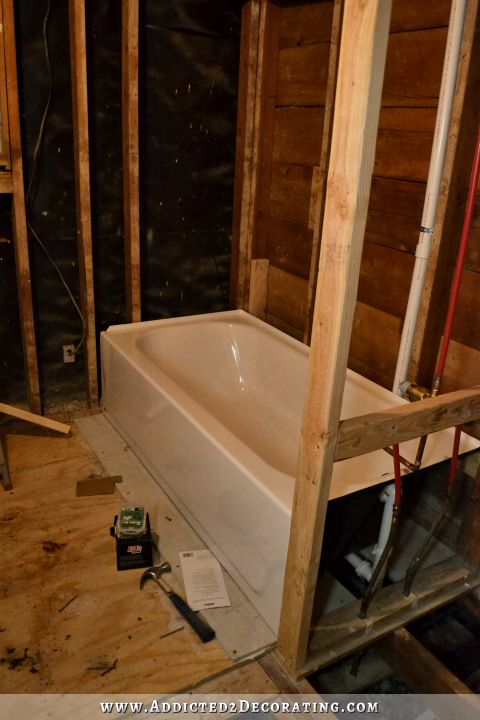 Next I decided that I wanted to move the door over, but in order to do that, I needed to remove the hall closet, and the massive ductwork that as inside the closet.
I wasn't sure I would be able to do that on my own, but I finally conquered it.
Next I insulated my tub.
And then installed the rest of the plywood subfloor and Hardiebacker cement board on the floor.
And then I started working on drywall.  This was my first time to drywall a ceiling by myself.  It wasn't easy, but that was mostly due to the size of the room, and having to maneuver large pieces of drywall around the wall at the end of the tub, and onto the drywall lift.  It was a tight squeeze, but I made it work.
Before I drywalled the walls, I had to reframe the doorway.
I got that done, and then put up the drywall on that wall so that I could install the new door (which will soon be changed again).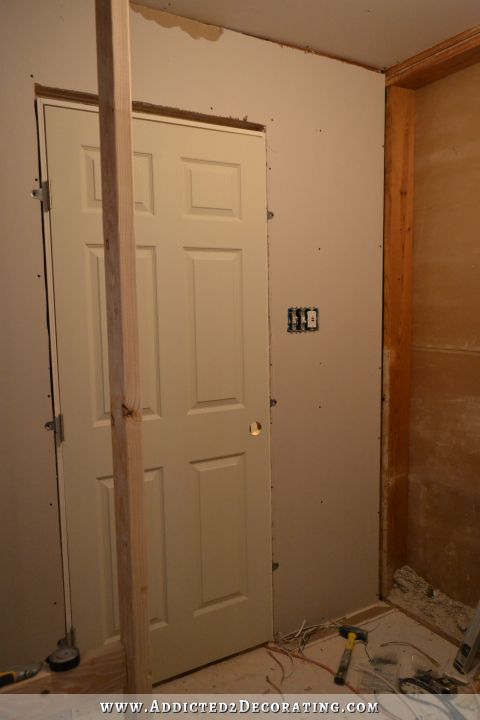 Next came the rest of the drywall on the rest of the walls, and then my absolute least favorite thing ever — taping and mudding the joints.
I also installed the concrete board around the tub, and taped those joints as well.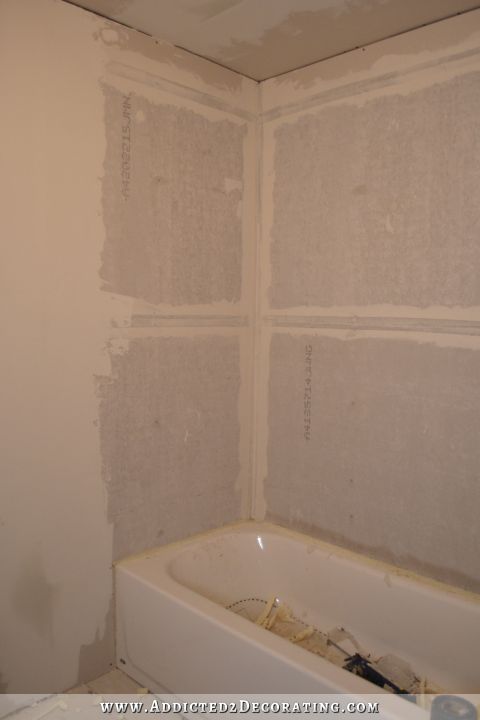 Then I did some waterproofing around the tub with RedGard.  That stuff stinks pretty badly, but it's very easy to apply, and really does a great job of sealing and waterproofing.  I highly recommend it!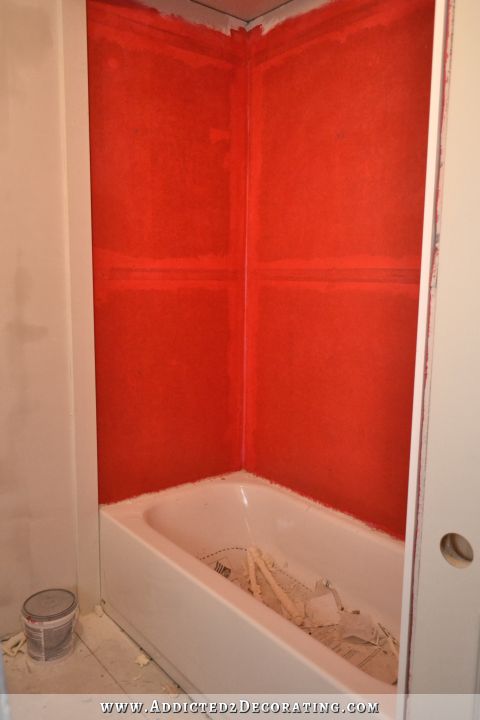 Then I got started on some tiling…
…but in true Kristi fashion, I got sidetracked by the project that I really wanted to do — the stained plank wood ceiling, trim, crown moulding, and my new light.
With that fun project done, I went back and finished up the tiled walls on the tub surround.
Next I worked on the floors, and got those tiled and grouted.
Then I was finally able to work on my vanity.  I did a little surgery on some stock oak cabinets…
…joined those together and added furniture feet…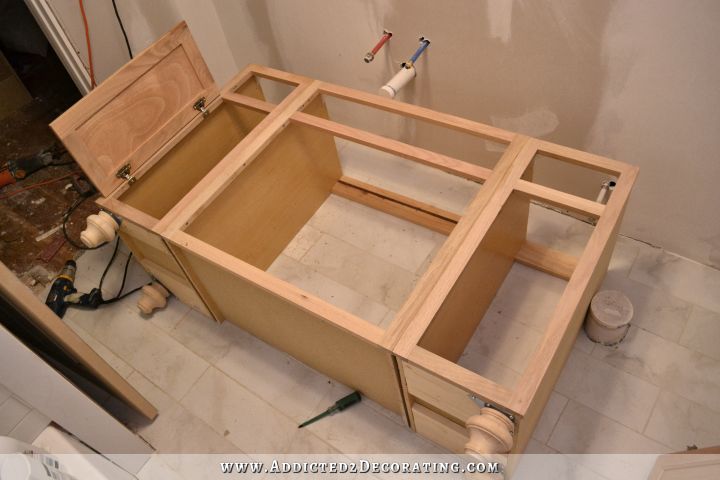 …and had my basic vanity complete.  It's still far from finished.
Next I made my countertop by joining pieces of pine lumber together…
…and then doing loads and loads of sanding and wood filling.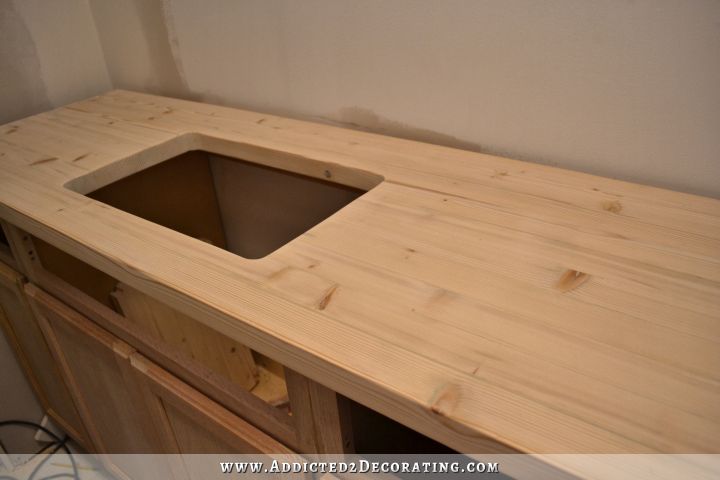 And after some staining, it turned out pretty good!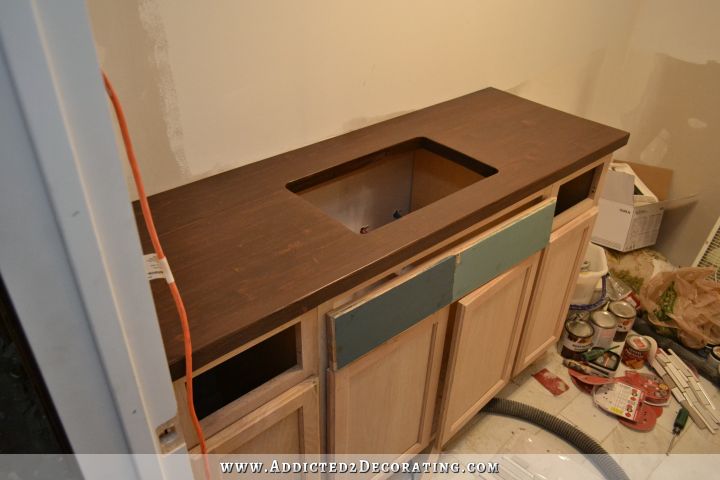 Since then, I have sanded and re-stained that countertop four times to get it just right.  I don't have pictures yet, but I will soon.
And that's where this project stands right now.  I really have done quite a bit of work on this room, so I should give myself a break.  But I sure was hoping that it would be finished by now!
So what's left?  Here's my list, but I might have forgotten something.  And it's not necessarily in the order that I'll do the projects:
Install, caulk, and paint the wainscoting on the walls,
Finish the vanity — add trim, remake and reinstall drawers, prime, wood fill, caulk, and paint,
Paint the walls,
Wood fill, caulk, and paint the ceiling trim/crown moulding,
Clear coat the vanity countertop and do a hand-rubbed finish,
Install the sink, faucet, and toilet,
Build, prime, and paint the linen storage built-ins,
Drywall the hallway wall outside the bathroom so that I can…
Replace the current door with double doors,
Clean up grout haze and caulk the tile around the tub,
Install the exhaust fan above the tub,
Tile and grout the ceiling above the tub,
Install a vanity mirror,
Install the sconces on the vanity wall,
Repair the wood floor outside the bathroom door,
Build the tub skirt,
Make the shower curtain.
Holy freaking cow, this project will never end!!  *Sigh*  And I thought this one would be quick and easy since it's such a small room!
Oh well, one day at a time, and one foot in front of the other.  It'll get there!  And in the meantime, I'll just keep reminding myself that I really do enjoy the process, and it's supposed to be fun!  🙂  Now I better get busy!
Addicted 2 Decorating is where I share my DIY and decorating journey as I remodel and decorate the 1948 fixer upper that my husband, Matt, and I bought in 2013. Matt has M.S. and is unable to do physical work, so I do the majority of the work on the house by myself. You can learn more about me here.
I hope you'll join me on my DIY and decorating journey! If you want to follow my projects and progress, you can subscribe below and have each new post delivered to your email inbox. That way you'll never miss a thing!