Good morning, y'all! As promised, I'm here for my daily accountability to show you what I got done in the pantry yesterday. Unlike Friday, yesterday wasn't about getting lots of little tiny projects crossed off the list. Yesterday was about getting the one (probably) biggest project crossed off of the list — building the four remaining pull-out shelves. Here's a very quick video of the progress…
(Having trouble? Click here to watch on YouTube.)
I had so many other non-house-related things pulling me in different directions yesterday, but I was still determined that I wasn't going to go to bed until I got these four pull-outs finished. I finally installed the last one at 11:27pm. Then I made my quick video above, and headed to bed. I was exhausted, but it was so worth it to have that final BIG project crossed off of my "to do" list for the pantry. With very few exceptions, most everything else left on the list is painting.
Anyway, the main cookie sheet pull-out that I made for this right cabinet takes up most of the cabinet, but I still had room at the top for a pretty deep shelf/drawer. The drawer itself has five-inch sides, but can store things that are up to about eight inches high.
That gives me plenty of room to store my electric skillet and electric five-quart pot. Don't freak out at how filthy they are. 🙂 They've been sitting in the corner of the studio for months now — the very room where I'm currently using my saws on an almost-daily basis.
Literally every single surface in this pantry will have to be dusted/washed/vacuumed before it's all said and done, and every piece of cookware and bakeware in here will have to be washed before it's officially put away for future use. So at this stage of the project, I had no qualms about putting dust-coated cookware in the drawer to make sure they fit. 🙂
And on the other side, I made three pull-outs of equal heights…
I use full-extension ball bearing drawer pulls on everything, so they work great…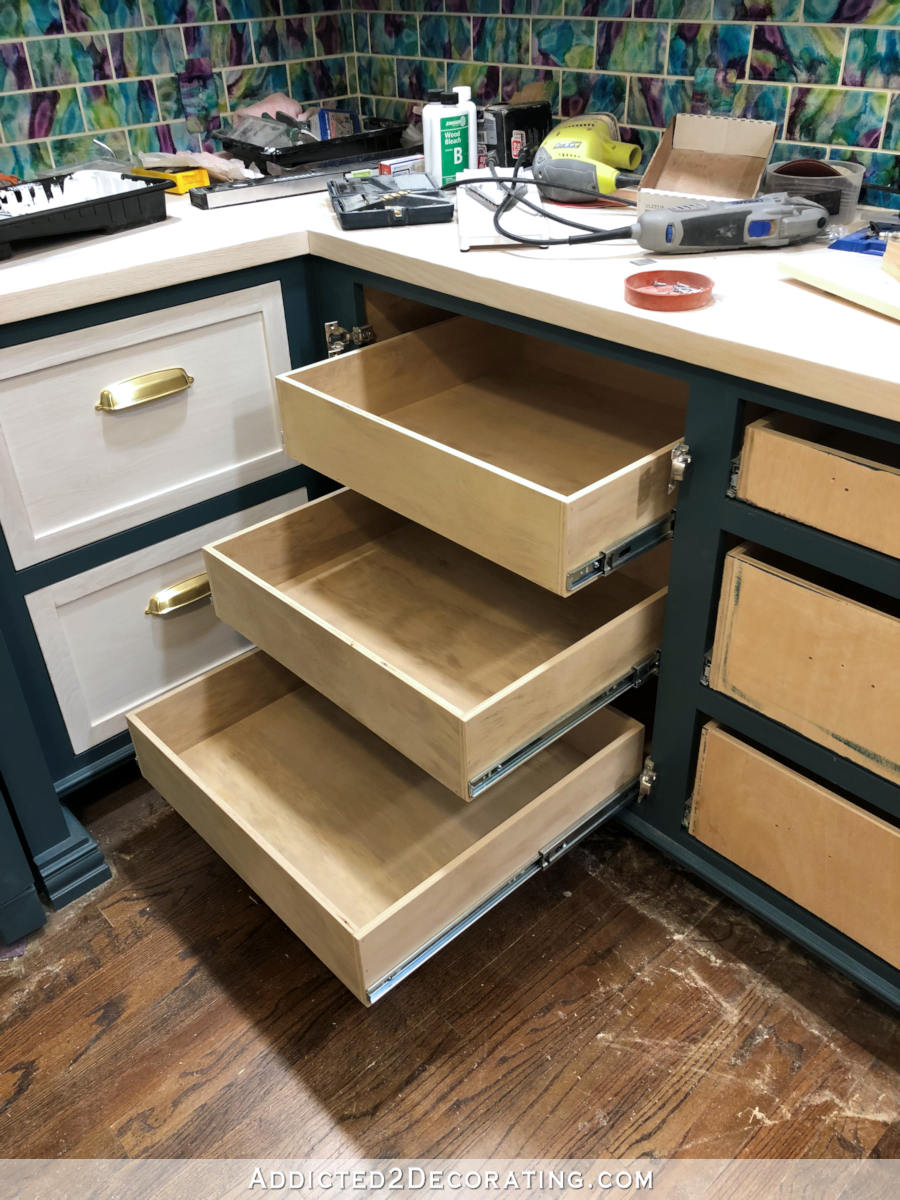 So as of this morning, this is what my list looks like:
Finish painting the edges of the ceiling

Done!

Add stile on top right cabinet

Done!

Add stile on cabinet above freezer

Done!

Add electrical outlet for microwave

Done!

Wire freezer outlet to breaker box
Paint second coat on right side cabinet
Paint second coat on freezer cabinet
Paint walls and shelves on back and side walls
Paint window trim
Install under-cabinet lighting
Paint four cabinet doors
Finish building new drawer fronts

Done!

Prime and paint drawer fronts
Build four more pull-out shelves

Done!

Clear coat all pull-out shelves and drawers
Install and caulk door trim
Paint door trim
Paint the wall around the door
Re-install ceiling light
Load in stuff and start using the pantry!
Not too shabby for two days of work, right? And of the fourteen items left on the list, nine of them involve a paint brush. And of the items left, there's only one I'm dreading, and that's running the wire for the freezer. For that, I have to walk from one side of the attic to the other, crawl into a somewhat tight space, and feed the wire down through a hard-to-reach hole into the guest bedroom closet. Once that's done, the rest will be a piece of cake.
But I think I'm going to wait on that. Since I made myself do one of the hardest things on the list yesterday, I'm going to reward myself today with an easy day of painting, and painting, and more painting. It'll be both productive and relaxing. 🙂
---
---
Update:
My pantry is finished! Want to see the entire project from start to finish? You can find every single post about the pantry build right here…
Or you can skip to the end and see how it turned out. Here's a peek of the finished pantry…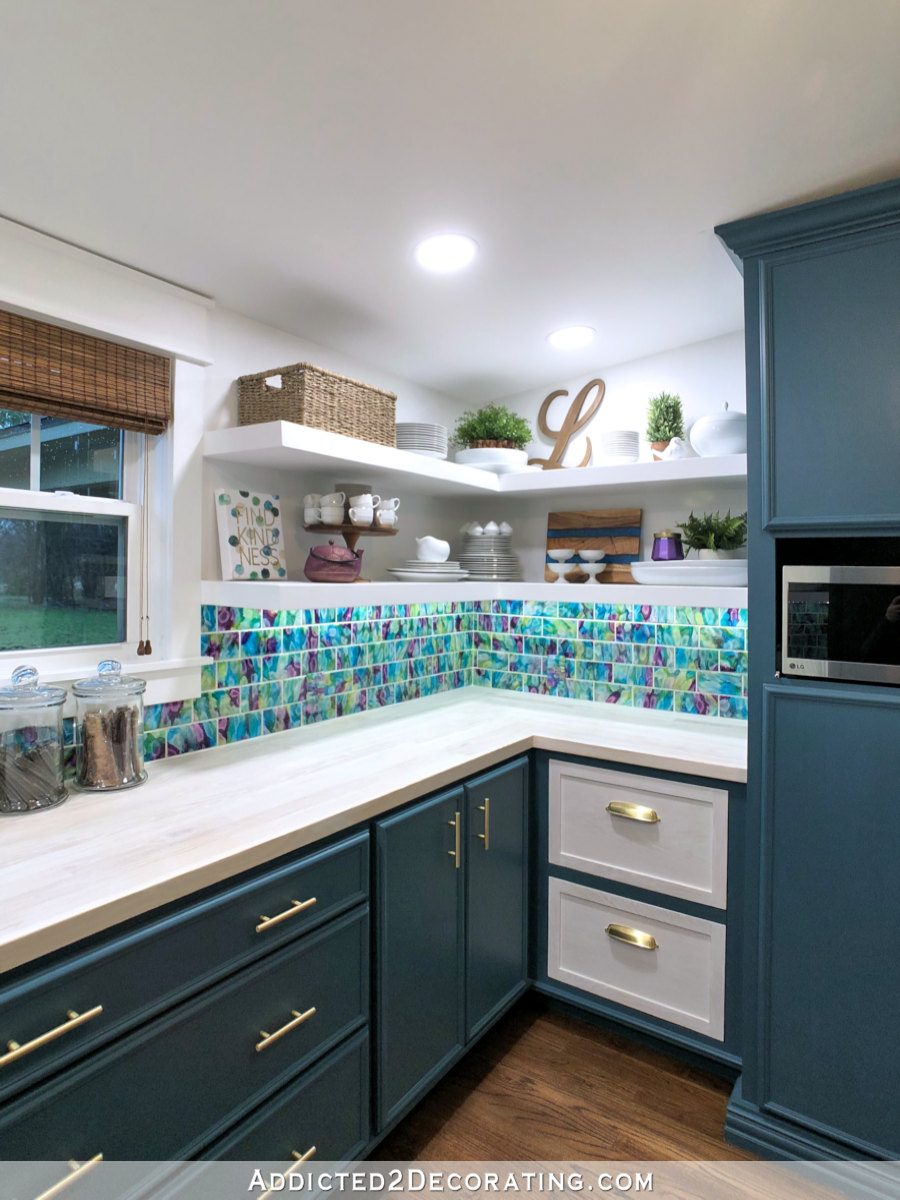 You can see more pictures on the before and after post right here…
---
---