Last Updated on March 26, 2022 by Kristi Linauer
I recently showed you how I built the DIY butcher block countertop for the hallway bathroom vanity. In that post, I left off with the countertop looking like this…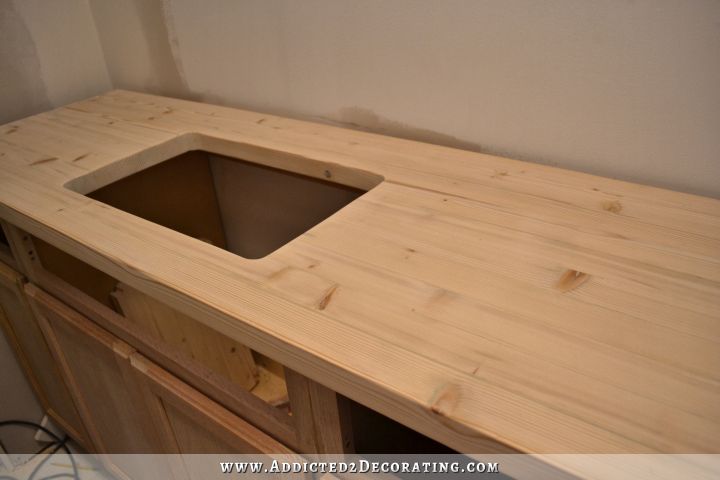 And now here's what the countertop look like after being stained.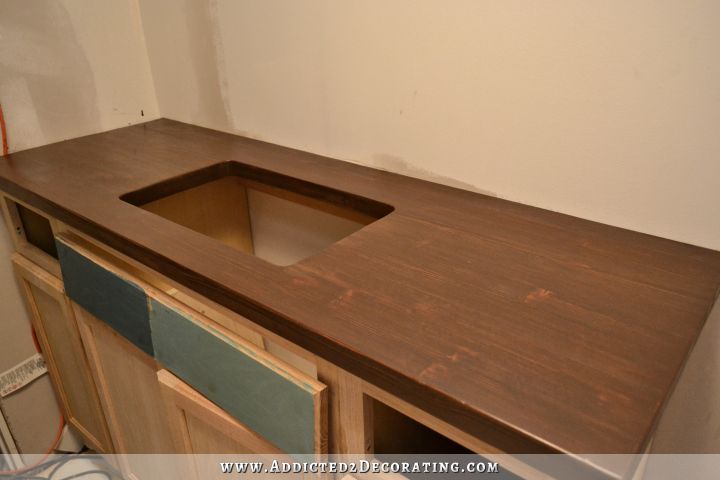 It's not perfect, and I don't think I'd ever fool anyone into thinking that it's walnut or another expensive wood. But I also don't think that "cheap pine" would be the first thing people think when they see it.  I think it looks pretty darn good considering that it's only $22 worth of pine studs!
It's still not finished. Stain alone isn't enough to protect a wood countertop in a bathroom or kitchen (or anywhere else, really), so it requires several coats of lacquer (or polyurethane, or another clear finish…but I'm pretty sure I'll use lacquer). Then after that cures, I want to do a hand-rubbed finish.
The problem is that lacquer stinks to high heaven, and it's a finish that really needs to be sprayed. So that means I need to work outside, and have a whole clear, sunny day with low humidity (or preferably two days in a row) so that I can apply several coats. Unfortunately, the weather here has not been cooperating at all lately (it's been raining for the better part of three weeks now), and I have no idea when we'll have our next clear, sunny, warm, low humidity day when I'll be able to spray the lacquer finish. Until then, I'll just have to be extremely careful with it.
How I stained my DIY pine butcher block bathroom countertop:
To stain the countertop, I started with a coat of pre-stain conditioner. I applied it with a sponge brush, let it sit on the wood for about ten minutes, and then wiped off the excess.
Then I used another sponge brush and applied a coat of Rust-Oleum wood stain in the color Carrington. (Rust-Oleum is the only brand of wood stain I'll use now, but especially on pine. Minwax turns the grain in pine a hideous orangish yellow color. Rust-Oleum doesn't do that.) Carrington is the same color I used for the first coat on the plywood planks for the ceiling. It's a very dark color, especially when you use it like I did and just apply it with a sponge brush and leave it (i.e., don't wipe any off with a rag), and it's also very opaque when used like that, so it hides most of the wood grain.
I let that dry, and then sanded it very lightly by hand with 220-grit sandpaper to bring out some of the wood grain.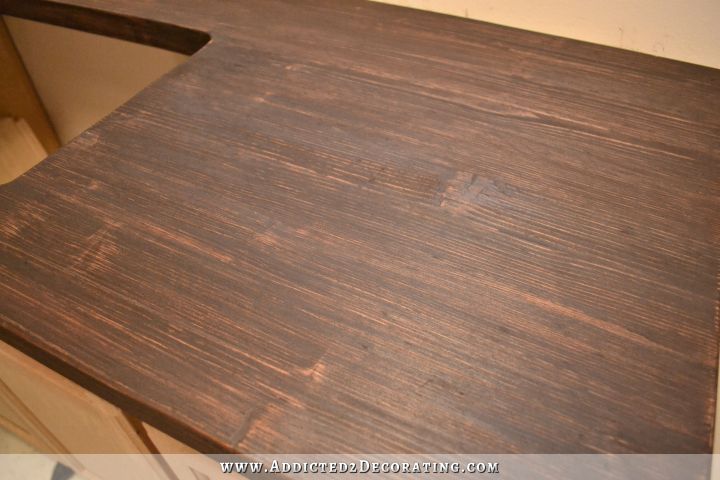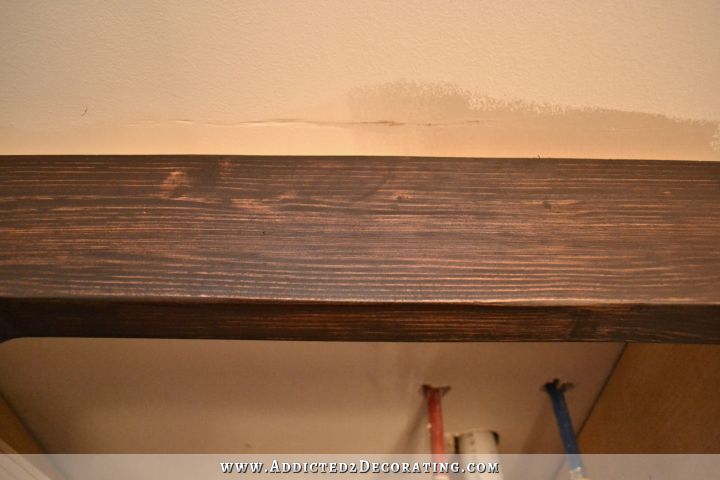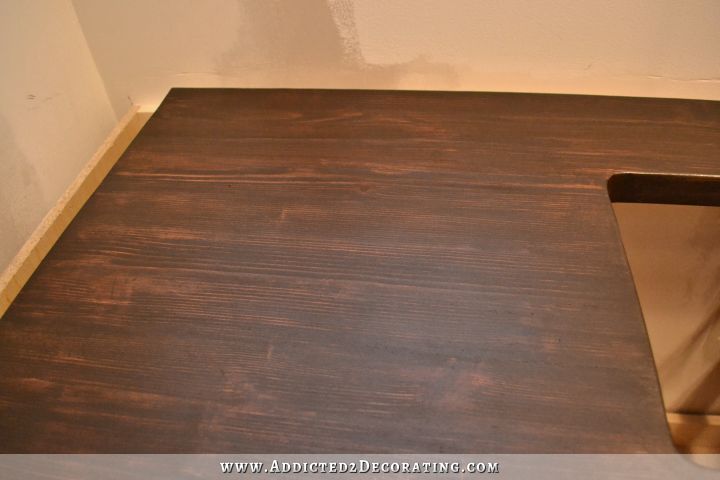 I actually really liked how that looked, and if I were going for a more rustic or farmhouse look, I probably would have left it like that. But the last thing I want in this bathroom is a rustic finish, so just like I did on the plywood planks for the ceiling, I added a coat of Dark Walnut on top of the Carrington.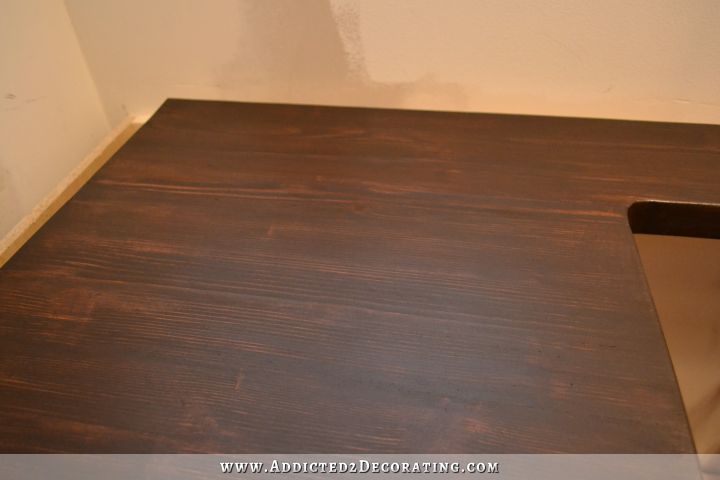 I was hoping that it would turn out more like the ceiling planks, but it didn't. Not only did I mess up on a couple of areas by overbrushing (you can see the really light areas in the pic below), but the finish was just super dark. The ceiling planks had considerably more red in them.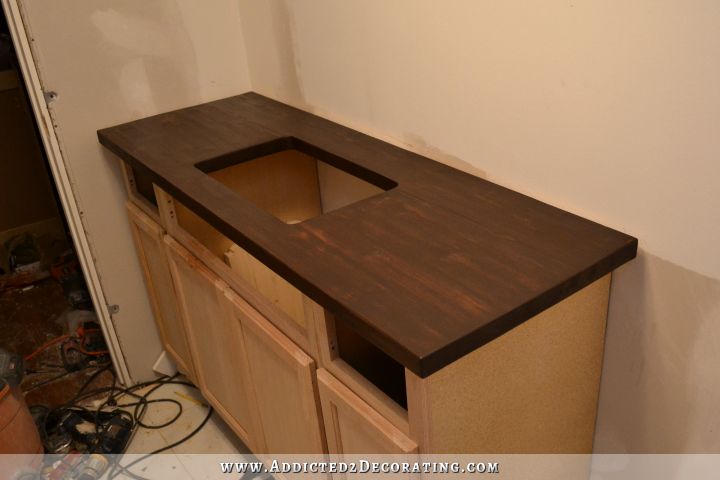 But what I did really like was how more of the grain was showing through. I didn't want the grain to be a hideous color (like that orangish yellow that the grain in pine turns when I stain it with Minwax stain), but I definitely wanted some of the grain to show.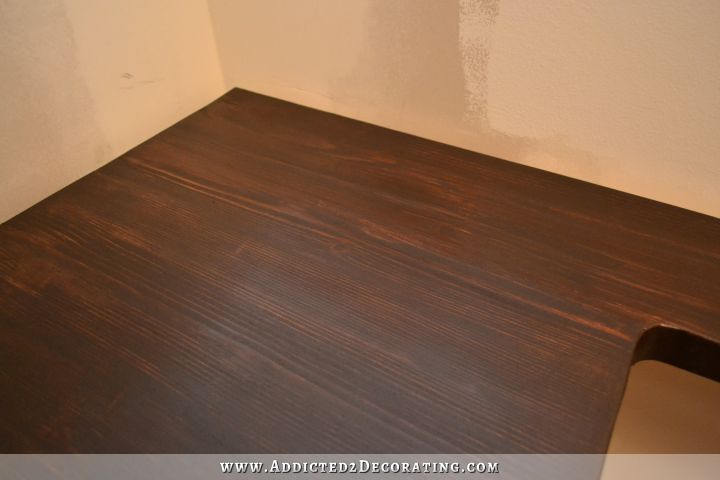 After all, what's the point of having wood countertops if the finish is so opaque that you can't tell it's wood, right? If no grain shows through, and it doesn't even look like wood, then I could have just saved myself the trouble of building a wood countertop, and just used painted MDF.
(I was so tempted to make a countertop out of painted MDF, by the way! And I'd LOVE for one of you to try that out and send me pictures! Two layers of 3/4-inch MDF glued together, primed and sanded super smooth, painted a bright and fun color, and coated with a high gloss pourable bar top epoxy. I think that would look AMAZING in the right room! And with a bar top epoxy coating over layers of paint and primer, there's no way that water damage would be an issue with the MDF. It would be a fun, bright, eye-catching countertop for a reasonably low price. Please, someone do that and send me pics!) 😀
Anyway, my countertop was still too dark for my taste (which surprised me), and didn't have quite enough red in it (which also surprised me since I generally turn my nose up at wood finishes that have too much red in them). So after that was thoroughly dry, I used some 400-grit sandpaper and sanded it VERY lightly to expose more wood grain.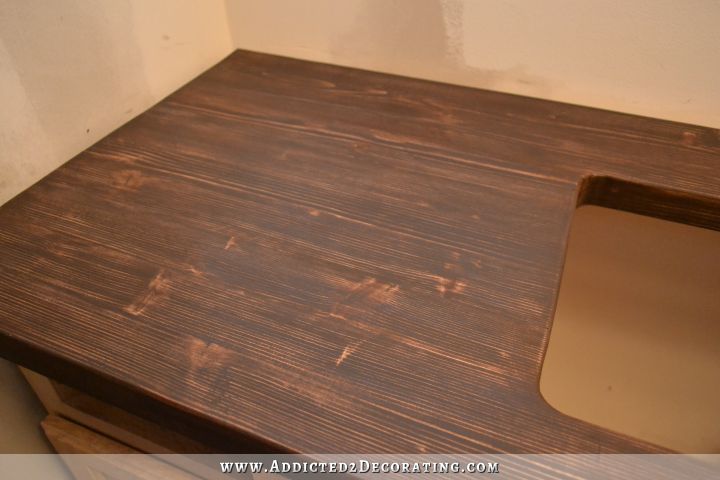 And then applied one more coat of stain. This time I used American Walnut, which definitely has more red in it than the Dark Walnut.
And then, when that was completely dry, I used 1000-grit sandpaper and sanded the entire surface very lightly by hand until I had exposed enough of the wood grain to suit my taste.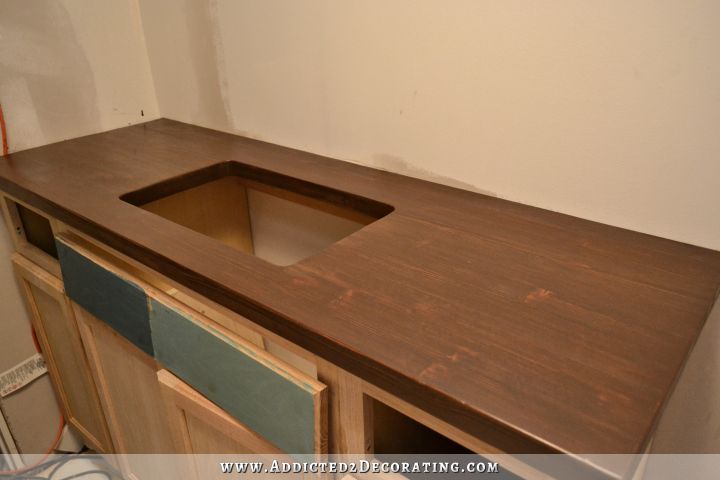 Obviously, there's no right or wrong way to do this staining and sanding. It's completely subjective and dependent upon your personal taste. You can sand as much or as little as you want, and expose as much or as little of the wood grain as you want. You can also layer as many different colors of stain as you want to create just the right look for you.
So that's where I've left this countertop project for now. The sheen isn't perfectly even all over the surface, but that will be taken care of as soon as I can lacquer it.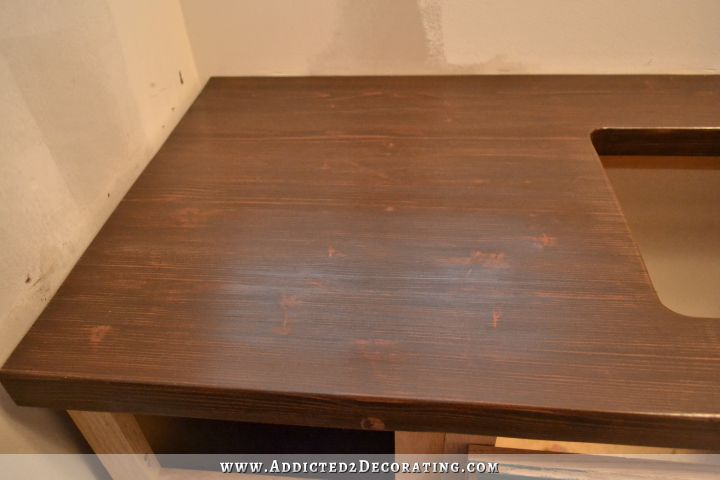 And I also think that the lacquer will bring out more of the depth of color, and will also bring out more of the wood grain.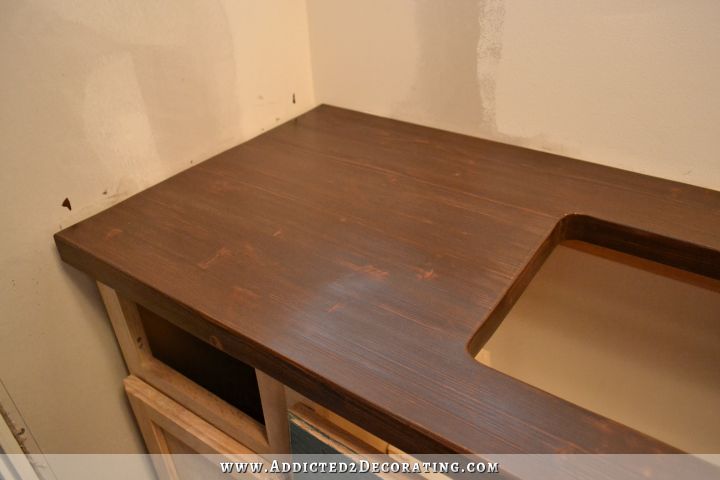 But that's not too bad for a pile of rough, cheap pine lumber, right? 🙂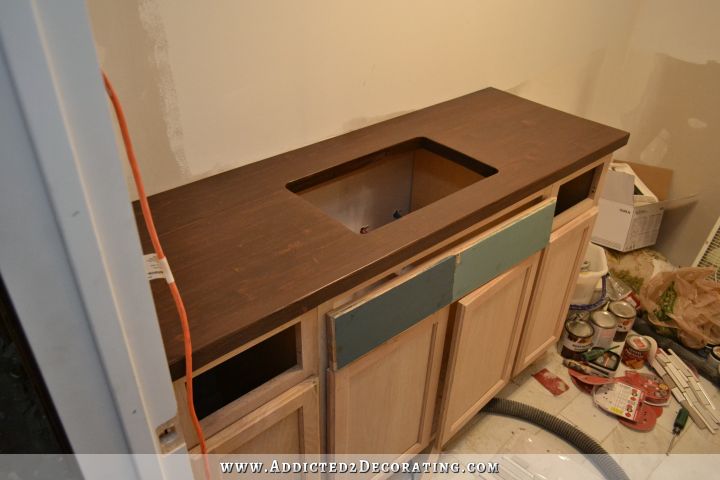 And now that I have the countertop color settled, I'm trying to make a final decision on the vanity color. I'm trying to decide between this light teal, which is Hallowed Hush from Behr…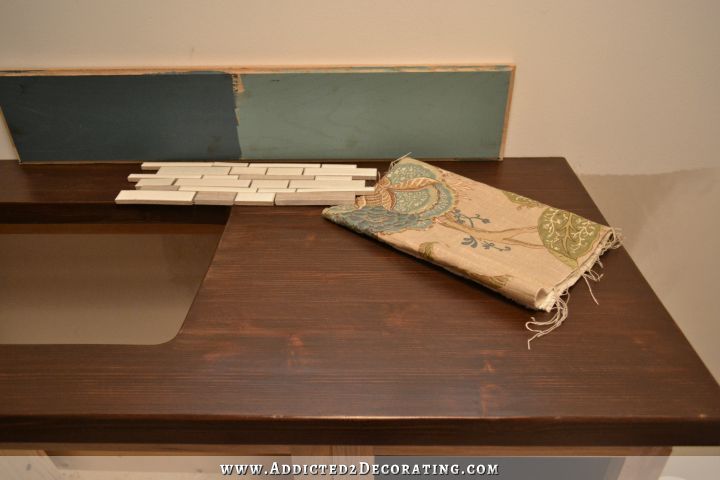 …and this darker teal, which is Mythic Forest by Behr.
Both of them go well with the shower curtain fabric. And that tile is the mosaic that I'm using as an accent on the wainscoting, and it will also wrap around the wall along the vanity to act as a backsplash.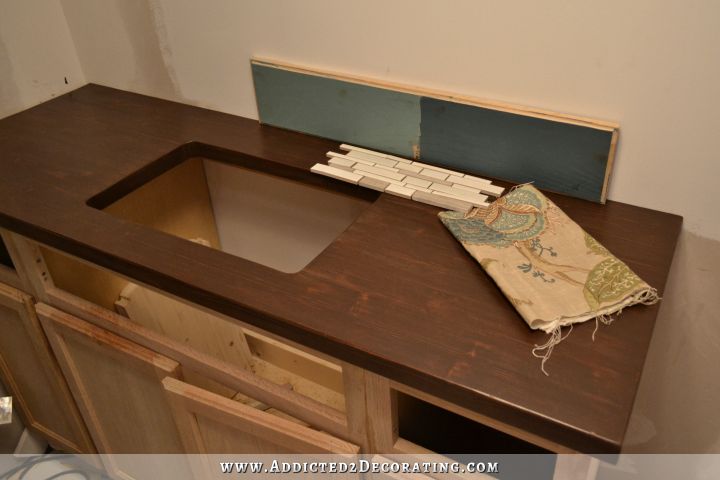 I love both colors, and I've used both of them before. The light teal, Hallowed Hush, is the color that I used on my kitchen cabinets at the condo. I also happened to have butcherblock countertops in that kitchen, so I know that I love that color used with a wood countertop.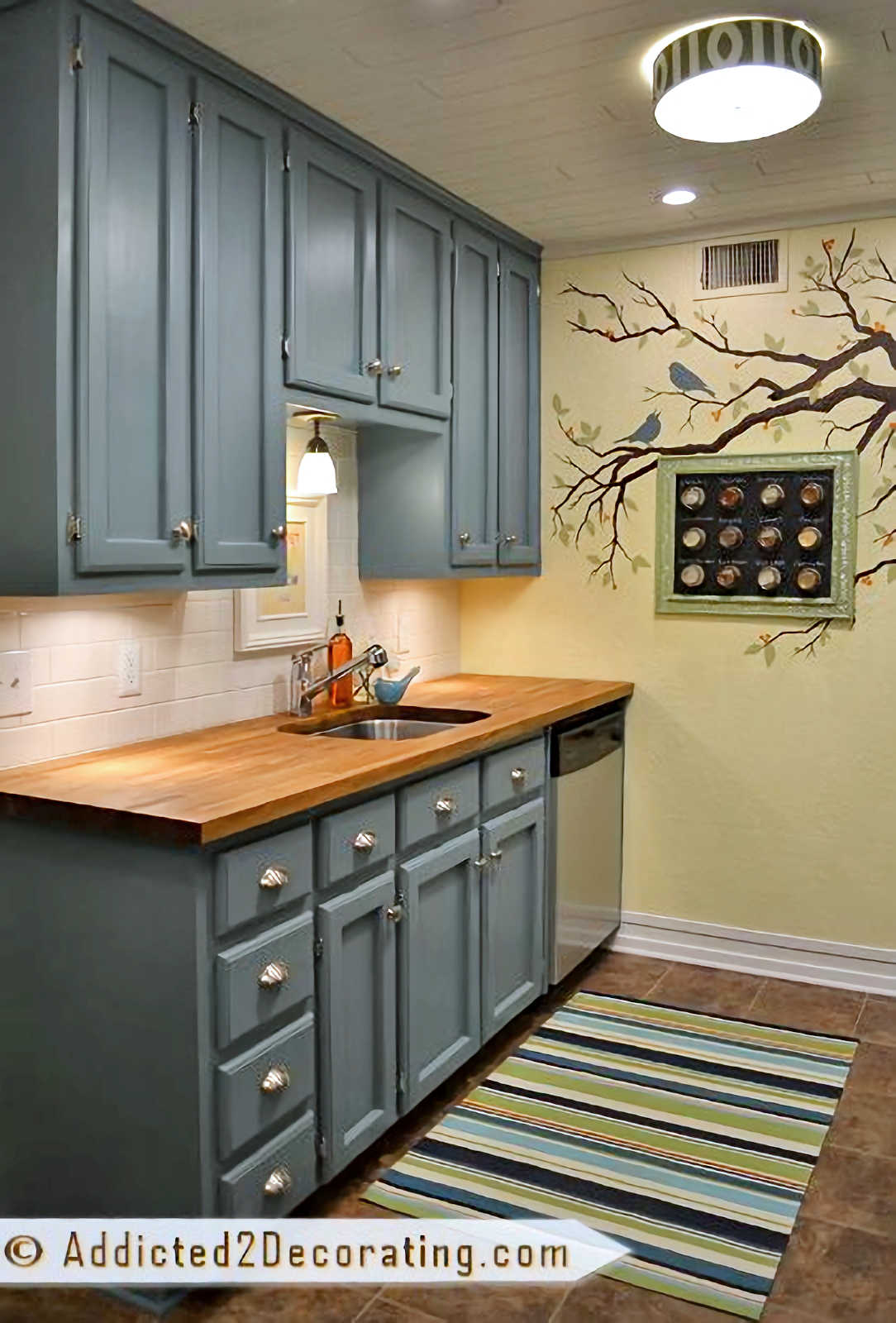 And the darker teal, Mythic Forest, is the color that I used on the walls in the hallway bathroom at the condo.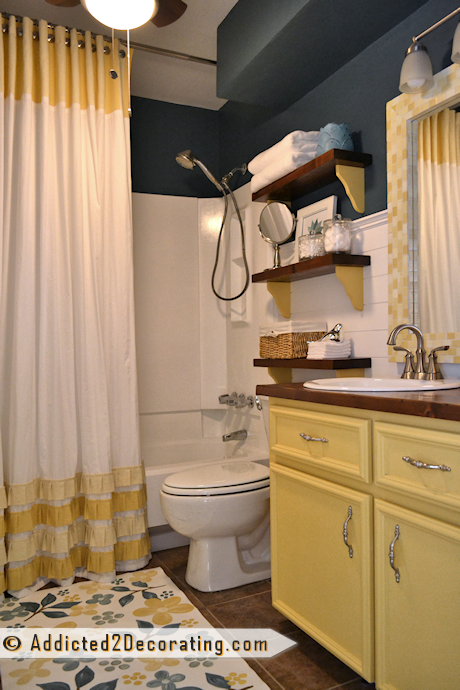 So I need to make a decision on that pretty soon. If pressed, I think I'm leaning towards the dark teal. I think. But if you know me at all, you know I could change my mind 20 times before I make a final decision. Or my vanity could end up a totally different color altogether. 🙂
No, I'm definitely leaning towards the dark teal. Right? It just feels more "me" right now, don't you think?
UPDATE:
This bathroom remodel is finished! Click here to see the finished bathroom.
UPDATE #2:
In January 2019, I gave this bathroom a more colorful makeover, and during that process, I also refinished this DIY butcher block countertop so that it wasn't quite so dark, and so that the wood grain could be seen more.
You can click here to read the details of how I finished the pine countertop the second time. And you can click here to see the bathroom after its colorful makeover.
Addicted 2 Decorating is where I share my DIY and decorating journey as I remodel and decorate the 1948 fixer upper that my husband, Matt, and I bought in 2013. Matt has M.S. and is unable to do physical work, so I do the majority of the work on the house by myself. You can learn more about me here.
I hope you'll join me on my DIY and decorating journey! If you want to follow my projects and progress, you can subscribe below and have each new post delivered to your email inbox. That way you'll never miss a thing!