Bathroom Vanity Trim, Wainscoting Progress, and Painted Walls
I have about 100 projects started on this bathroom, but nothing finished at this point.  But at least I'm making progress! Here's what things look like right now.
I got two of the walls painted in Behr Crisp Celery.  I love the color!  It's so light and fresh, but it's definitely green.  I looked at the samples of this color on the Behr and Home Depot website, and they look incredibly washed out and almost gray. I didn't find those to be accurate at all. The color is very light, but it's unmistakably green.
Here it is contrasted with the white tile around the tub.
And I also got a good start on the wainscoting. I have a long way to go before it's finished.  Right now, it just looks like a standard board and batten, but it won't look like that when it's finished.  There's still quite a bit of trim to add, and I'll be doing a tile border along the top.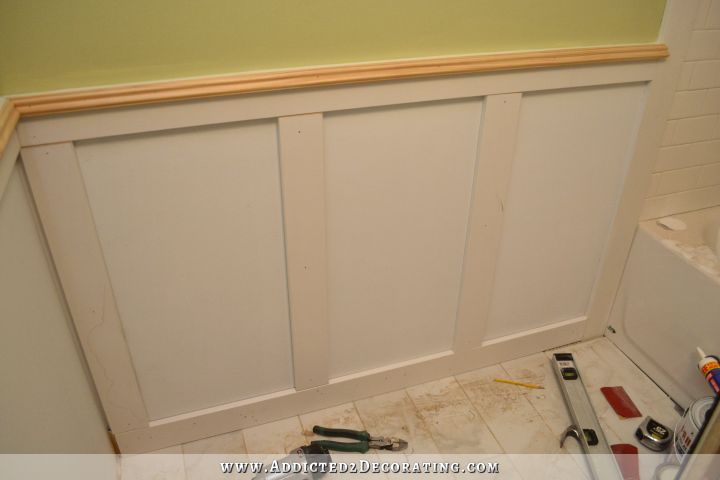 And that tile border will wrap around the top of the vanity countertop and act as a backsplash.
And you can see in the photo above that I also restained my countertop (five times!).  It looks awfully dark in photos.  I mean, it IS dark, but in person, you can see the wood grain and actually tell that it's a wood countertop.  I'm having a hard time getting that to show up well in photos.
I ended up having to mix my own stain color for the countertop because I couldn't find anything straight out of the can that I liked.  I mixed Rustoleum Summer Oak, Traditional Cherry, and Dark Walnut in equal amounts.  It was the perfect amount of dark brown with a hint of red that I liked.
I'm really liking how all of this is coming together.  And that wall color just makes me happy.  I'm so glad I didn't go with a neutral wall color!!  I love how this green looks with the stained wood ceiling.
And finally, I got my vanity all trimmed and ready for paint.  I actually did this last weekend, but I haven't shown you yet.
They sell solid panels to finish out these ends, but I decided to trim out the vanity during one of my "I'm so tired of spending money" moods.  So instead, I searched around to see if I had something on hand that I could use.  And sure enough!  I had all of the ends of the plywood strips that I had cut off of the 8-foot pieces when I planked my ceiling.  So I decided to put those to good use.
I cut four pieces to the right height (30 inches) and attached them with wood glue and short finishing nails, centered on the end panel.
And then I used more of the plywood strips to "frame" the end panel.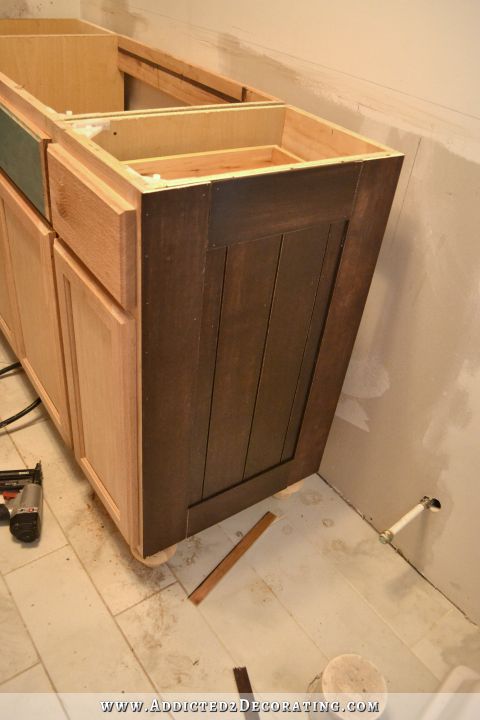 Here's a view of the other end.
And yes, I did both ends, even though the left side will be up against the wall and won't show.  The reason is because I do want this vanity to look like a separate piece of furniture rather than a built-in vanity, so I needed the bottom trim to wrap around both sides.  And in order for them to be even, I needed the same amount of width on both sides.  So I went ahead and finished out the left side.
Then I added the trim along the bottom of the vanity, as well as a thin cabinet trim along the front vertical edges of the vanity.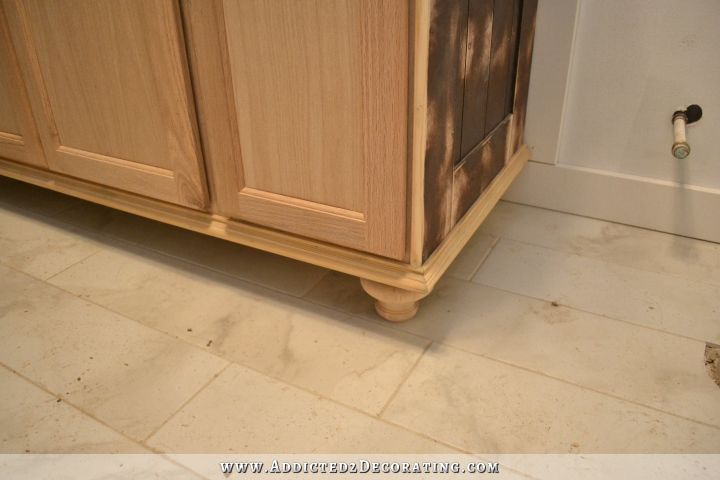 Here's another view of that cabinet trim along the front edge of the vanity.
And although I've probably created a cleaning nightmare for myself, I'm glad that I continued the trim on the left side to make it look like a separate piece of furniture, rather than having this side look built-in.
I'm sure one of those flat hand held dusters will fit in there, so I'm not too concerned.
It's fun to see it all finally start to come together!
Addicted 2 Decorating is where I share my DIY and decorating journey as I remodel and decorate the 1948 fixer upper that my husband, Matt, and I bought in 2013. Matt has M.S. and is unable to do physical work, so I do the majority of the work on the house by myself. You can learn more about me here.