Patching A Hardwood Floor (And Why Nicole Curtis Is On My Bad List Today)
Have you ever watched someone on a design/remodeling show do something that you thought would be terribly difficult, but they made it look so easy (or very doable, at least) that you thought to yourself, "I could totally do that!"  And then when you're actually doing the project, you're cursing the aforementioned t.v. personality the whole time for making you think it would be fairly easy?  Yeah.  Me too.  Yesterday.
I'm looking at you, Nicole Curtis, and all of your enthusiastic, "This wood flooring was ruined, but we'll just remove the bad boards, feather in some reclaimed boards, and it'll blend in with the old and look as good as new!"
You may have noticed that I had some hardwood floor boards missing in my hallway.
That's because the builders of this house framed in the hallway closet before installing the hardwood floor.  Naturally.  That's the way all builders do it.  All framing is done long before flooring is installed.
And then when I moved the door over, I exposed even more subfloor along the threshold that needed to be patched with hardwood flooring.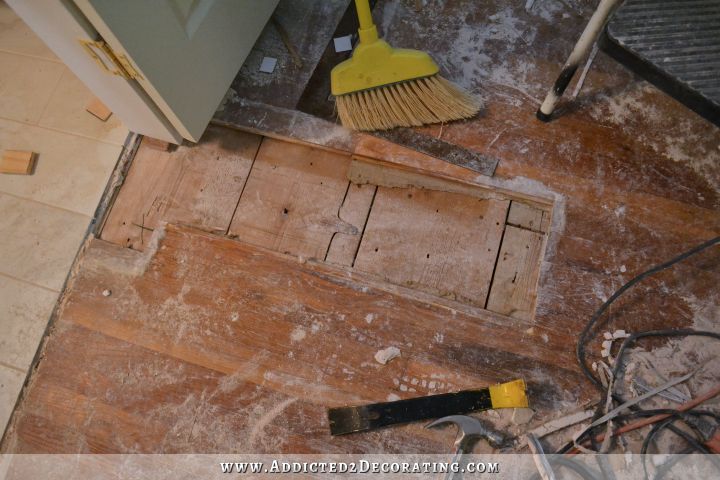 (Forgive my dust.  I'm still drywalling in the hallway, so everything is covered with drywall dust right now.)
I've been dreading this project more than any other, because it seemed so daunting to me.  But I thought, "This is no problem!  I can totally do this because I've seen Nicole Curtis and her team do this a hundred times!"  And I had saved all of the old floor boards that I removed from the old linen closet, so I could patch it with original flooring.  This is so doable, right?
So I cut and installed the first board.  Things were off to a rocky start because no matter how much I tried, or what I tried, I couldn't get the gap between the ends of the new and old boards to close.  Whatever.  I gave up and moved on to the second board.
And here's where my brilliance kicked into high gear.  I knew I needed the boards to be staggered to look natural.  So I used my Dremel Multi-Max saw to cut into the original board so that the new board could be staggered.  Brilliant, right?  It actually worked out beautifully.
It's just too bad that every ounce of my brilliance was used up on installing that second board, because I clearly had none left when I got to the fourth board.  Ugh.
By that time I was so frustrated because the boards just weren't cooperating, they weren't fitting together, and the fourth and final board needed to be cut down so that it would even fit.  I knew I would have to use my table saw to cut the tongue off of the board, but I also had to cut some of the width off, as well as slightly miter the edge so that it would fit in there.  So in all of that, I completely forgot to stagger the ends.
And the whole thing just looked like a big mess with awful gaps all all over.  Ugh.
But there was no turning back at this point, so I pressed on.  I used my Dremel Multi-Max to remove all of the extra junk (concrete board, dried thinset mortar) from the edge of the tile.
Once that was all cleaned up, I had a fairly straight line to work with on the tile.
Then I used another floor board that I was going to use as the transition board, and marked a cut line along the hardwood floor.  And once again, I used my Dremel Multi-Max to cut those boards straight.
Then I added my transition board.
My obvious mistake here is that all of this should have been done before installing the doors.  Oh well.  There's no going back now, and there's certainly no way I was going to remove those doors after I got them lined up and opening/closing so perfectly.
Also, none of the original boards that I pulled out of the linen closet were wide enough for the transition strip, so I had to use one of the new flooring boards left over from the kitchen.  And as I learned from my kitchen, even though this is all red oak, the new boards and old boards don't look the same with Waterlox on them.  That one new wood board will have to be stained in order to blend in with the old hardwood floor.
So at this point, I'd love to just give up on making this look nice (and possibly send a sharply-worded e-mail to Nicole Curtis for making me think this would be easy!)  😀  But of course, giving up isn't an option.  I don't know that looking "good" or "beautiful" is even within reach for this patched floor at this point, but I'm determined to make this look decent, at least.  It's a pretty low bar when "not glaringly obvious" becomes the goal.  After seeing all of those gaps in the finished product yesterday, I got online immediately and ordered some red oak hardwood floor wood filler.  It should be here later this week, and I'm hoping that it'll work a miracle on this flooring.
If not, and if it still screams, "I'M A PATCHED FLOOR!!" when I'm done, then at least I'll have a story to tell when visitors say, "Now Kristi, why does this floor right here look different?"
I don't have it in me to work on another potentially frustrating project today.  I think I'll stick to something relaxing and easy, like painting my vanity.  🙂
Addicted 2 Decorating is where I share my DIY and decorating journey as I remodel and decorate the 1948 fixer upper that my husband, Matt, and I bought in 2013. Matt has M.S. and is unable to do physical work, so I do the majority of the work on the house by myself. You can learn more about me here.