I was so sure that I could get my vanity completely painted yesterday, but once again, the weather slowed me down.  It's so rainy and humid here lately that the primer and paint wouldn't dry fast enough for me to get it all finished.  But I wanted to give you a preview anyway, because I'm so excited to see these colors together!    And on my monitor, the color on the far (right) wall is pretty accurate in this picture.  (The left wall looks too yellow because of the glare of the light.)  I actually stood in my bathroom doorway, with my computer in hand, as I edited this picture for color to be sure I was getting it as close as possible.
The color on the vanity is Behr Mythic Forest.
I took this next picture of the end of the vanity last night right after I put the second coat of paint on, so it was still very wet.  But you can see how that end design worked out.  Not too bad for leftover plywood!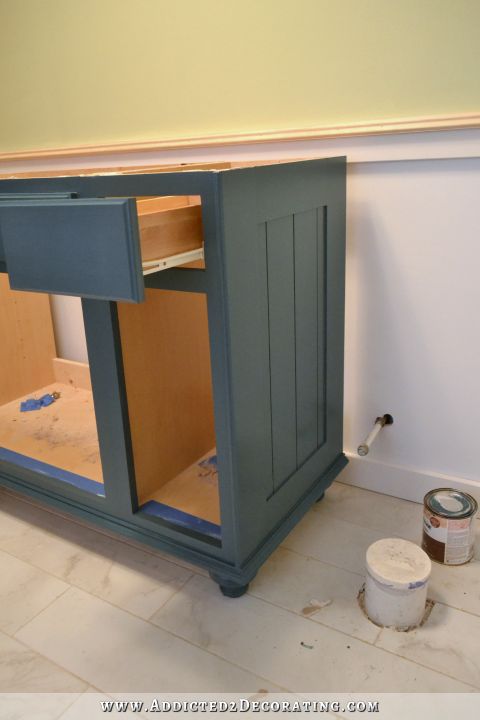 And that's as far as I got.  It doesn't look like the weather is going to cooperate this weekend, either, so there's no telling when I'll actually be able to put everything back together.  I finished painting the vanity at 11:00pm last night, and this morning when I went in to look at it, it was still sticky.  I'm so ready for sunny, pretty weather!
On a different note, I was flipping very quickly through a magazine yesterday, and this Sherwin Williams ad stopped me in my tracks.
I love that blue and green peacock!  I tore it out, and thought, "Hmmm…would it be weird if I framed that and used it as artwork in my bathroom?"  😀  Okay, I probably won't do that, but I very well may use it as inspiration for my own artwork.  I've seen several really creative ads from them, but this one is by far the most eye catching for me.
Back to painting.  Hope y'all have a beautiful weekend!
Addicted 2 Decorating is where I share my DIY and decorating journey as I remodel and decorate the 1948 fixer upper that my husband, Matt, and I bought in 2013. Matt has M.S. and is unable to do physical work, so I do the majority of the work on the house by myself. You can learn more about me here.