Reupholstered Cane Chair With Tufted Back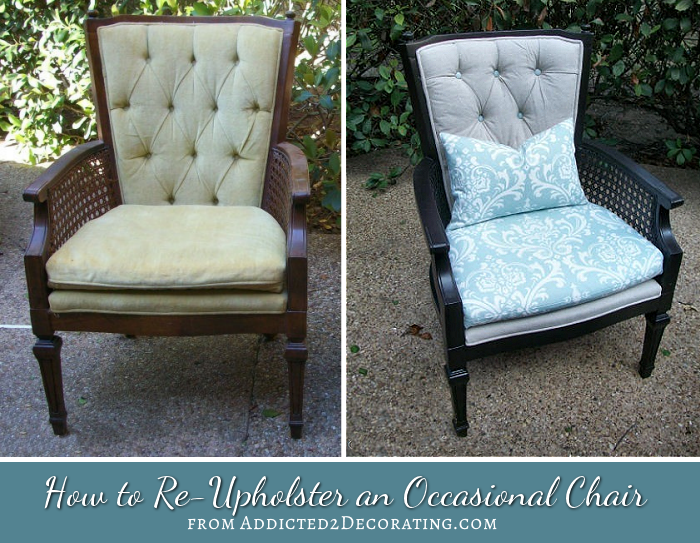 Happy Monday to you!  I hope you had a great weekend.  I worked on upholstery projects all weekend, just as I said I would.  I only got one chair completely finished.  Well, it still needs a pillow, but all of the upholstery parts are done.
Remember how these chairs started out?
Honestly, they weren't terrible.  I joke about them having brittle, crunchy, old velour fabric, but really the fabric wasn't in terrible shape.  The color was just a bit…well…GOLD for my taste, and they wouldn't have worked in John & Alice's family room with the gold fabric.  So they definitely needed a makeover.
And I stuck with my original plan, also.
Here's how it turned out…
It's definitely an improvement, right?  I love damask fabric, and the color of this one is so pretty.
I still need to make a little lumbar pillow for each one, which will be out of the damask fabric also.
Now I know that many of you are interested in learning how to do the tufting.  I promise that a DIY tutorial is coming, but you might have to wait until next week for it.  But I promise, I'll get it done!  I took many pictures of the process so that I could show you.
And here's my favorite part…the back…
There were only two things I left off off of the chair from the original.  The first was a bit of cording on the front of the seat cushion.  I just really liked the way that the fabric pattern met (almost) perfectly, so I left the cord off.
And I also left off two buttons from the back.  This actually wasn't intentional.  I didn't realize that I skipped right over them until it was too late, and there was ABSOLUTELY.NO.WAY. that I was going to take the back off just to add two more buttons (which are blue, by the way…can you tell?)
So, once I get the lumbar pillow finished up, this thing will be officially complete (and the seat cushion will make a bit more sense).
But for now, this is what I have.  You'll see the whole thing, with the lumbar pillow, once John & Alice's family room is complete.
Update:  I got the pillow finished!  Here's what it looks like now…
This is an incredibly long D.I.Y. tutorial, so I've divided it into six parts:
Need to make a throw pillow? Click here for a basic throw pillow tutorial.
Addicted 2 Decorating is where I share my DIY and decorating journey as I remodel and decorate the 1948 fixer upper that my husband, Matt, and I bought in 2013. Matt has M.S. and is unable to do physical work, so I do the majority of the work on the house by myself. You can learn more about me here.