Well, hello there!  🙂  I had no intention of being away from the blog all this week, but it's just been a very busy week.  An awesome week.  A glorious week that has resulted in this beauty sitting outside our home…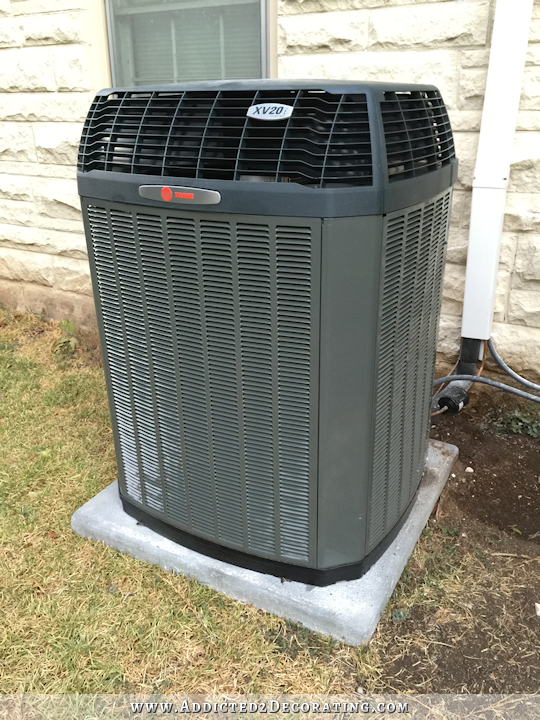 The HVAC guys arrived at our house at 7:00am on Tuesday, and the fun began!  They worked all day on Tuesday, arrived on Wednesday at 7:00am, and finished up Wednesday afternoon around 3:00.  And finally, after two years of living with window units air conditioners in the summer and space heaters in the winter, we had a fully functional, energy efficient, top-of-the-line HVAC unit.  And the difference is amazing.
I know it sounds overly dramatic to call this life-changing, but it really is.  Until you've lived through a Texas summer with only three window units cooling your 2500-square-foot home, you can't really understand the difference in the quality of air.  Window units blow out extremely cold air at the source, but it doesn't disperse into the room evenly.  So there are cold areas, and warm areas.  Window units also tend to blow out humid air.  I got used to it after a while, but it took me a very long time to get used to feeling sticky and damp when I slept.  They all have "dry" settings, but then they don't cool as well.
The cool air from our HVAC unit fills every square inch of every room.  From the moment I enter the front door, I can feel a difference.  It feels like it's literally wrapping around me like a blanket.  And best of all, it's not humid!
The unit that we got is the Trane XV20i, which has a variable speed compressor that will increase or decrease in speed in 1/10th of 1% increments, based on what it needs to do the job at that very moment.  And you can look at the thermostat and see the speed at which the compressor is currently running.  In the bottom right corner, you can see that the compressor was running at 34% when I took this picture.
Ugh…too bad I forgot to put up new drywall there before they installed the thermostat.  🙁  Now I'll have to work around it.
One thing about this particular Trane unit is that you have to use the thermostat that comes with it.  In other words, you can't use a Nest thermostat or any of those other fancy thermostats that Home Depot and Lowe's sell.  However, there's really no need for any of those.  This Trane thermostat is fully programmable, and connects to wifi so that you can control it from your phone.  You can upload screensavers, change the colors, check the five-day forecast, and so much more.  I asked if I could check my Facebook and email from it, and he said, "Not yet, but give it time."  😀
Anyway, the variable speed compressor is amazing, and that's what makes this system so energy efficient.  I've only ever had HVAC units that were either 100% on or off, and nothing in between.  This variable speed stuff is completely new to me.  And this unit is so quiet!  I haven't even once heard it come on or go off.
The indoor unit is in the attic.  When I told people that we were putting it in the attic, the first question was always, "How are you going to change the filter?"  I wondered that too, since every HVAC unit I've ever seen had the filter directly on the indoor unit.  Would I have to crawl into the attic to change the filter?  No.  It's actually quite easy.  They put the return air duct in the hallway, and that's where the filter goes.
And no tools required!  I just need a step stool to reach it, and there are two latches that pull down to open the vent.  It couldn't be easier!
And as exciting as the HVAC is, I'm also pretty excited about finally having updated electrical service to our house.  The electrician was here on Tuesday to hook up the HVAC system, but then he came back early on Thursday to upgrade our electrical service from 100 amp to 200 amp.  He had told us that our air conditioner would probably be just fine on 100 amp service, but we might run into problems trying to heat our home during the winters.  It didn't take much convincing, because I've wanted this upgrade for two years now, regardless of whether or not our HVAC actually required it.
I wish I had taken a picture of what was there before, but I completely forgot.  It was an old rusted box with two  very old fuses in it.  And that's it.  That was all that was powering our whole house.  And now we have shiny new boxes with all updated wiring and 200 amps of electrical service available to us.
I just feel so much safer knowing that all of this is completely updated and up to current standards.
We haven't removed any of our window units yet.  When the electrician was here yesterday, he had to turn off our electricity for about four hours, so he offered to plug in the dining room (front room) window unit into his generator so that we wouldn't get too hot.  When he left, I tried to get that window open to remove the unit, but that window won't budge.  I think it has several layers of paint holding it into place, so I'm just going to wait until we get those windows replaced and let the window people take care of removing it.  (They came yesterday to take measurements and give me an estimate for windows.)
Matt wants to keep the one in his game room at least for one more summer just in case.  One of the worst parts of multiple sclerosis for him is extreme sensitivity to heat.  If he gets hot at all, he loses muscle strength very quickly.  So he wants to be really sure that the HVAC is going to cool his game room enough during the hottest part of the summer.  I think the HVAC will keep his room plenty cool, but I'm also just fine with him keeping his window unit for peace of mind until he's completely assured that the HVAC will cool his room sufficiently.
And the third one in our bedroom has actually had to be used twice now since we've had our HVAC.  One thing about new units that's completely different from the 30- and 40-year-old units that I'm used to is the precise control of air that goes into each individual room.  So they calibrated the amount of air going into each room based on the size of the room, the number of windows, the direction the room faces, etc.  They told us to live with it like this for a week or two, and then call them to come make changes if any changes are needed.
Well, we definitely need a change for our bedroom.  What they didn't consider is that each night, we have three warm bodies in our room (Matt, me, and our dog Boo…and sometimes our cat Peeve if she decides to grace us with her presence), plus two laptops that are always on.  All of us, plus our computers, generate enough heat to make a significant difference in the temperature of the bedroom.  So we'll need to get that taken care of before I remove that window unit.
So that's what's been going on around here this week.  Exciting stuff!  🙂  But hopefully next week I can get back to working on my dining room, entryway, and music room.
Addicted 2 Decorating is where I share my DIY and decorating journey as I remodel and decorate the 1948 fixer upper that my husband, Matt, and I bought in 2013. Matt has M.S. and is unable to do physical work, so I do the majority of the work on the house by myself. You can learn more about me here.