March Progress & April Goals
Well, folks, March got away from me. I did so well at setting goals and actually accomplishing everything on my list in January and February, but March didn't quite go as planned.
It's fine. I'm not sulking or beating myself up about it. And at least there was some forward momentum. But I don't feel like I managed my time well at all last month. I need to do a whole lot better this month if I'm going to get my whole 2017 list accomplished this year.
So my goals for March were:
Get my kitchen cabinets painted
Get my concrete countertops refinished
Paint the kitchen ceiling bright white
Repair/caulk/paint all of the trim around the cased openings
Build a new range hood cover
Make and install pantry doors
And here's what I actually accomplished…
First, I received and installed all of my woven shades. This was kind of a hold over from my February goals. I got them ordered in February, but didn't receive them until March.
You can click here to read more about those.
I also had my concrete countertops refinished. This was a partial DIY project. I paid a local company to grind the concrete smooth, prime the concrete, and clear coat the countertops with polyurea. I did the actual painting so that I could get the exact color and look I wanted. You can click here to read more about the concrete refinishing.
And although this wasn't on my list, I also installed a new sink and faucet. (Please excuse the dirty dishes.) This time, I went back to my favorite style — a deep single bowl stainless steel sink. That's what I had in the condo, and I absolutely loved it. That double bowl cast iron sink I've had for the last two-and-a-half years frustrated the heck out of me.
And finally, I installed the pantry doors. Instead of making them from scratch, as had been my original plan, I decided to use bifold closet doors and install them as double doors. You can click here to read more about that project.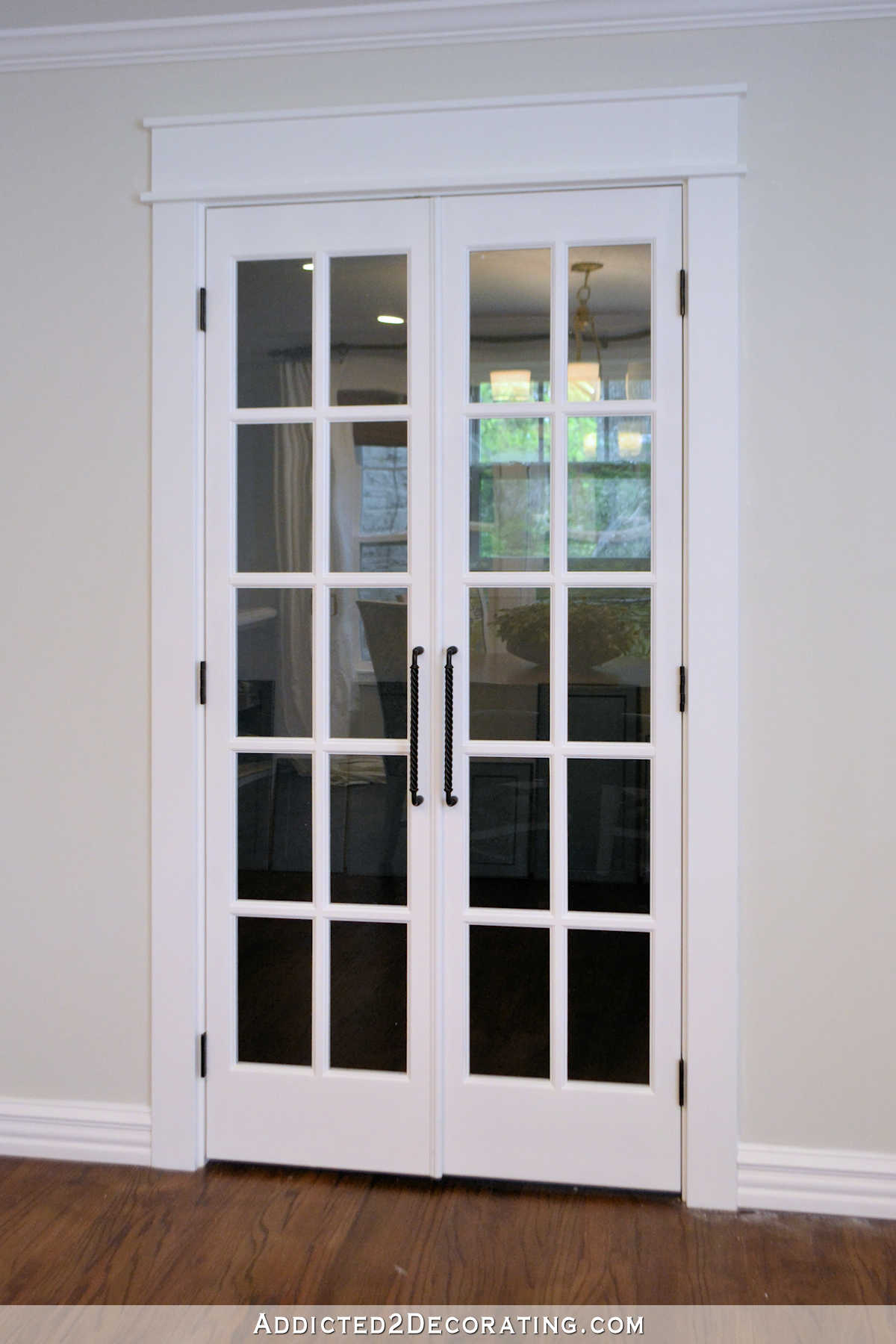 And sadly, those are the only projects that I completely finished during the month of March.
As far as painting my kitchen cabinets, I did get 25 doors and 4 drawer fronts completely sanded, grain-filled, and painted.
I also managed to leave the two biggest doors out in the rain, and they got ruined.
So I still have five drawer fronts and all of the actual cabinets to paint. I also still need to order new doors for the ones that got ruined. I haven't been able to do that yet because I need to order a door for the new range hood cover as well, and I can't order that until it's built and I know the exact size I need to order.
As far as painting the cabinets, I'm dreading that project. I mean, really dreading it.
I sprayed the doors, which means that the cabinets need to be sprayed also. If you spray part of a project and brush the other part, the two will look like two completely different sheens. But in order to spray the cabinets, everything needs to be taped and draped. My floors need to be completely covered, as well as the countertops, the walls, the appliance…everything. And for a person who doesn't even like to so much as use a drop cloth, the idea of having to do that much prep work seems completely overwhelming to me. But I just have to stop dragging my feet and get it done.
In fact, today I will start. I've run out of excuses, so today is the day I'm getting started on that.
And that's all of the progress I made during March. I didn't even touch the kitchen ceiling, which still needs a coat or two of bright white. I didn't get to the trim on the cased openings. Two of them just need some caulk and paint, but this big one needs to be repaired first.
It got completely messed up when I was working on the breakfast room side and had to remove all of the jambs and trim them down.
And while I bought everything I need for the range hood cover, I didn't get anything done on it either.
So in April, first things first. I'll finish up the items from March that I didn't finish or didn't even get started on — finish painting the kitchen cabinets, paint the kitchen ceiling, build the range hood cover, and repair/caulk/paint the trim around the cased openings.
When those things are done, I'm heading back to the breakfast room because I want to get it completely decorated. I'm chomping at the bit to do something with these Ritva curtains…
In addition to hemming and pleating them, I'm also going to be doing a little something to add some color. After living with solid white curtains for a while (three weeks?), I've decided that I do want to spice them up a bit. I'll keep those details to myself for now, but for those of you who said, "There's no way you're keeping solid white curtains," well, you were right. 🙂 I did try, though.
I'll also be bringing the buffet that used to be in the entryway…
…into the breakfast room, and it will be getting a new color. Right now it's black, but that won't do for my breakfast room.
And because I know someone will ask…yes, there's plenty of room for the buffet. 🙂
I also need to finally get my TV hung on the wall, which will go above the buffet. I know a breakfast room seems like a strange place for a TV, but it suits how we live. The only time Matt and I watch shows is during meals, so it makes sense for us to have one in there.
And while I'm on the topic, what system do y'all use for streaming Amazon, Netflix, Hulu, etc., to your TV? We don't have cable, and we watch everything on Amazon and Netflix. Matt just bought a subscription to Hulu last night. For years now, we've just watched on our laptops, but now we need a way to watch all three of those on the TV. We're looking at the Amazon Fire (this one) but there are so many options available today, and technology isn't really my thing. Recommendations? What do you use for streaming video to your TV?
Anyway, I've got lots of decorating plans and projects. I'm scrapping the idea of a TV cover (like the ideas I talked about here) and just opting for decorating around the TV. I also want to try my hand at painting some large chinoiserie-inspired wallpaper panels with birds and branches, but my mom has said she'll step in and help me if I decide I can't do it. And there are a few other decorating projects I want to do.
Basically, by the end of this month, I'd love for my breakfast room and kitchen to be finished and completely decorated. That's the goal, but to accomplish that, I'll need to do a much better job at managing my time than I did in March. So today…taping and draping my kitchen to prepare for painting. Let's get it done!
Addicted 2 Decorating is where I share my DIY and decorating journey as I remodel and decorate the 1948 fixer upper that my husband, Matt, and I bought in 2013. Matt has M.S. and is unable to do physical work, so I do the majority of the work on the house by myself. You can learn more about me here.