Note: Several people have emailed me lately saying that they've tried to comment and have received a screen with a big "X" saying that they've been blocked. This is a technical glitch with my content delivery network. Please understand that I have not blocked you from commenting. I've even been blocked at times from commenting on my own blog because of this glitch. I'm trying to get the problem resolved. I'm so sorry for the inconvenience and frustration!
I need your help.  I've reached a point of indecision yet again.  (I know…it's a weekly, and maybe even daily, occurrence for me.)  🙂
I'll try to make this short and sweet.  I mentioned yesterday that I wanted to put shiplap siding on my breakfast room walls.  I really have my heart set on using some sort of siding in that room.  Why?  Because that was originally an outdoor area of the house (an open air covered breezeway that connected the house to the garage), and the original exterior of the garage (that's now enclosed in the breakfast room) still has the original shiplap siding on it.  You can see it here painted in a lovely seafoam green.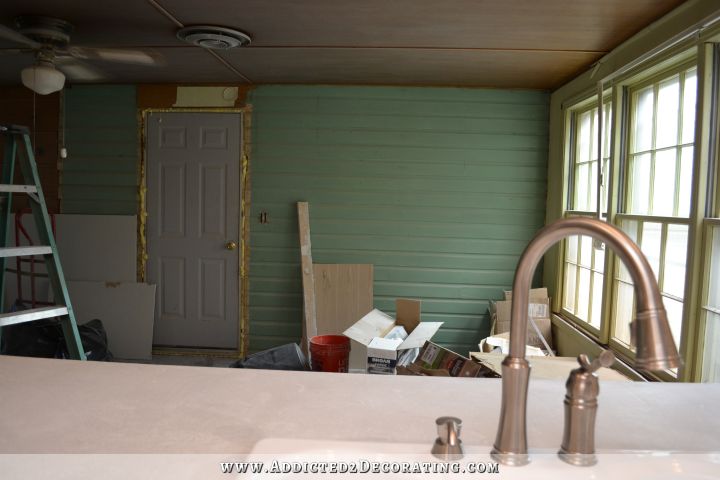 As a side note, it seems that at one time or another, every single surface of this house was painted this color.  I've found it on the original exterior siding, the walls, the baseboards, the doors, and the trim. 😀
Anyway, because it was originally an exterior area that's now enclosed, and since the room is kind of awkward, I think cladding the walls with some sort of exterior siding will give that room a story, and will be a nod to the fact that it once was an exterior area.
My original idea way back in April was to use shake shingle siding (or something that would replicate the look) in the room.  It would look something like this…
(original source unknown)
But somewhere along the way I talked myself out of that, thinking that first I'd have to rip down everything that's currently on the walls (all of the siding and tongue and groove paneling), put up drywall, and then put the shake shingles on top of that.  I have no idea why I thought that.  There's no need for any of that.  I can simply install these right on top of what's already there.
So after I talked myself out of the shake shingles (simply because of the difficulty, which isn't really a problem now that I think of it) I planned for shiplap siding instead.
Beach Style Kitchen by Charleston Cabinets & Cabinetry K & K Custom Cabinets LLC
It is what was originally on the house, and that's what can be seen in the breakfast room, but I'm not really concerned about that.  I just want some sort of siding on these walls, and I'm not really particular about it being exactly what was original to the house.  (Nicole Curtis I am not.)  🙂
I was moving full steam ahead with that plan until a few people yesterday mentioned that they think the look of shiplap siding next to my kitchen would look too casual, country, farmhouse, coastal.  One person who agreed even mentioned that a shake shingle look might work better.
So tell me what you think?  What would work better right next to my kitchen?  Shake shingle walls?  (I wouldn't actually use cedar shingles– those are way too rough and hard to clean for an interior application.)  Or shiplap siding?
I need to decide this quickly because my kitchen is almost finished, and I'd like to do something at least with the part of the breakfast room walls that will show in my before and after pictures of my kitchen.  The absolute last thing I want is to do a big "taaaaa daaaaa" post of before and after pictures of the kitchen I've been working on for the last six months, and have the full effect of my hard work, blood, sweat, and tears, ruined by this ugly background…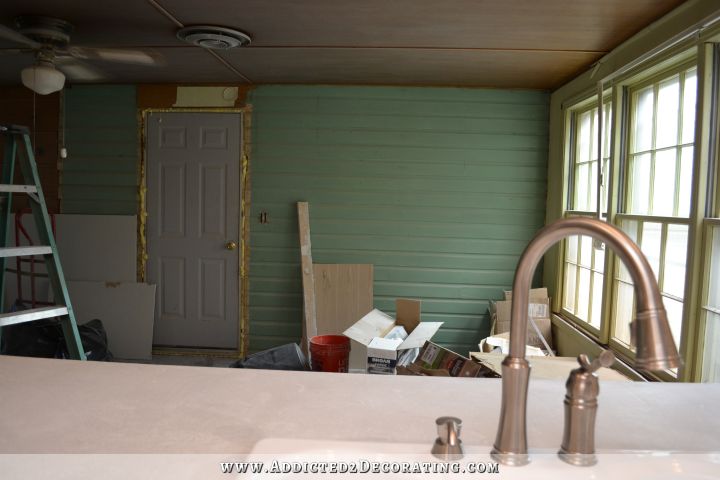 Speaking of kitchen, I got everything on my peninsula finished yesterday except for seven of the eleven pulls installed on the doors and drawers.  I thought I could finish, but then decided to stop at about 11:00 last night because I was getting very sleepy, and drilling holes into the face of my drawers and doors while sleepy could have resulted in disaster.  And the last thing I need is another disaster with those doors and drawer fronts.  😀
---
---