A New Plan, A New Wall Color
My previous plan for the dining room just didn't work out. So I spent quite a bit of time this weekend trying to figure out where things went off the rails and how to get things back on track.  On Friday, I spent quite a bit of time just getting inspired by designers who aren't afraid of color. Mainly, I asked myself WWJAD? (What would Jonathan Adler do?) 😀 He and I have very different styles. Where he leans modern, I lean traditional. But I'm always so inspired by his use of color. He definitely loves color at least as much as I do, and probably even more.
So after clearing my head of my original decorating plan for the dining room, getting tons of inspiration from Jonathan Adler and other color-loving decorators and designers, and assessing where my plan went off the rails, I came up with a new plan. And then I got busy.
My new plan starts with a new wall color. I never wanted a room with all white walls, so how I ended up with the second largest room in my house being painted solid white is a mystery to me. Somewhere along the way, I forgot what I wanted, and let myself be talked into something that just isn't me.
But now I'm back on track, and my walls have some color. I used Behr Feng Shui. Here's what the color looks like on the Behr color tool online.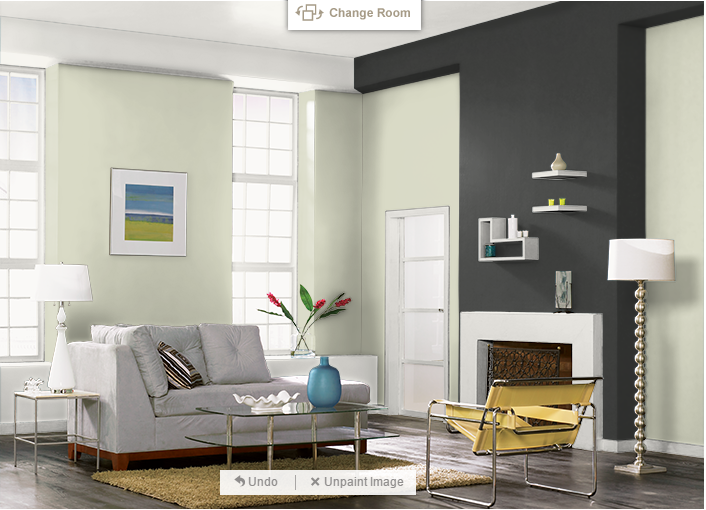 That's actually pretty close to what it looks like in person in my house during the brightest part of the day. But this morning before the sun came out, when I took these pictures, it looked a bit darker.
I really love this green because it's light and fresh, and it has no red undertones. I also like that it's a light green without looking like a pastel that belongs in a child's room.
I wanted to include this picture so that you could see it on the big entryway wall, but the color looks a bit more pastel in this picture than it is in person.
This is probably the closest to the true color (at least on my monitor).
I can't even express how to you how refreshing it was to get color on these walls! It literally felt like a breath of fresh air to me. It felt like life was breathed into the room, and the air felt lighter, cleaner, and crisper. I'm just not a white walls kind of person. I knew that. Heck, I even wrote a post about it. And then I did it anyway. I'm not sure why I expected things to go smoothly when I started with a canvas that just wasn't me, and I knew it wasn't me.
Anyway, I'm back on track now. I have a totally new plan (actually, kind of new, kind of old). I'm not quite ready to share details yet. I want to let the new plan kind of incubate in my mind for a bit, free and safe from any outside influence or opinions. 🙂 But I'll share other bits and pieces this week.
Addicted 2 Decorating is where I share my DIY and decorating journey as I remodel and decorate the 1948 fixer upper that my husband, Matt, and I bought in 2013. Matt has M.S. and is unable to do physical work, so I do the majority of the work on the house by myself. You can learn more about me here.