My Finished DIY Farmhouse Dining Table
My DIY farmhouse dining table is finished, and I know this won't come as a surprise to most of you, but I changed courses halfway through this project. 🙂 If you read regularly, you should be used to that.
To recap, I started out with a dining table that I bought on Ebay for a steal (eight chairs and a table with three leaves for $51). But the table wasn't exactly my style.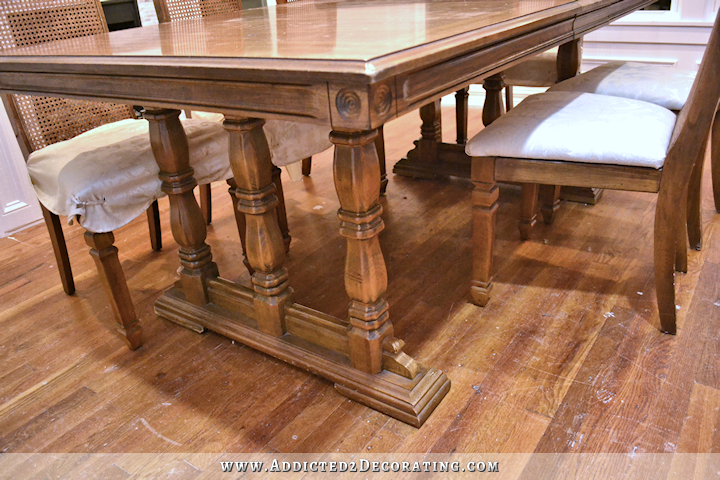 I decided to use that table top, and built a new base for it (apron and legs) to turn it into a farmhouse style table.
You can read about that process here.
So yesterday I set about finishing my table, which included stripping and sanding the top, re-staining, polyurethaning, and then finishing the new apron and legs. I used my favorite Klean Strip stripper to remove the old finish from the top, and then I sanded it with 150-grit sandpaper on my orbital sander. And then I started layering VERY thin coats of stain until I got it to the color I wanted. I used Minwax Dark Walnut, Honey and Rust-Oleum American Walnut, allowing about an hour between each coat. And again, each coat was very thin. I didn't want this table top ending up too dark, and I didn't want to hide the pretty wood grain. (I have no idea what kind of wood this is, but I think the grain is very pretty.)
I'll admit that it turned out a bit more red than I had hoped, but I'm fine with it, especially compared to how it looked originally.
Here are the two finishes side-by-side.
And the polyurethane seemed to tone down the red a bit, but since oil-based poly has a yellowish tint to it, it turned the red into orange. I'm actually fine with that. I'd much prefer the slight orange over red-toned wood anyday. Here's the top after one coat of oil-based Minwax polyurethane in a satin finish.
I was only able to do one coat of poly because it was so unbelievably humid here yesterday that the poly wouldn't dry. I was using Minwax Fast-Drying Polyurethane in a satin finish, which you're supposed to be able to recoat in 4-6 hours, but mine was still wet four hours later. And I don't mean that it was tacky four hours later. I mean it was wet in most places. So I still need to sand and do at least two more coats of poly.
With the top done, I wasn't very confident at all that I could get the pine apron and legs to look anything like the table top with the beautiful dark grain, so I decided to paint. And I decided to put the green on the table instead of the chairs.
I used the same color that I used on my kitchen cabinets (Sherwin Williams Derbyshire) mixed in Behr paint with a satin finish, but I added just a touch of black to it to make it a bit darker.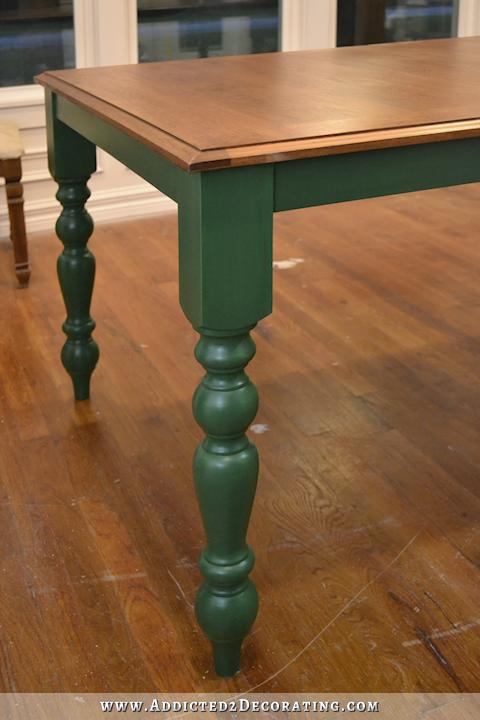 I'm really pleased with how it turned out, and in the end, I'm glad I didn't try to stain the base to look like the top. I have a feeling that would have ended in lots of frustration and probably even some tears, and I would have ended up painting it anyway. And after thinking about it, I really do prefer the green on the table instead of the chairs. I was just afraid that having that many green chairs next to my green kitchen would be way too much green. This way, I get my green, but in a lesser amount.
I'm still mulling over the dining chair options, but obviously at this point, the option of painting them green is out. So I'm down to either painting them all black and then upholstering the seats in something colorful, or painting the wood black and leaving the caning stained, and then using a colorful fabric on the seats. Right now, I'm leaning towards the second option. And I'm also still undecided on what to do about the two end chairs for the dining table, but right now I'm actually considering building two chairs from scratch, and using my colorful watercolor fabric on those. And then I'd use the two arm chairs that I already have (that came with the table) flanking the buffet on the entryway wall. I think those would look fantastic painted black and then covered in black and white striped fabric.
So those are my thoughts right now. Of course, as you know, everything is subject to change…even after a project is supposedly "finished." 🙂
Addicted 2 Decorating is where I share my DIY and decorating journey as I remodel and decorate the 1948 fixer upper that my husband, Matt, and I bought in 2013. Matt has M.S. and is unable to do physical work, so I do the majority of the work on the house by myself. You can learn more about me here.