Last Updated on February 8, 2019 by Kristi Linauer
This weekend, I was so anxious to try out my idea for the DIY hardware to make the rolling barn-style doors that I got right to work as soon as early as I could on Saturday. And by Saturday evening, I had my doors up and working.
I'm so excited about how well this hardware worked out!! So let me share the details. I'll share the components of the hardware, then a picture of how the hardware fits together, and then I'll back up and go over the steps I took to get from idea to installation.
Now let me be really clear — these doors are far from complete!!! I still haven't framed out the doorway, refinished the doors, or added the glass to the doors. There's still a great deal of work to be done before this project is finished. But I did things in this order because I wanted to be sure my idea for this hardware would even actually work before I framed out the doorway specifically to fit the doors, and before I took the time to actually refinish the doors and add glass. Now that I know that the hardware design works (and works really well!!), I can backtrack and work on the finishing details.
The products you'll need to make inexpensive DIY barn door hardware (for a rolling door)
So first, here are all of the components of this cheap DIY barn door hardware:
1/2-inch galvanized iron* floor flange (2)
1/2-inch black steel nipple (2) (I used the 1 1/2-inch length, but these come in different lengths, so you can find what you need. It just needs to be long enough so that the bar on which the doors slide will clear any trim you have around your door.)
1/2-inch galvanized iron* 90-degree elbow (2)
3/4-inch black iron tee (2 per door)
3/4-inch x close black iron nipple (2 per door)
1/2-inch oak dowel rod (1)
1/2-inch black iron conduit pipe (1) (These come in lengths up to 10-feet long, which is a perfect length for two 30-inch doors covering a five-foot-wide doorway. If you need a shorter length, the hardware store can cut and re-thread these for you.)
1 1/2-inch rigid (non-swiveling) casters (2 per door)
*These items do come in black iron, but the Home Depot here didn't have them. They only had galvanized steel, so I'll end up painting them to match. However, if you actually want your hardware to be silver in color, you can buy all of the components in galvanized steel.
All together, this hardware came to just under $60:
Casters: $2.47 x 4 = $10.96
1/2-inch conduit pipe: $10.62
1/2-inch nipples: $1.01 x 2 = $2.02
1/2-inch elbows: $1.65 x 2 = $3.30
1/2-inch flanges: $6.61 x 2 = $13.22
3/4-inch x close nipples: $1.31 x 4 = $5.24
3/4-inch black steel tees: $2.71 x 4 = $10.84
1/2-inch oak dowel rod: $2.98
TOTAL: $59.18
Not too bad, right? That's 1/10th the price of the hardware I priced out for my door online!
How To Make DIY Barn Door Style Hardware (For Rolling Doors)
Here's how these items fit together:
The black steel conduit pipe (#7) is what the doors slide on.
On each end of the pipe is a 90-degree elbow (#3) connected to a 1/2-inch nipple (#2).
That is connected to a 1/2-inch flange (#1) which is screwed into the wall.
The doors are attached to the pipe with a 3/4-inch tee (#4) which slides on the conduit pipe.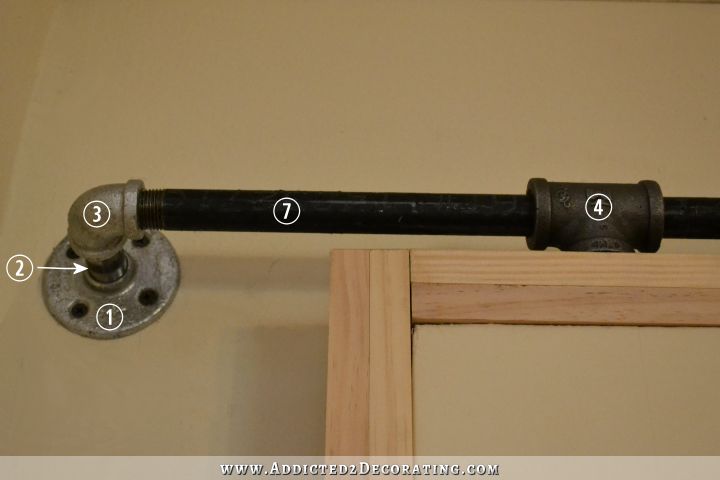 The components that are hidden inside the top part of the door, and which keep it stable, are:
The 3/4-inch nipple (#5) that is screwed into the bottom of the black iron tee, and
The 1/2-inch dowel rod (#6) that is glued into the 3/4-inch nipple and extends about three inches beyond the nipple for added structural support.
Now let me back up a bit. 🙂
Once I got started on my rolling doors, I realized that my doors would take an extra unexpected step.
I have four matching 30-inch doors, but they're all different heights. I think a couple of them had been trimmed off on the bottom to allow for clearance over the carpet when it was installed. So my first step was to cut both of the doors to the same height. This made my doors too small, so I ended up adding the height back on by "framing" the doors using 1 x 2 lumber. I added two pieces of 1 x 2 to each side of the doors, and glued and nailed these on. It's not so pretty now, but once the door is all refinished and painted, it'll just blend right in.
Before I put the top piece on, I used a 1 1/8-inch spade bit to drill the holes for the hardware. The part that would go down into this hole is the 3/4-inch nipple that is connected to the 3/4-inch tee. But the thing about these conduit fittings is that the measurements (i.e., 3/4-inch) measures the diameter of the inside of the pipe, not the outside of the pipe. So naturally, the outside is larger.
I originally tried a 1-inch bit, but it was a very tight fit that required that I actually screw in the nipple into the hole. I didn't want a tight fit because that would make door installation almost impossible. I wanted a snug fit, but I wanted it to be able to slip in and out without much effort. The 1 1/8-inch bit did the job.
With both holes drilled, I tested to be sure that they would fit. Then I glued and attached the top piece to the door.
On the bottom of the door, I attached two rigid (i.e., non-swiveling) casters. It's very important that these be non-swiveling!!
The first time I installed everything, I did so without the dowel rods. It worked, but the doors weren't as secure as I wanted them. It needed something longer that could go deeper into the door for more stability.
I originally thought of just using a longer nipple (they come in lengths up to at least 6 inches). But that wouldn't work since the 3/4-inch nipple required a hole of 1 1/8-inches in diameter and my doors are only 1 3/8-inches thick. That would leave very little margin for error, and I'd end up drilling through the face of the door.
So that's when I came up with this dowel rod solution. It made sense to me to insert 3/4-inch dowel rods into the 3/4-inch nipples (which was a perfect fit), but that plan was thwarted when I tried to drill a deeper hole into the top of the door using my 3/4-inch spade bit. The spade bit broke off a big part of the door.
So just be very cautious when you're drilling into old wood doors. I would suggest that you don't use spade bits, as they can be a bit too powerful and can easily damage your door. (And by the way, I was very wrong about my doors being hollow core.) 🙂
My only other option was to use the largest regular drill bit I had, which was 1/2-inch. So I used a 1/2-inch dowel rod inserted into the nipple and held in place with a massive amount of hot glue.
I placed a piece of tape on the bottom of the nipple, filled the nipple up about half way with glue (high temp!!), and then pushed the dowel rod into the glue all the way to the bottom. Then I filled up the rest with glue, made sure the dowel was straight up and down and centered in the hole, and then set it aside to dry completely.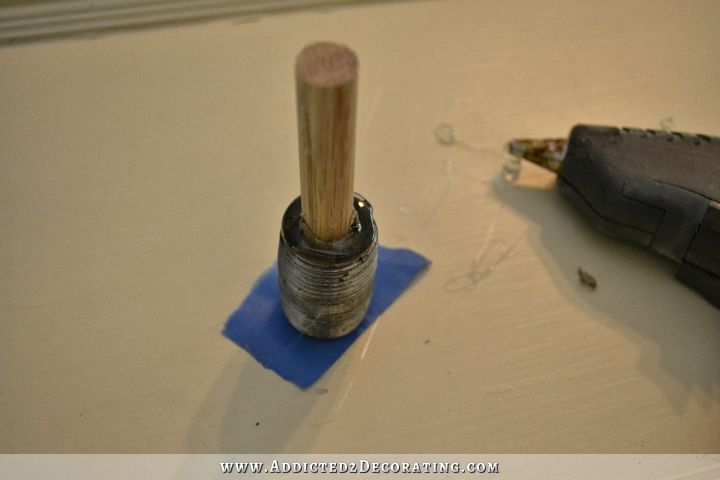 I was able to use my 1/2-inch drill bit to drill about 3 inches down further into my door. I sanded the dowel rod enough so that it slid into the hole easily with a snug fit, but wasn't so tight that it required twisting back and forth to insert it. I want to be able to remove these doors (for painting and adding glass), so it was important that these things fit together snugly but without requiring any twisting or screwing together of parts.
Once everything was together, this dowel rod idea made the doors so incredibly secure. I'm so pleased with how everything turned out!
Now one thing about the black steel conduit pipe is that it's covered with a kind of thick, ugly paint with words on it.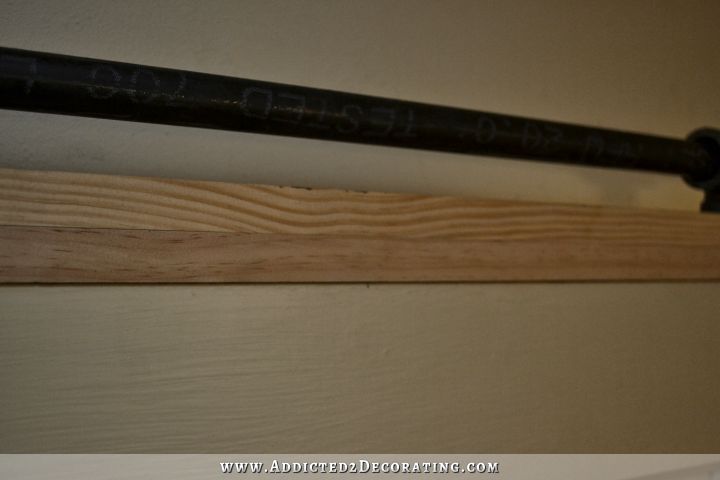 That paint can be removed with paint stripper and/or paint thinner. What's underneath is the actual black steel, which you can see is not quite as black a the painted areas. (The jet black areas in this next photo are the areas that still have paint on them.)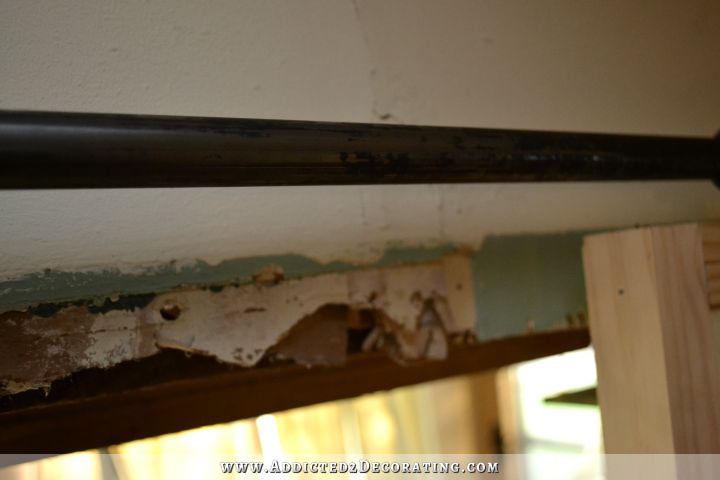 Here you can really see the difference between the two. The pipe in this photo still has the dark black paint on it, while the tee is the natural black steel color.
So I still need to finish stripping the pipe, and then I'll need to do something to the galvanized parts to make them blend in. But the basic building phase of this project is done!
Here's how they look when they're closed. You can see that the doorway isn't centered on that wall, so when I frame it in, I'll make it a bit narrower, and perfectly centered. When it's finished, the doors will cover the doorway perfectly with no gaps like it has now.
And you'll just have to use your imagination for now to picture the large section of door at the top removed, and glass inserted in its place.
I've decided that I'm going to use frosted glass in these doors. Once I have both doorways finished, I'll be able to close both doorways off at night, which will give us much-needed privacy at night all the way from the bedroom, hallway bathroom, through the music room, and to the kitchen.
I never go to the trouble of closing the shades in the living room, and when I sacrificed the extra width of drapery fabric in order to make Roman shades, I gave up the option of closing my draperies and actually having them cover the window. So right now, it kind of feels like we're living in a fish bowl at night.
If a light is on, people can see right in. And even from our bedroom, there's a direct line of sight to the side window in the living room. (Not that there should ever be anyone there, but still.) So those doors will actually be used every single night.
And in the sunroom, I've had the old curtains up that were here when we moved in. I didn't want to take them down because again, at least they provide privacy at night. Now that I have these doors, I can finally take them down. And these doors have been, and will be, used every single night.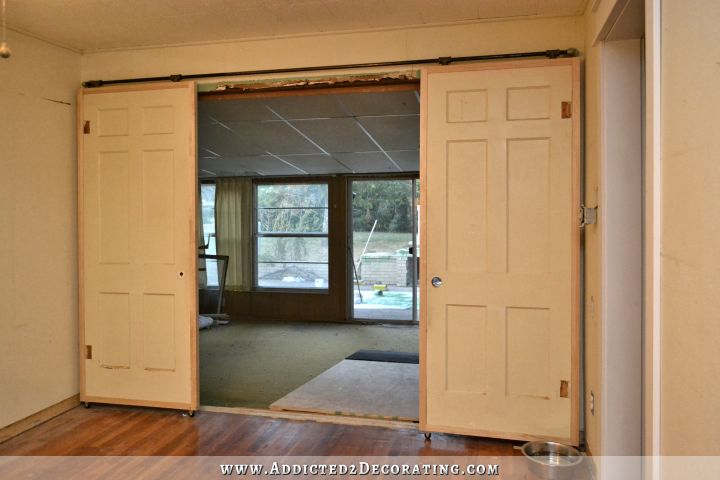 Now one final thing that I know I'll be asked if I don't cover it. 🙂
Here's how I installed these by myself.
First, after I finished both doors, I brought them inside and leaned one door up again the wall on either side of the doorway (pretty much exactly where you see them in the photo above). Then with all of my hardware already assembled, I climbed up on the ladder with the pipe and attachments in hand (it's not really heavy at all), and I rested the pipe on top of the doors.
Then I moved to one end, inserted the nipple and dowels into the holes on top of the door, and then I moved to the other side and did the same thing. Once all four of them were inserted, there was no danger at all of the pipe falling. It was very secure.
Then working on one end, I held the flange against the wall to maintain the correct distance from door to wall, while maneuvering the door (very gracefully with some karate kicks to each side while standing on the ladder…LOL) into an upright, plumb position. I used my level to be sure they were plumb (while continuing to hold the flange with one hand to keep the distance correct), and then I checked the pipe for level and screwed the flange into the wall with one screw. Then I move to the other side and repeated that process.
I didn't get it perfectly right the first time (which is why I only used one screw on each side to start), but at least with the flanges secure on the wall, I could make some final adjustments, readjust the flange, get everything perfectly level, and then add the additional screws.
It was definitely challenging doing it by myself, but…you know…it's what I do. If you have someone who can help you, that would be preferable.
Now let me emphasize one thing, and this is very important. This hardware design is not intended to carry any weight!!! A 1/2-inch conduit pipe will bow (very slightly) under its own weight. It will not carry any additional weight. The doors and the iron tees attached to the doors actually help to hold the pipe perfectly level. So again, do not consider tweaking this design to allow for hanging doors. It won't work.
So that's as far as I got. Lots more work to do on this one, but I'm so excited that my hardware design idea worked! I just love how understated, and yet not too wimpy looking, the hardware is on top of the doors.
If I left anything out, or thoroughly confused you with my wordiness, please leave a question in the comments and I'll do my best to answer and clarify any of this process.  🙂
Update:
To see the next step in my rolling barn door-style French door project, you can find that here…
Update #2:
My rolling doors are finished! Here's a peek at how they turned out…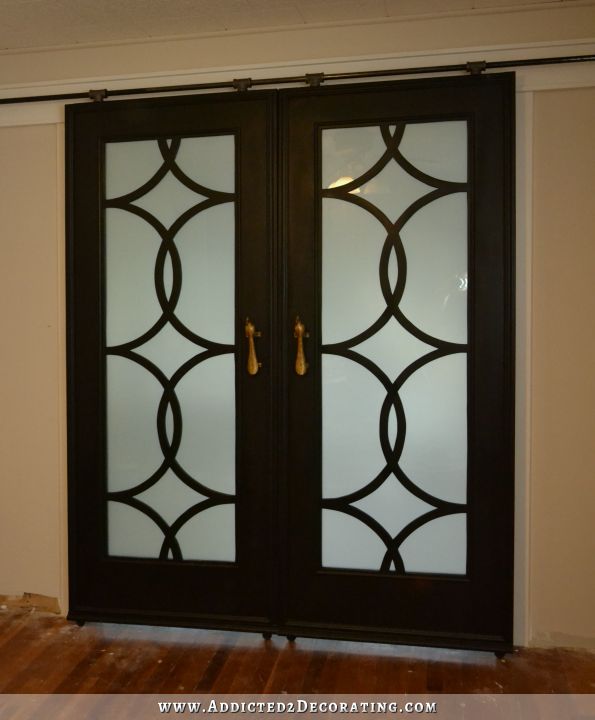 You can see more of my finished rolling barn door-style doors here…
Addicted 2 Decorating is where I share my DIY and decorating journey as I remodel and decorate the 1948 fixer upper that my husband, Matt, and I bought in 2013. Matt has M.S. and is unable to do physical work, so I do the majority of the work on the house by myself. You can learn more about me here.
I hope you'll join me on my DIY and decorating journey! If you want to follow my projects and progress, you can subscribe below and have each new post delivered to your email inbox. That way you'll never miss a thing!