Custom DIY Frame For Wall-Mounted TV – Finished!
Yesterday I finished and installed my new custom frame that I built for my wall-mounted TV in the breakfast room. Here's a quick before and after…

If you missed Part 1 of this project, you can click here to see the instructions for building this frame…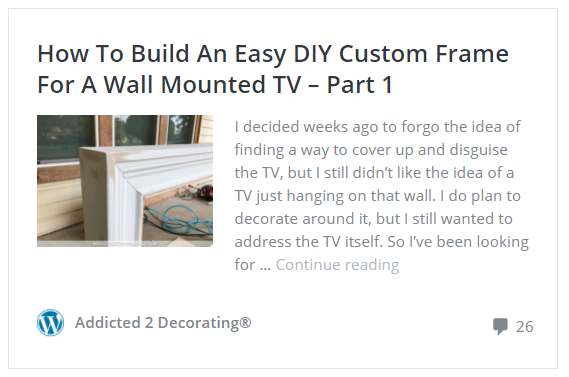 So before the frame, my TV looked like this…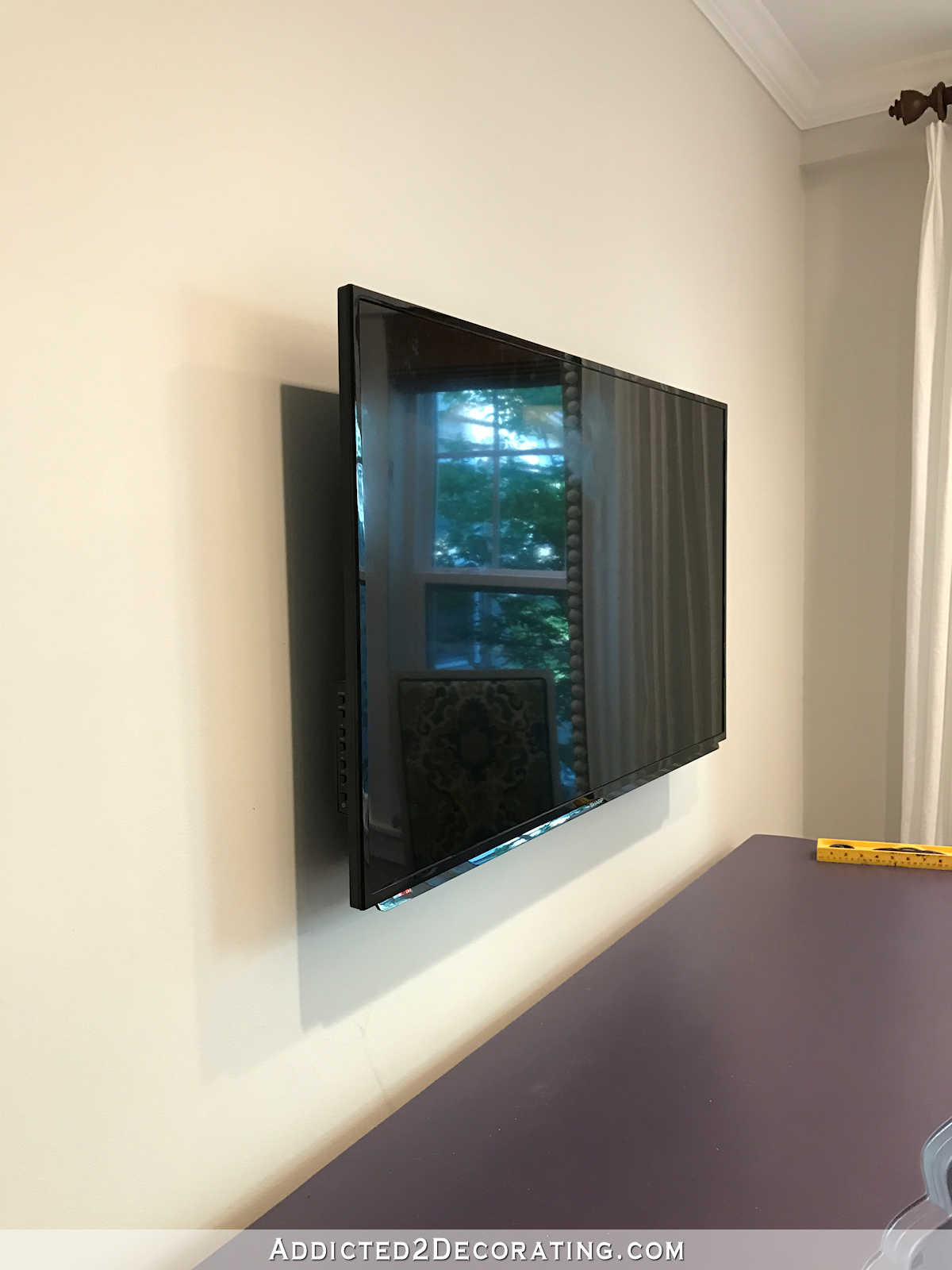 That's pretty standard, right? It's definitely not a pretty sight, and when entering the room through the garage door, you get a good glimpse behind the TV at all of the cords.
That's definitely not pretty.
Speaking of cords, I got a lot of questions yesterday about hiding cords. But again, let me stress that hiding cords wasn't an issue for me. My outlet and cable hookup (which isn't currently being used, but I installed just in case I want it for later) are directly behind my TV. I don't have to run wires down or through the wall to plug in my TV using an outlet behind the buffet. I intentionally added a plug directly behind where I knew I wanted the TV installed specifically so that I wouldn't have to worry about hiding cords or running them through the wall. You can see them in this picture…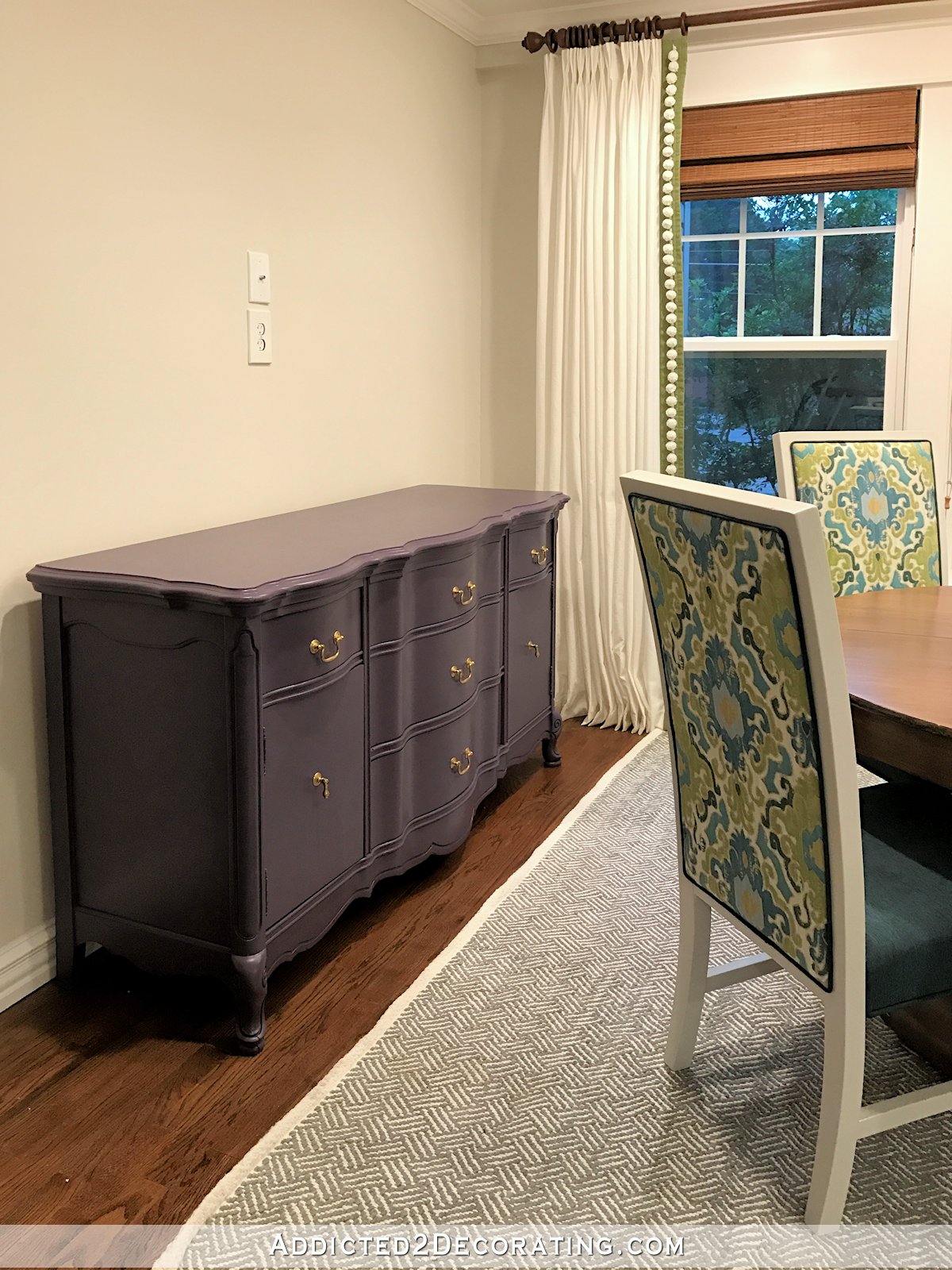 So to finish the frame, I just sanded everything really well, caulked all of the spaces, and then gave the frame two coats of paint, sanding with 220-grit sandpaper between coats.
To install the frame, I first measured the distance between the two spacers on the back of the frame…
On my frame, that distance was something like 30 inches. So I cut two pieces of 1 x 3 lumber to 24 inches long to use as mounting boards. Then I determined where I needed to install these mounting boards so that the TV would be perfectly centered in the frame and the boards would sit just below and support the very top MDF board on the frame.
After determining where the board needed to go, I stacked the two mounting boards to create one single mounting board that was double the thickness. I screwed it to the wall using 3.5-inch #10 screws, making sure that one screw went into a stud, and on the other two I used plastic wall anchors to hold them securely. And since I built the frame so that it would have 3/4″ space all around the TV for ventilation and air flow, I wanted to disguise that space by painting a black border around the TV.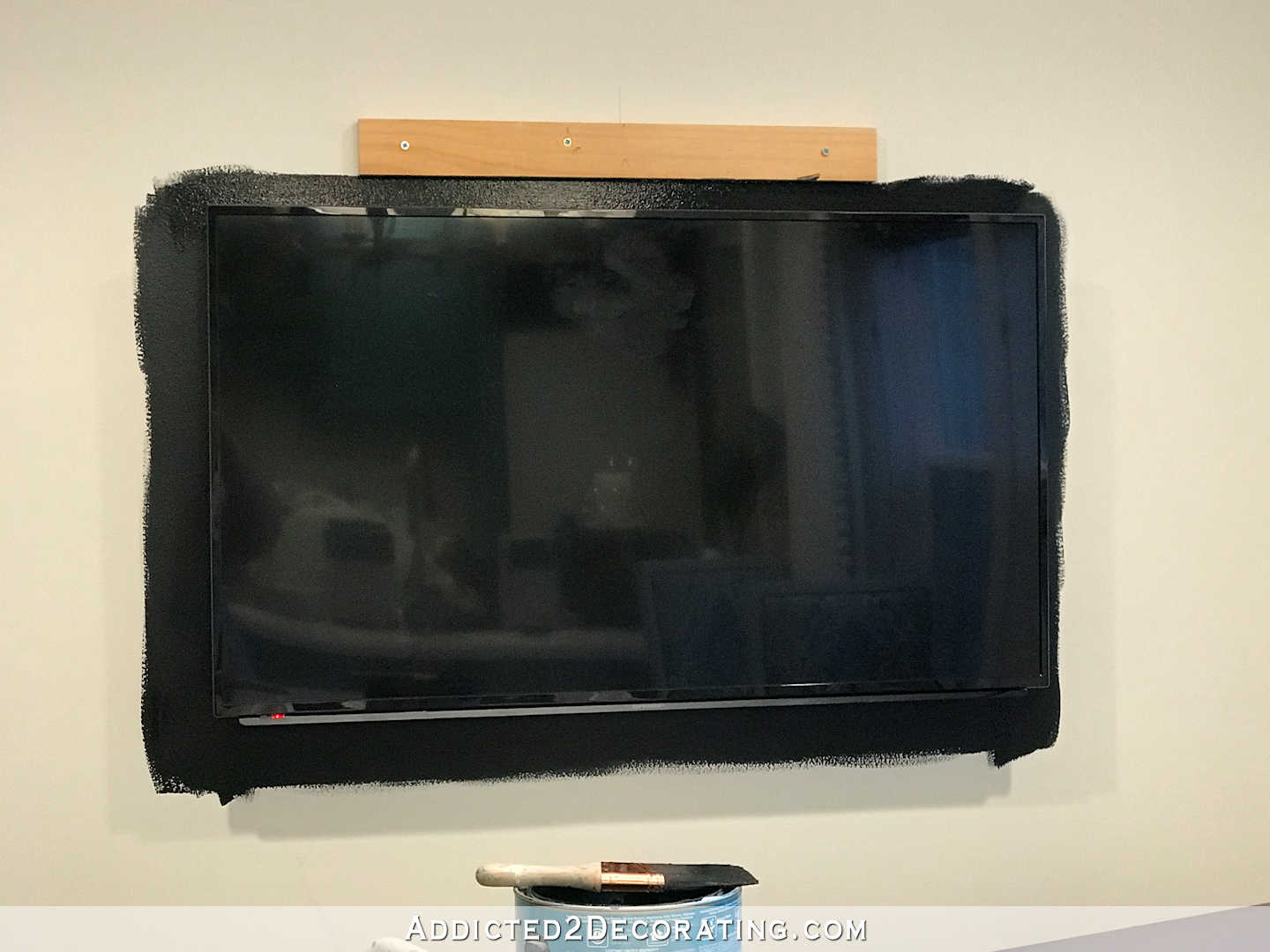 When that was dry, I just placed the frame around the TV and slid the top MDF board of the frame over the mounting boards. The weight of the frame (which is quite heavy since it's made of MDF) holds it in place.
However, if I decide later that I need a little more assurance that it won't slip, I'll just predrill two holes through the top of the top MDF board and into the top edge of the mounting board, and use two screws to hold it into place. That way the frame can be easily removed by simply unscrewing two screws. And with the screws on the top of the frame, they won't be seen.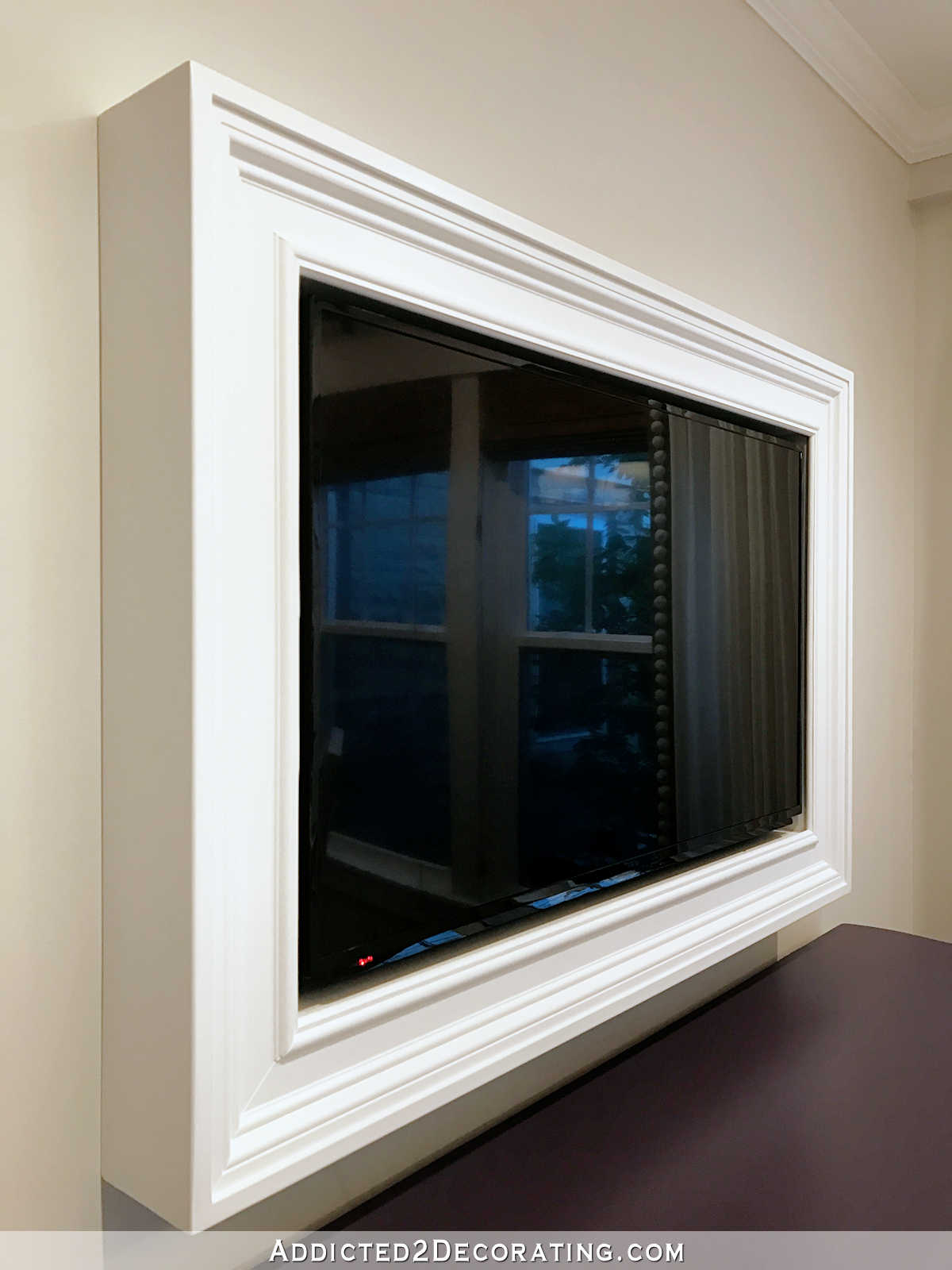 I really like how this turned out. When my TV sits idle for a bit (i.e., if I've paused a show and walk away for a few minutes) it starts a slide show of nature pictures as a screensaver. It looks like artwork!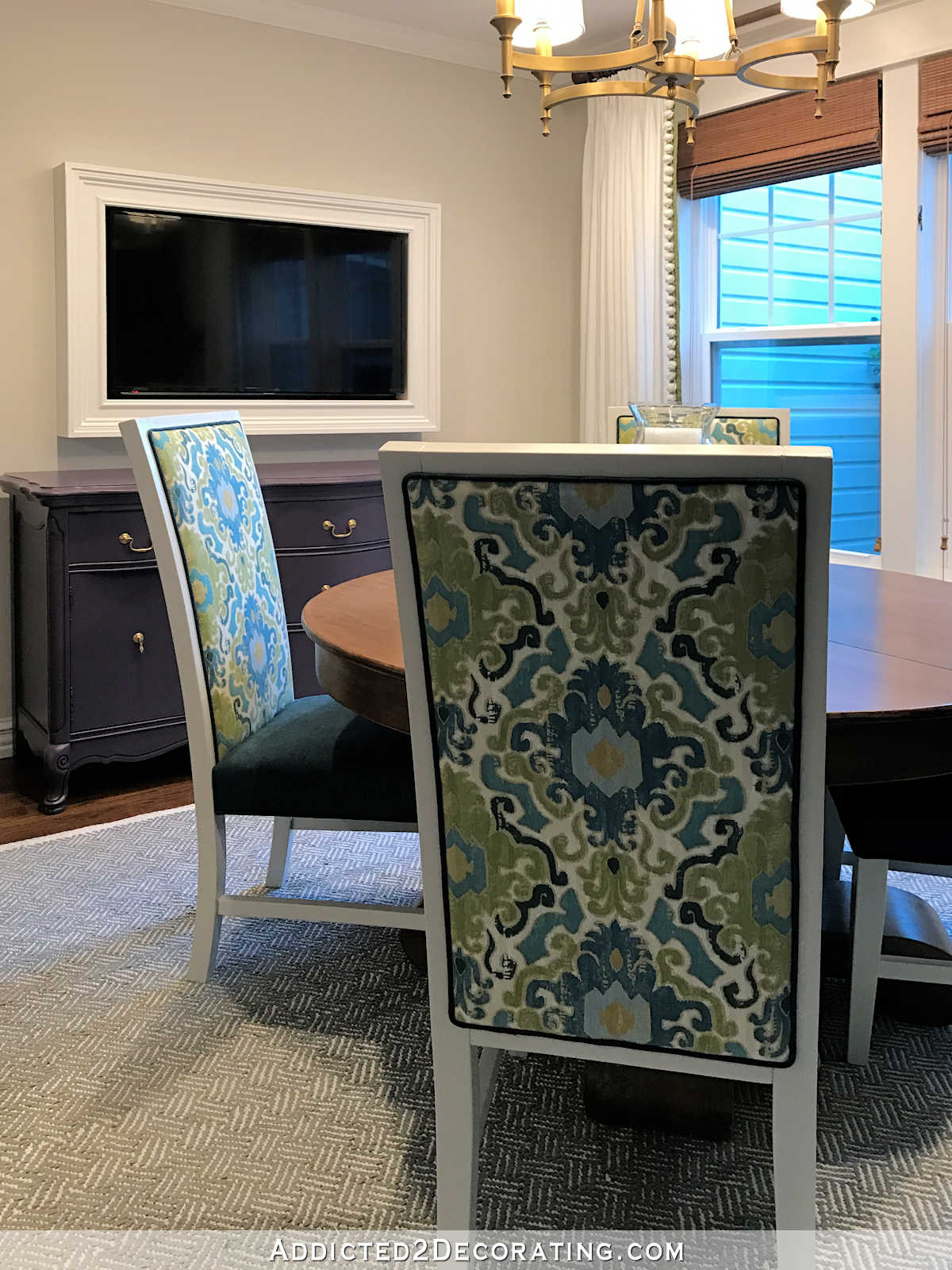 So I'm going to get out my owners manual and learn how to customize those pictures so that I can be picky about the ones that are displayed.
And I know the biggest question is going to be about ventilation and air circulation. I'm quite certain that my TV is getting plenty of air circulation. It's very hard to see the space between the TV and the frame since I painted the wall black (which is exactly what I had hoped would happen), but there's plenty of space for air flow. Last night after having the TV on for about an hour, I stuck my fingers back there to see if heat was building up back there, and the air back there was perfectly cool just like the rest of the room. Of course, if you build your own frame and you're not comfortable with only 3/4″ space around your TV, you can always add more space.
My biggest concern was that it would somehow affect my Fire TV Stick, which is plugged into an HDMI port on the left side of the TV. But it hasn't had any effect on it at all. It still functions just as it should.
Addicted 2 Decorating is where I share my DIY and decorating journey as I remodel and decorate the 1948 fixer upper that my husband, Matt, and I bought in 2013. Matt has M.S. and is unable to do physical work, so I do the majority of the work on the house by myself. You can learn more about me here.