Random Decorating Decisions
Things have been moving along slowly in the breakfast room and pantry the last few days, but I'm making progress slowly but surely. Yesterday, I got the walls and ceilings primed, and the room looks so bright and beautiful.
But primed walls and ceilings mean that I'm ready to paint. And that's where I'm stuck, because I'm still working on my whole-house decorating plan, and that's coming along very slowly. I've got a few ideas, so if you don't mind a completely disorganized, disjointed, free association-type post, I'd love to share some things that have been bouncing around in my head as I've been working on my breakfast room/pantry and dreaming of a decorated home. 😀
The entire plan has to start with my kitchen. I've already shared that I'll be repainting my kitchen cabinets. Now before there's any hand wringing over me doing a rather large project like that over again, let me just explain that even if I weren't changing cabinet colors, I'd still want to repaint my cabinets. It's been just over two years since I finished my kitchen remodel, and since then I've learned two things…
(1) The pronounced grain in the oak cabinet doors really bothers me. When I did the remodel, my kitchen was considerably darker, but since then I've added a doorway from the kitchen to the front room, and now I have a breakfast room with beautiful new windows. So my kitchen, even though it has no windows, gets a great deal of natural light, and that natural light bounces off of those cabinets making the grain in the wood even more pronounced. It's actually quite ugly at times, so this next time, I'm going to fill the grain before painting. And…
(2) I learned the hard way that gold leaf doesn't work well on kitchen cabinets, especially on the cabinets by the stove and sink. I put a clear coat over the gold leaf, but it didn't really help. The gold leaf has completely worn off of some areas on those cabinets. So next time, I'm just painting.
Here's a close up pic of the upper cabinet to the left of my stove where you can see both the pronounced wood grain and the worn gold leaf. I've tried other things as well — liquid gilding, gold paint pen, etc., — and they wear off on those cabinets around the stove as well.
So since I'll be painting anyway, I'm also going to choose a different green — something a bit lighter, like a truer kelly green. Here's the green I have now…
And I'd like something more like this…
See how much brighter that is? And since there will be less of it (I'm only doing the lower cabinets in green this time), I think it'll be beautiful but not too overpowering. The upper cabinets will be white.
And I have to admit that I'm really undecided on my countertops. Something needs to be done with them because there are a few issues that need to be fixed (more on that later). I do love black, but one thing I'm learning about myself as I work on the breakfast room is that I'm really loving the brightness of the room. I really do think black countertops would be prettier, and I keep going to this perfect kitchen in my mind…
But I also don't want to chance doing anything that will suck any light out of these rooms, and once I stain those concrete counteretops black, there's no going back. So that's still up in the air.
Anyway, about that pantry. Everything will be white — white cabinets, white walls. Light and bright. And I bought this light from Home Depot for the center main light that will show through the glass doors.
I've looked at that light for a while now, but never had a use for it. But now I do! I personally think it's much prettier in person, and I think the sparkle from the glass will be pretty peeking through the glass pantry doors.
And speaking of doors, I've decided to make my own. Originally, I thought about purchasing bi-fold doors and using them as double doors, just like I did for the hallway bathroom. But I really want glass in these pantry doors. I keep going back to this image in my mind…
I considered cutting out the recessed areas on the bifold doors and adding glass. That's certainly doable, but I do hesitate to make upgrades like that to hollow core doors. Once you cut into a hollow core door, there's just a lot of filling that has to be done around the cut areas in order for the strength of the door not to be compromised. Again, it's doable, but it just seems like a real headache to me.
I've looked at other various options, like purchasing two 18-inch French doors like the ones I used between the entryway and music room…
…but I'd rather not have so many individual panes like that. Then I realized I could make my own! I've already done it once when I made the black doors in the photo above.
I made those from two of the old solid wood doors that were originally in the house. Well, I just so happen to have about six more of those solid wood doors, so I'm going to cut some of those down and use them to make my own single-pane glass doors for the pantry. They'll just be a frame with one solid pane in the middle. No fretwork on these.
Now as far as the walls in my breakfast room, I'm still undecided. I've considered various colors, but again, I'm really loving how light and bright that room is with the white primed walls. I really don't want to ruin that, but I also feel like I want something more than just solid white walls. I've dug into my blog archives to see what ideas I've entertained in the past, and two things stand out to me. First, I kind of wish I had saved the bird and butterflies design for the breakfast room. But it's in my entryway right now.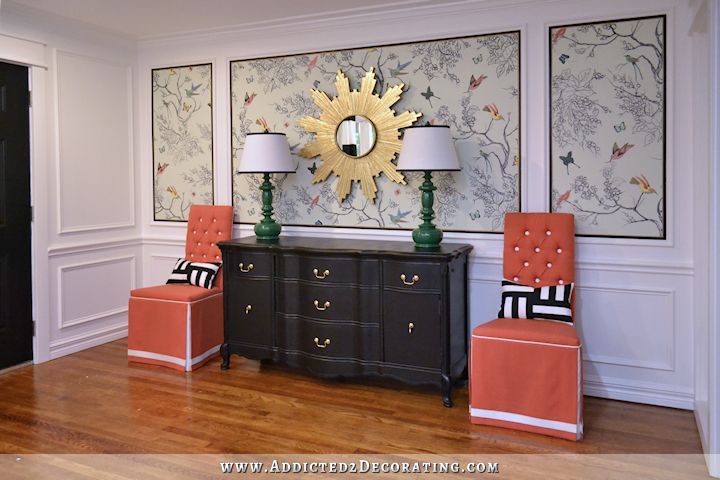 It's just one of my favorite things I've ever done, and I'd love more of it. I love it in my entryway, but what a cheerful breakfast room that would make!
But even I, Queen of Do-Overs, can't imagine painting over that entryway wall after all of that work, so that dream may have to die.
The second option from ideas past is this stencil that I purchased long ago.
I've been hanging on to this, wondering if I'd ever find the perfect opportunity to use it, and this may be it. If I go this route, I'd do a tone-on-tone using matte and glossy paint, much like the design on this wall…
But I'd probably stick with the Behr Polar Bear white that I love.
So those are my random free-association thoughts about where I'm heading. And other than things like my pantry doors and pantry light, which are pretty set in stone right now, I still won't make any other final decorating decisions until I have a clearer whole-house vision in my head…or preferably, on a design board.
So I leave you with this question…
Is it bad form to use the same "wallpaper" in two different rooms of a home? I'm leaning towards "yes," but I want the answer to be "no."
---
---
Update:
My pantry is finished! Want to see the entire project from start to finish? You can find every single post about the pantry build right here…
Or you can skip to the end and see how it turned out. Here's a peek of the finished pantry…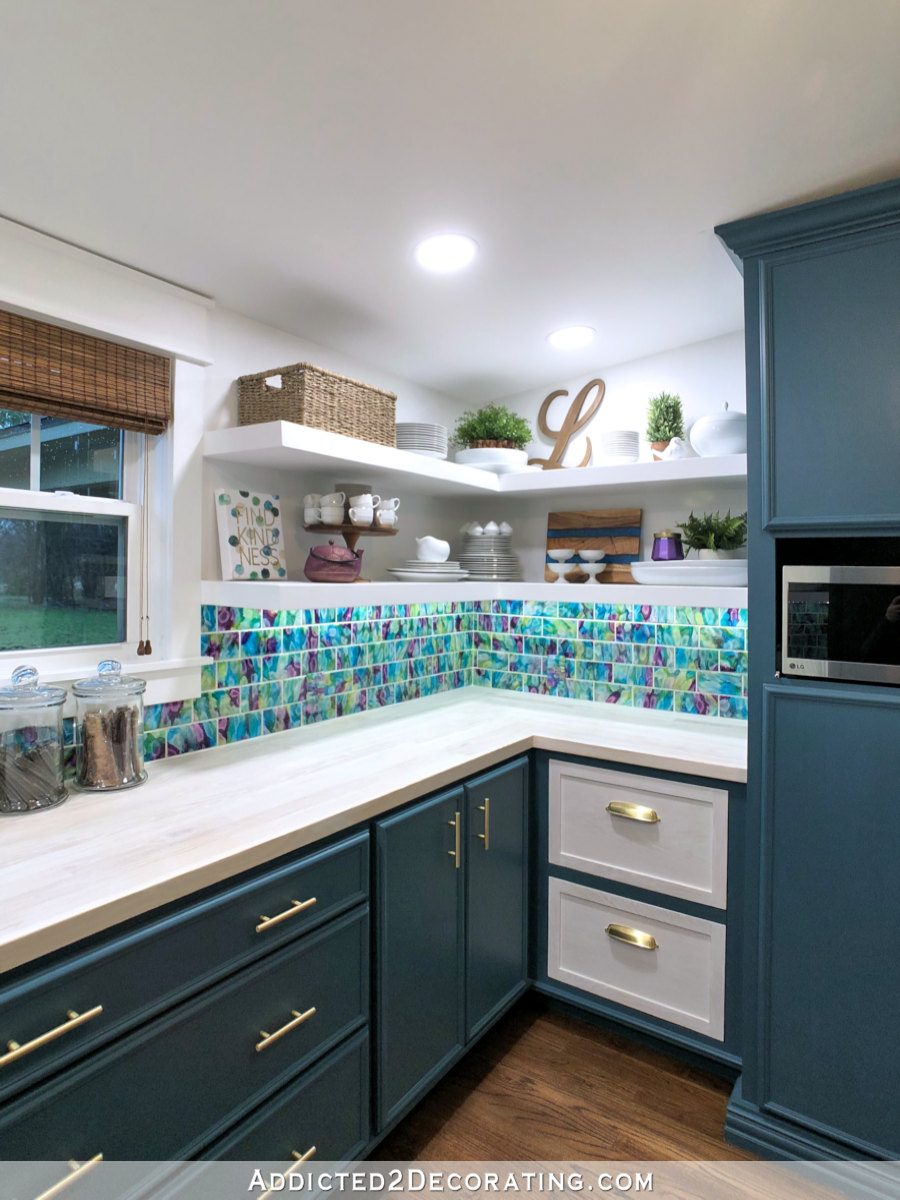 You can see more pictures on the before and after post right here…
Addicted 2 Decorating is where I share my DIY and decorating journey as I remodel and decorate the 1948 fixer upper that my husband, Matt, and I bought in 2013. Matt has M.S. and is unable to do physical work, so I do the majority of the work on the house by myself. You can learn more about me here.