Last Updated on December 7, 2015 by Kristi Linauer
I think things are finally winding down at the condo.  I still have quite a "to do" list, but I've called in reinforcements.  My brother is spending all this week over there helping me get things finished, and we're thinking that everything will be done by the end of this week.  We're finally seeing a light at the end of the tunnel.  I hope to goodness that we can actually meet that goal, because I'm tired of spending my days working on this condo instead of my house.
I finally finished the living room last night.  I decided not to stage this room (except for some plain white curtains on the window) because living rooms can be expensive to decorate when you don't happen to have any extra nice chairs or sofas in storage, and your city's Craigslist is full of nothing but 1980's castoffs.  But even with no furniture or decor, the living room as it is now is a night and day difference from what I started with nine years ago.
Here's how things looked when we moved in.  The previous occupants left all kinds of treasures for us, including some broken DVRs, plants, and broken furniture.  And just like the other rooms, this one was just a plain, dingy, off-white box with dirty, dingy beige carpet.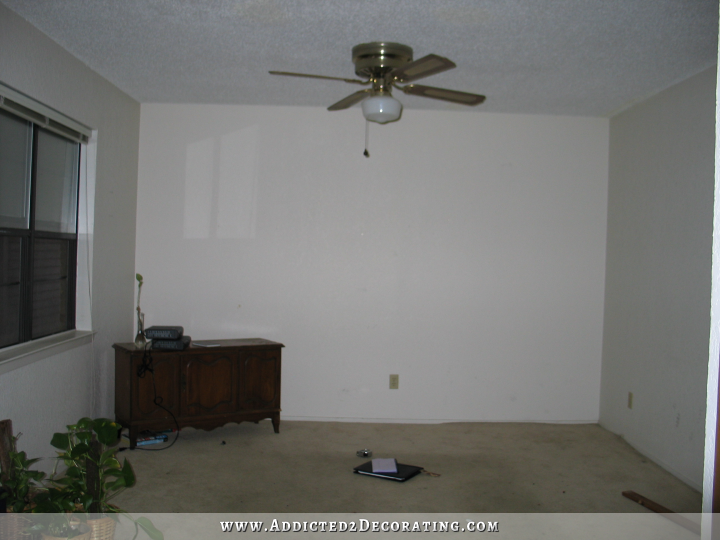 And here's how it looks now…
It sounds counterintuitive, but adding an entire 12-foot wall of built-ins in this room actually made the room feel much larger than it did originally.
Here's another "before" view of the right side of the living room.  You can see just beyond into the hallway, which used to have a standard coat closet with a pair of bi-fold doors.
And here's how that looks now…
And finally, here's a "before" view of the left wall of the living room…
And here's how it looks now…
I love this room, and while I'm a little sad that I'll never get to see it completely furnished and decorated, I'm at least glad that I'm finally getting to see it with the walls, wainscoting, flooring, and built-ins completely finished.
Of course, the main project in this room was the built-in bookcase.  I did that project about two years ago, and you can see the details here.  The wainscoting/trim/bookcase color is my favorite white called Polar Bear by Behr.  And the wall color is called Rich Cream by Behr.  The flooring is TrafficMaster Ceramica groutable vinyl tile from Home Depot, and I highly recommend it.  They have all different colors and styles, but the product itself is incredibly durable and easy to install.
It's getting there!  My brother and I are in the home stretch and heading for the finish line.  I can't even tell you how good it'll feel to put a check mark by that final item on the "to do" list and get this condo listed for sale!  What a weight off my shoulders that will be!
Addicted 2 Decorating is where I share my DIY and decorating journey as I remodel and decorate the 1948 fixer upper that my husband, Matt, and I bought in 2013. Matt has M.S. and is unable to do physical work, so I do the majority of the work on the house by myself. You can learn more about me here.
I hope you'll join me on my DIY and decorating journey! If you want to follow my projects and progress, you can subscribe below and have each new post delivered to your email inbox. That way you'll never miss a thing!