Last Updated on December 24, 2015 by Kristi Linauer
I have just about everything decided for my kitchen design now…except for the backsplash and walls.
Y'all, I've been making myself crazy with this decision.  I originally thought I'd use white subway tiles.  I really, truly love subway tiles, and I think the bright white would be a beautiful contrast with my green cabinets, but subway tiles are everywhere lately.  White subway tiles with dark grout seems to be the popular thing now — a look which I personally can't stand because it highlights every single spacing imperfection in the grout lines, and the last thing I need is for my grout lines to drive me insane.  But white subway tiles just seem to be the "go to" backsplash for DIYers on a budget.
And really, the last thing I want is to have something that everyone else has.  (The more popular something becomes, generally the less I like it.)  🙂
So I've been looking for other ideas.  And last night as I was flipping through my March 2014 issue of House Beautiful, I couldn't help but notice the unique backsplash in the Kitchen Of The Month.
Kitchen with fabric backsplash, via House Beautiful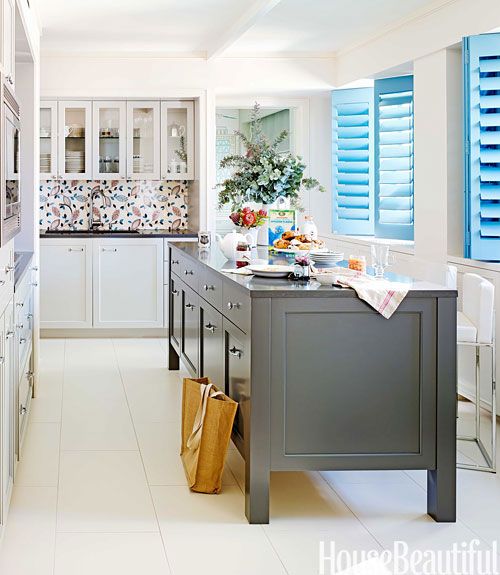 Kitchen with fabric backsplash, via House Beautiful
I just assumed that it was a fancy (and very expensive) mosaic tile, but then I read the description and found that it's actually Lee Jofa fabric underneath glass!
Fabric as a backsplash! Can you even imagine the possibilities? They're virtually endless!
Okay, the glass could potentially be very expensive, depending on how big your kitchen is and how much backsplash area you have to cover. And of course, you'd have to check your local building codes to see what kind of glass you're required to use. I read somewhere yesterday that any glass in a kitchen that's below five feet has to be tempered, but I'm not sure if that's true everywhere.
But still, don't you think this is an idea that can easily be DIYed somehow? It just seems like there has to be a low cost way to achieve this look.
Here's a fabric backsplash in a kitchen by designer Denise McGaha.
Kitchen with fabric backsplash, designed by Denise McGaha
Kitchen with fabric backsplash, designed by Denise McGaha
For that backsplash, Denise used a Trina Turk outdoor fabric from F. Schumacher. I think it looks amazing!
And another fabric backsplash. This one is by Incorporated Architecture & Design.
Eclectic Kitchen by New York Architects & Designers Incorporated
I'm really loving this idea!  I honestly don't know if it's something that would work in my kitchen (might be too busy, but of course, that would depend on the fabric), but at least it got me thinking outside the box on kitchen backsplashes.  This creative idea might lead me to another ingenious idea that will finally get me away from the ubiquitous subway tile.
Or, I might end up with subway tile.  🙂
But it's fun to think of the possibilities!
Addicted 2 Decorating is where I share my DIY and decorating journey as I remodel and decorate the 1948 fixer upper that my husband, Matt, and I bought in 2013. Matt has M.S. and is unable to do physical work, so I do the majority of the work on the house by myself. You can learn more about me here.
I hope you'll join me on my DIY and decorating journey! If you want to follow my projects and progress, you can subscribe below and have each new post delivered to your email inbox. That way you'll never miss a thing!