Last Updated on October 6, 2017 by Kristi Linauer
One more day. I swear to you, I just need one more day to finish the trim and walls in the breakfast room. I was sure I could get it finished yesterday, but that tiny room has a ton of trim! It took all afternoon just to get one coat of paint on all of the trim. I went back and did the second coat of paint on the trim on the window wall (the wall with the most trim) and then painted the first coat of paint on door last night before I went to bed, so I'm 95% sure that I can get a second coat on the rest of the trim, and the get the walls painted today.
In the meantime, I've had a few people ask me what dining table I'll be using in the breakfast room (I shared it a few posts back), and how I plan to refinish it. I'll be using this round dining table that I found on Craigslist a couple of years ago…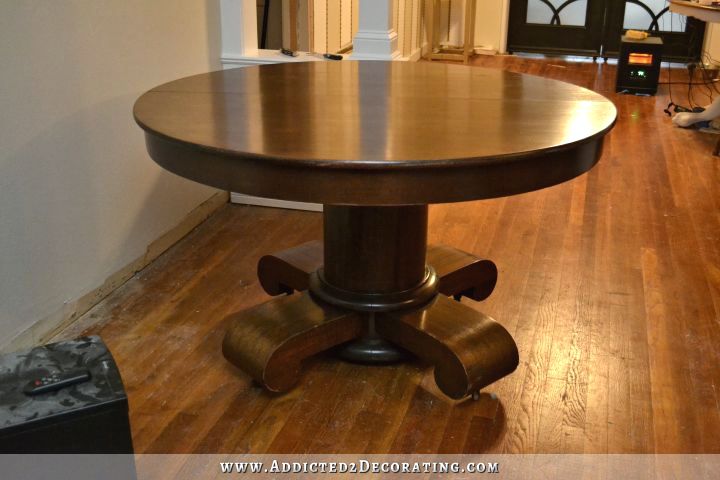 …but my breakfast room isn't too terribly big, and right now it's looking so light and airy, so the last thing I want in there is a really dark, heavy-looking table right in the center of the room.
I really have no idea what kind of wood is underneath all of that heavy stain, so once I figure that out, I might find that my options are limited a bit. But that hasn't stopped me from looking and dreaming about exactly how I'd love that table to look in the breakfast room.
My favorite inspiration so far is this table makeover from Bless'er House. Lauren started out with a table that looked like this, with a heavy looking stained finish…
…and she turned it into this…
That wood top is absolute perfection, and she used Minwax Weathered Oak stain to achieve that look. I don't want to paint my base. I want the entire table the same color, and if could achieve that look on my whole table, I'd be one happy DIYer. Click here to check out more of Lauren's process and more pictures of her beautiful refinished table.
I also love this table makeover from Paint Me White. Sandy started with this table with a dark, heavy stained finish on it…
…and transformed it into this with a whitewash on the wood top…
Check out more pictures of Sandy's table makeover here.
And finally, I also love the look of the stained top on this table makeover from Orphans With Makeup. Mary also started out with a dark stained table…
…and she transformed it into this, with a lovely lightly stained top…
Click here to see more of Mary's process and after pics.
So that's my goal. I want it to look like a wood table, but I don't want any dark, heavy stain. Let's just hope I have more success with this dining table than I did with the last one I tried to paint/refinish. Five times. (Was it five? Heck, I lost count!) 😀
Addicted 2 Decorating is where I share my DIY and decorating journey as I remodel and decorate the 1948 fixer upper that my husband, Matt, and I bought in 2013. Matt has M.S. and is unable to do physical work, so I do the majority of the work on the house by myself. You can learn more about me here.
I hope you'll join me on my DIY and decorating journey! If you want to follow my projects and progress, you can subscribe below and have each new post delivered to your email inbox. That way you'll never miss a thing!