It's a good thing that my dining room walls and trim are taking way longer than I had anticipated, because I've had a heck of a time narrowing down all of the options that I've considered and shared into one cohesive design plan for this room. But it's really down to crunch time, and a decision needs to be made because I need to get fabric and drapery hardware ordered ASAP.
After many people telling me that my striped drapery option for my dining room wasn't right for that room, I started doubting my decision.
I knew they would be very bold in the room, which is why I had decided only to use them on the fireplace wall, and just use Roman shades on the front windows. But the more I considered them, and the more comments I read telling me that they were the wrong choice, the more I started to see what so many of you were seeing. Plus, it's strange that I, a person who loves draperies so much and wants them on ALL of the windows, would consider leaving them off of the main windows in my dining room, right? Even if the striped draperies on the fireplace wall turned out looking fabulous, I think I would have regretted only putting Roman shades on the front windows and not having draperies on those windows.
So I went back to the drawing board. And for the record, I've also ruled out two other options that I considered for the room. First, a black fireplace.
As much as I love black and dark charcoal fireplaces, this option just hasn't felt right for my particular room. My room is small, and I have 8-foot ceilings. A black fireplace just seems like it might be way too imposing in the room.
To be honest, the idea of a green fireplace was my favorite.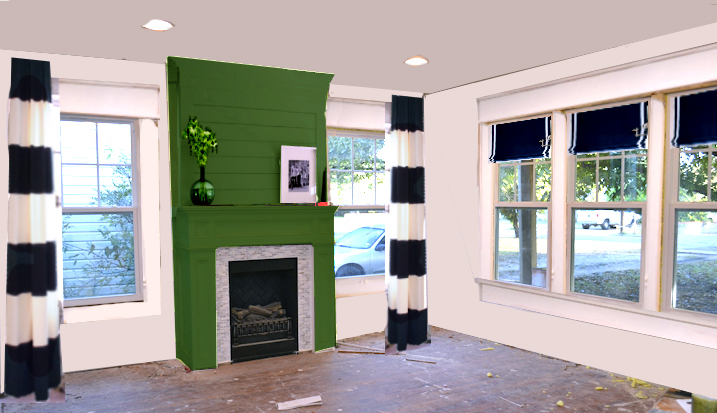 It's different and eye-catching. It's bold without being dark and imposing. And I love green. But in the end, I ruled it out, too. My kitchen is green, and I think it's gorgeous and fabulous. While I do want to bring that green into the dining room somehow to make the rooms cohesive, I think painting another LARGE item green is out of the question. The more large things I paint green, the less unique and special that green looks on my kitchen cabinets. I'm okay bringing that color in with fabric, but not on any more painted items.
So my fireplace will be white. I think a classic, clean, bright white fireplace is the best option for my room.
And that brings me to my two new window treatment options. After looking at every single fabric (in stock and special order) at both Hancock Fabrics and JoAnn Fabrics and not finding even one single printed fabric that I liked for draperies, I decided to stick with my absolutely favorite, tried and true, linen fabric in a solid color. And to bring in that bold pattern that I wanted (that I was trying to achieve with the bold stripe curtains), I'll use a black and white Greek key accent along the leading edge of each drapery panel.
So this should come as no shock. I've narrowed it down to either green linen, shown with my dining chair fabric and my kitchen cabinet paint color…
Or black linen, also shown with my dining chair fabric and my kitchen cabinet paint color…
For the Greek key trim, I couldn't find any actual trim that I liked. So I ended up purchasing three yards of this fabric…
And I'm going to cut it and use it as the trim, just like these curtains with the navy blue and white Premier Prints Towers fabric used as trim…
via Something Is Done
And these curtains with the pink and white Premier Prints Towers fabric used as trim…
via Dwellings By Devore
And these cream curtains with the blue and cream Premier Prints Towers fabric used as trim…
via Amanda Carol Interiors
You get the point. 🙂 But white and cream draperies, as beautiful as they are, just really aren't me. I want black or green, and I think that that the black and white trim will look great on either one.
So those are my two options, and this decision has consumed my mind for so long that I'm really not willing to even consider anything else at this point. It's going to be one or the other — either black or green–and I just need to make a decision.
I love the green because, well, green is my favorite color and I think it breathes life into a room. My concern is that it'll be too much of a good thing — and entire green kitchen right next to a dining room filled with green drapery panels. Plus, I think if I did the green drapery panels, then I'd have to go with a neutral wall color, and we've already discussed my issue with light neutral (other than white) wall colors.
So at this very moment, I'm leaning towards black. I think it will look fantastic with the black and white Greek key trim, plus it will complement my black and white music room very nicely. On top of that, black draperies won't force me to use a light neutral wall color. I could still use the super light green color that I want, and it would also look great with the bright and bold dining chair fabric I'll be using. And the black also won't compete with the coral buffet in my entryway the way that the green curtains might.
Yep, I'm pretty sure black is the right choice here. And I'm pretty sure I need to just go ahead and place my order today before I think this thing to death (as if I haven't already) and come up with ten more options that I'll spend the next month torturing myself with. 🙂
Now I just need to get all of this wall trim finished. It's starting to feel like a never-ending job.
---
---