Last Updated on January 11, 2019 by Kristi Linauer
As I told y'all a week or so ago, I'm planning on building my own dining table since I couldn't find exactly what I wanted in a price that I could afford. My inspiration is this turned leg farmhouse table from Williams-Sonoma that expands from 72 inches to 116 inches and seats up to 10 people when fully expanded.
Earlier this week, the table legs and table slides that I ordered from Osborne Wood Products were delivered, so as soon as I can get the walls finished in my dining room, I'll be ready to start building my table.
And as always when I work with pine to try to build something nice, my concern has been the final finishing steps. I'm confident that I can actually build the table. That will be the easy part. But getting the finish just right will be the challenge. I want my table to end up with a warm medium brown finish. I love the color of Emily's kitchen table.
This table from Ethan Allen is also a great example of the color that I want.
You get the idea, right? And I'm fine with it looking old and beautifully aged, like a well-loved antique, but I don't want rustic. Somehow that makes sense in my mind. 🙂
Anyway, a table like that, in that warm medium brown tone, is exactly what I want. But back to reality…I'll be building my table out of pine. Just plain, simple, cheap, new pine. And I don't know if you've ever tried to stain new pine, but it's tricky. I generally use a wood conditioner, followed by a dark stain color. That way it's easier to cover up all of the crazy yellow and orange grain. And I always prefer to use Rust-Oleum wood stain on pine because you can literally paint it on like paint (just not quite as thick as paint) and it'll still dry completely in a relatively short amount of time, and you can cover up as much of that crazy pine grain as possible. (You can't do that with Minwax. It'll never dry.)
But I've tried that method with light and medium-toned stains on pine, and it just doesn't work. No matter how much wood conditioner, or how many coats of medium or light stain I use, that awful grain is still there…and accented in a way that I don't find pretty at all. So yesterday, I tried out some different methods to see what I could come up with, and I actually think I found a way to stain pine a gorgeous medium-toned brown color that looks somewhat aged, while minimizing all of that yellow and orange grain!
Let me preface by saying that I know you can achieve pretty finishes on pine with paints and waxes. But I really don't want to do any kind of painted faux finish on my new table, and I'll never, ever, ever live with a dining table that has a waxed top on it ever again. Wax is just not durable for a table that is used often, so that's not even an option that I would consider. And water-based polyurethane isn't an option for me either. It drives me absolutely crazy the way that water-based poly clouds up when it gets wet. I know it clears back up when it dries out, but it's just not something I'd ever use on dining table. So my goal was to come up with something that gives a medium-toned aged finish, minimizes the crazy pine grain, while ending up with a durable oil-based finish on top. Should be easy, right? 🙂
Here are my different test samples: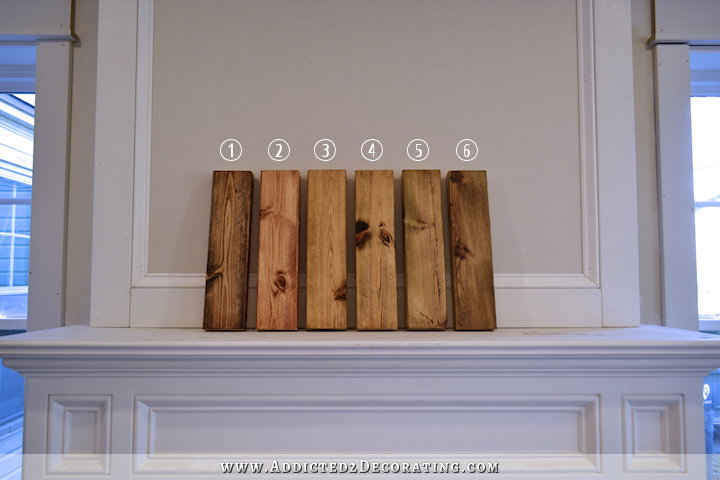 I bet you can already tell which one I'm gravitating towards, right? 🙂
Here's a closer view of my samples: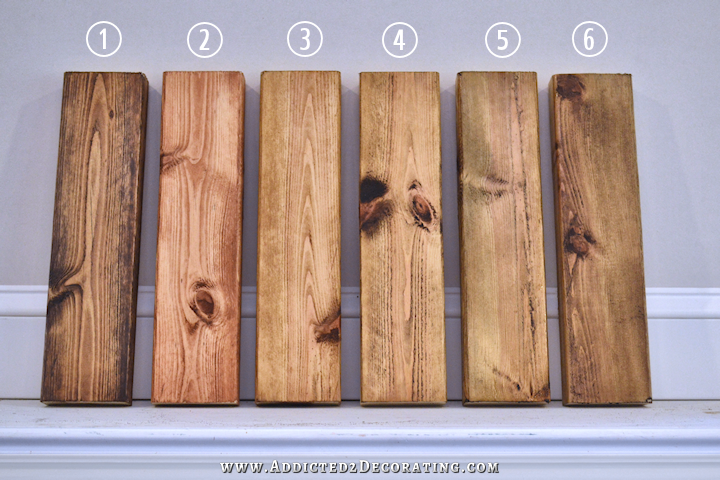 Here's what I did on each:
This was my "control" sample with just plain ole stain on it. I used one coat of Minwax Honey stain. See what I mean about the grain? I think that's awful. And depending on the stain color, I've seen the grain in pine turn yellow, and orange, and even an awful reddish purple. And when you get that much pronounced grain on a large item like a dining table, it looks so incredibly busy. And cheap, in my humble opinion.*I didn't use pre-stain conditioner, but I've worked with pine enough to know that even conditioner can't salvage pine enough for my taste when it comes to light and medium-toned stain colors. It works beautifully with dark stains, though (Rust-Oleum, not Minwax).
I used Waterlox with a little bit of Rust-Oleum American Walnut stain mixed in. Wow, that's red. Definitely not the look I'm going for.
This was Waterlox with a little bit of Minwax Honey mixed in. I thought this was pretty, and the grain didn't bother me so much since it didin't turn a hideous color. But the overall color just wasn't quite warm enough for me. And it looks too orange-yellow, rather than brown.
I started this one by rubbing Annie Sloan Dark Wax over the entire thing, and then followed up with a coat of the Waterlox + Minwax Honey. When it was dry, I added a coat of Minwax Polyurethane. I love how the wax settled in the low places and gave it an aged look.
Once again, I used Annie Sloan Dark Wax over the wood, and then used Minwax Polyurethane on top.
This is my favorite, and it was a four-step process. First, I used some homemade vinegar stain on the wood to cut the yellow/orange color of the pine. The homemade vinegar stain was about two cups of white vinegar, two "000" steel wool pads, and two tablespoons of coffee grounds. I only let the vinegar solution set for about three hours before using it. After the vinegar solution, I used the Annie Sloan Dark Wax, and then followed up with a very thin coat of Minwax Special Walnut. And I finished with a coat of Minwax Polyurethane.
I'm pretty sure that the last one is exactly what I'm going for. You can see some grain, but it didn't turn a crazy color, and it looks more aged than stained.
Just a word about the homemade vinegar stain. I only let it age for three hours before using it. I was certain that it wouldn't do any good, as I've read that it really should sit for at least 24 hours. So I wiped the vinegar solution onto the wood, didn't see any change, wiped it off, and decided to try something else.
Well, evidently it did do something, because I tried to replicate the look of sample #6 without using the vinegar solution, and it didn't look nearly as good. So I tried it once again with the vinegar solution (about four hours old at that point), and that one looked like sample #6. So there's definitely something to the vinegar solution, even using it after only three or four hours. I'm going to try it again today after letting it sit for 24 hours, and I'll see what difference that makes.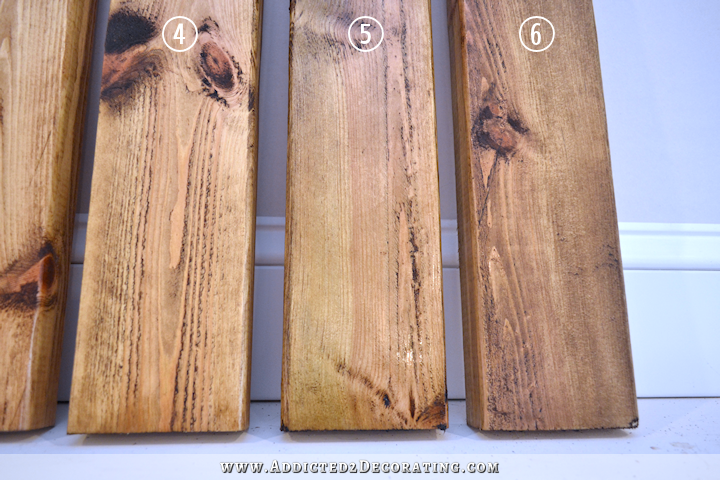 I actually really liked the effect of the Annie Sloan Dark Wax on all three samples. I love the way it settles into the low places and gives it a nice aged look, but I prefer the more subtle look of the last one.

And here's a look at the last three samples that all used the Annie Sloan Dark Wax in comparison to my control sample #1 with just the stain. I find that stain-only sample to be just terrible, and that's what I was afraid of my whole table looking like.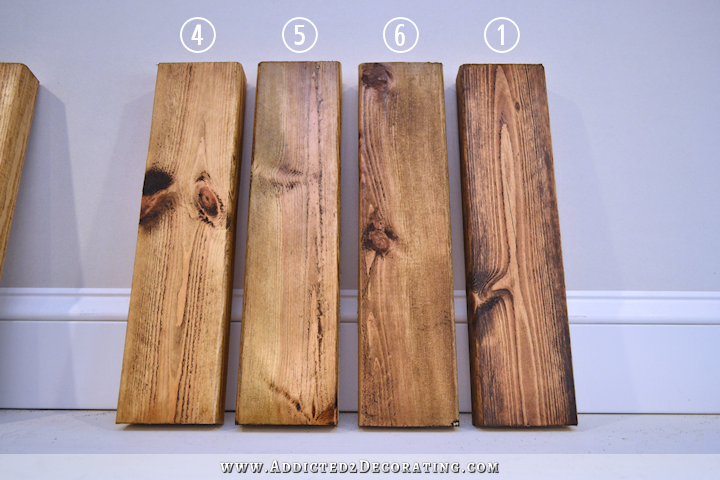 And here's a look at my favorite sample compared to the stain-only sample. It's a night and day difference!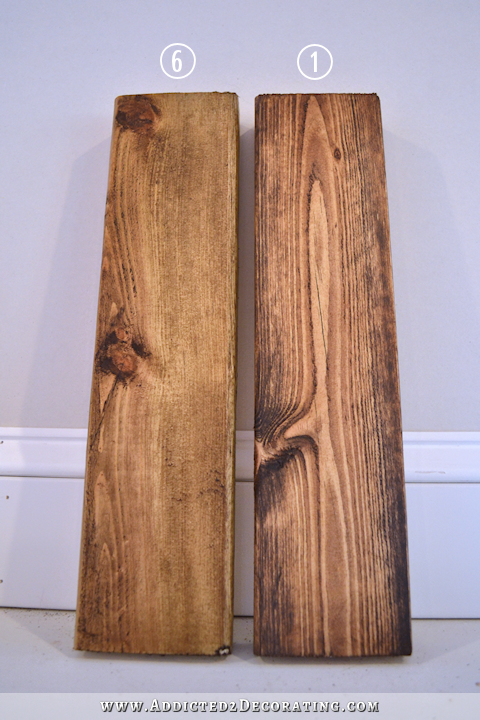 And just to be sure that my last (favorite) sample wasn't some kind of fluke, I decided to test my method on a piece of Select Pine lumber from Home Depot. I use this lumber quite a bit because it's always cut the straightest and has almost no knots in the wood. But what it does have is crazy pine grain.
So I took a scrap piece of Select Pine and just used stain on one side. Here's how that looked compared to my first sample.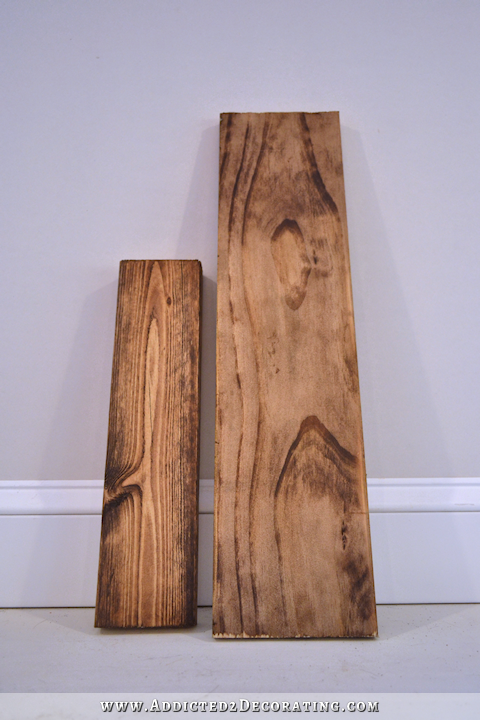 Awful. Both of them. The funny thing is that the Select Pine sample actually looks like someone did a faux bois technique on it. That grain almost looks fake to me…but it's real. It's crazy pine grain!
So I flipped the board over and did the four-step process that I used on sample #6 above. What a difference!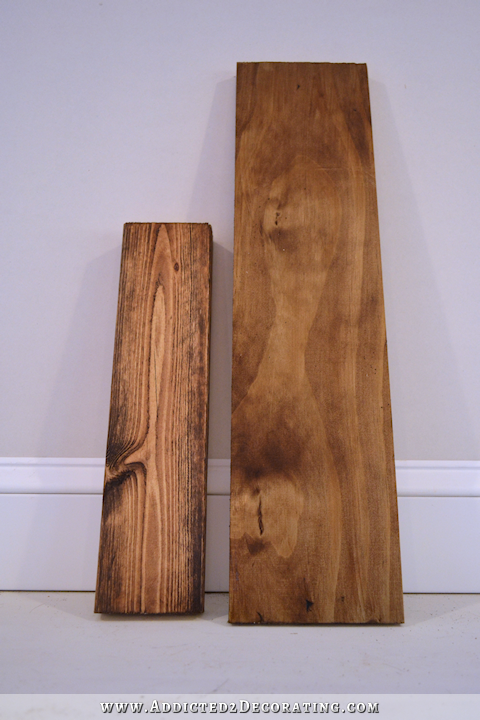 And I think if I had added one more very thin coat of stain before the polyurethane, it might have reduced the grain even more and evened out some of the blotchiness.
I am going to try one more sample today with the older 24-hour vinegar solution, but at this point I'm thinking that I've found the perfect method to get the color I want while getting rid of crazy pine grain! I'm very hopeful that this will work on my table.
UPDATE!
(January 11, 2019) It took me three more years, but I've finally found a much easier way to get a beautiful stained finish on cheap pine. I just refinished my bathroom countertop that I made out of pine, and I'm so pleased with how the finish turned out. I'm still working on the bathroom makeover, but here's a peek at how the countertop turned out…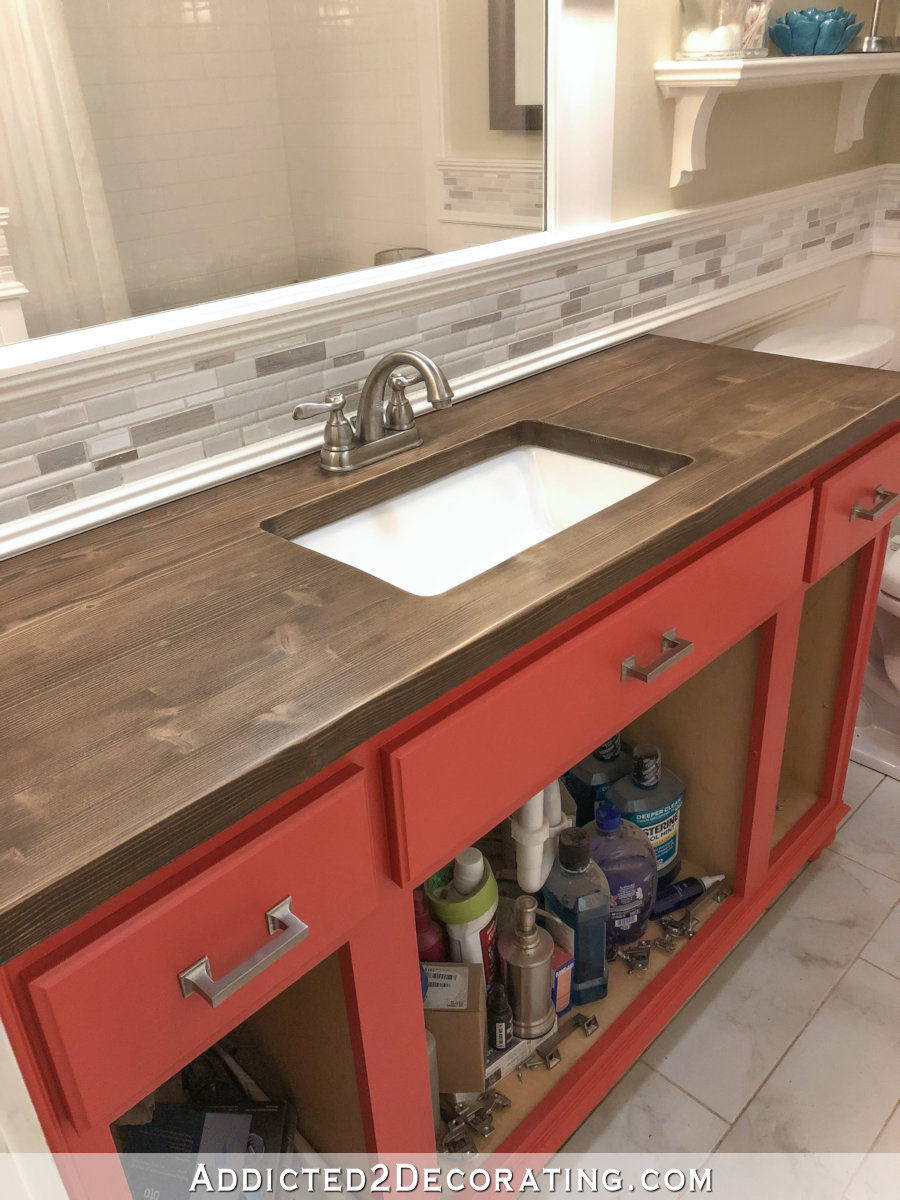 No orange or yellow grain in sight! You can check out the details of my process here…
Also, since I wrote this original post, I have discovered an AMAZING water-based topcoat. General Finishes High Performance Topcoat is now my go-to topcoat that I use over painted finishes (I used it on my kitchen cabinets, and it's amazingly durable), as well as stained finishes. I love the matte finish, which has a very slight sheen to it.
*This post contains affiliate links.
Addicted 2 Decorating is where I share my DIY and decorating journey as I remodel and decorate the 1948 fixer upper that my husband, Matt, and I bought in 2013. Matt has M.S. and is unable to do physical work, so I do the majority of the work on the house by myself. You can learn more about me here.
I hope you'll join me on my DIY and decorating journey! If you want to follow my projects and progress, you can subscribe below and have each new post delivered to your email inbox. That way you'll never miss a thing!