Small Progress, Big Sense Of Accomplishment
I have a confession. While I have been busying myself with other things lately (like packing boxes, moving things to storage, etc.), there has actually been some measure of procrastination on my part with building the bookshelves that will go on top of the lower cabinets in my living room.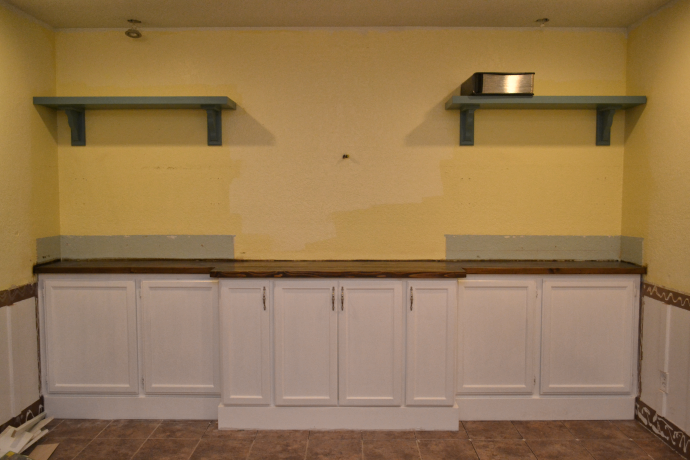 If you'll recall, this is the end goal:
So why the procrastination?
One reason. Electrical work.
When faced with a task that I dread, I procrastinate. And there are few things I dread more than dealing with electrical stuff.
You see, above each area where the bookcases are going to go, I have a recessed light. Several years ago, I had friends help me install all of the recessed lighting in the condo, and on these two lights, the trim kit would NEVER fit into the ceiling. I have no idea what the problem is, but for years now, those lights have just been dangling from the ceiling.
So I've thought that with the bookcases, this was my opportunity to actually rework this lighting so that it's useful AND looks nice. I wanted to remove the recessed lighting, pull the wires through, and then install down lights at the top of each bookcase on either side, similar to this bookcase from Thrifty Decor Chick…
…and this one from Centsational Girl…
So yesterday, I decided to push through my fear. I grabbed my Dremel, put in some random attachment that I'm sure isn't made for drywall at all, but that I thought would do the trick…
And I went to town on that drywall, cutting enough out so that I could get to the braces on the light that were attached to the ceiling joists.
And then I tugged, and pulled, and pried, and pulled some more, until I got the thing out of the ceiling.
It probably sounds silly, but I felt such a huge sense of accomplishment. I pushed through my fear (both of electrical stuff AND of putting my hand into a dark hole in the ceiling…seriously…that freaks me out) and I got that sucker out of my ceiling.
Of course, I made a huge mess in the process.
But the bigger the mess, the bigger the accomplishment, right? 🙂
So now I just have to detach the actual lights (which I've done a thousand times…once it's out of the ceiling, it doesn't scare me anymore), pull the wires through, cap them off, and then I'll be able to start building my bookcases.
Such a small thing, but such a huge sense of accomplishment. 🙂
Do you have a fear of electrical work like I do? I'll freely admit that my particular fear makes no sense. It isn't rational at all. If it's in the wall or ceiling (recessed lights, outlets, light switches), I'm scared of them. If it's not inside the ceiling or wall, I'm fine with it. For example, I have no fear whatsoever of installing lights, chandeliers, ceiling fans, wall sconces, etc. If there's an electrical box with wires hanging out of it, I feel perfectly comfortable with it. But I will NOT change light switches, outlets, etc.
Like I said…it makes no sense. 😀
Addicted 2 Decorating is where I share my DIY and decorating journey as I remodel and decorate the 1948 fixer upper that my husband, Matt, and I bought in 2013. Matt has M.S. and is unable to do physical work, so I do the majority of the work on the house by myself. You can learn more about me here.