How To Make Cheap & Easy Chunky Scrap Wood Shelves
One more bathroom project I did last weekend was making some chunky shelves made from scrap wood that I had left over from last summer's elevated garden bed project.  If you'll remember, I made my wood vanity countertop out of cedar fence pickets, and since I just happened to have some leftover cedar 2″ x 4″ lumber, I decided to use that for shelves above the toilet.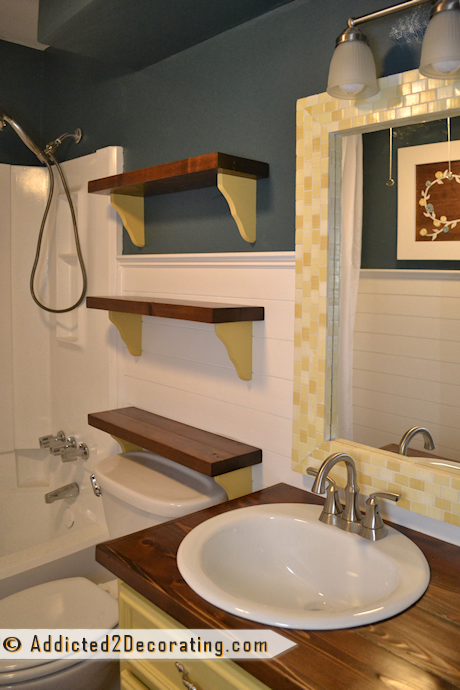 The only thing I had to purchase were the shelf brackets, and I went super cheap on those.  You have to look in the lumber department of Home Depot for these bad boys, and they're about $1.69 each.  They're really rough cut, so there's quite a bit of sanding involved to get them to look smooth and pretty, but I don't mind a bit of sanding.
So my three chunky wood shelves ended up costing me just over $10.
To make the shelves, I got to use my Kreg Jig.  Have I mentioned how much I love my Kreg Jig?  If not, let me do so now.  I love it.  🙂  I wish I hadn't waited so long to purchase it.
Since I was using scrap 2″ x 4″ lumber, I needed to join two pieces together to make one shelf.  I started by drilling my pocket holes into one piece of lumber.  (I had already cut six pieces that were 26 inches long.)
You can see the two pocket holes in this piece…
Then I took a second piece of lumber, and put a bead of wood glue along the edge…
Next, I placed the piece with the pocket holes right on top, edge to edge, and used the Kreg clamp to hold the pieces securely together.
And then I drilled a screw through the perfect little pocket hole…
And finally, I used these little wood plugs to cover up the pocket holes…
I can never get them in perfectly…
…but once the glue dries, I just use my electric sander to make it perfectly smooth.
After my shelves were put together, I let the glue dry for a bit, and then sanded the shelves smooth.  Then I stained them with one coat of Minwax Early American, followed by one coat of Minwax Special Walnut.  Then I finished the with two coats of Minwax polyurethane in a satin finish, sanding lightly between the coats.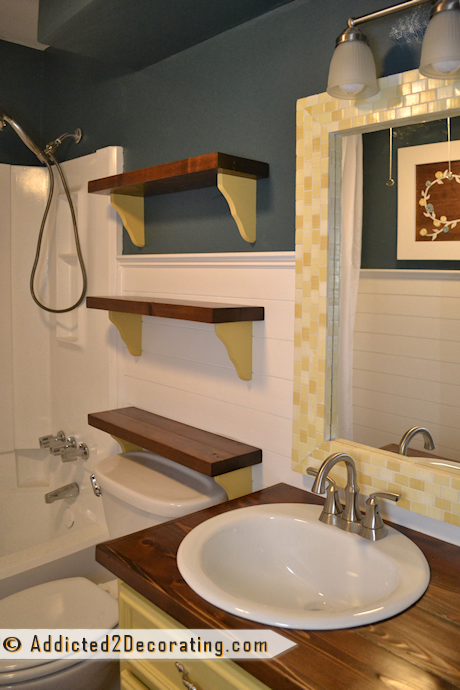 I have no idea what I'm going to put on them yet, so I need to give that some thought.
In addition to decorating my shelves, I still have some touch up painting to do on the walls and trim.  Then that leaves two projects:  shower curtain and floor cloth (yep, I decided to do another painted floor cloth since I can't find any rugs with these colors at a reasonable price).
So this project is winding down, and I feel certain I'll meet my 20-day goal!  Woohoo!  🙂
Addicted 2 Decorating is where I share my DIY and decorating journey as I remodel and decorate the 1948 fixer upper that my husband, Matt, and I bought in 2013. Matt has M.S. and is unable to do physical work, so I do the majority of the work on the house by myself. You can learn more about me here.