DIY Butcher Block Countertop With Undermount Sink – Part 1
I'm still working on finishing the vanity for the bathroom remodel, but before finishing that project, I needed to turn my attention to building my DIY butcher block countertop for the vanity.
This entire bathroom project is one of those "one thing leads to another" and "one project is dependent upon another" types of things. Before I can really start putting this room together, I need to install the wainscoting on the walls. But because of the way part of it will wrap around and act as a backsplash for the vanity, the wainscoting has to be installed before I can install the vanity. But before I can install the wainscoting, I needed to know the exact height of the vanity with the countertop.
So that's why I did the basic build on the vanity, and now I'm moving on to the countertop. Next I will be working on the new bathroom doors since the door casings have to be in place before I can install the wainscoting. After I install the wainscoting, I'll come back and finish up the vanity and countertop. See? I really do have a method. It'll all get finished soon, though. 🙂
So here are some questions I know you probably have…
Can you really make your own DIY butcher block countertops?
Yes! Absolutely! If you have beginner to intermediate building/woodworking skills, and have some basic tools, you should be able to build your own butcher block countertops. There are probably several ways to go about it, and it will depend on how you want to use them. For this bathroom project, I'm building a 1/5-inch thick, durable butcher block countertop that could accommodate an undermount sink.
Is it cheaper to buy or make your own butcher block countertops?
That's going to depend on several variables, such as the type of wood and other details you may want. If you're satisfied with a less expensive wood like pine, and the countertop will be used in an area like a utility room or bathroom, and you already have all of the necessary tools, it will probably save you money to build your own. But if you're wanting butcherblock for your kitchen countertop (i.e., the busiest and hardest wearing room of the house), you'd probably want a much harder wood like oak, or a much higher quality wood like walnut, and you might even want fancy edges like an ogee edge. In that case, it would probably be preferable to leave the building of the counters to the professional rather than build a DIY wood countertop.
But in my particular situation, I'm okay using inexpensive pine wood for my DIY butcher block countertop, and even though it's the main bathroom in the house, I do feel certain that I'm building something that will be durable and long lasting.
Before I start at the beginning and how you how I built this DIY butcher block countertop, let me show you the progress so far. I'm off to a good start, but it's far from finished. I got it put together, did a preliminary sanding with 60-grit sandpaper, cut out the sink hole, got all of the cracks filled with wood filler, and then sanded it down to a smooth finish with 150-grit sandpaper. It still needs staining, lacquering, and sanding (I want a hand-rubbed finish), but it'll get there. But so far, this is what it looks like.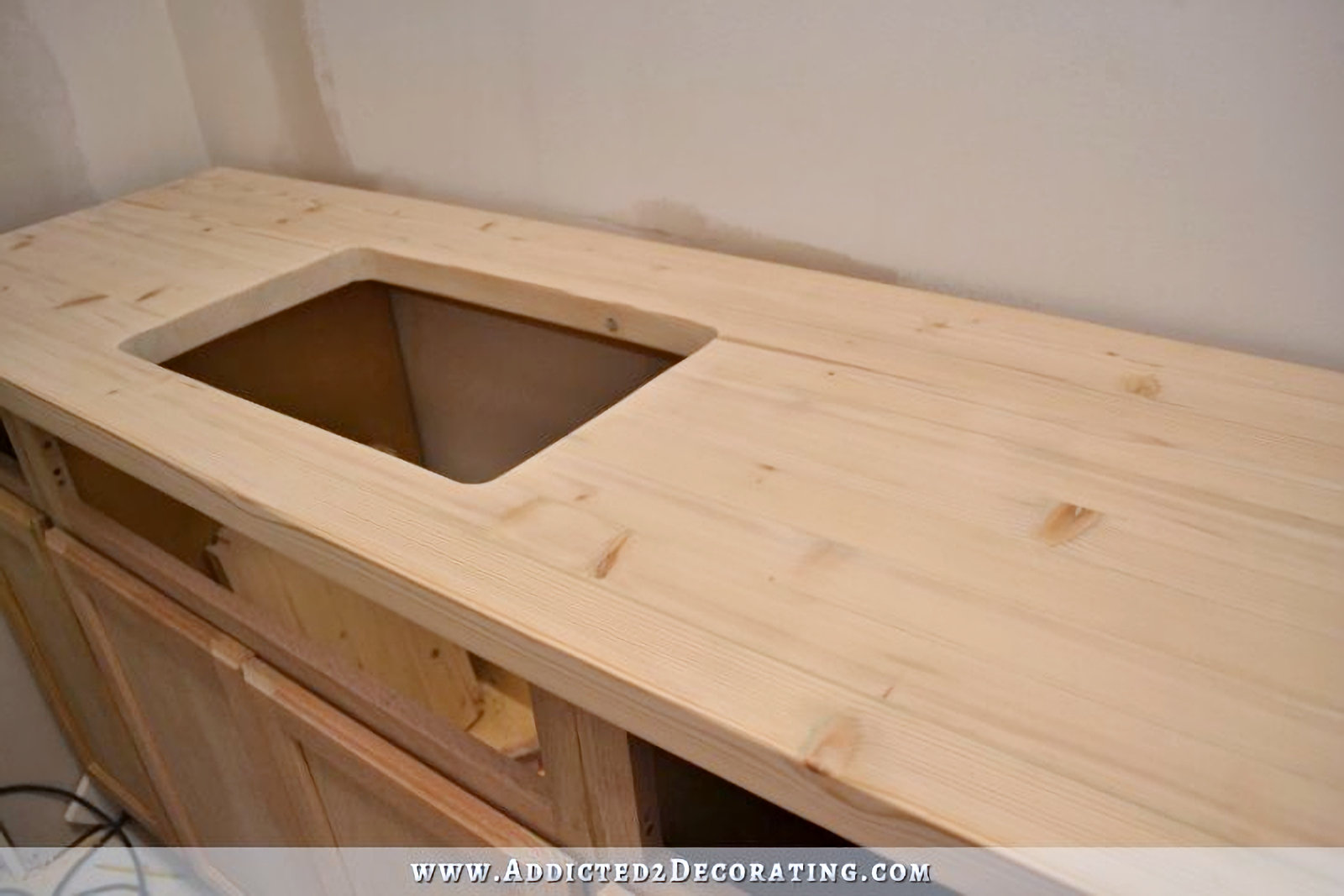 So now let me back up and explain the process…
How to build a DIY butcher block countertop
1. Use a table saw to square the edges of 2″ x 3″ lumber.
I started out with 2″ x 3″ pine boards. I found these on the aisle in Home Depot where they have the 2 x 4's and other 2-inch lumber, and they were just under $2 each. They are pine, and they started out pretty rough. They actually had a stamp on them that said "stud", so they're clearly meant for framing, which is why they're pretty rough. I had to dig through the available studs to find ones that looked decent and weren't warped.
The problem with the boards is that they're rounded on the edges…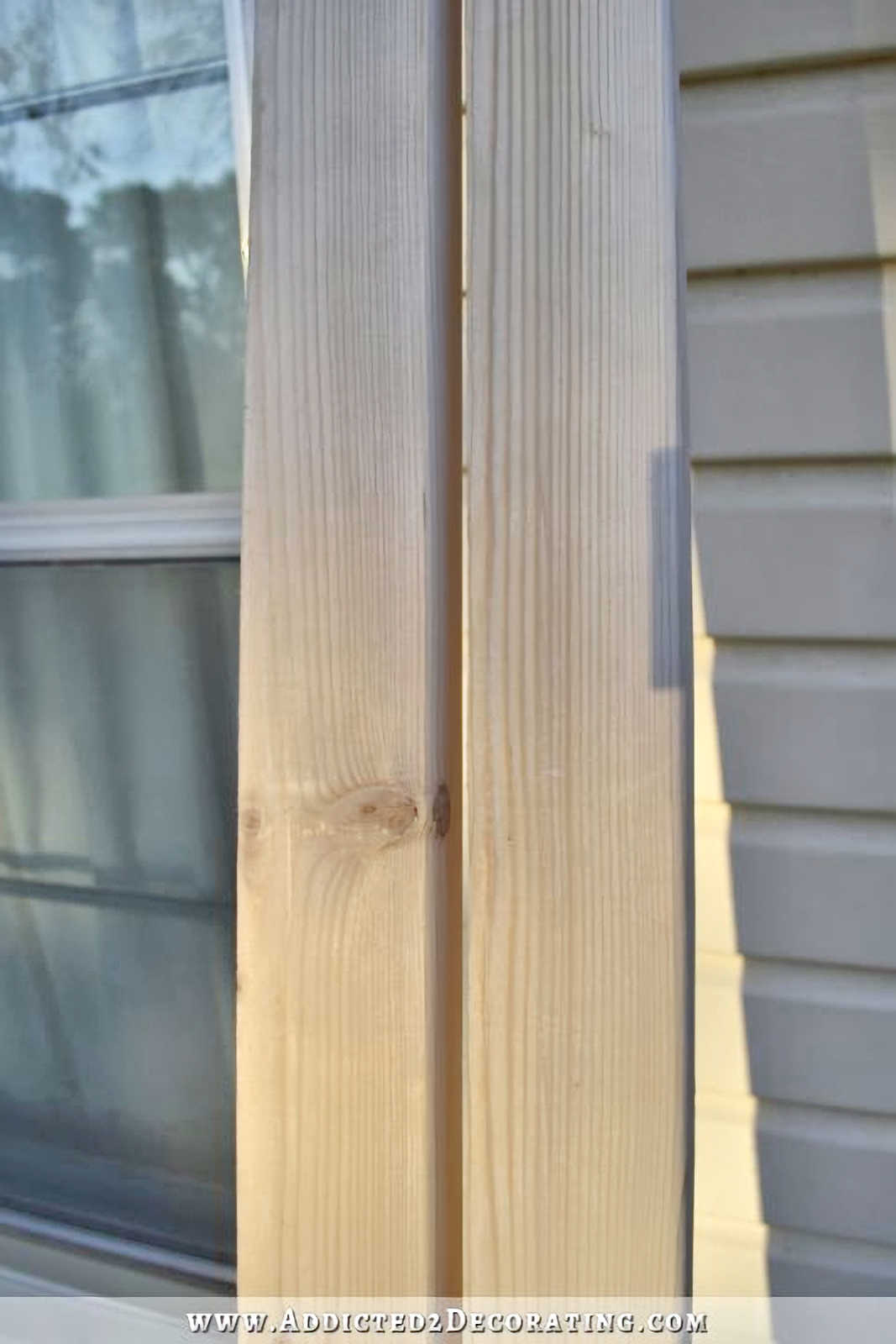 If I made a countertop out of those with the rounded edges, I'd be sanding for days (or using an obscene amount of wood filler) in order to get a flat surface.
So the very first thing I needed to do in order to prep these boards was to run the boards through my table saw to remove about 1/4-inch from the sides in order to remove those rounded edges. This left me with much sharper corners on the edges of the boards, so that when they were placed side-by-side, they formed a flat surface on top.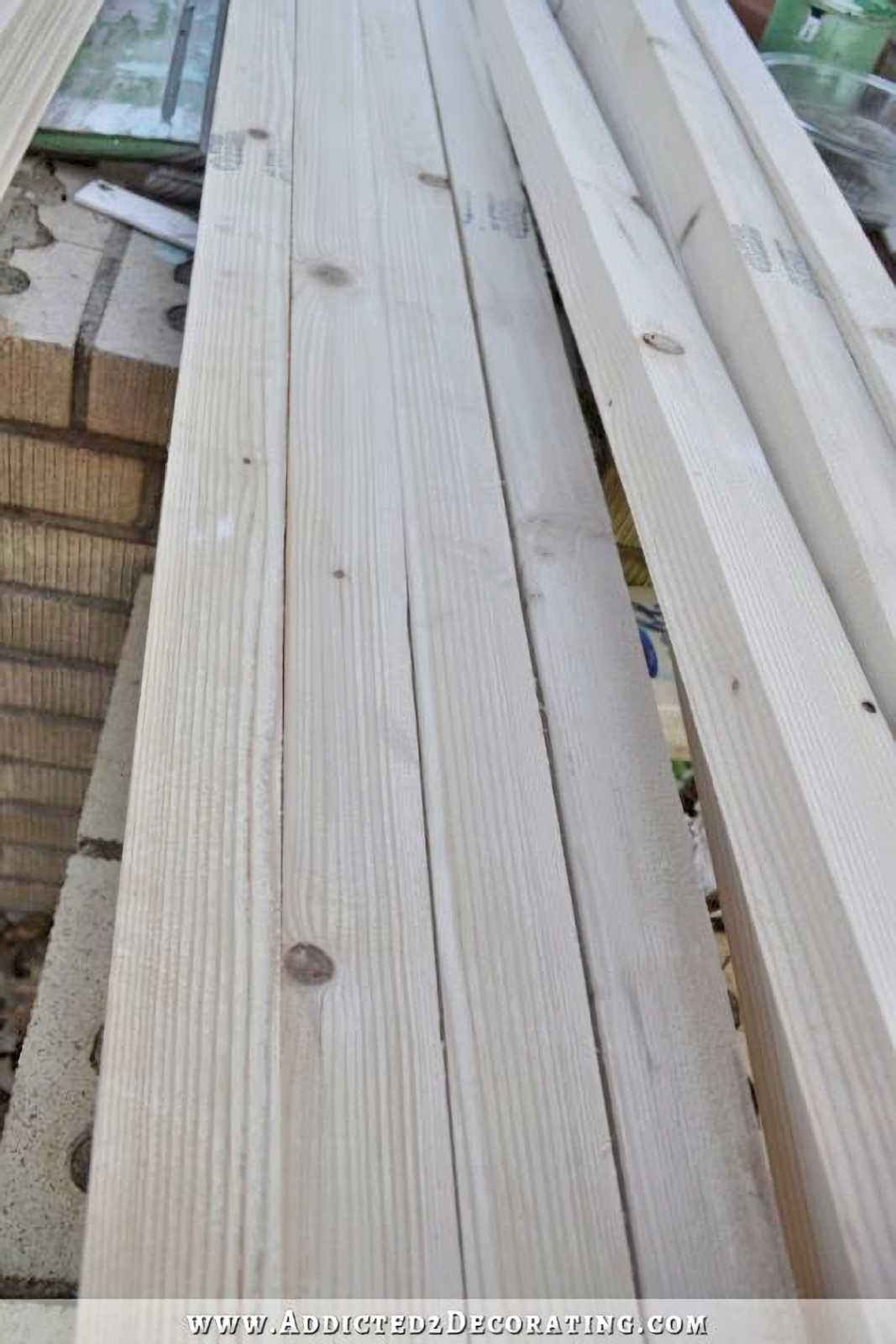 The actual dimensions of a 2″ x 3″ board are more like 1.5″ x 2.5″. So after I removed about 1/4 inch from each side of the boards to remove the rounded edges, I was left with boards that were 1.5″ thick, and approximately 2″ wide. (They were actually slightly under 2 inches, because I used 10 boards for my countertop, and ended up with a countertop depth of 19.5 inches, which happened to be exactly what I needed. I love it when that happens!)
2. Determine how boards need to be arranged.
To start putting the countertop together, I first arranged my boards, right side up, just like I'd want them to appear on the countertop. I looked at each board individually to determine which side looked better, and then arranged them so that I didn't have several knots grouped together or anything like that.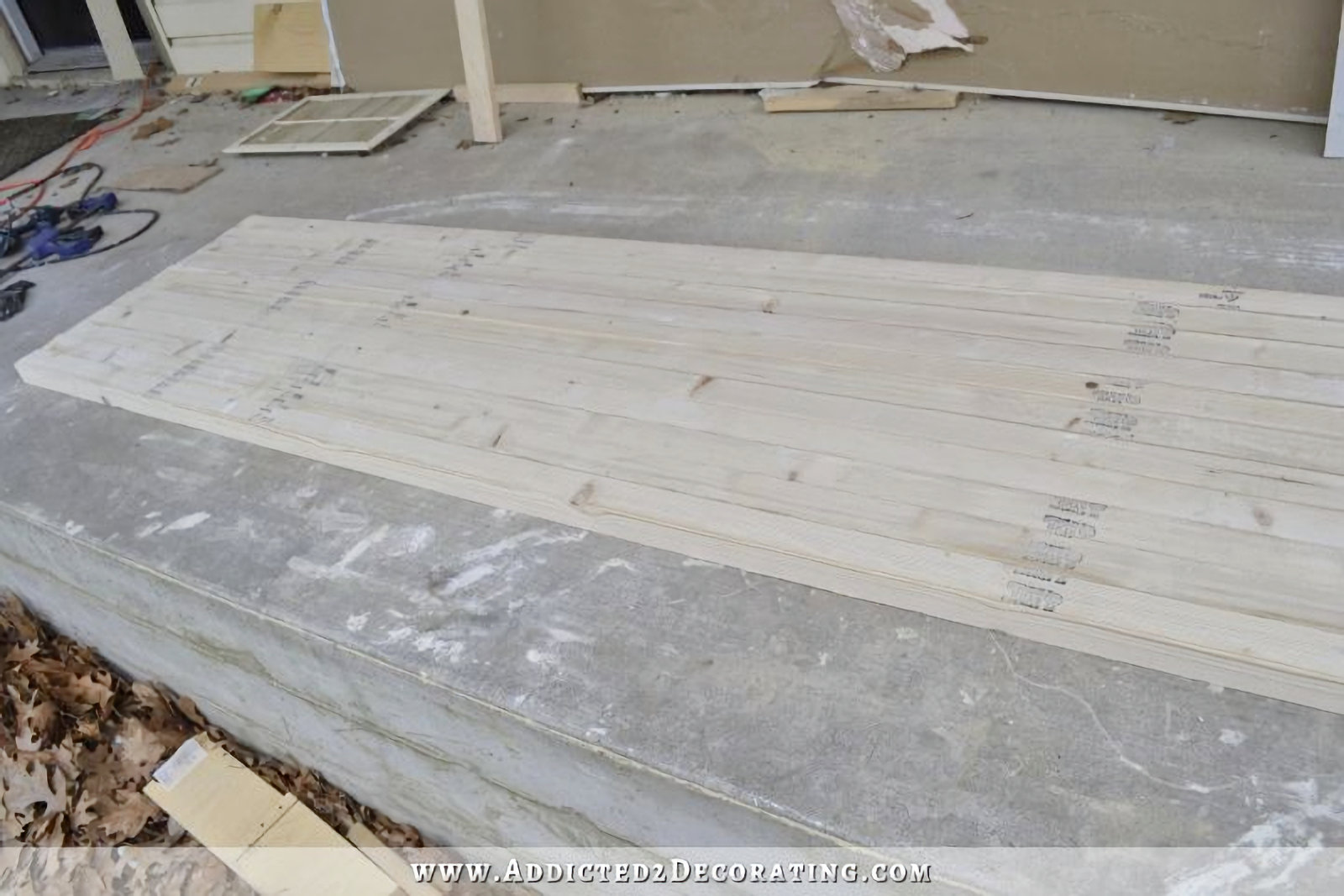 3. Working from bottom, determine placement sink and pocket screws
Once I determined the order in which I wanted the boards, I flipped the boards over because I would be working on the bottom side of the countertop to put it together. I made sure to keep the boards in the exact same order and configuration as I flipped them and arranged them so that they were upside down.
Next, I took some measurements on the vanity, marked where the center of the countertop would be, and then determined the position of the sink. I used the template that came with my sink to draw where the sink would go. My marks at this point didn't have to be precise, as this sink outline wouldn't actually be the cut line I use to cut the sink hole. I just needed an idea of where to the sink would be so that I didn't put screws in or right up next to the sink hole.
Then I numbered the boards and marked where I wanted my pocket pocket screws to be inserted. I staggered these marks, as you can see below.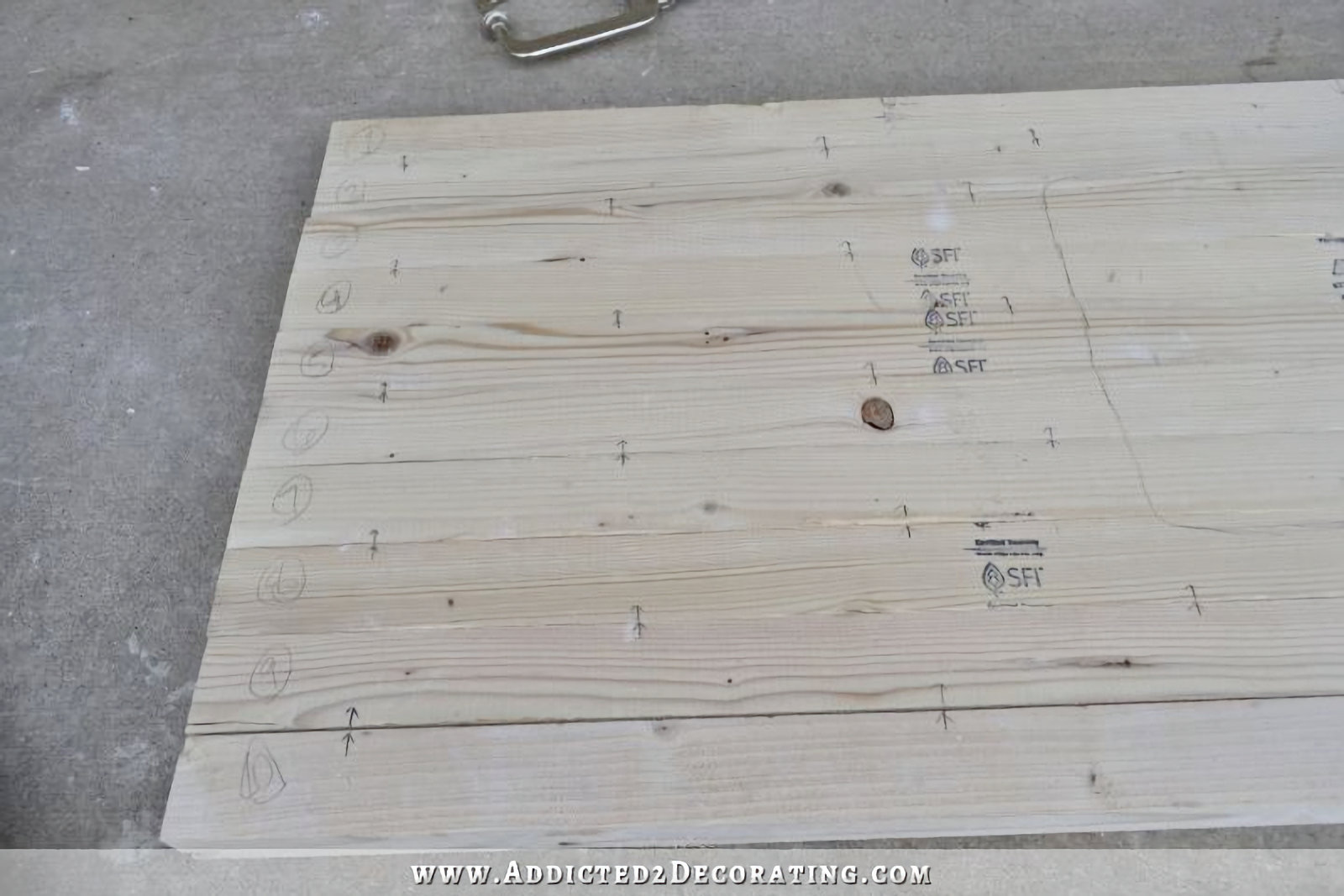 4. Drill pocket holes in the boards and screw them together
Next, I used my Kreg pocket hole jig (this is the updated version of the set I have) to drill the pocket holes, and attach the boards to each other one by one. I'm not going to go over the details of how to use a Kreg Jig since there are approximately 12,000 tutorials on YouTube alone. But I will say that it's an incredibly easy tool to use, and every DIYer should have one! There are some really helpful videos showing how to use a Kreg Jig. Ana White has a great video here, and then here's another short video that shows how to join wood edge to edge like you'd need to do for this particular project. But again, you can just google "how to use a Kreg jig" and you'll find a tutorial on just about every DIY blog out there.
I started with the top board in the picture above, and worked my way down. That means that I started by drilling my pocket holes in board #2, and then screwed that board to board #1 (using wood glue between them before screwing them together!). Then I drilled my pocket holes in board #3, and screwed it to board #2. Here are the first three boards put together…
And as I was attaching the boards, I used my 24-inch clamp to keep them together while screwing them together.
So the process was:
Drill the pocket holes in the next board using the marks I made as a guide for pocket hole placement,
Add a bead of wood glue down the edge of the board,
Line it up edge to edge with the previous board and clamp the boards together, and
Attach the screws through the pocket holes.
And then I would repeat that process to add the next board, and then the next, and the next, until all of the boards were attached together.
I would move the clamp down the boards as I worked my way down to the other side. And each time I clamped the boards, before I added the screws, I would stick my hand under the boards and feel to be sure that the boards were lining up flush with each other on the top side of the countertop. It didn't need to be perfect since I would be doing lots of sanding, but I didn't want to end up with any really significant height differences from board to board because that would just require even more sanding.
And here's how the bottom of the countertop looked when it was all assembled…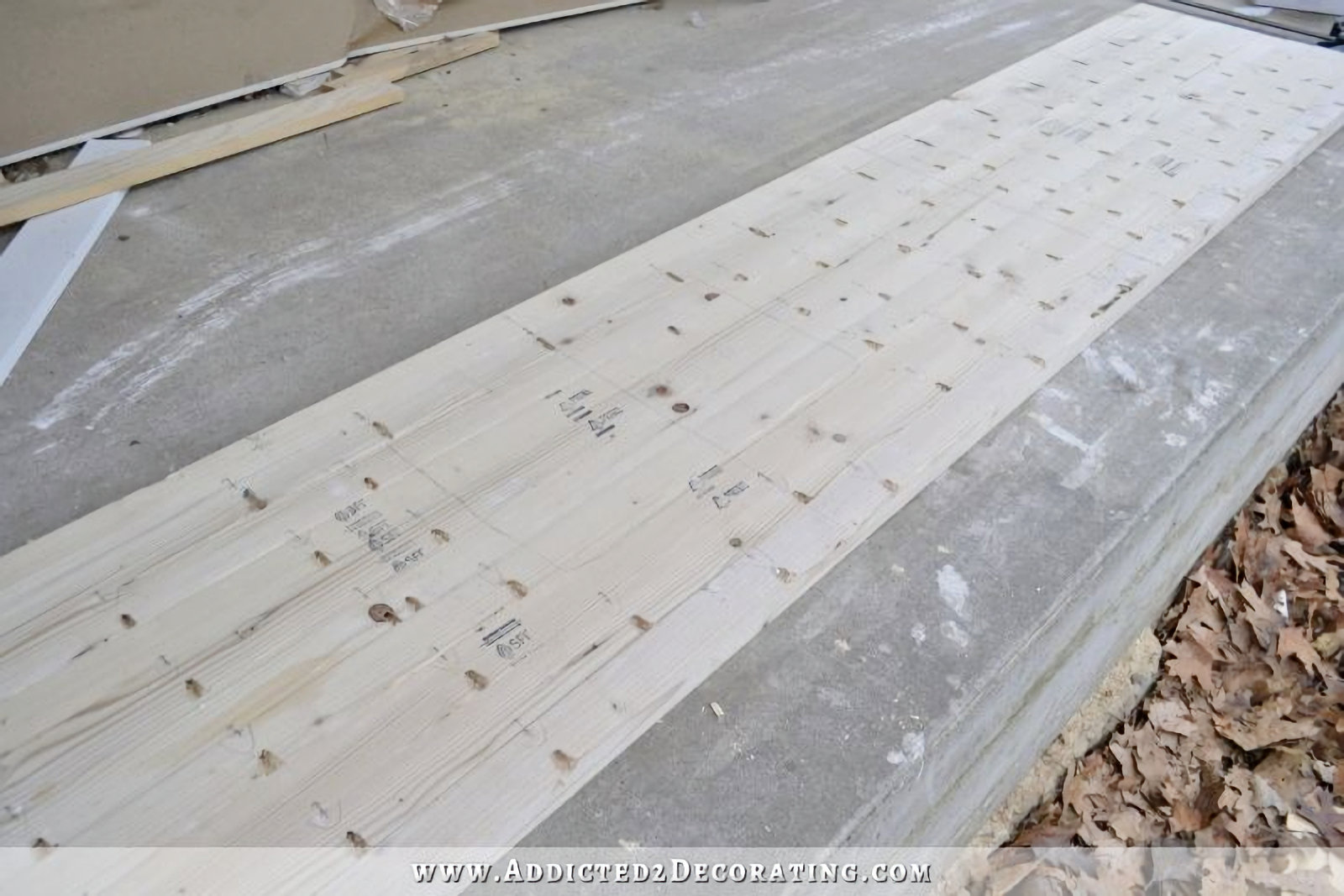 I know. Not very pretty. BUT…look at the top!!
Ha! Okay, that's not very pretty either. 😀 Not yet, at least. The boards were slightly unlevel with each other, and I had wood glue seeping out in areas. And of course, the boards had those ugly stamps on them.
But not to worry, because all of that will be taken care of during the finishing process.
5. Cut the countertop to final size
Before moving to the finishing stages, I used my circular saw to cut the countertop for the vanity to the exact length that I needed. The remaining 3 feet will be cut down to size later and used as a countertop in the linen storage area.
So at this point, this is how the countertop looked. It was quite rough, but with lots of potential.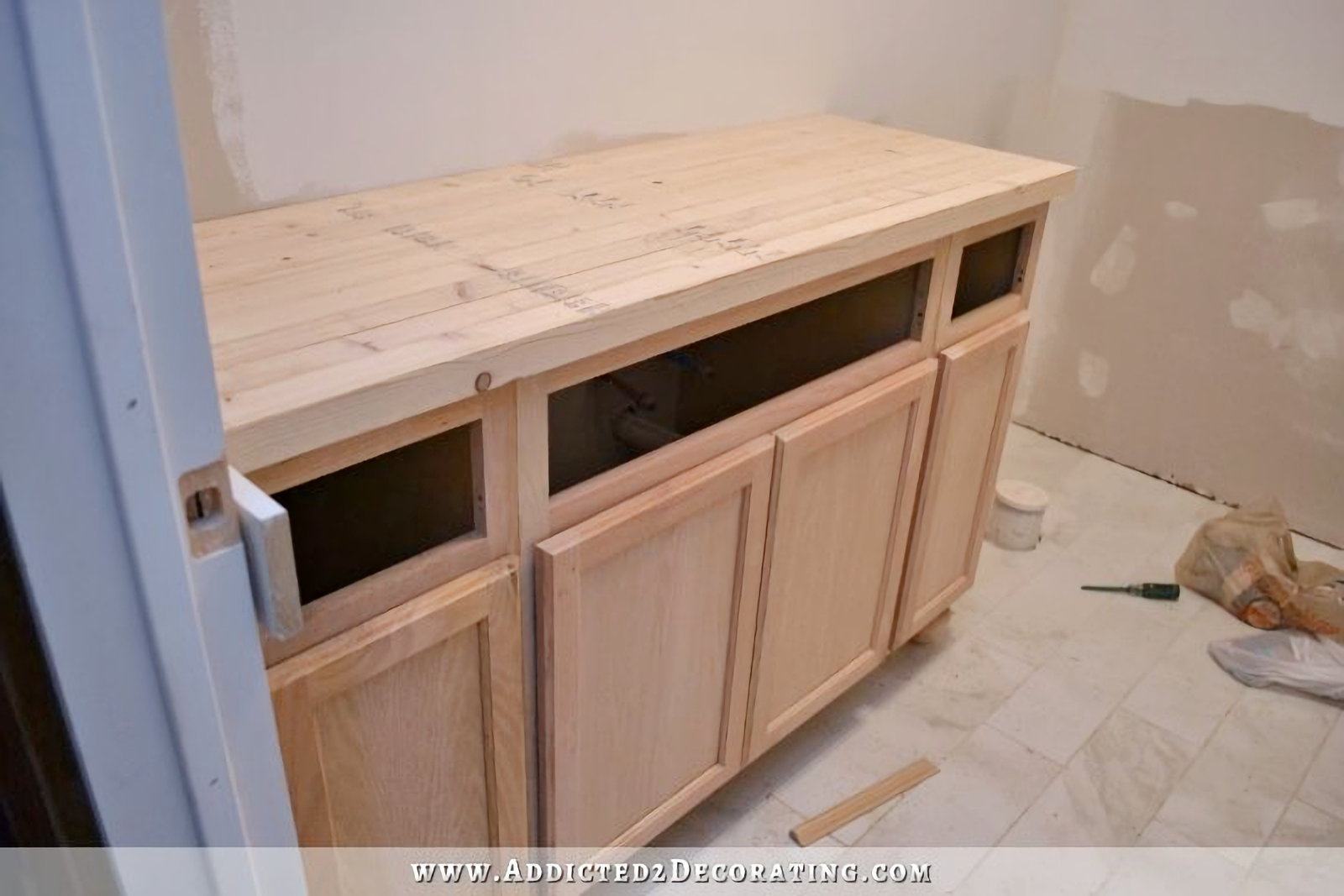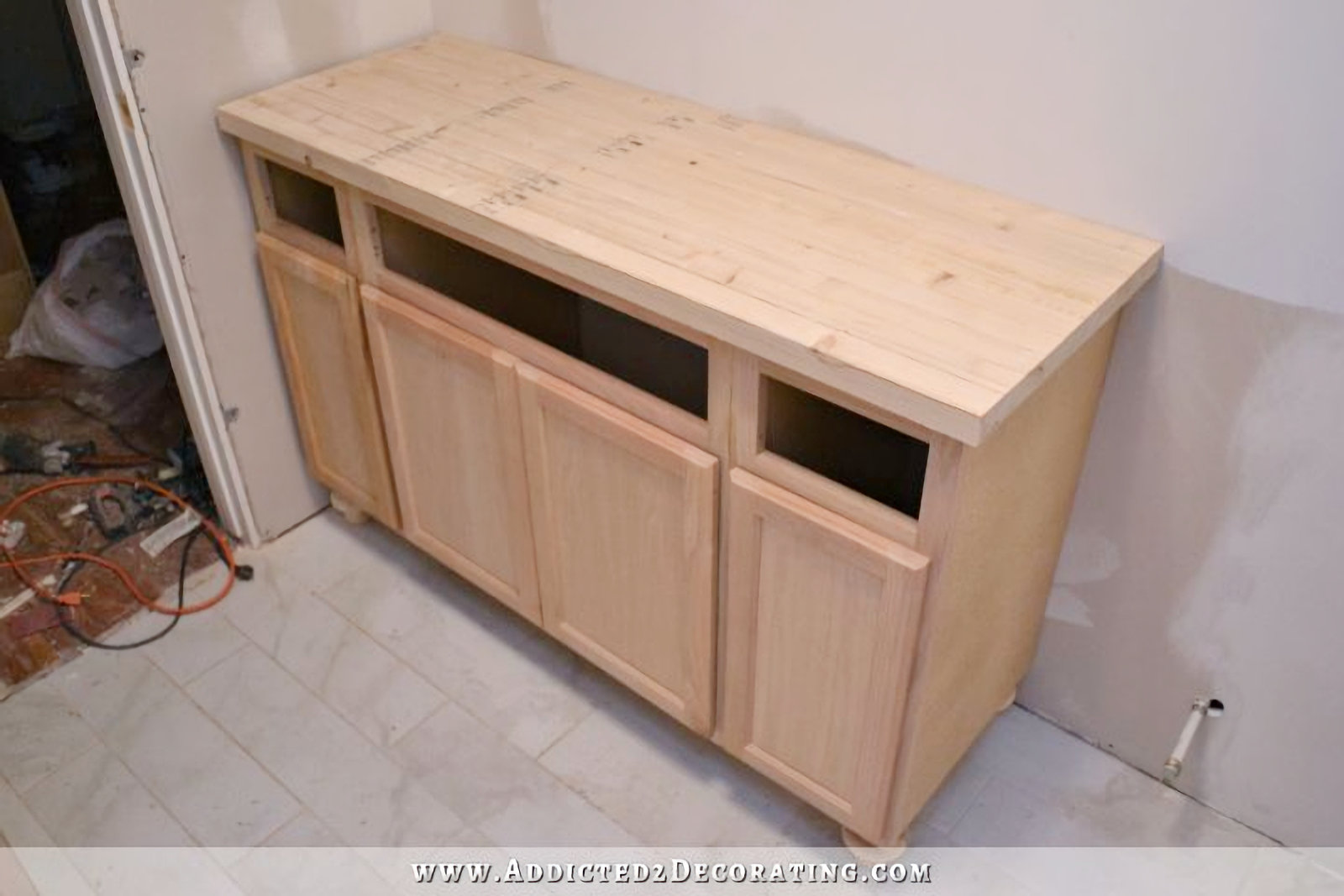 6. Sand the countertop
At this point, it really would have been nice to have a planer. That would have made quick work of smoothing out and leveling out the top perfectly. But most of us DIYers don't have fancy planers (especially not the size needed for this type of project), so I I had to rely on my sander to do the job instead.
I spent about 20 minutes giving it a preliminary sanding with 60-grit sandpaper, and it was already starting to look and feel much better. That 60-grit sandpaper cut right through all of the rough areas and wood glue, and leveled out the boards quite nicely. It also quickly removed the lettering that had been stamped onto the boards.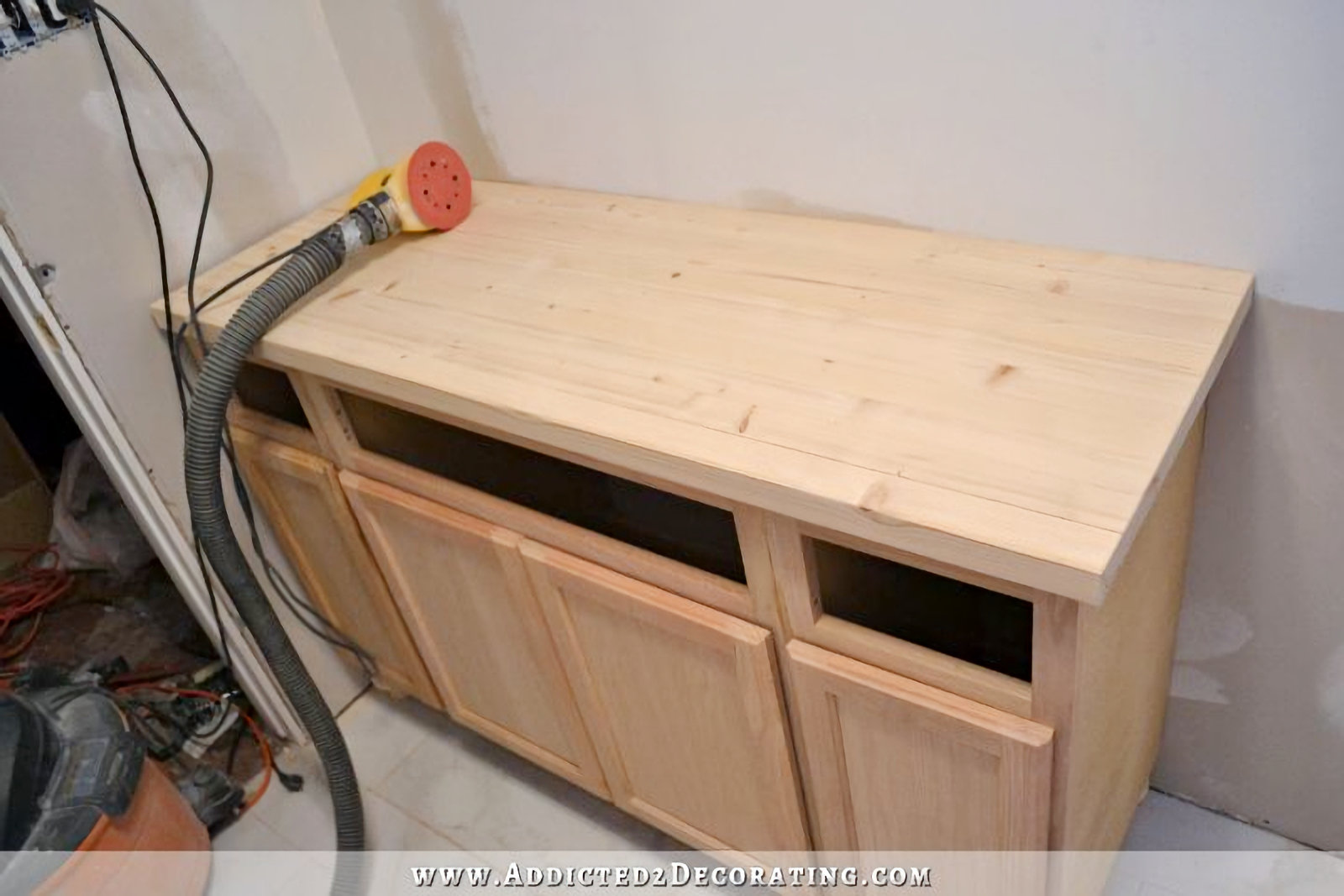 A hand held belt sander would have also worked very well to smooth out the to top of the countertop. I chose not to use my belt sander simply because it's a very powerful tool, and it takes a lot of strength to keep it under control. If you're not used to using a belt sander, it can easily get out of control and cause damage. But for people who are stronger than I am, or have stronger hands, and have experience with a belt sander, it would be much faster than a a rotary sander at smooth out the top.
7. Cut out the sink hole for the undermount sink
Before I did any more sanding, I cut out the hole for the sink. Since I'm using an undermount sink, and the edges need to look nice and finished, this part made me very nervous. I could just see myself ruining all of the hard work that I had put into this countertop so far.
I measured about four or five times to be sure I the placement just right, and used the template that came with my sink to mark the cut line. This time, I took more care to draw a very straight and neat line. Most people (especially the pros) would use a circular saw to cut the straight sides, but I learned the hard way, while building my fireplace, that I'm not good at using a circular saw when I have to cut an area out of the middle of a piece of wood or MDF. If I can start the cut on the edge, I'm fine with a circular saw. But obviously, I couldn't start this cut on the edge. So instead, I used a jigsaw. I'm much better with a jigsaw. 🙂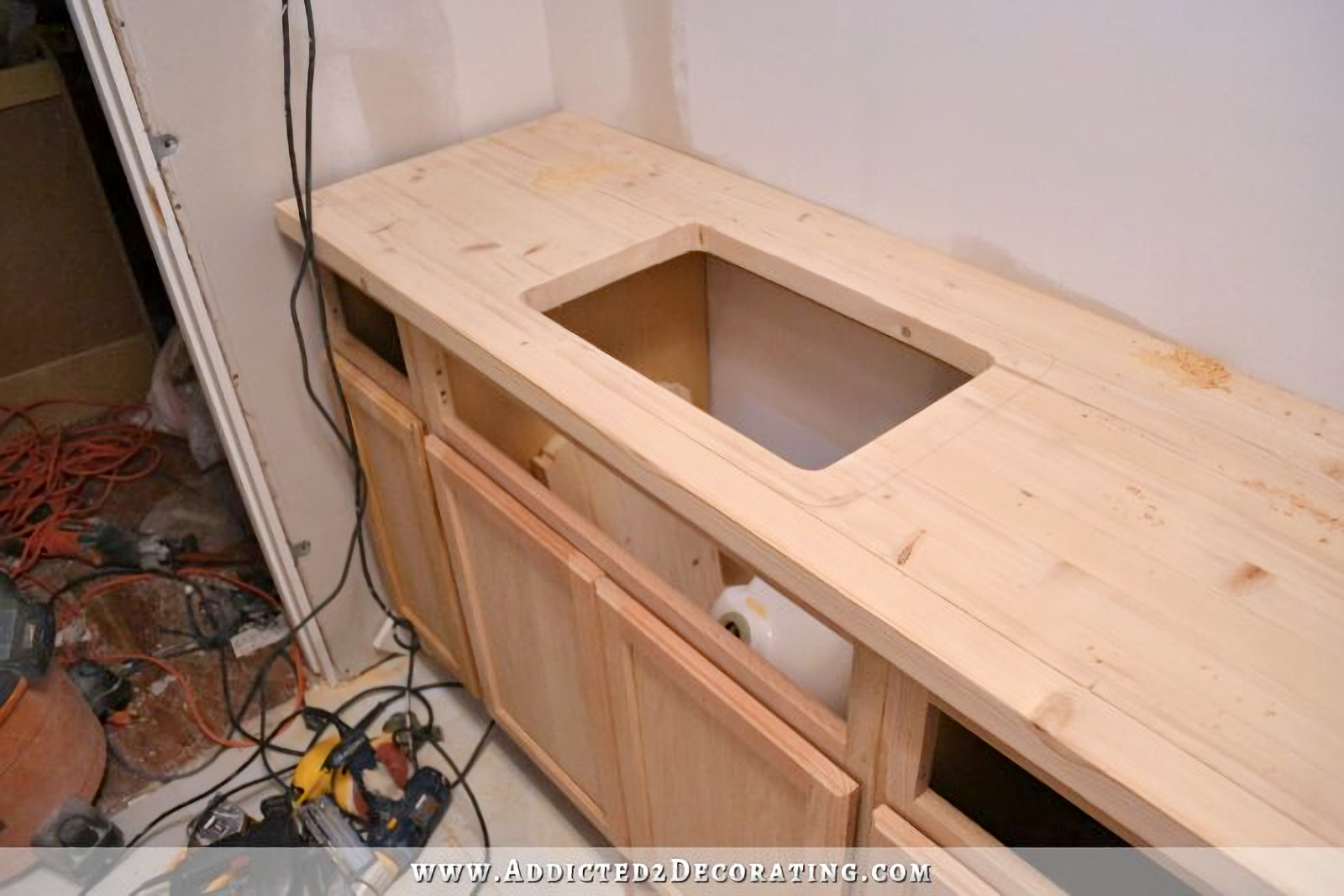 Unfortunately, because of the thickness of the countertop, I wasn't able to use my fine blade that's made for cutting curves because it's not long enough to cut through wood this thick. So I had to use a much larger blade that would not go around corners no matter what I tried. So I was left with corners that needed quite a bit of sanding and finishing in order to make them look nice.
But here's how the whole countertop looked at this point…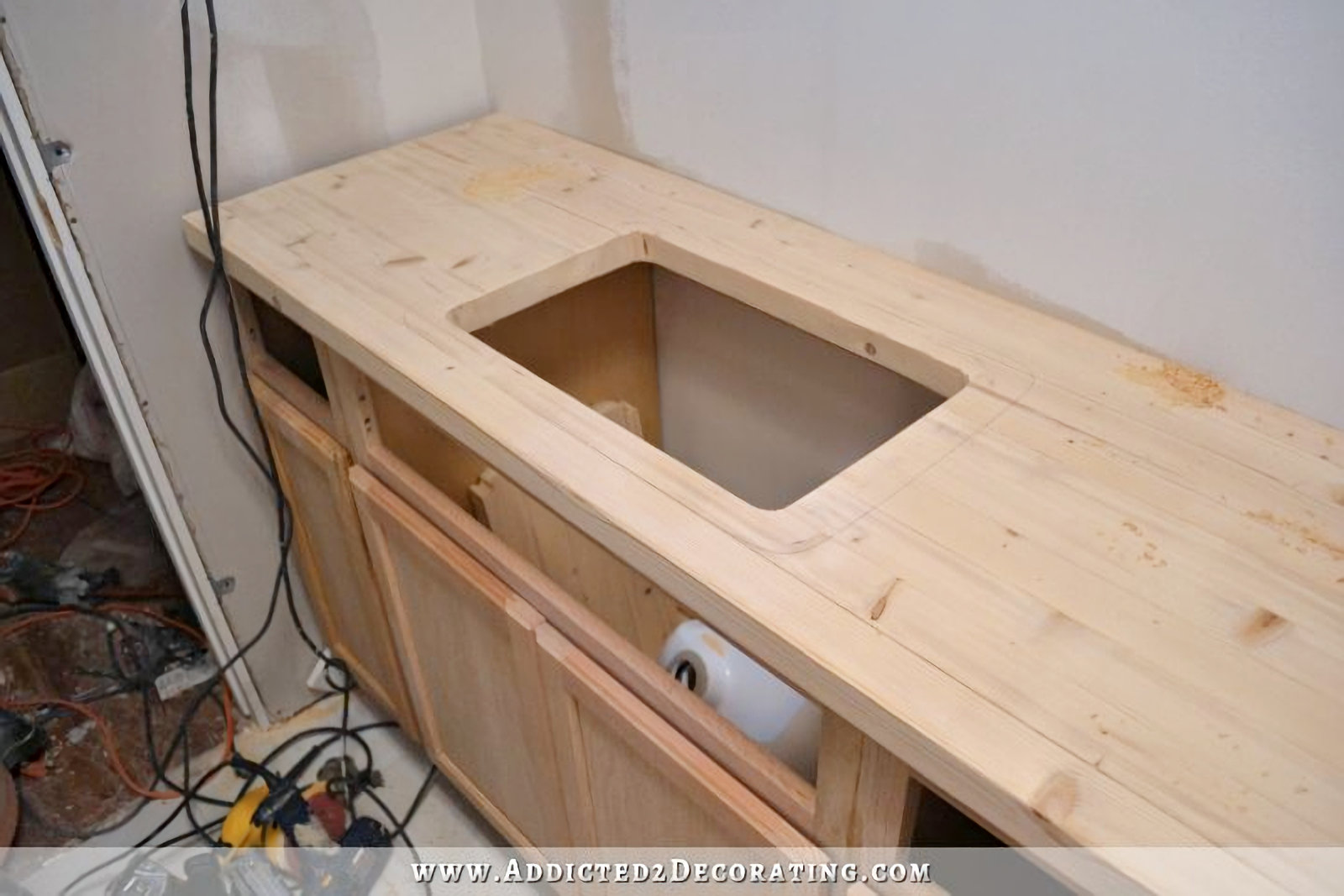 In order to clean up those corners around the sink cutout, I grabbed a scrap piece of dowel rod (probably 3/4 inch dowel) and wrapped some 60-grit sandpaper around it. Then I used that to sand off the excess from the corners.
It worked out great! That 60-grit sandpaper really made quick work of rounding out the corners and removing the excess wood.
8. Fill all cracks with wood filler and do a final sanding
Then I was finally ready for wood filler. I've said it many times before, but I'm very generous with my wood filler usage. I made sure to push it down into all of the cracks as much as I could, and I also used it to smooth out all of the knots.
It took a couple of hours for it to dry, and then I used 150-grit sandpaper on my sander to smooth everything out. At that point, it was really starting to look nice!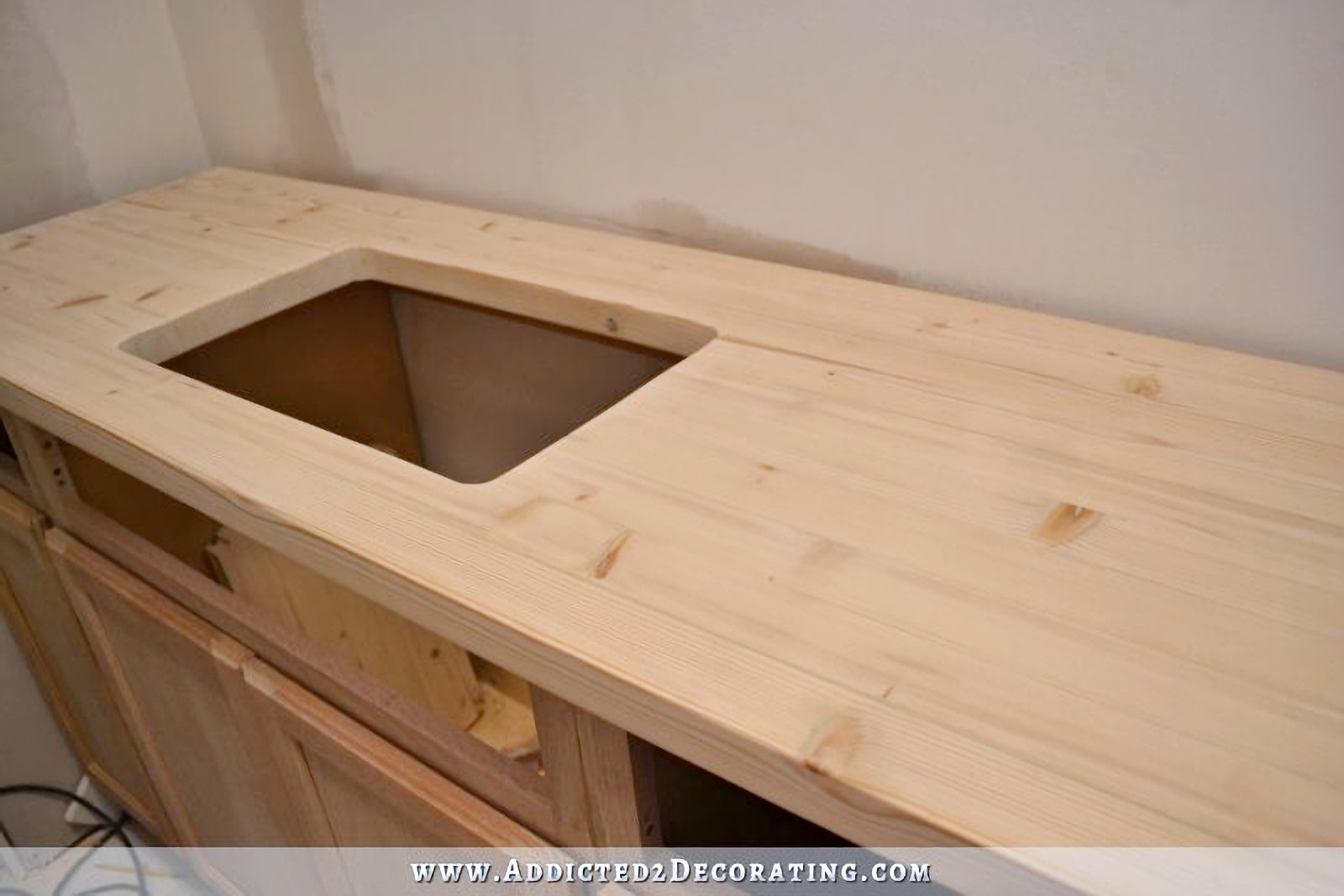 I also sanded all of the edges by hand to give them that slightly rounded look that I like.
I think it's looking great so far!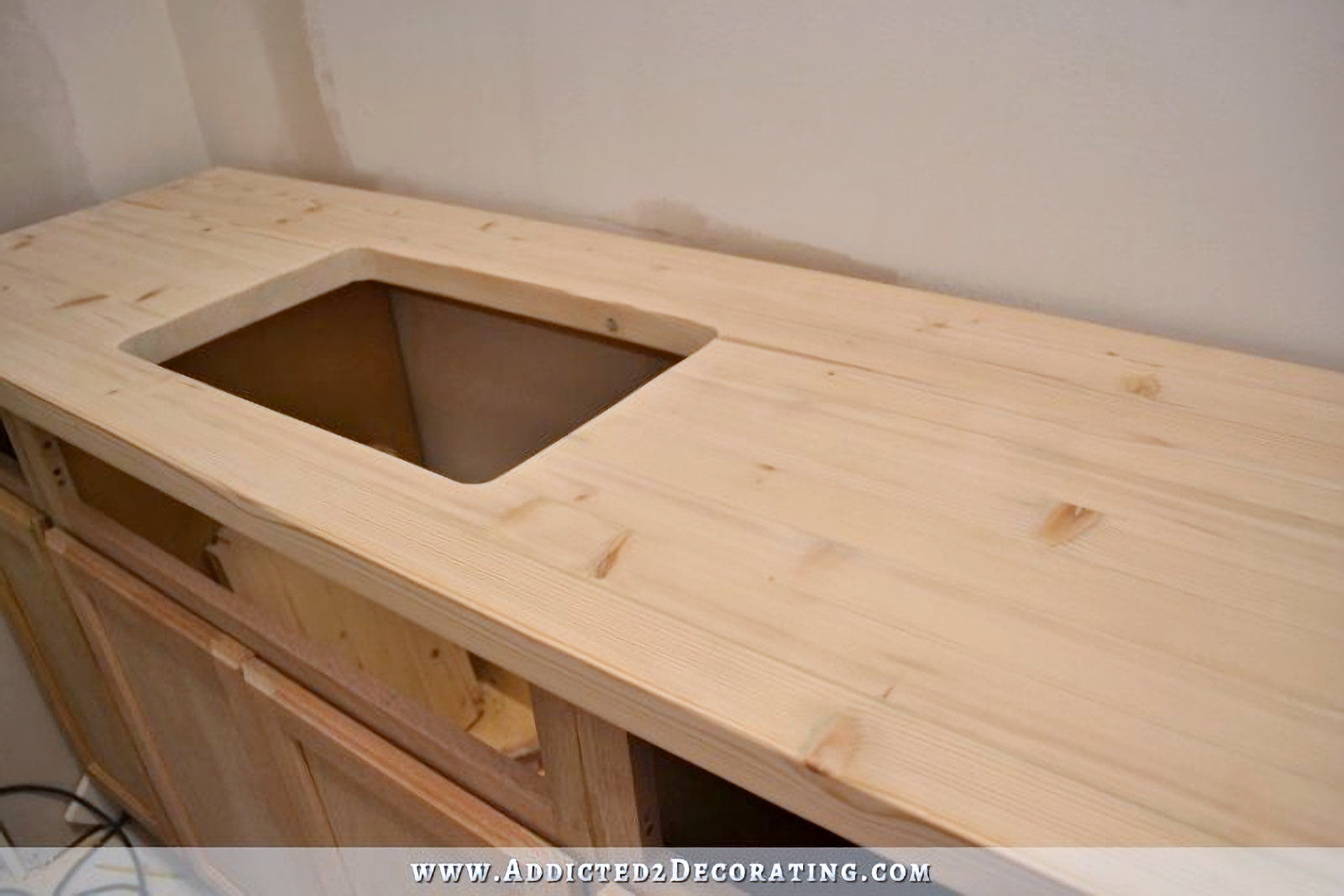 BUT…it is still cheap pine, so next comes the biggest challenge of all — seeing if I can turn $22 worth of cheap pine boards into what looks like a beautiful wood countertop. Challenge accepted. 🙂
UPDATE:
Click here for details on the finished countertop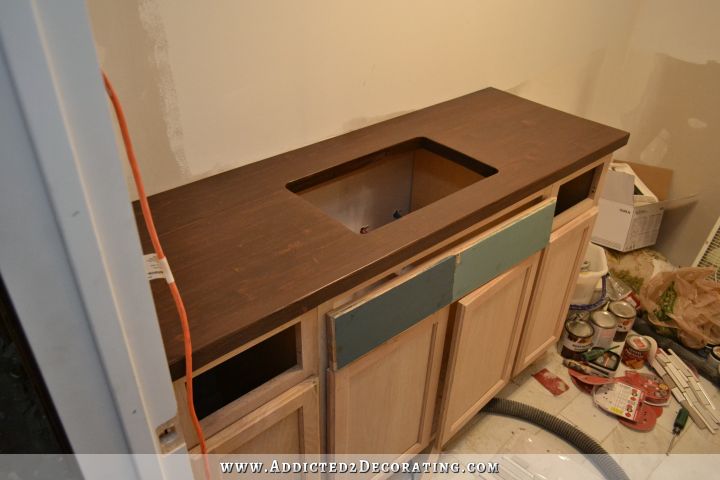 UPDATE #2:
Want to see how this bathroom turned out? You can click here to see the finished room.
UPDATE #3:
In January 2019, I gave this bathroom a more colorful makeover, and during that process, I also refinished this DIY butcher block countertop so that it wasn't quite so dark, and so that the wood grain could be seen more.
You can click here to read the details of how I finished the pine countertop the second time. And you can click here to see the bathroom after its colorful makeover.
Addicted 2 Decorating is where I share my DIY and decorating journey as I remodel and decorate the 1948 fixer upper that my husband, Matt, and I bought in 2013. Matt has M.S. and is unable to do physical work, so I do the majority of the work on the house by myself. You can learn more about me here.