DIY Butcherblock Style Countertop Made From Red Oak Solid Hardwood Flooring – Part 1
I made some serious progress on one of the biggest pantry projects yesterday — my butcherblock style countertops that I made out of the same red oak solid hardwood flooring that I have on my floors throughout my house.
Here's a peek at how they look so far…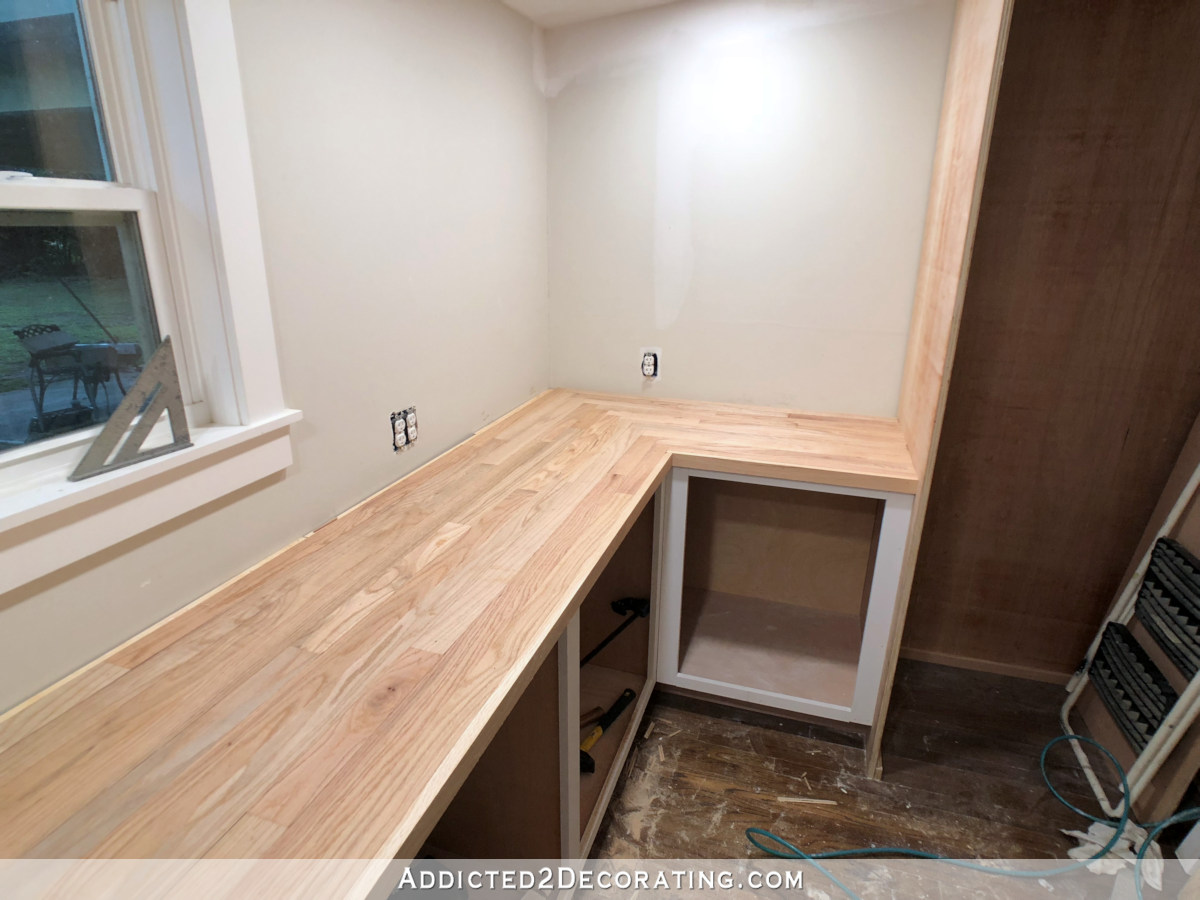 They haven't been filled or sanded or stained or sealed, so they're still very rough. But I'm thrilled with how they're turning out so far!
(And yes, I know some of you are cringing at my unprotected floor. 🙂 I'm not worried about it. It's tough and can stand up to a little sawdust and drywall mud.)
In deciding what I wanted to do with the countertops in the pantry, I considered several options. I considered real butcherblock, but the prices were just way more than what I wanted to pay for a pantry. I considered doing concrete since I have several bags of concrete left over from my kitchen countertops, but that idea didn't excite me. I really wanted wood.
Then it dawned on me that actual hardwood flooring could easily be used as a countertop. And the very same red oak hardwood flooring that I have throughout my house just happens to be something that Home Depot keeps in stock locally. So I grabbed two bundles (this is what I used, and it came to about $120 for both bundles) and let them acclimate to my house for about a week before getting started.
Before building the countertop, this is what the cabinet looked like…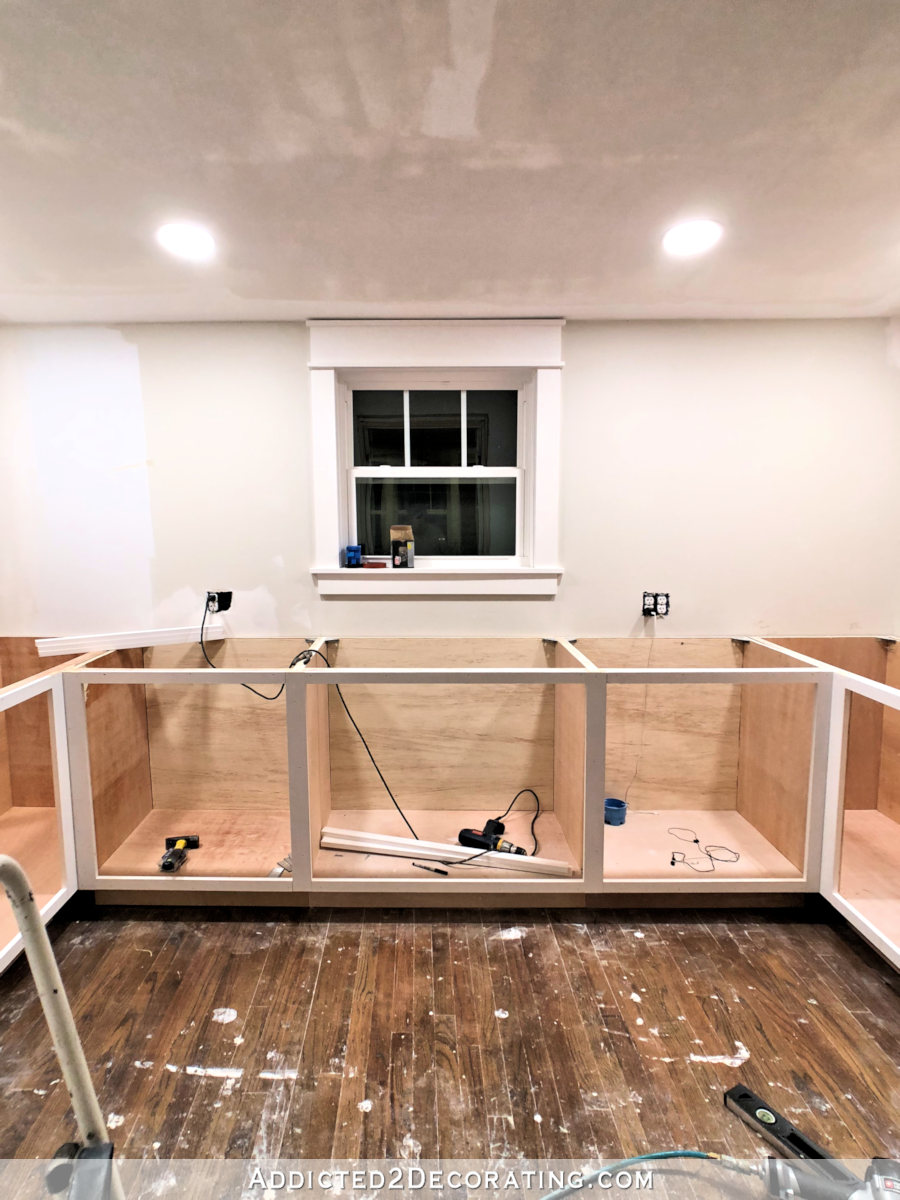 (FYI, I'll have a tutorial on the cabinets very soon.)
So to build the countertop, I started by cutting 1/2-inch plywood to cover the tops of the cabinets, making sure that the edge of the plywood was flush with the front trim on the cabinets. I nailed that plywood into place using 16-gauge nails in my nail gun.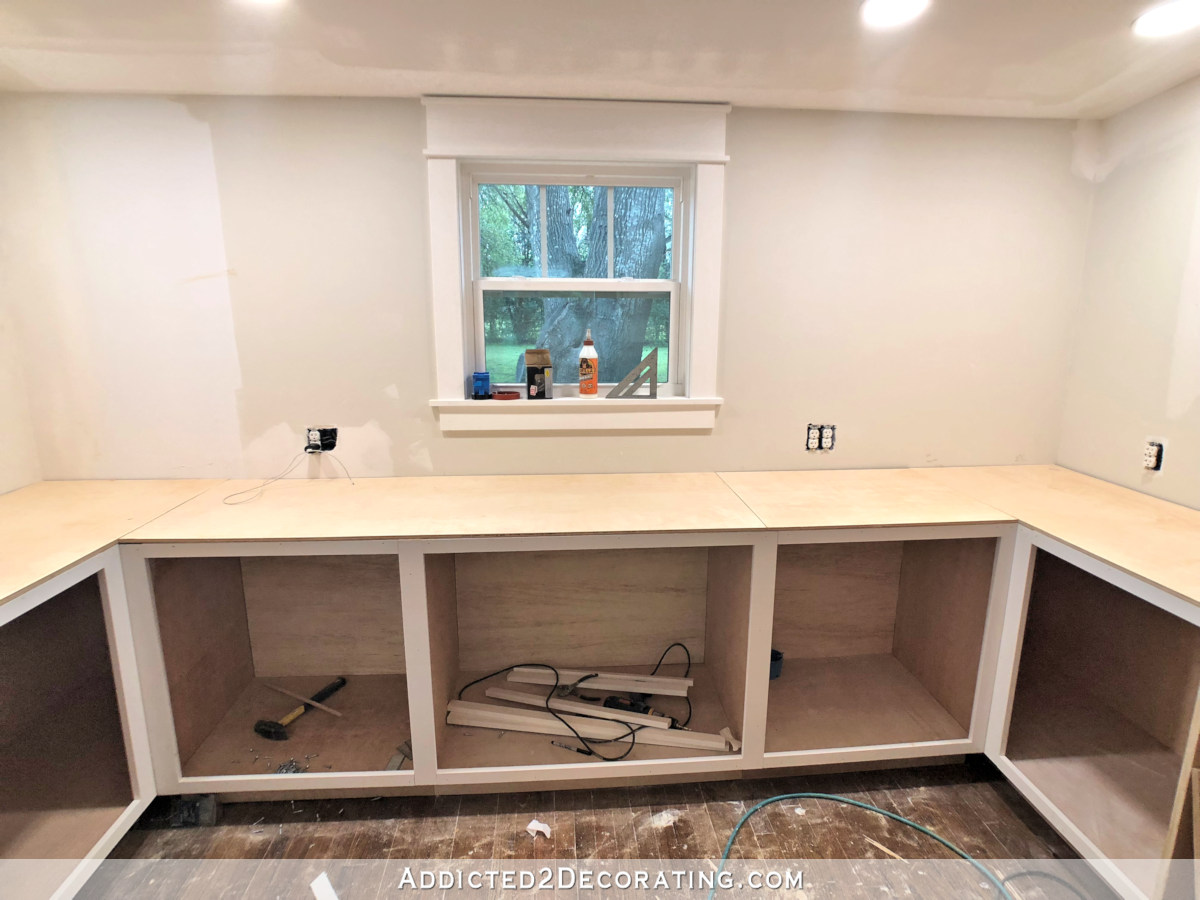 Then I was ready to start on the actual oak boards. I started on the edges towards the front of the cabinets, and for those strips, I cut off the tongue using my table saw and placed the groove edge towards the wall. Then I used a framing square to square them in the corner, and glued and nailed them into place.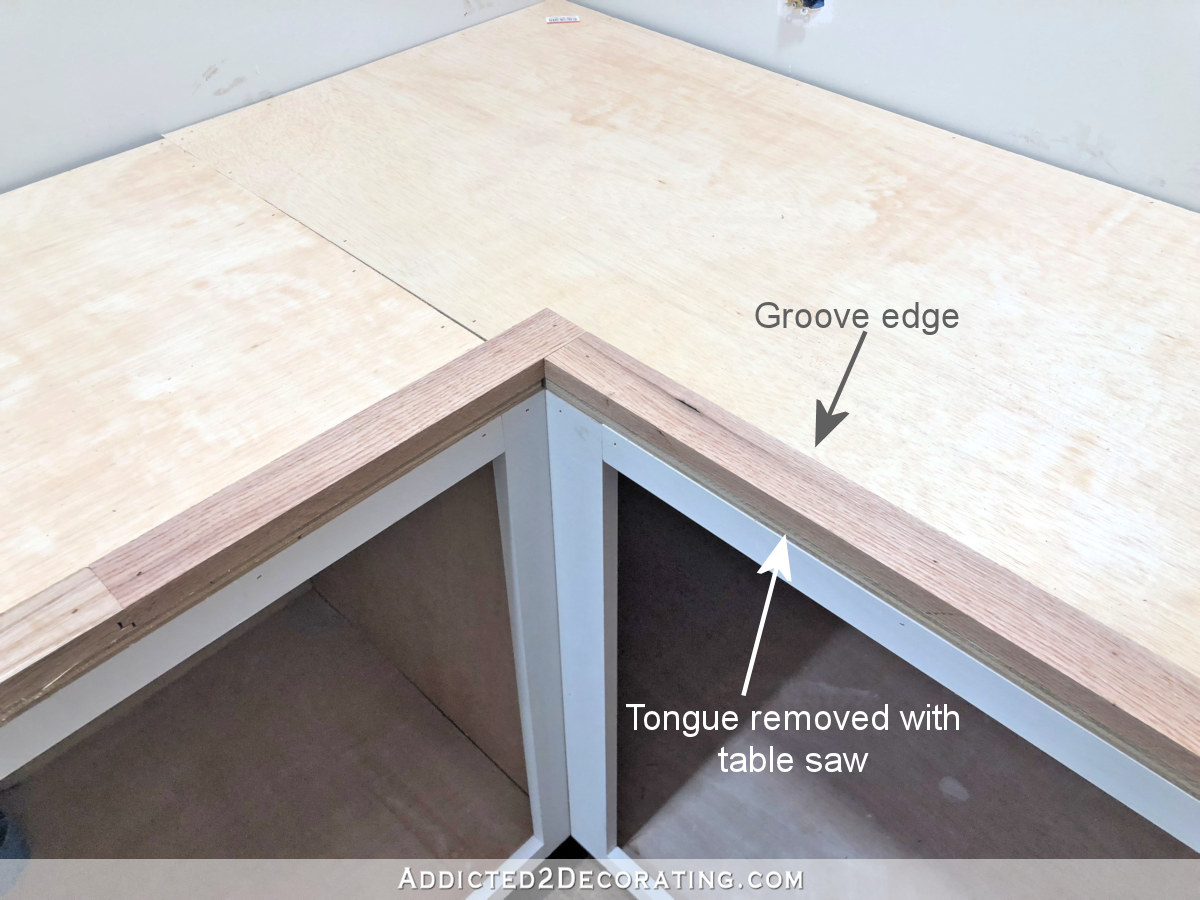 I face-nailed these boards using 16-gauge nails, but I tried to use as few nails as possible.
On the corners, I did a herringbone pattern where the boards met.
And on about three of the long boards, they were so bowed that I had to use a clamp to snug them up close enough so that there wasn't a big gap so that I could nail them into place. But most of the boards fit together just fine without the use of a clamp.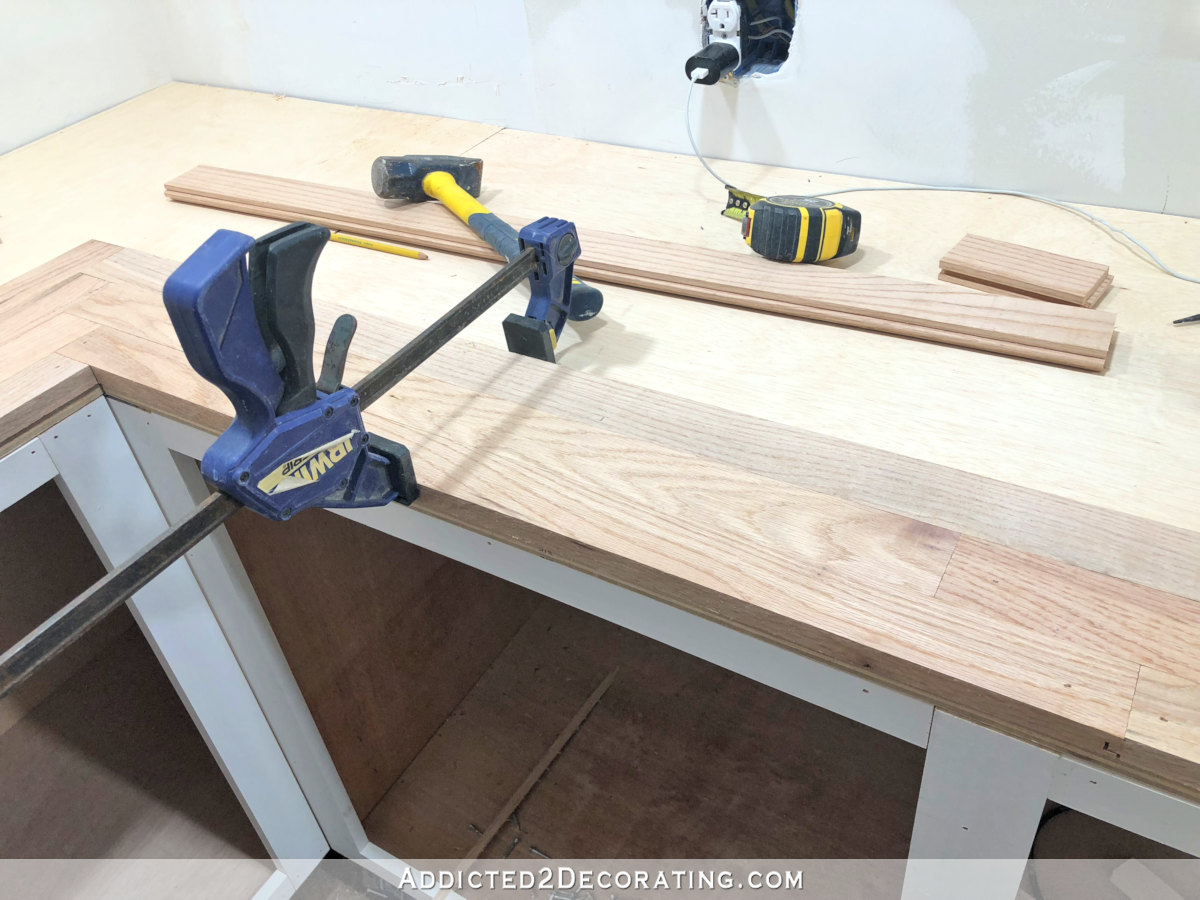 One small challenge was getting the boards to fit together on the herringbone area where the perpendicular boards fit together. Since there was no groove on the cut ends of the boards, I had to use my jigsaw to trim the tongue off of the board so that they would fit together.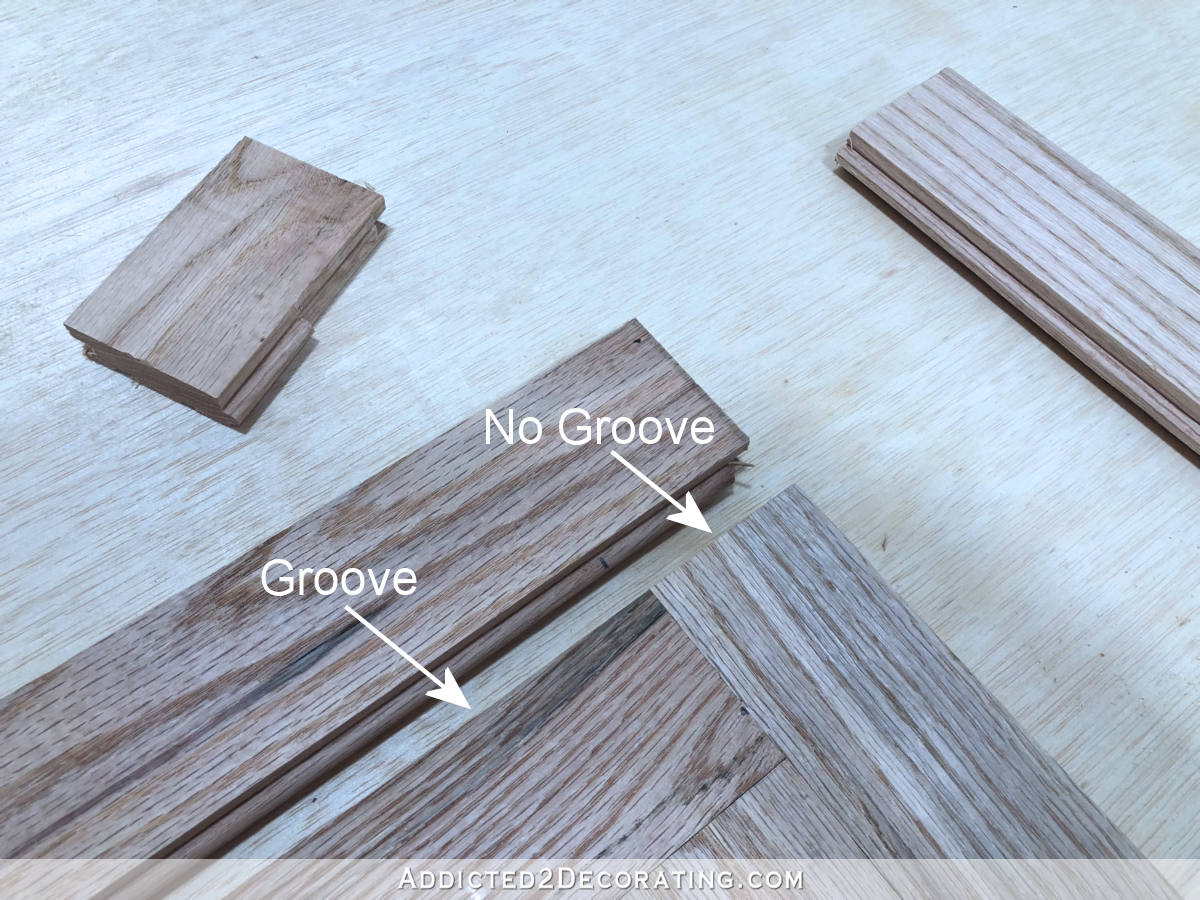 I found that it worked better if I cut the tongue off at an angle rather than trying to cut right along side the face of the board. That way my blade stayed away from the face of the board and I didn't run the risk of damaging the face or the top edge that would show. Cutting it at an angle didn't leave the edge of the board very pretty, but it didn't show once it was in place.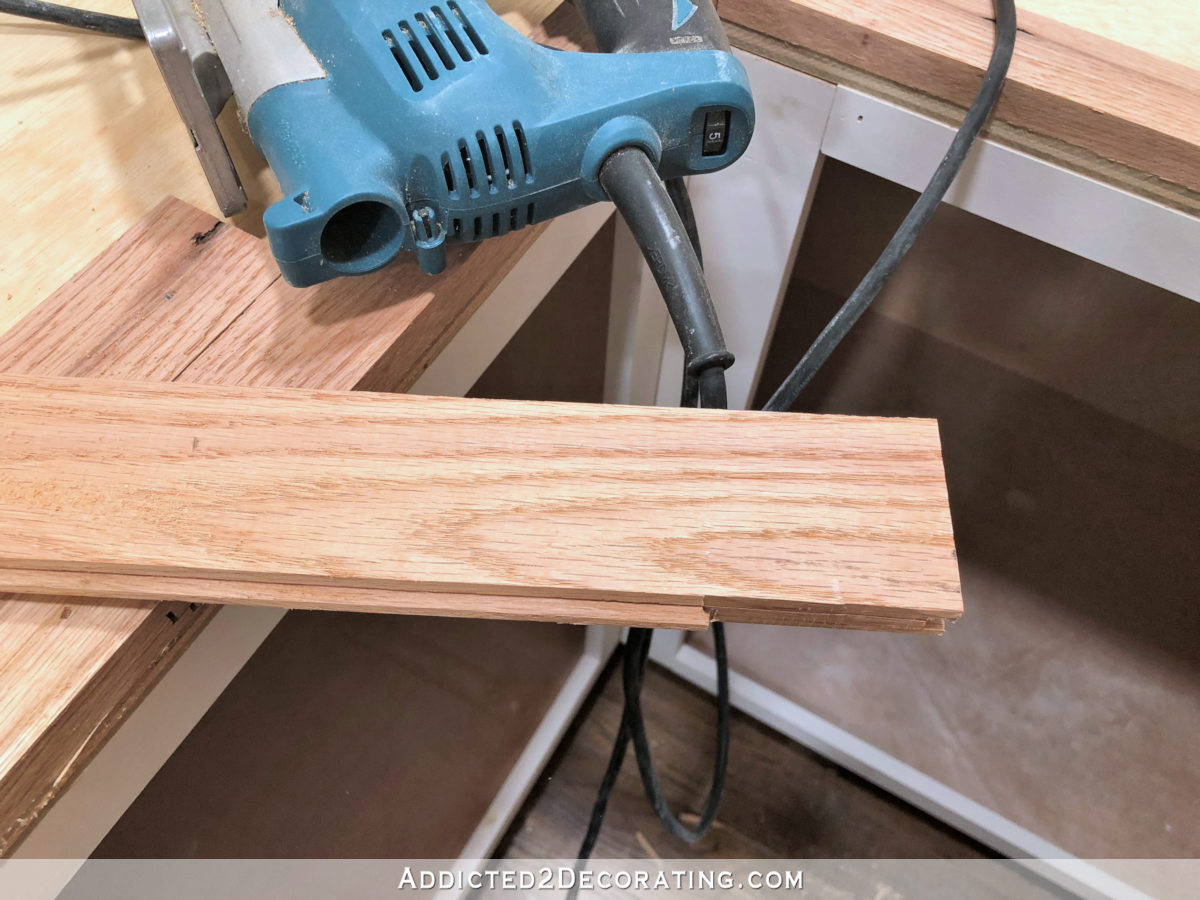 To attach each board, I used a pretty thick bead of wood glue on the plywood, and also put a bead of wood glue all along the tongue. Then I tapped it into place using a hammer, making sure not to damage the edge of the board. And again, I only face-nailed when absolutely necessary.
After I got a few rows done, I decided to go ahead and finish the front edges of the countertop. I used red oak 1″ x 2″ boards for this, and simply cut them to length and then glued and nailed them to the front edge of the boards. Here you can see how that gave the countertop a nice finished look. The left side has the front trim, while the right side doesn't…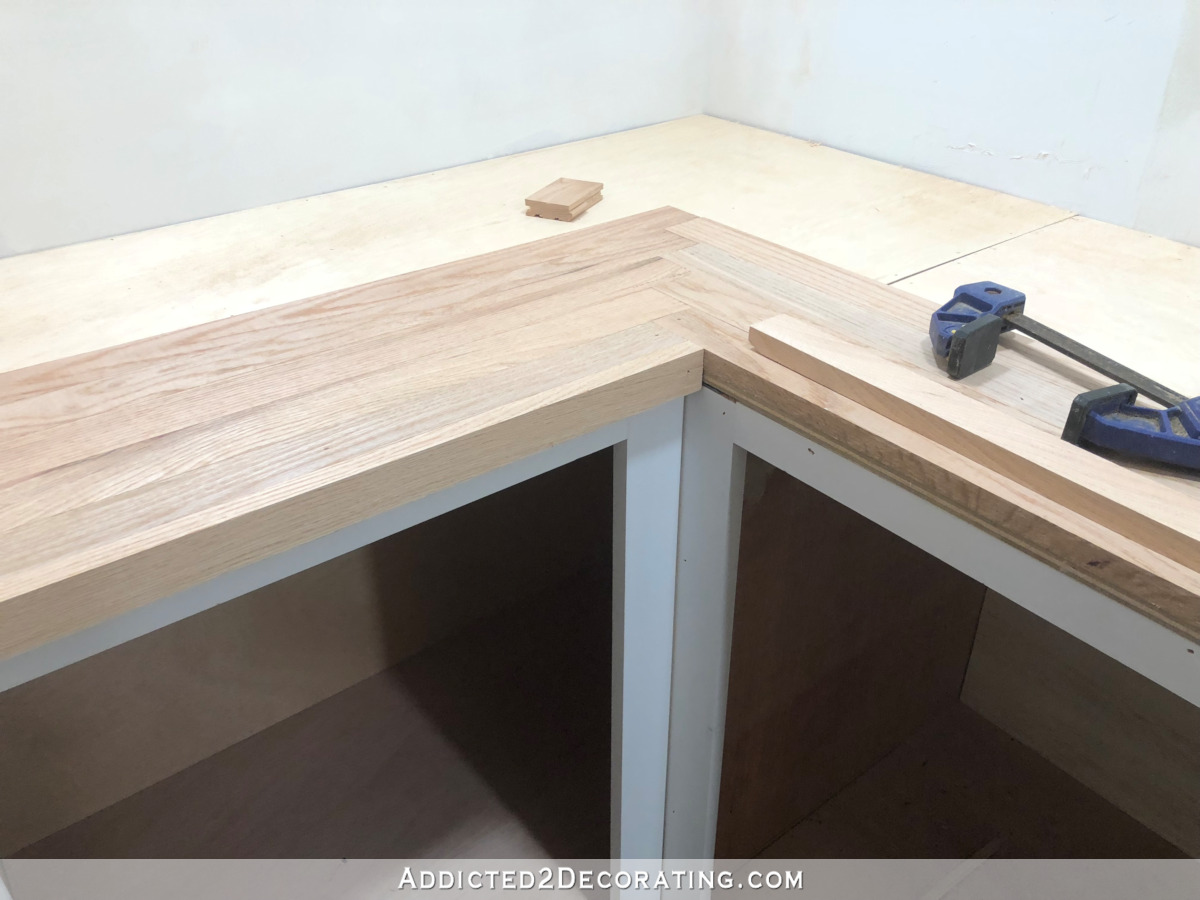 And here's the rest of the countertop with the front trim added…
So after doing a couple of rows, and guessing at what I was doing as I went along, I finally came up with a system that really sped things up and streamlined the process.
I started each new row on the left side next to the freezer cabinet, gluing a whole uncut piece into place. (The bundles come with random lengths, anywhere from 12 inches to 60 inches).
Then I measured for the piece to cover the rest of that side…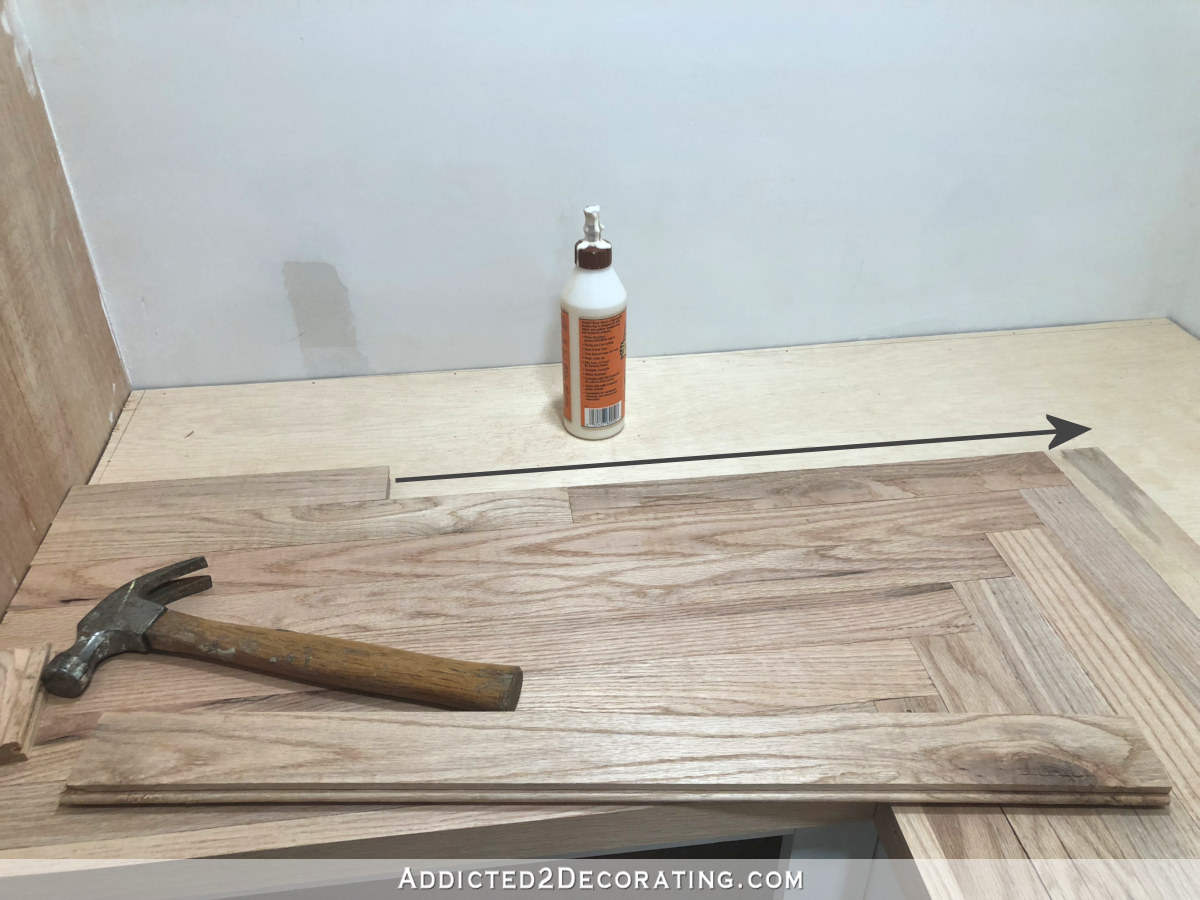 Before gluing that final side piece on, I removed the tongue from the last 2.5 inches of the board…
…and then I glued it into place, face nailing only if necessary.
Next I started on the back row. These boards come with a tongue on one edge and a groove on the other (obviously). But they also come with a tongue on one end and a groove on the other. I tried to keep these end tongues and grooves intact as much as possible because they are useful in keeping the ends together, but the first board on the back row needed the end tongue trimmed off before it was attached. I just cut it of using my miter saw. Then I also had to trim off the last 2.5 inches of the tongue on the edge before I could glue the board into place…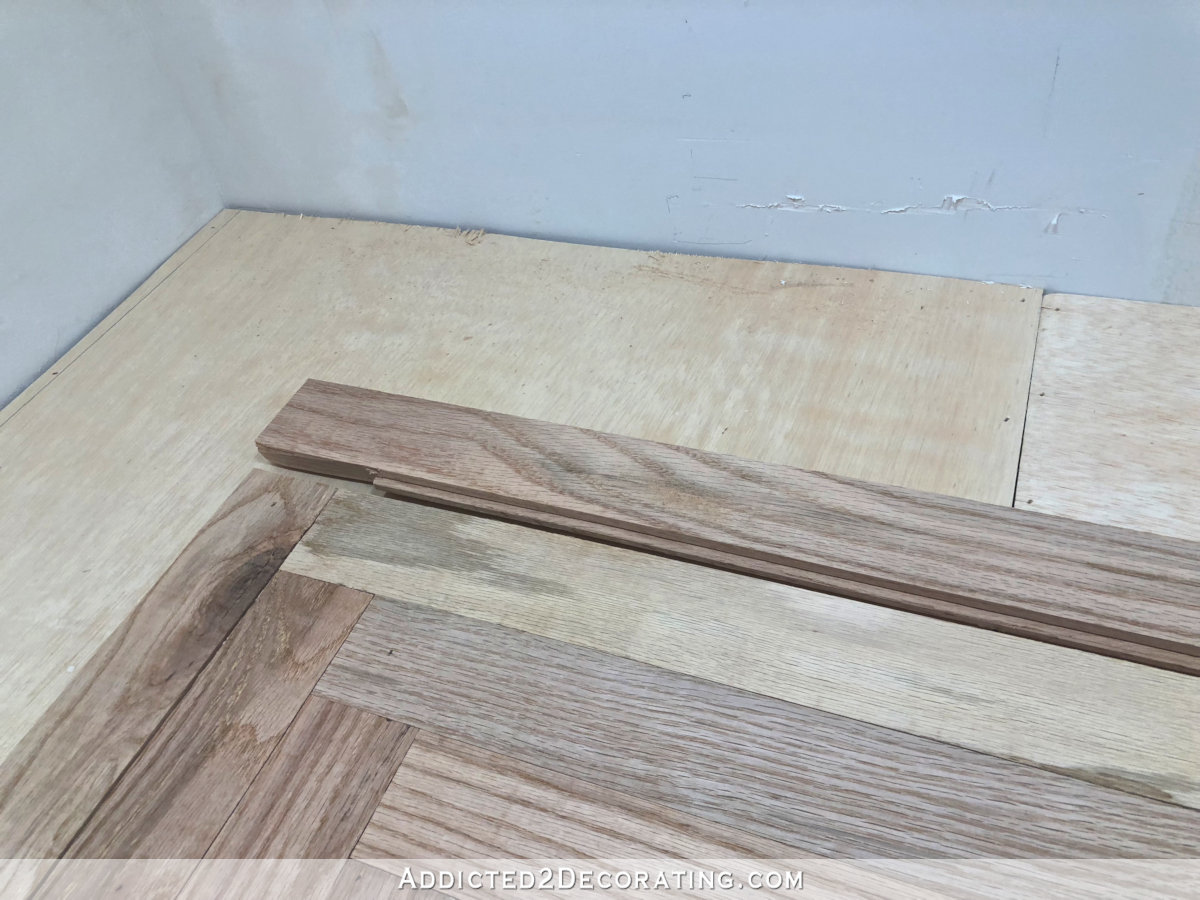 And on each board, I used a very liberal amount of glue on the plywood as well as the tongue.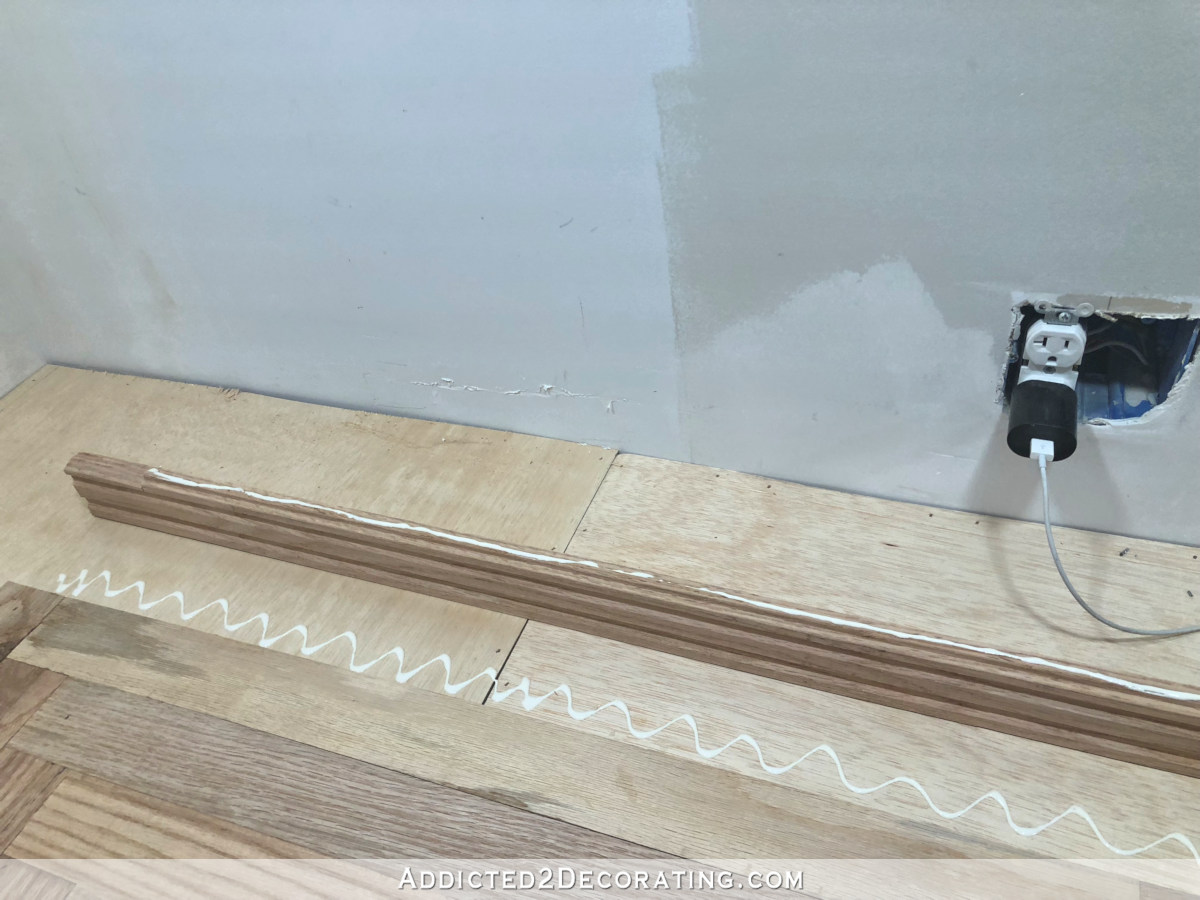 I worked my way across the back, using whole, uncut boards, until I was about one board-length from the end.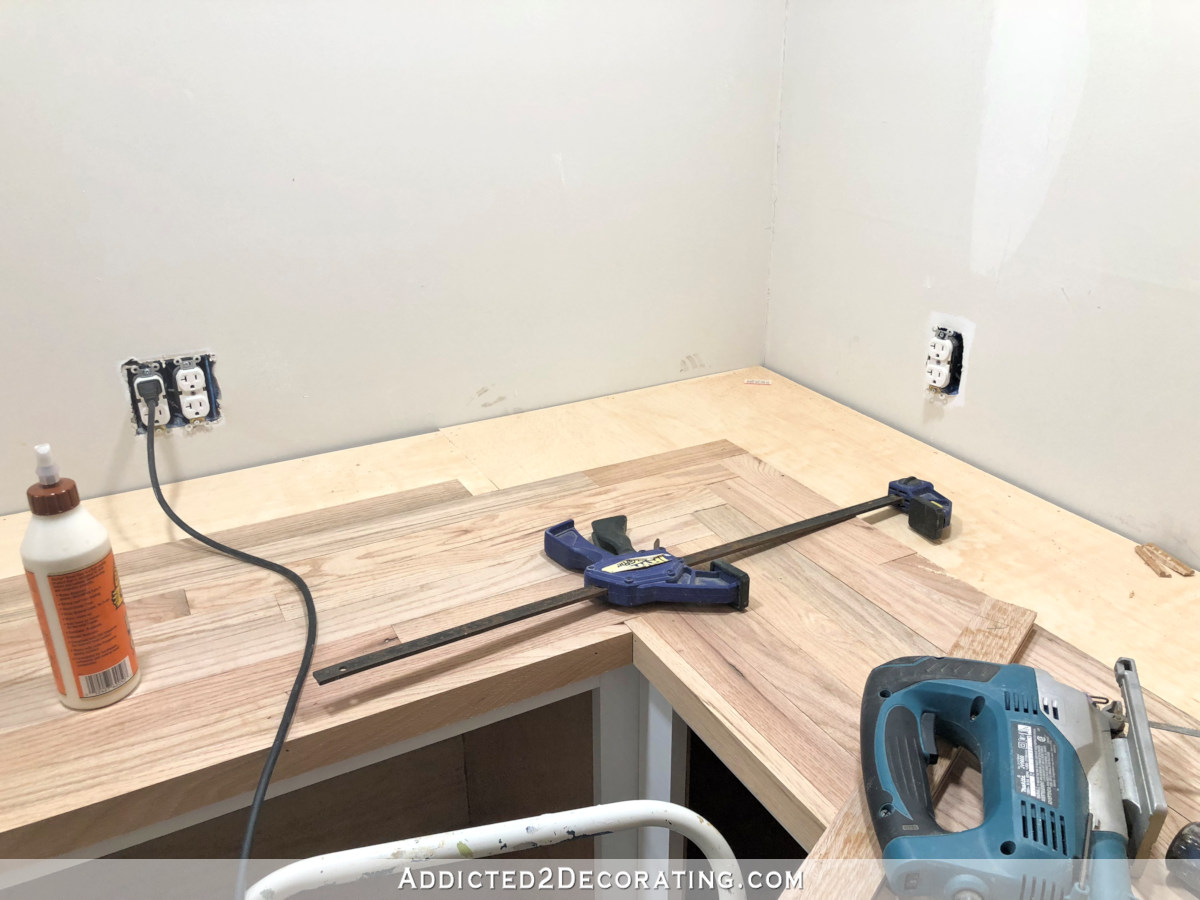 Again, this "one board length" measure is so random because the boards in the bundle are so varied in length, so I just kind of guesstimated based on the boards I had left, as well as where the existing joints in the boards were. I like the joints to be very staggered, and never want joints in adjoining rows to fall too close to each other. So based on the lengths of the boards I had left, as well as where the the joints in the previous row fell, I just guesstimated that I'd want to end that row with a board that was about 18 inches long. It's purely subjective. This isn't rocket science here. 😀
So when I was one board length from the end of the back row, I stopped and worked on the right side. I used whole, uncut pieces to cover as much as I could…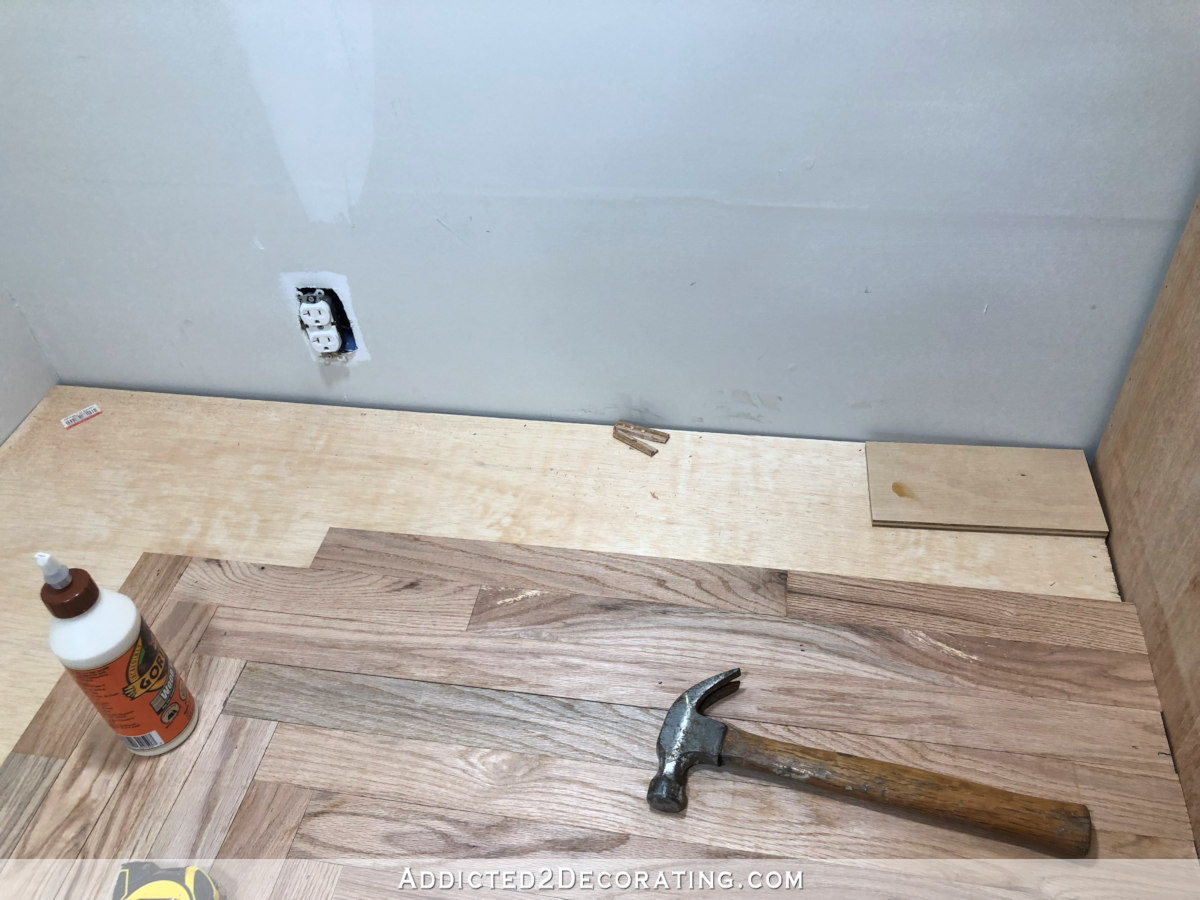 And then I cut the final piece to length, and then trimmed off the last 2.5 inches of the tongue before gluing it into place.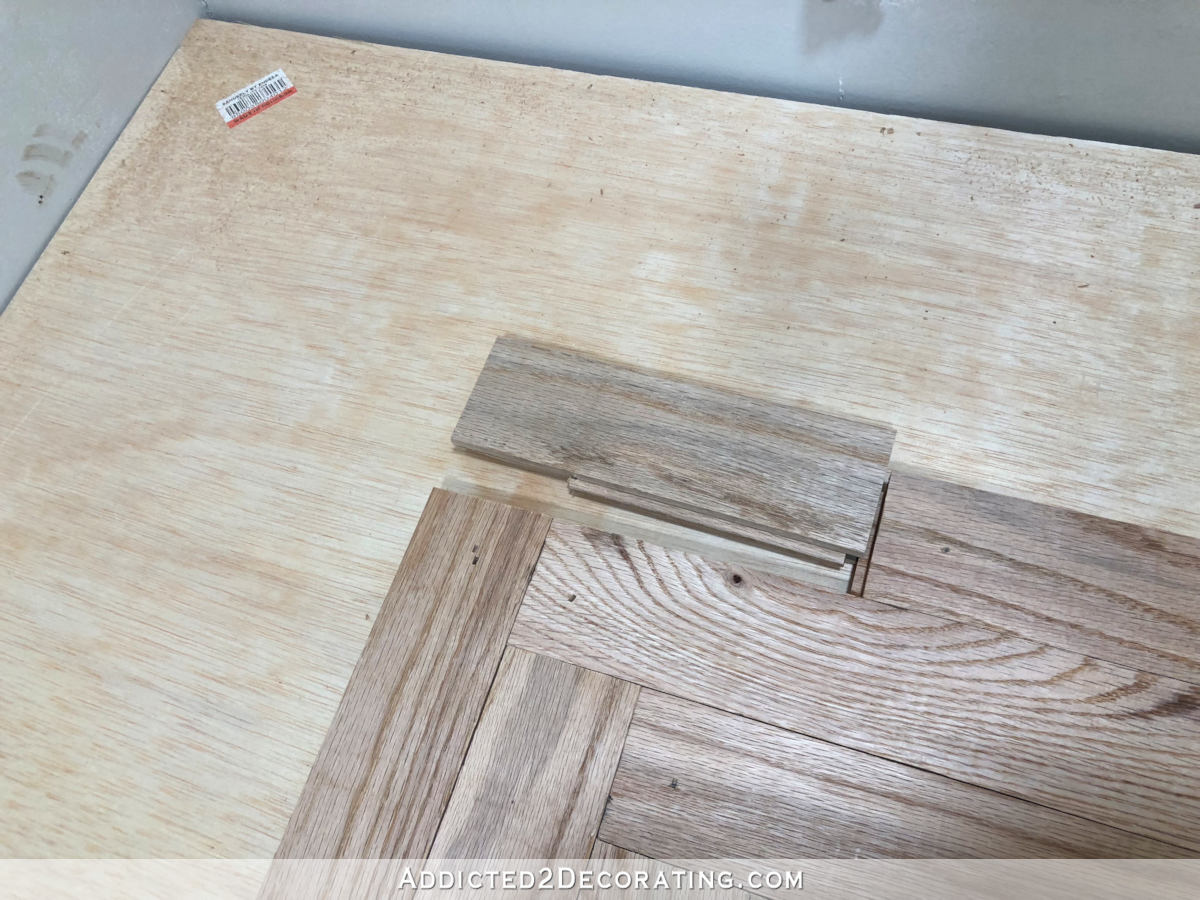 Here's that right side row finished…
Then with that side row finished, I went back and finished up the back row. I measured the needed length, cut off the last 2.5 inches of the tongue, and glued it into place.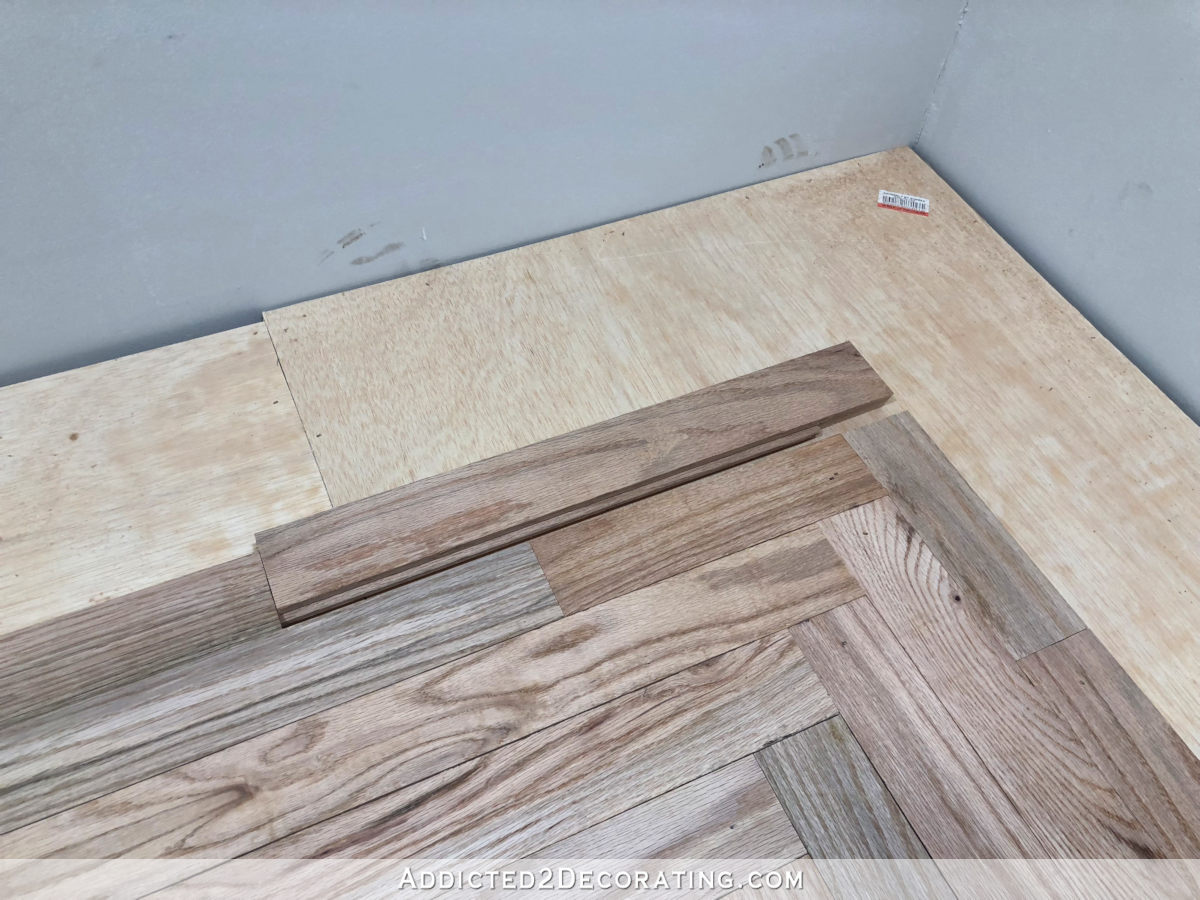 And that finished up one entire row all the way around.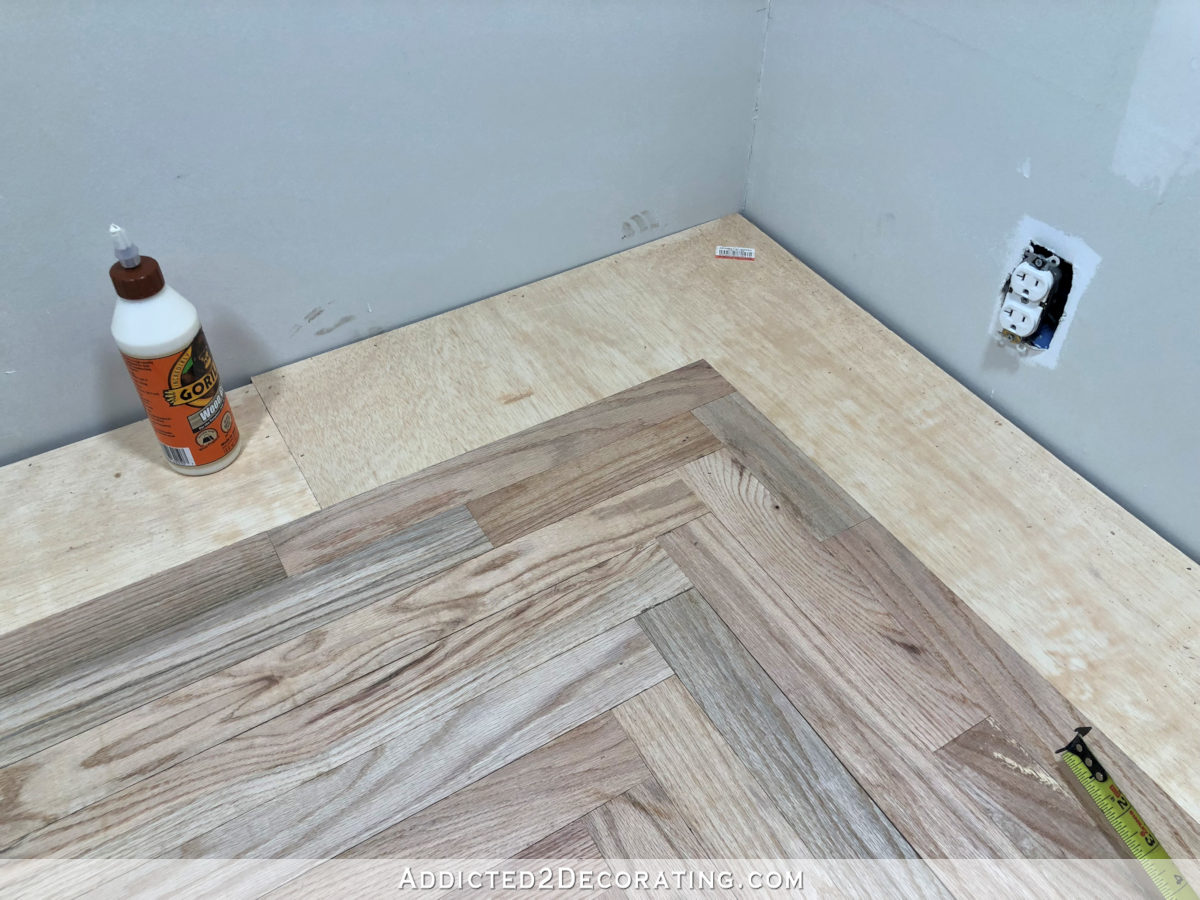 And after repeating that process about 12 -15 times, I had a countertop!
I still have to do the very last row right up against the wall. I didn't get that finished last night because that final row will require the boards to be ripped on my table saw. I finished these other rows at about 11:30 last night, and that was way too late to use my table saw (which I use outside) to cut the final row, so I had to leave it unfinished for now.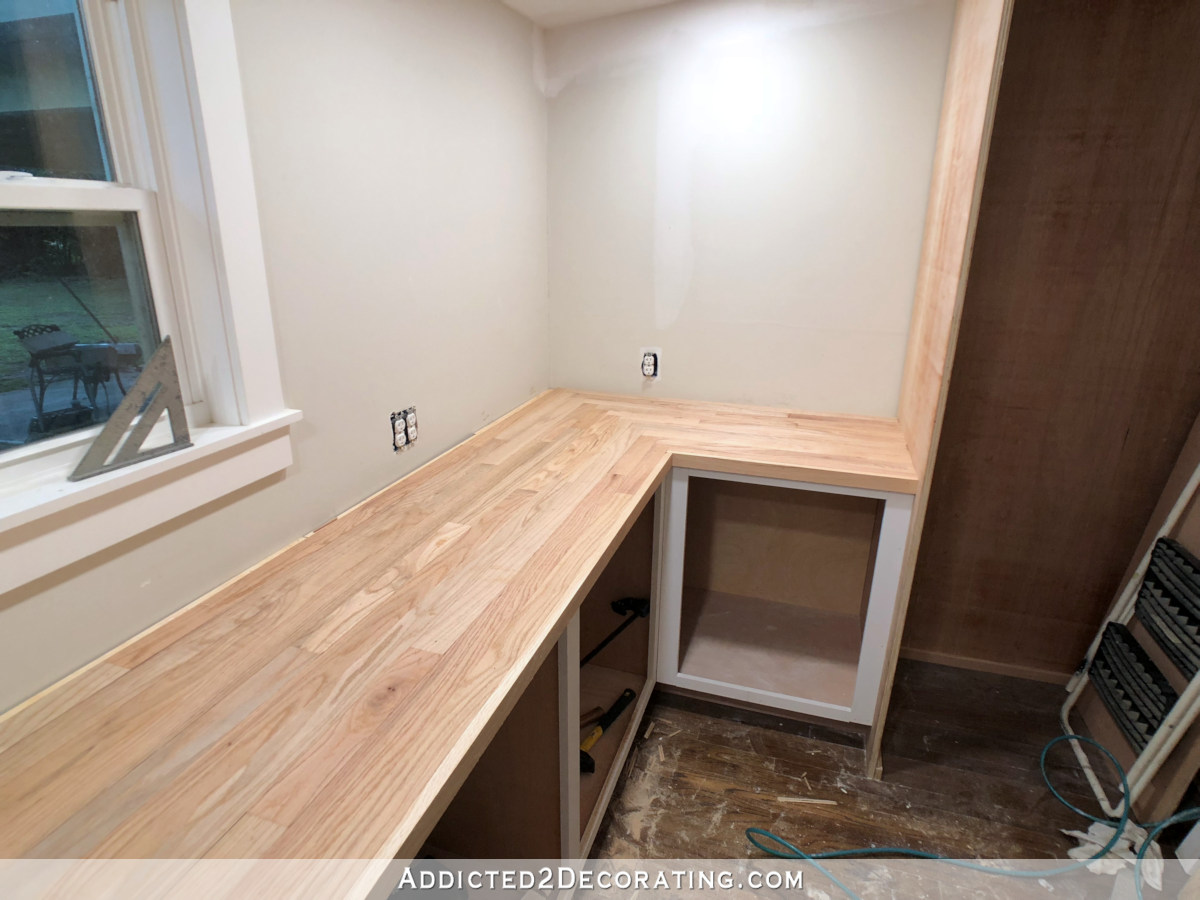 But the main part is finished, and I'm so happy with how it turned out!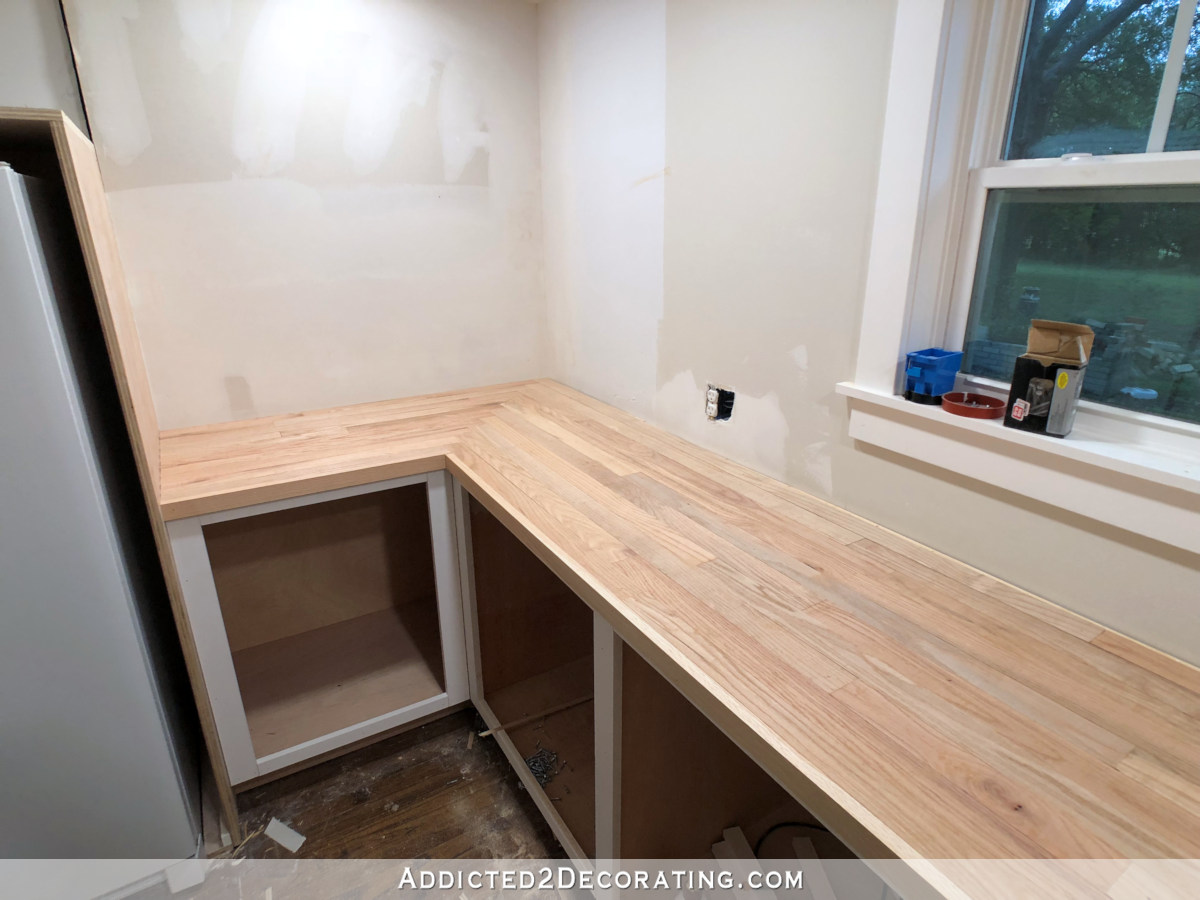 Of course, it's not finished finished. I still have to do a whole lot of wood filling, sanding, and sealing before the countertop is actually finished. And I'm still not sure if I'm going to stain it, or just use mineral oil on it like I did on my oak butcherblock countertops at the condo. I'll probably test out a few finishes on the leftover boards before deciding what to do in here.
So stay tuned for Part 2 of this project to see what I end up with. Unfortunately, that will be either Friday or next week, because it didn't dawn on me until yesterday afternoon that I can't use just any wood filler from Home Depot on this countertop. I need actual red oak wood filler, so I had to order it on Amazon, and it won't be here until Thursday. But I have plenty to keep me busy until then.
---
---
UPDATE:
My countertop is finished! Here's a peek at how it turned out…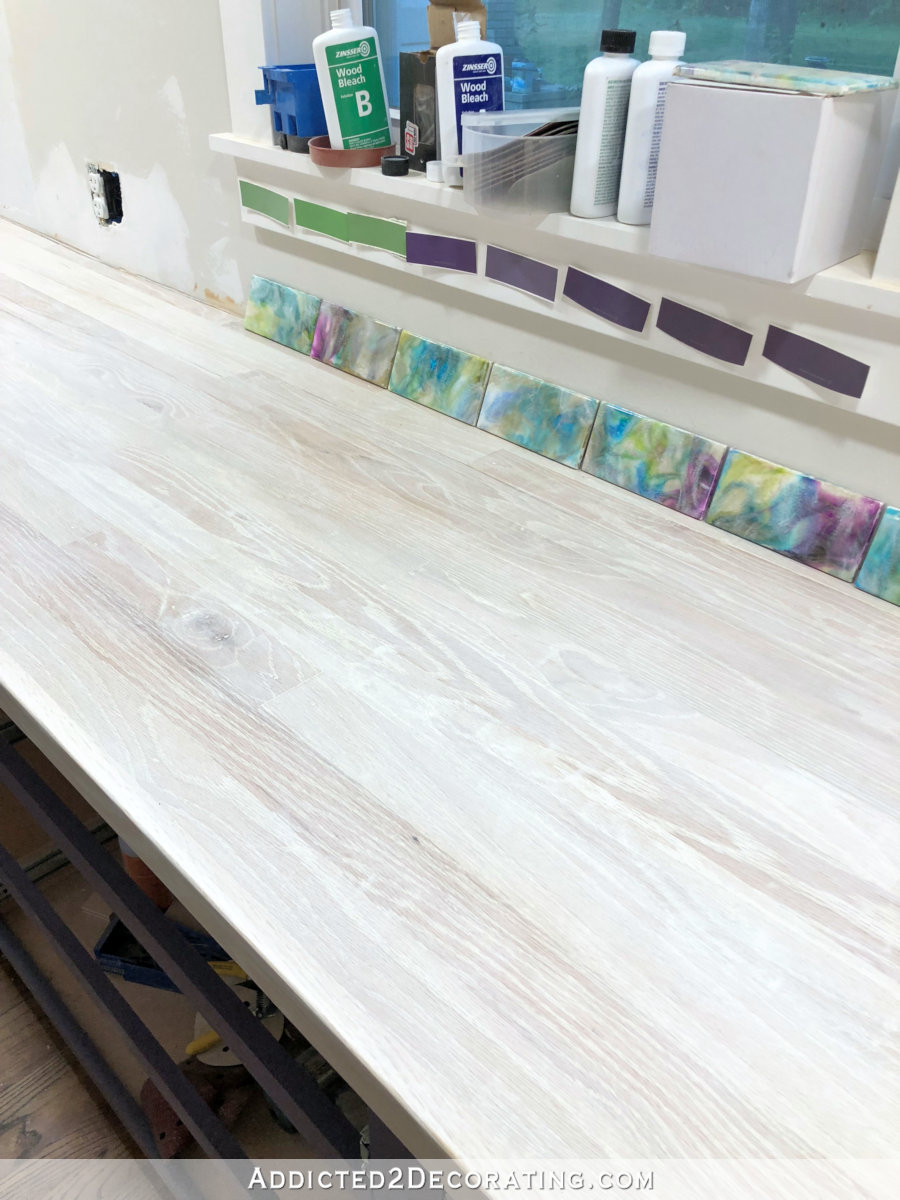 You can see part two of this project here…
---
---
Update #2:
My pantry is finished! Want to see the entire project from start to finish? You can find every single post about the pantry build right here…
Or you can skip to the end and see how it turned out. Here's a peek of the finished pantry…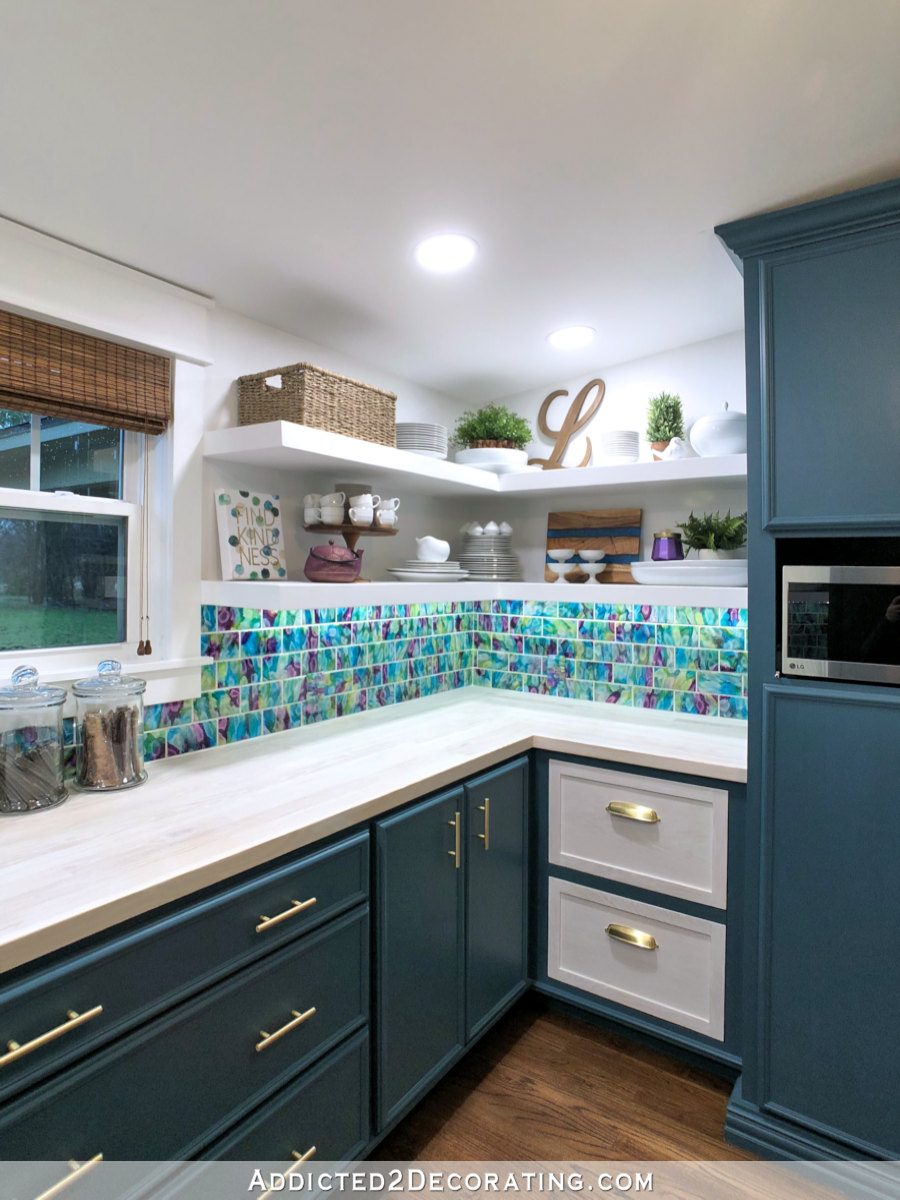 You can see more pictures on the before and after post right here…
Addicted 2 Decorating is where I share my DIY and decorating journey as I remodel and decorate the 1948 fixer upper that my husband, Matt, and I bought in 2013. Matt has M.S. and is unable to do physical work, so I do the majority of the work on the house by myself. You can learn more about me here.