My Finished DIY Butcherblock-Style Countertop Made From Red Oak Hardwood Flooring
I actually have one finished project in my pantry now! One thing I can actually, officially cross off of my "to do" list for that room. My countertop that I made from red oak hardwood flooring is finished! Here's how it turned out…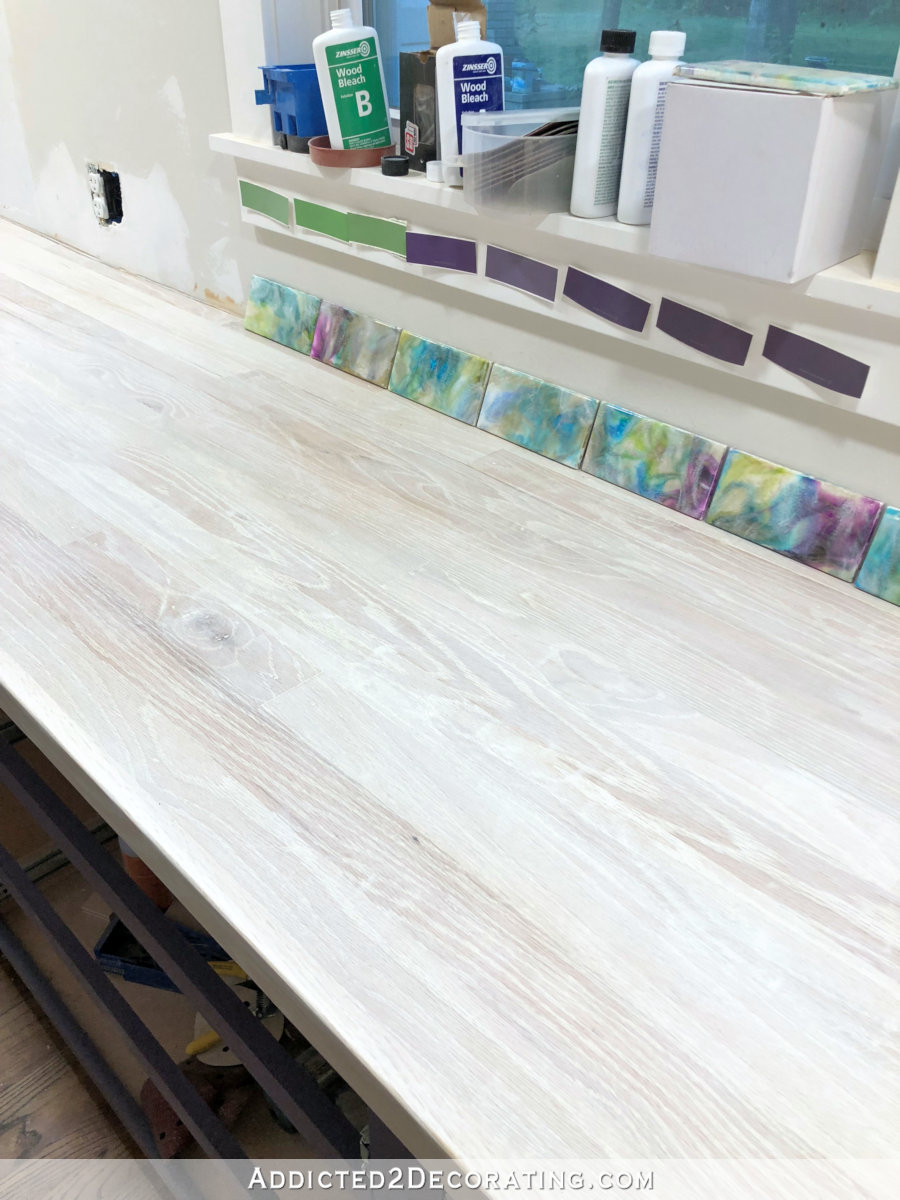 And it was super simple! All I had to do was sand, wood fill, sand, sand again, sand once more, bleach, sand, bleach again, sand again, stain, sand, and topcoat!
😀 Okay, so it wasn't exactly super simple. But none of that was terribly difficult, and I was able to get through all of those steps, by myself, in one day.
So let me back up a bit. First of all, if you missed the first part of this project, you can click this link to find it:
That post was all about how I built the actual countertop, so now let me show you how I finished it. After I built the counteretop, this is what it looked like…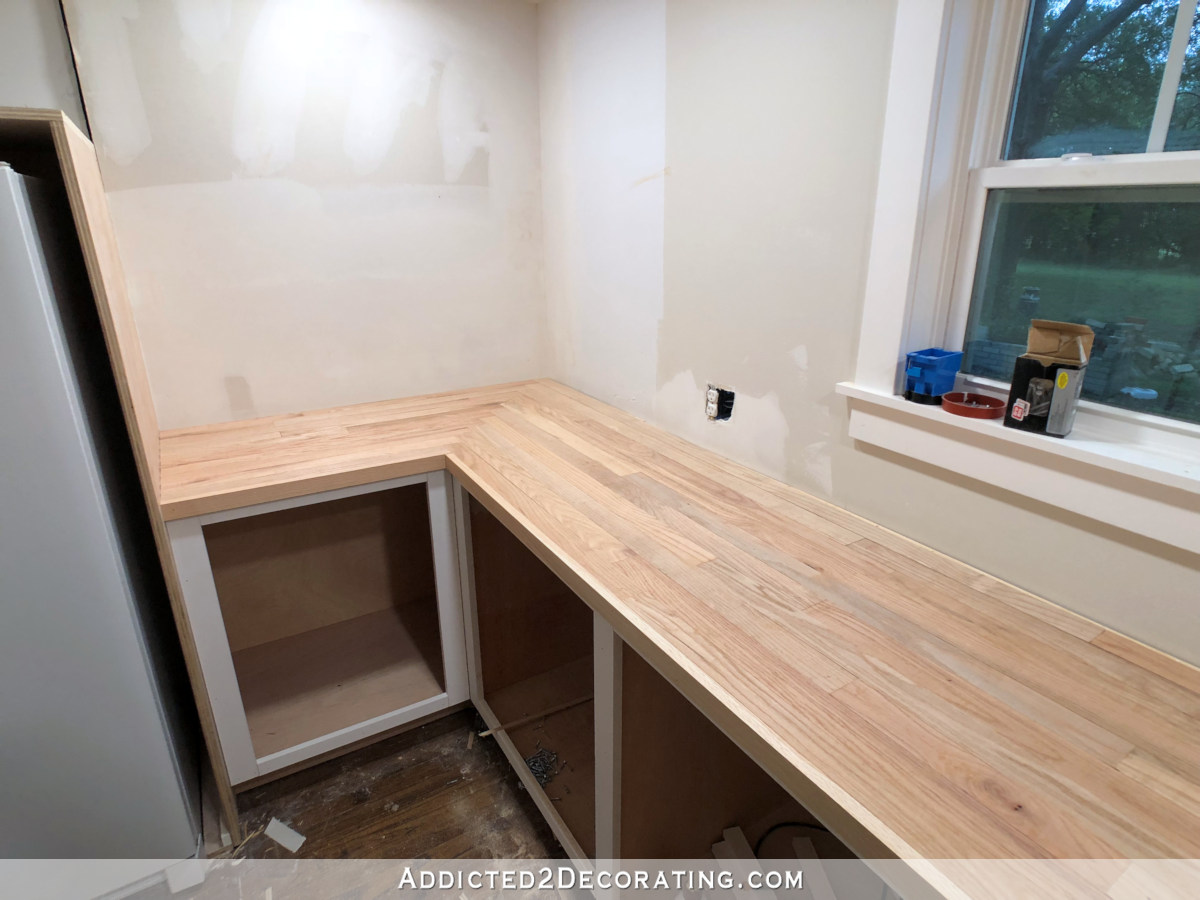 It was definitely a good start, but if you looked closely, you could see just how rough it was. I used the unfinished red oak hardwood flooring that Home Depot carries in stock at the local store, and it's labeled "utility grade." There's a reason for that. It's pretty rough and requires quite a bit of sanding. And I also had some very noticeable gaps between lots of the boards. When installing this as flooring, you have the advantage of standing over the flooring and using a mallet to get the boards really snug against each other. Plus, just the act of hitting the mallet against the flooring nailer as you nail the boards together also helps to get those boards really tight against each other.
I didn't have those advantages in making this countertop. So I ended up with a whole lot more gaps than I would have had I been installing a floor. It was the most noticeable on this corner…
See all of those little gaps between the boards?
But I wasn't worried. It's nothing that a little wood filler can't fix. 🙂
Before I got to the wood filler, though, I gave the entire surface a good sanding. Unfortunately, since I was working with red oak, which is a very hard wood, this was no job for my little rotary sander. I had to pull out the big bubba for this job — the dreaded belt sander.
I hate using this thing. It's a full-body workout. But since my rotary sander wasn't making a dent in the wood, even on the highest setting and with the 40-grit sanding discs I tried, I had no choice but to pull this thing out and put it to use.
(To avoid confusion, I just want to point out that the belt sander in the photo above is sitting on my finished countertop. 🙂 )
I used 50-grit sandpaper on the belt sander, and it worked beautifully. (Please note that if you're making a countertop out of soft wood, like pine, you could probably get away with using a rotary sander, and I highly doubt you'd have to start out with 50-grit sandpaper. I'd suggest testing out 80-grit or 100-grit at first just to get a feel for how it'll work, and then adjusting from there as needed.)
So once the entire thing was sanded with the 50-grit sandpaper on the belt sander, I did go back over the surface very quickly with 100-grit sandpaper in my rotary sander.
Then it was time for the wood filling. This was no job for the dainty little tubs of wood filler that you buy at the big box stores, and that you smoosh into small cracks and nail holes with your finger. No, that wouldn't do.
This was a job for full-trowel wood filler, and just as the name suggests, you use a trowel to apply it to the entire surface.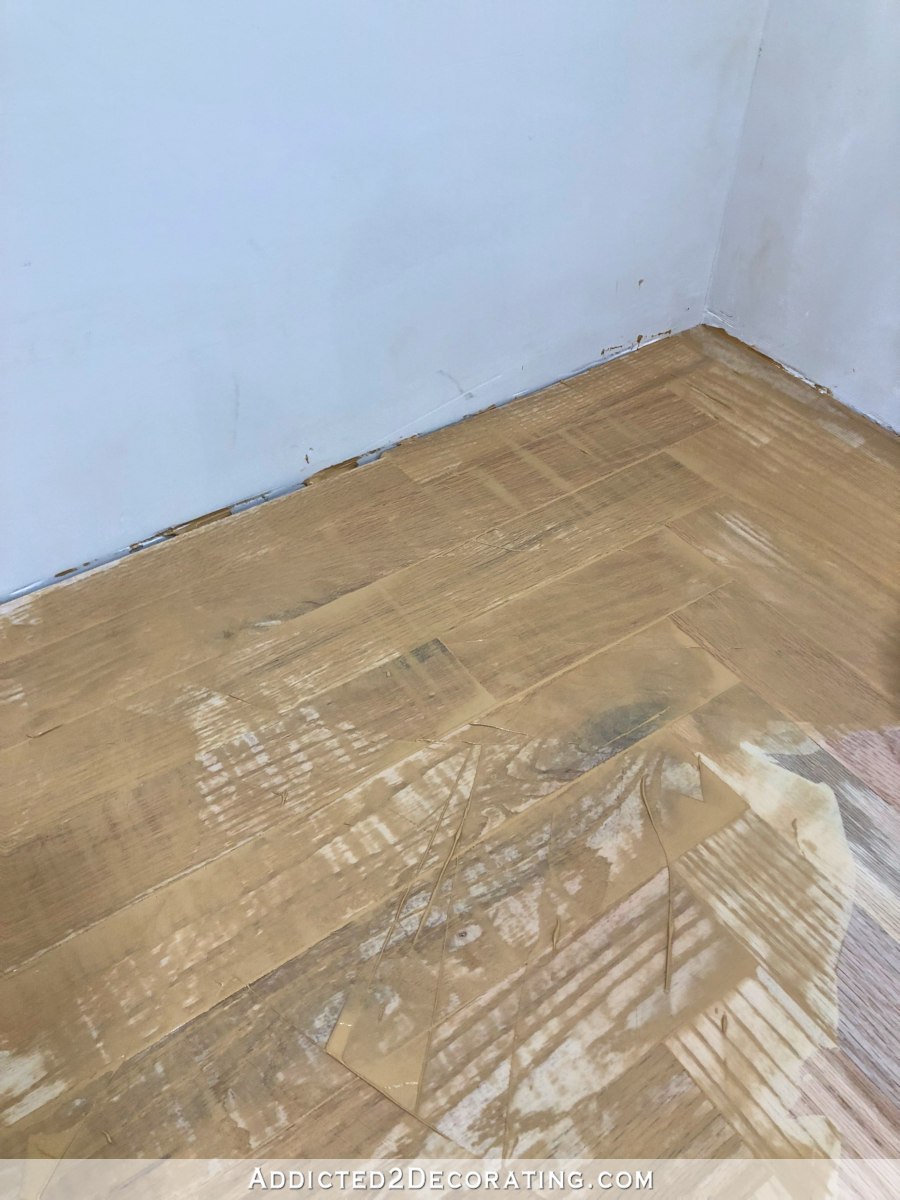 This isn't a product that I could find locally, so I had to purchase it on Amazon (click here to find the one I bought). And when buying full-trowel wood filler, you purchase the specific one for the species of wood you're working with. This isn't a one-color-fits-all kind of product. So I bought the one specifically for red oak.
I troweled the wood filler over the entire surface, making sure to push it into the cracks as I went along. This was actually a very quick (and oddly satisfying) process.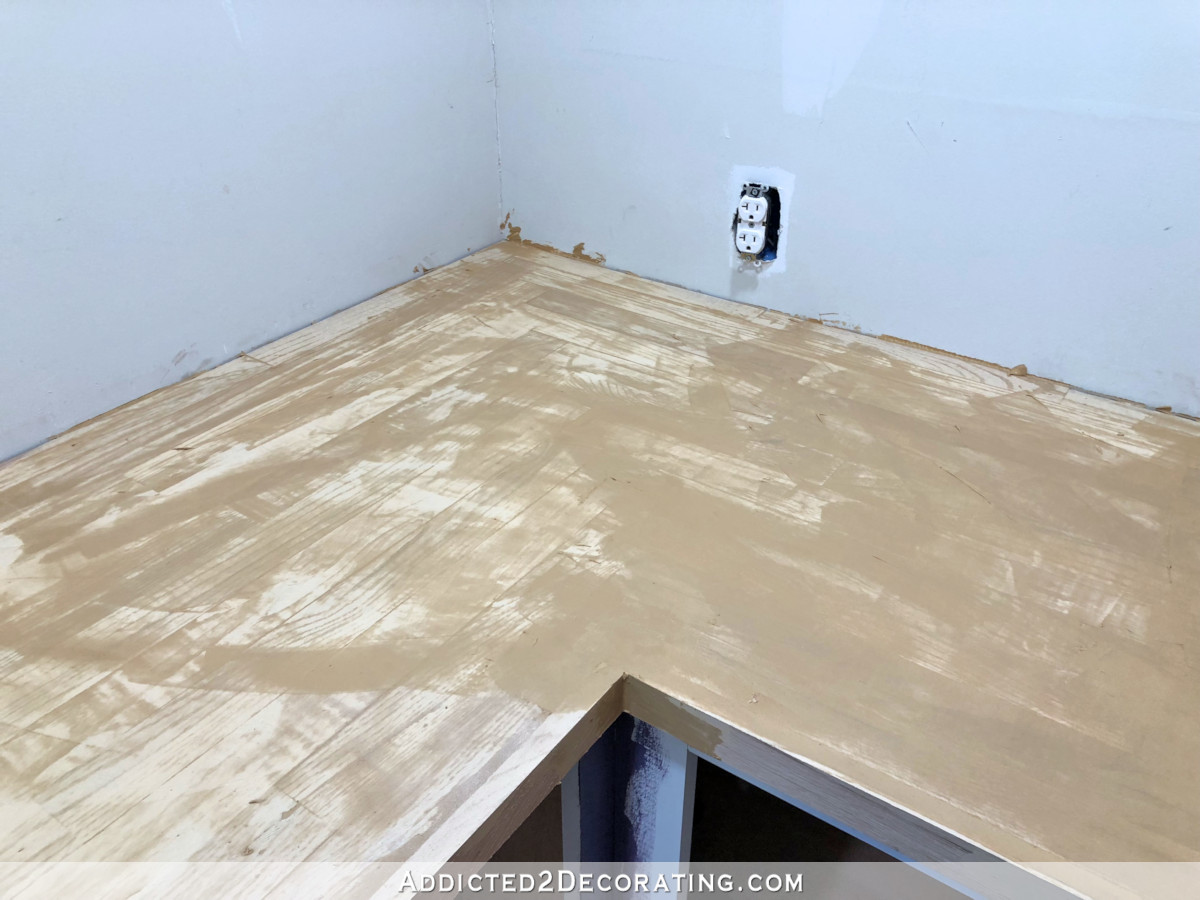 Here's how it looked when it was (mostly) dry…
Once it's dry, you can use a rotary sander to sand it smooth, but I chose again to use the belt sander just to make the job go faster. As much as I hate the belt sander, it took about 1/3 the amount of time it would have taken me to sand with the rotary sander.
So here's a quick before and after of one specific area. This is after the initial sanding with the 50-grit sandpaper on the belt sander, but before the wood filling…
And here is that same area after the wood filling and sanding…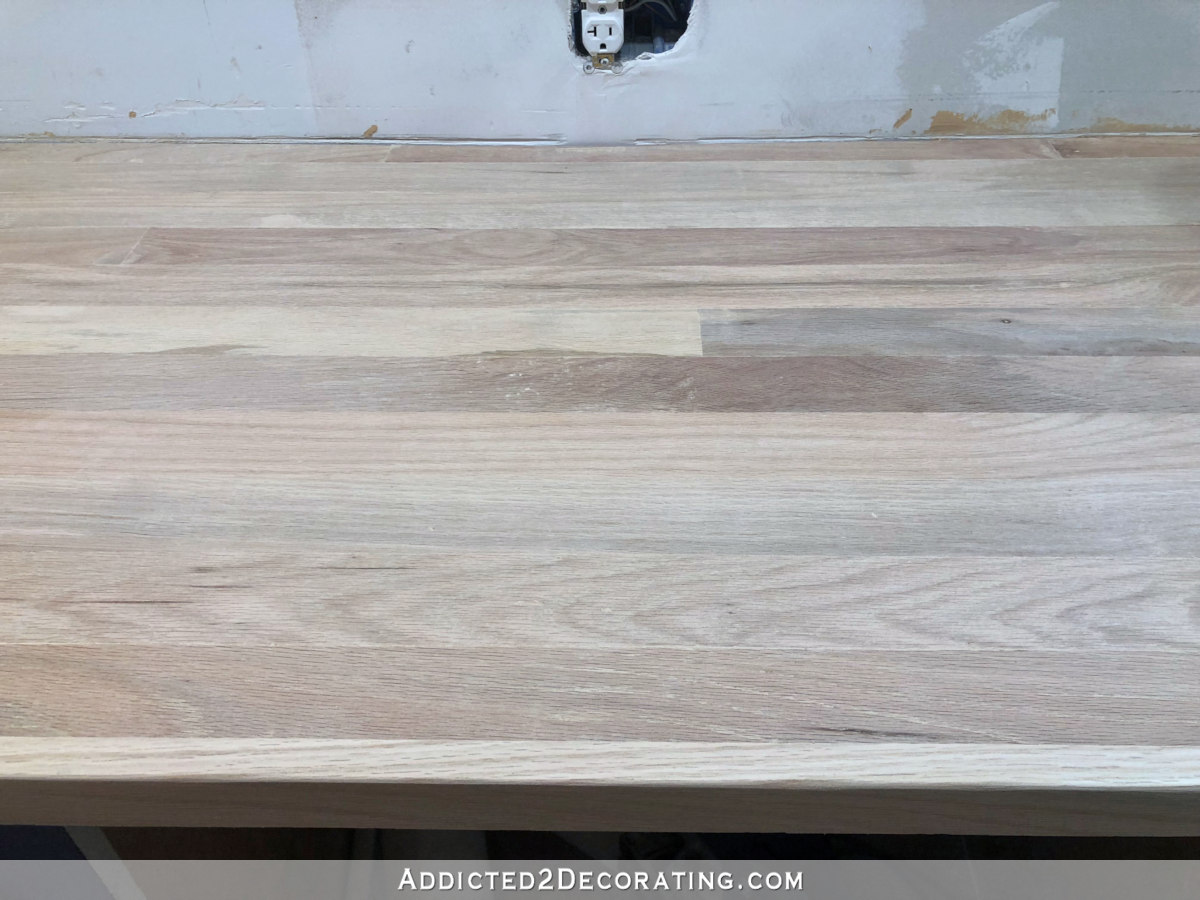 After the initial sanding of the wood filler with the belt sander, I followed up with my rotary sander and sanded the entire surface with 100-grit, and finally with 150-grit sanding discs.
Now that I had a smooth countertop, I moved on to the next stage of this project — bleaching the wood. My hope was that I could get rid of that pink/orange/salmon undertone that's so characteristic of red oak.
After doing lots of research on the different ways to bleach wood, I decided that a two-part product was what I needed. There's a one-step wood bleach product called oxalic acid, but that seems to be more for removing stains and rust from wood, but it doesn't seem to remove the actual inherent coloring from wood. If you remove carpet and find hardwood floors with pet stains that need to be removed, oxalic acid is what you need.
But for actually lightening the entire natural color of wood, you need a two-part bleaching product. So after comparing reviews and prices on different products, I finally settled on this one, which I found on Amazon. (You can click here to find it.)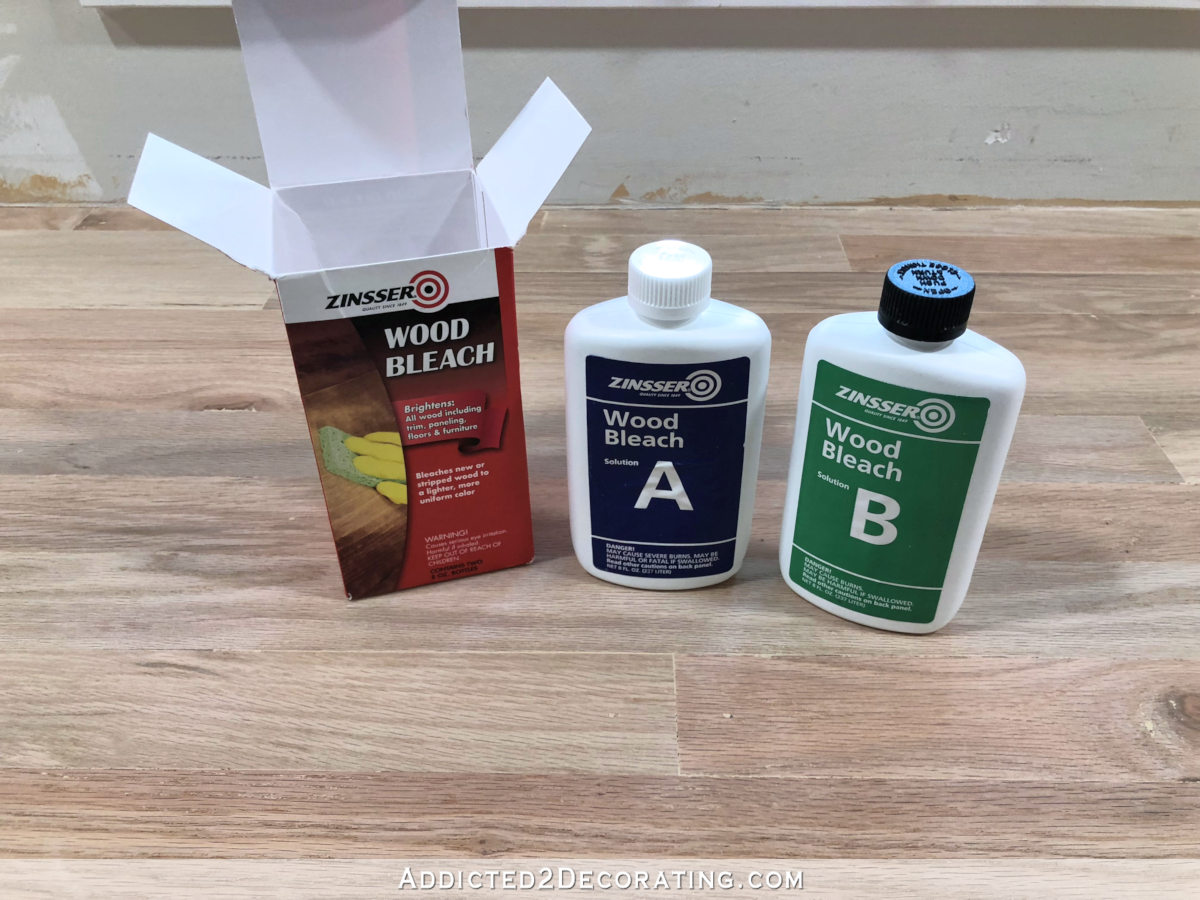 So here's one last look at the countertop before I started the bleaching process…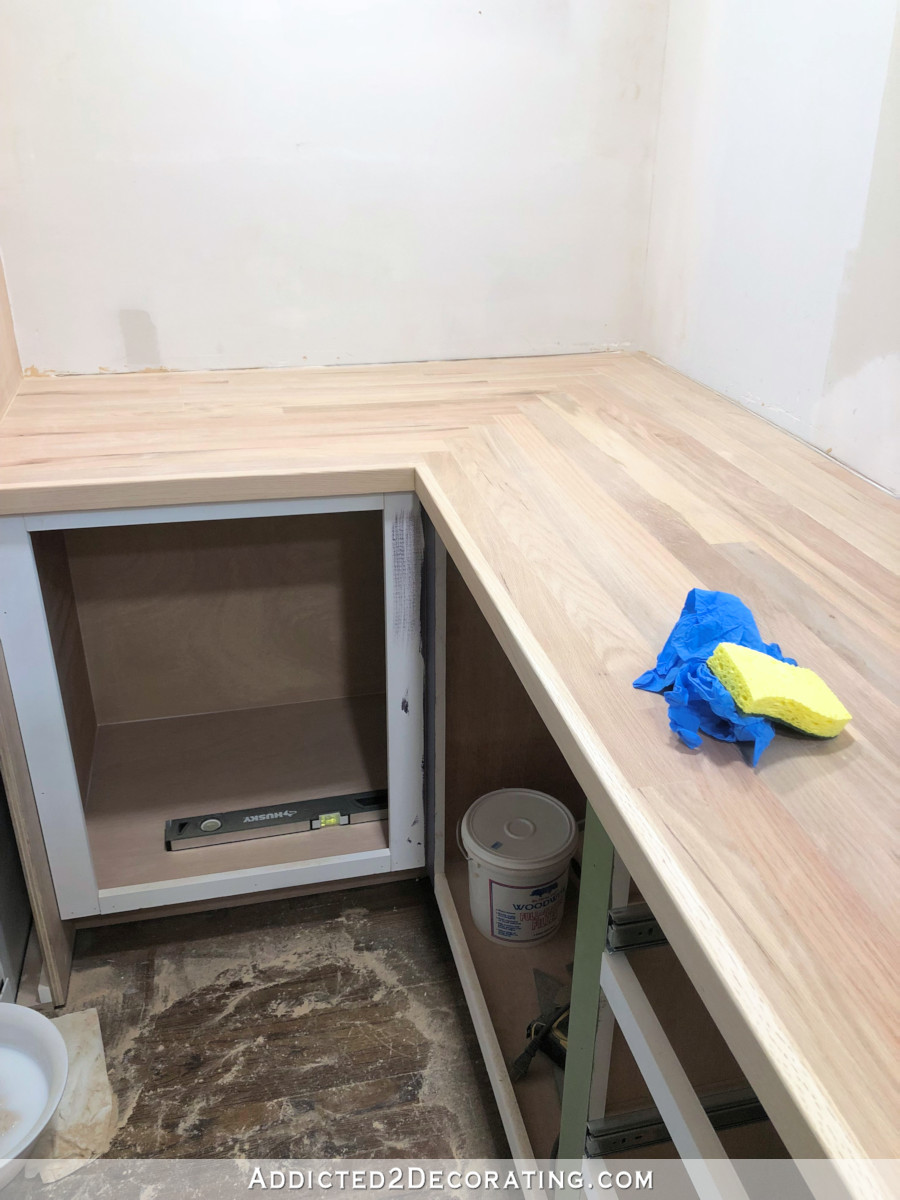 I couldn't believe how simple and fast this process was. I followed the directions on the bottle — wear gloves, apply Part A with a clean sponge, saturate the wood, and leave on for ten minutes. This is how it looked with Part A on the wood…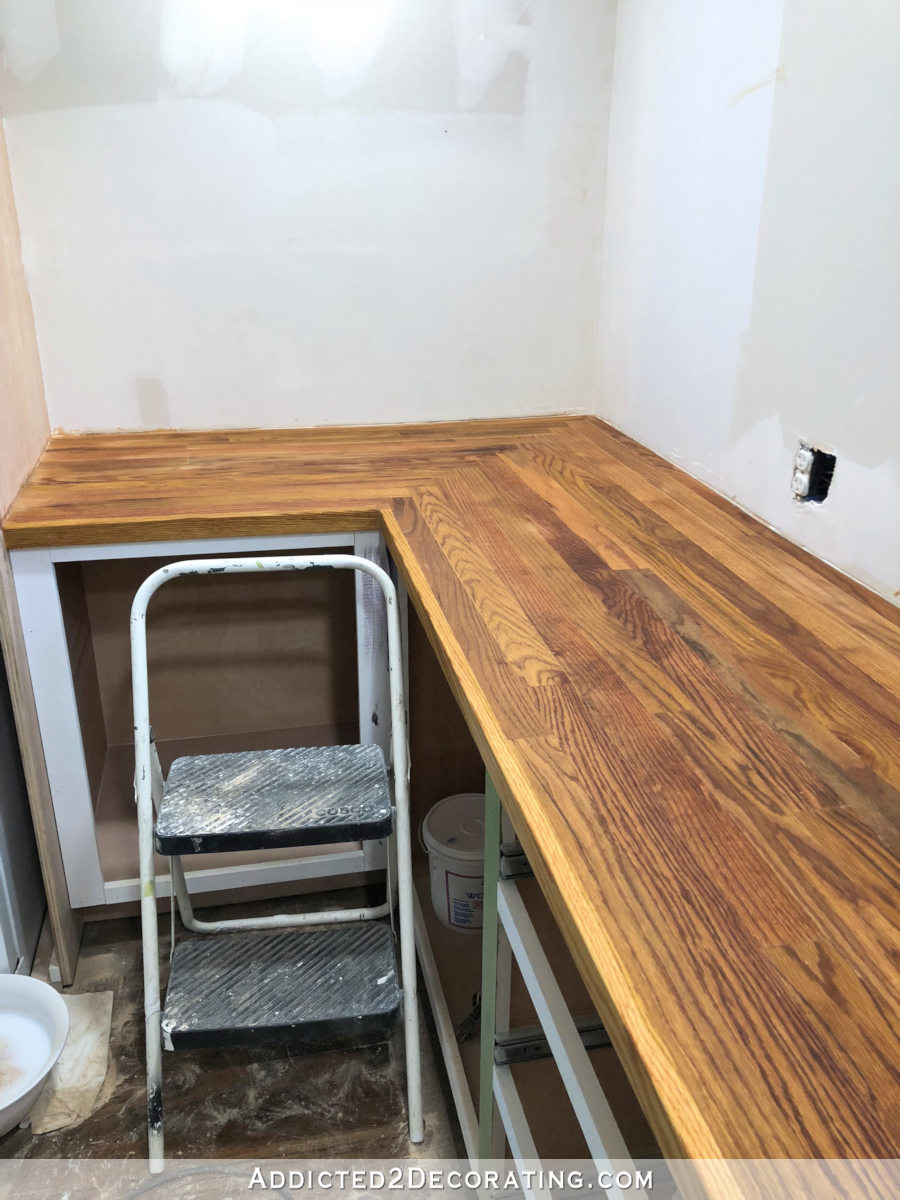 And FYI, that's pretty much how red oak looks with an oil-based clear coat on it, like oil-based polyurethane or Waterlox. It turns orange. I speak from experience as one who used to have red oak hardwood floors clear coated with Waterlox throughout my house. They were orange. 🙂
Anyway, after ten minutes, I used another clean sponge, and wiped down the countertop with the Part B solution. Then I let it dry (which happened much faster than the bottle said it would), and it looked like this…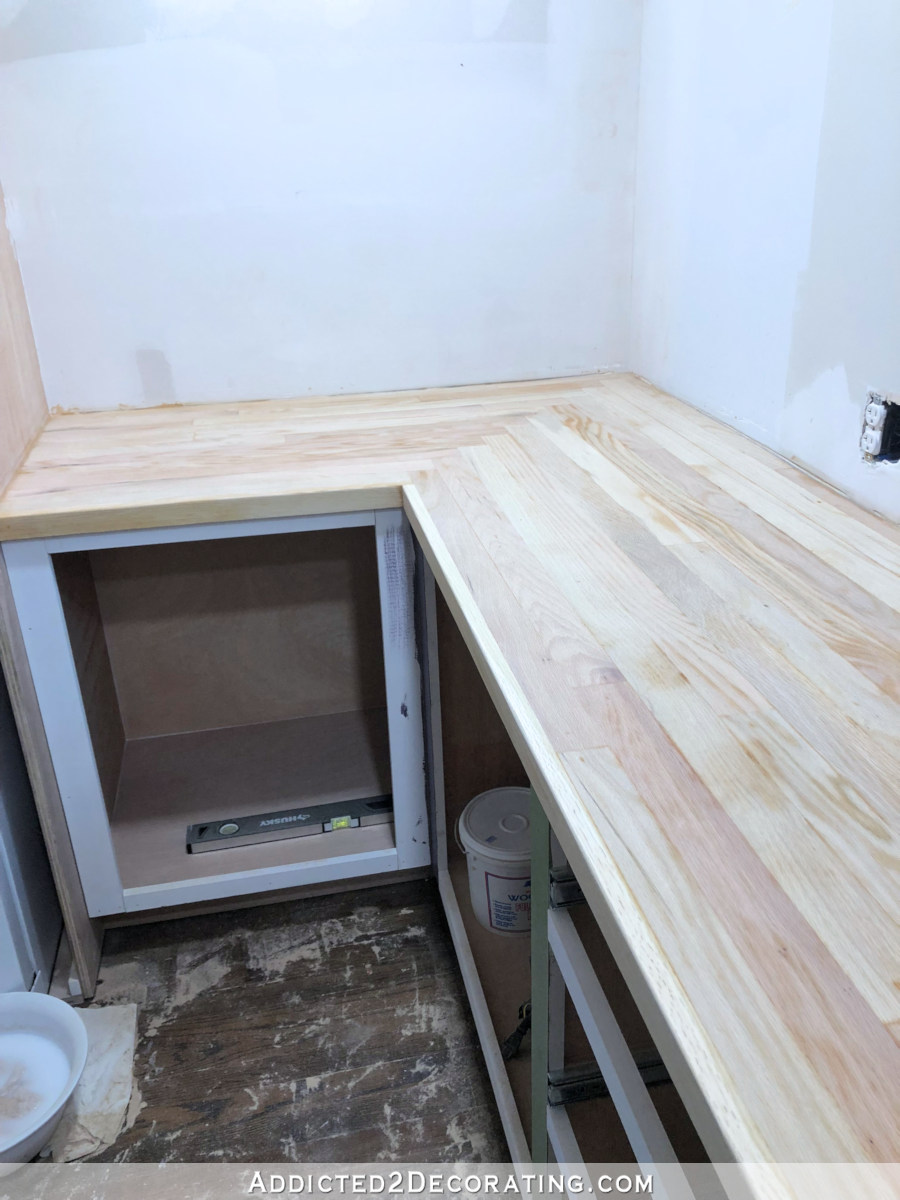 Can you tell a difference? I certainly could! Here are a few scraps from the original boards sitting on the newly bleached countertop…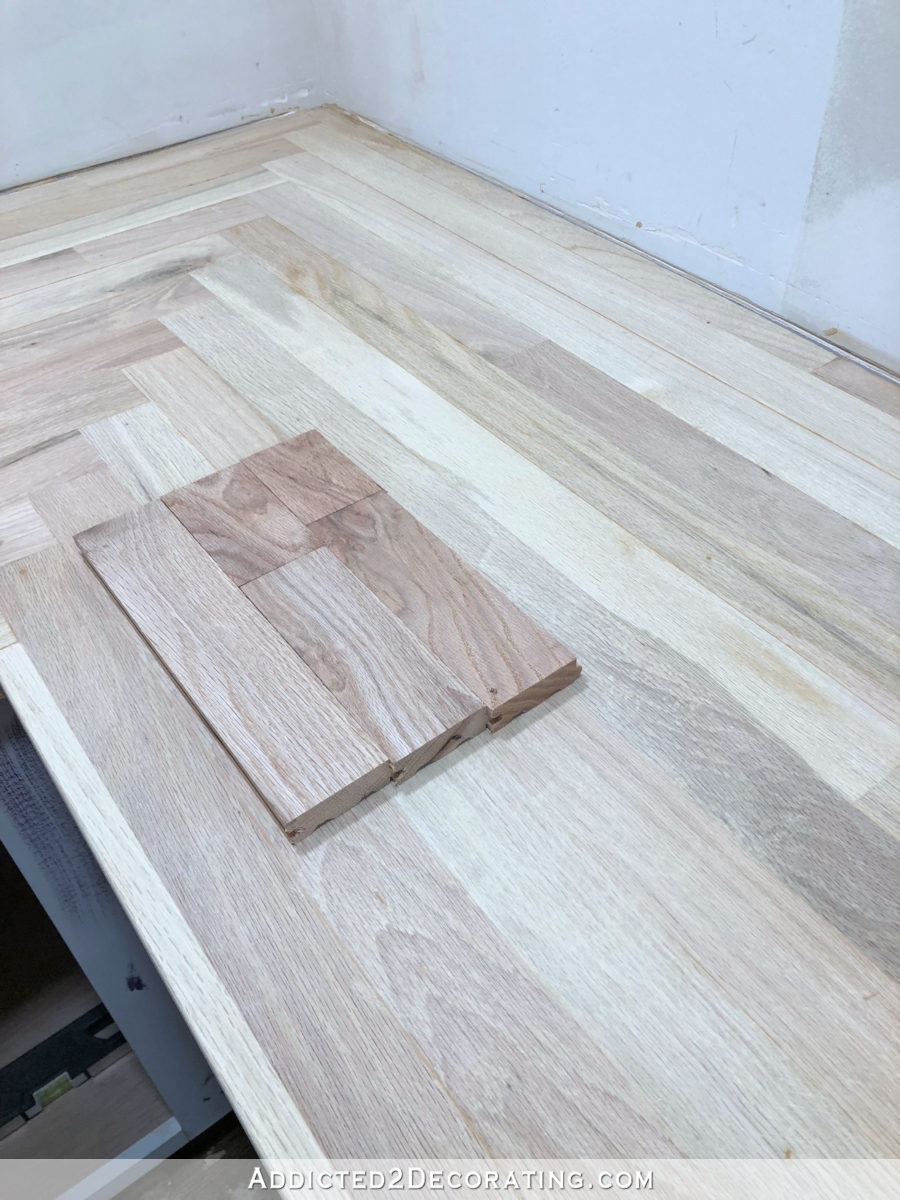 In fact, upon walking into the pantry and seeing the dried countertop for the first time, my very initial thought was, "Oh, great! It turned my red oak into yellow pine!" 😀 But it did, in fact, greatly reduce that pink/orange/salmon undertone in the wood.
I gave it a quick sanding with 150-grit sanding discs on my rotary sander, as the directions stated, and it lightened it up just a bit more. The wood bleaching process raises the grain of the wood, so it's necessary to sand just to smooth the wood, but it also lightens the color just a bit more.
Then I decided to bleach it a second time. The directions say you can do it twice. I think if you do it more, you run the risk of actually damaging the wood. My understanding is that it can actually weaken the wood fibers or something like that. But it says you can do it twice, so I did it twice.
And here's a before and after comparison after the second bleaching and sanding…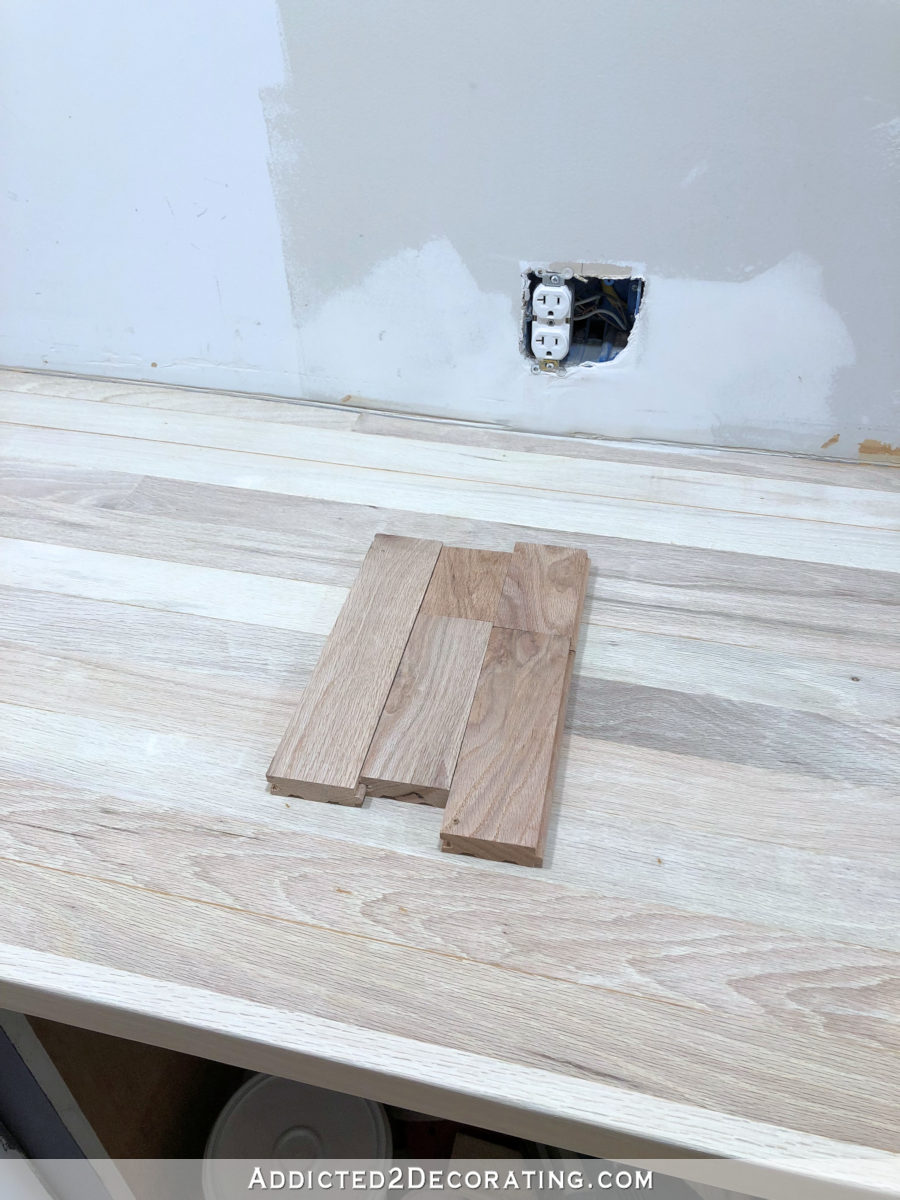 I think that's amazing! I think the difference was definitely more noticeable in person than it is in pictures.
After letting the wood dry completely (I set up a very powerful fan to speed up the process), I gave the entire countertop one coat of Minwax Whitewash Picking stain…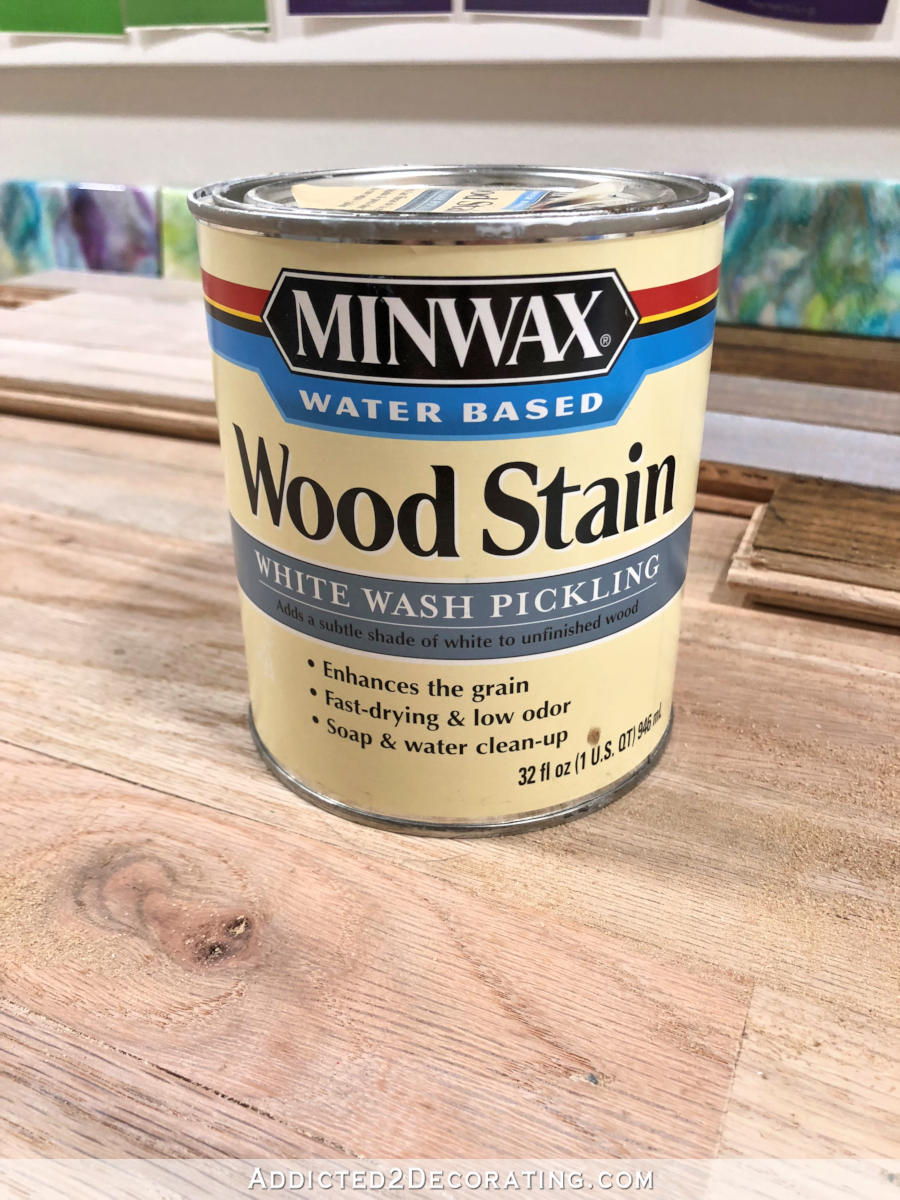 …which I applied by brushing on with a regular paint brush, letting it sit for a couple of minutes, and then wiping off the excess with paper towels.
When that was dry, I sanded the surface by hand with 150-grit sandpaper, not only to smooth out the surface, but also to even out the color. And then I followed up with a coat of General Finishes High Performance Topcoat in a flat finish (which I bought here). This is my all-time favorite water-based topcoat. It's what I used on my kitchen cabinets, and I also plan to topcoat the painted pantry cabinets with it as well. It's amazing stuff.
So here's the finished countertop…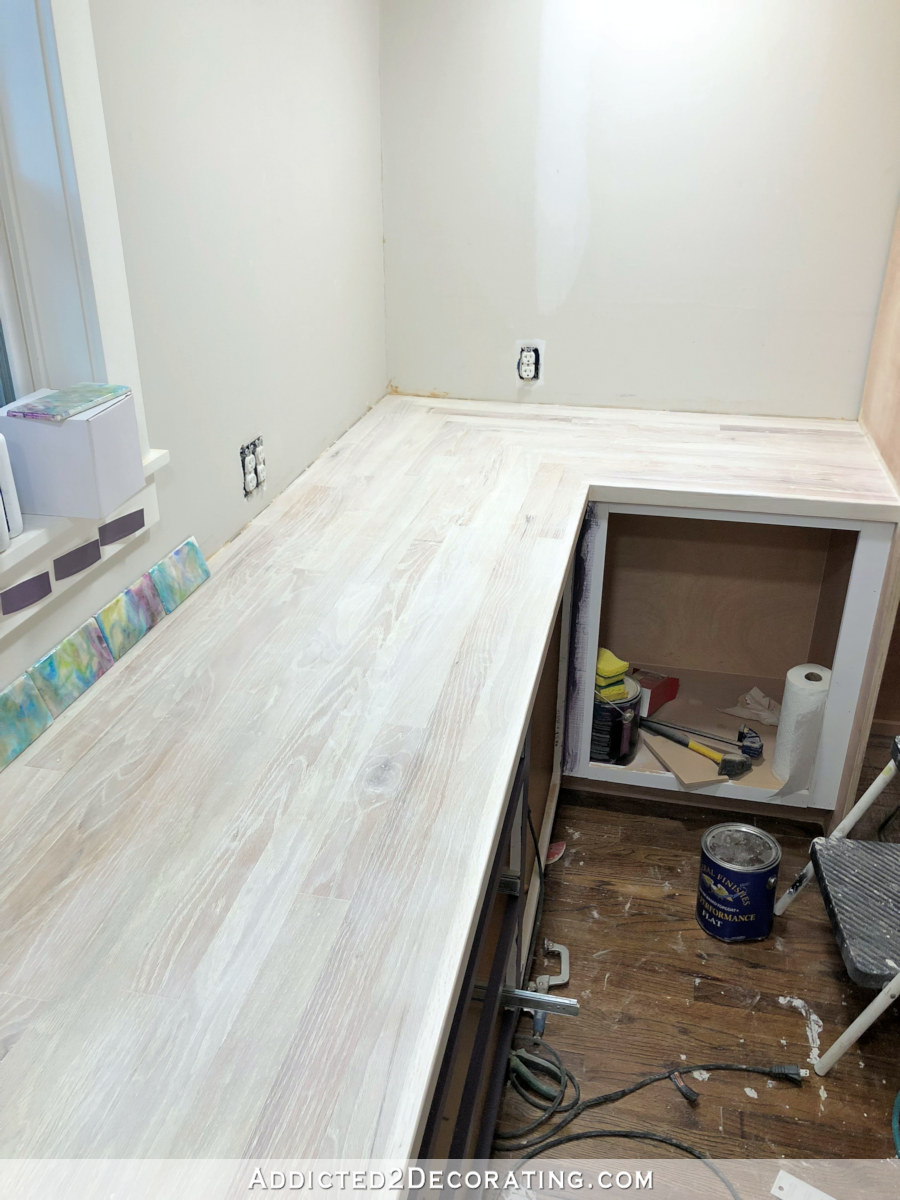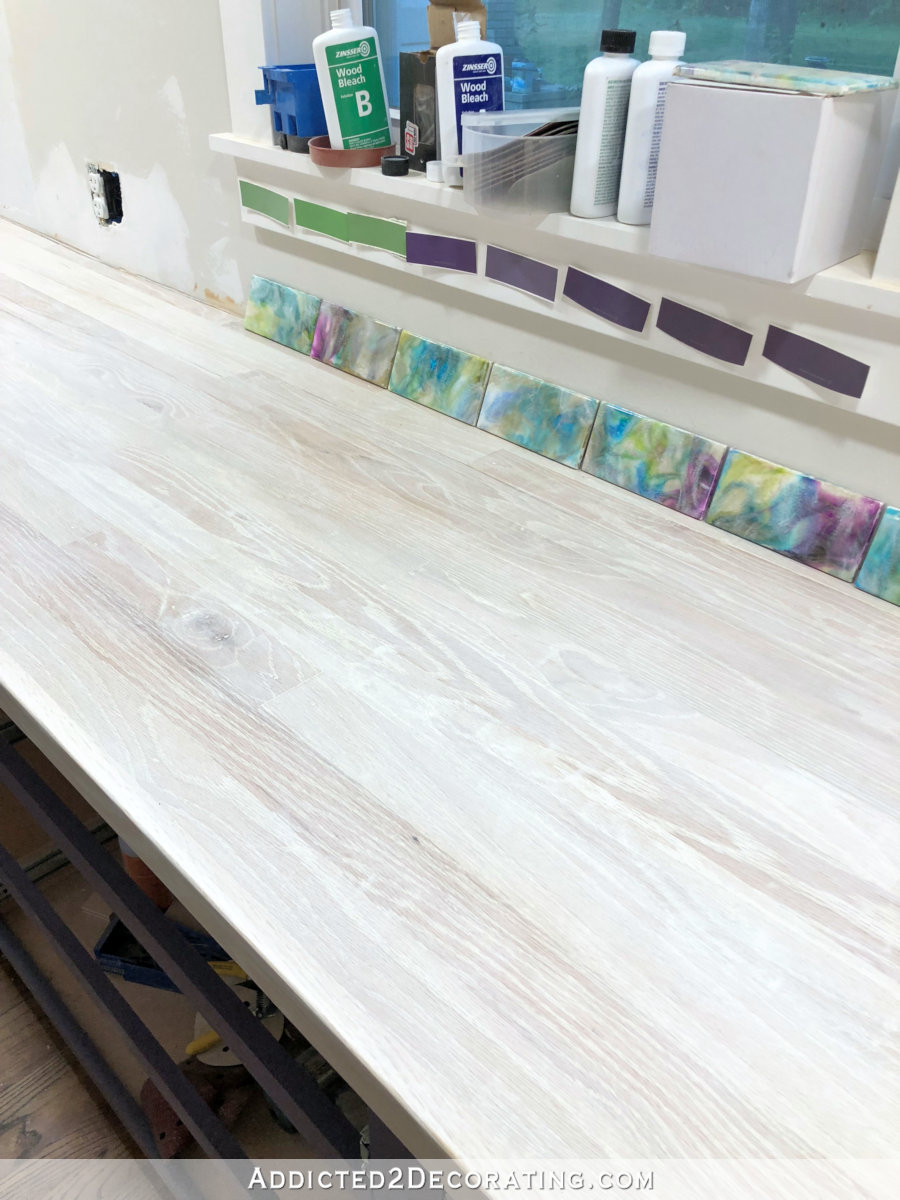 I love that it's light and bright, but there's no question that it's wood. It looks amazing with the dark purple that will do on the cabinets, and it doesn't distract from the tiles that I'll use on the backsplash.
This was quite the process, but I think it was worth it.
---
---
UPDATE:
My pantry is finished! Want to see the entire project from start to finish? You can find every single post about the pantry build right here…
Or you can skip to the end and see how it turned out. Here's a peek of the finished pantry…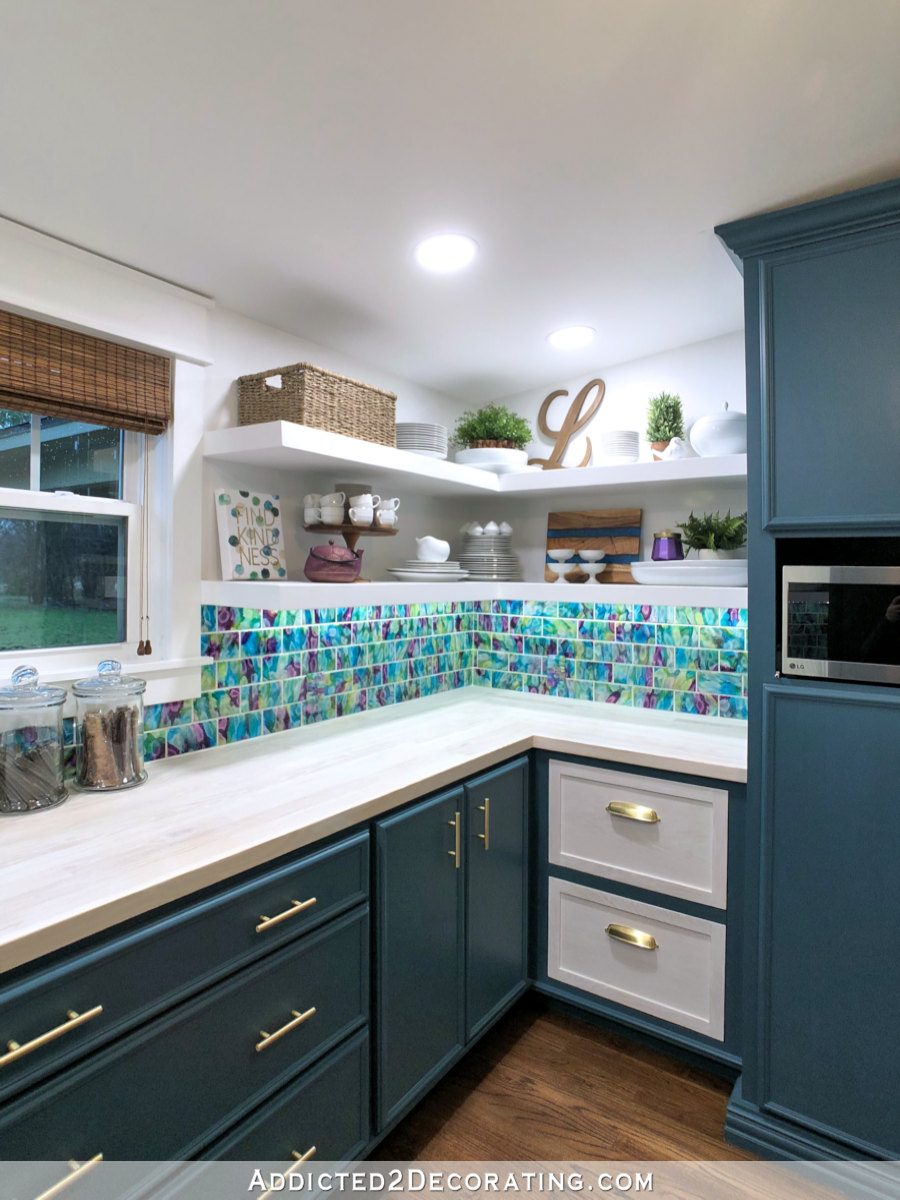 You can see more pictures on the before and after post right here…
Addicted 2 Decorating is where I share my DIY and decorating journey as I remodel and decorate the 1948 fixer upper that my husband, Matt, and I bought in 2013. Matt has M.S. and is unable to do physical work, so I do the majority of the work on the house by myself. You can learn more about me here.