Last Updated on February 14, 2019 by Kristi Linauer
I had such a hard time getting started on the pantry yesterday, and by the time I actually did get to work, I only had time for finishing up the countertop installation. The task seemed so simple. I just had to install that last row by the wall. No problem. I'd just use the table saw, rip them to size, and glue them down. Quick and simple, right?
Wrong. As with everything else in this old house that isn't straight, square, plumb or level, that back wall wasn't flat. So I couldn't just rip the boards for the last row on my table saw. Nope. I had to scribe them to the wavy wall and cut them with the jigsaw. I had never scribed a board to a wall before, so I had to first watch a few YouTube videos to get the process down, and then it was a matter of trial and error. Such a pain.
Anyway, when I finally got that frustrating and tedious job done, I declared that I was done for the day. I wanted to focus on pretty and fun things, and stay far away from any more projects that required power tools. So I decided to play with some stains and paint samples instead.
As far as my cabinet color goes, I've been going back and forth between green and purple. I was initially set on purple, then I started thinking that green might be better. But now I'm back to purple. My reasoning is that dark purple gives me color, but it doesn't fight for attention. It kind of fades into the background as a secondary character and allows the brighter and more colorful characters (i.e., the tiles) to be the star of the show.
Green, on the other hand, is an attention-seeker. Unless I went with a really deep, dark green (which I generally don't like), there's no fading into the background for green. It's bold, up front, and in your face.
It's just too much. So I'm back on the purple bandwagon.
I also tested out the same dark teal that I have on my living room fireplace and entryway wall. It's glorious, of course. And I'd choose it in a heartbeat except that the purple looks better from the breakfast room.
I also tested out some options for the countertop. I just used whatever I had on hand to get a general idea of the direction I want to go with this countertop before I start buying new products, so I started by just using some dark walnut stain on a few leftover boards. Now keep in mind that none of these boards have been sanded, so they're all still very rough, which affects how they take stain. But you can still get the general idea.
Ummm, yeah. The straight dark walnut stain is a hard NO for me. I love my darkish red oak floors, but that's just way too dark for a countertop in a tiny room with one small window.
So then I brought out the Minwax Whitewash Pickling stain to see what that would do.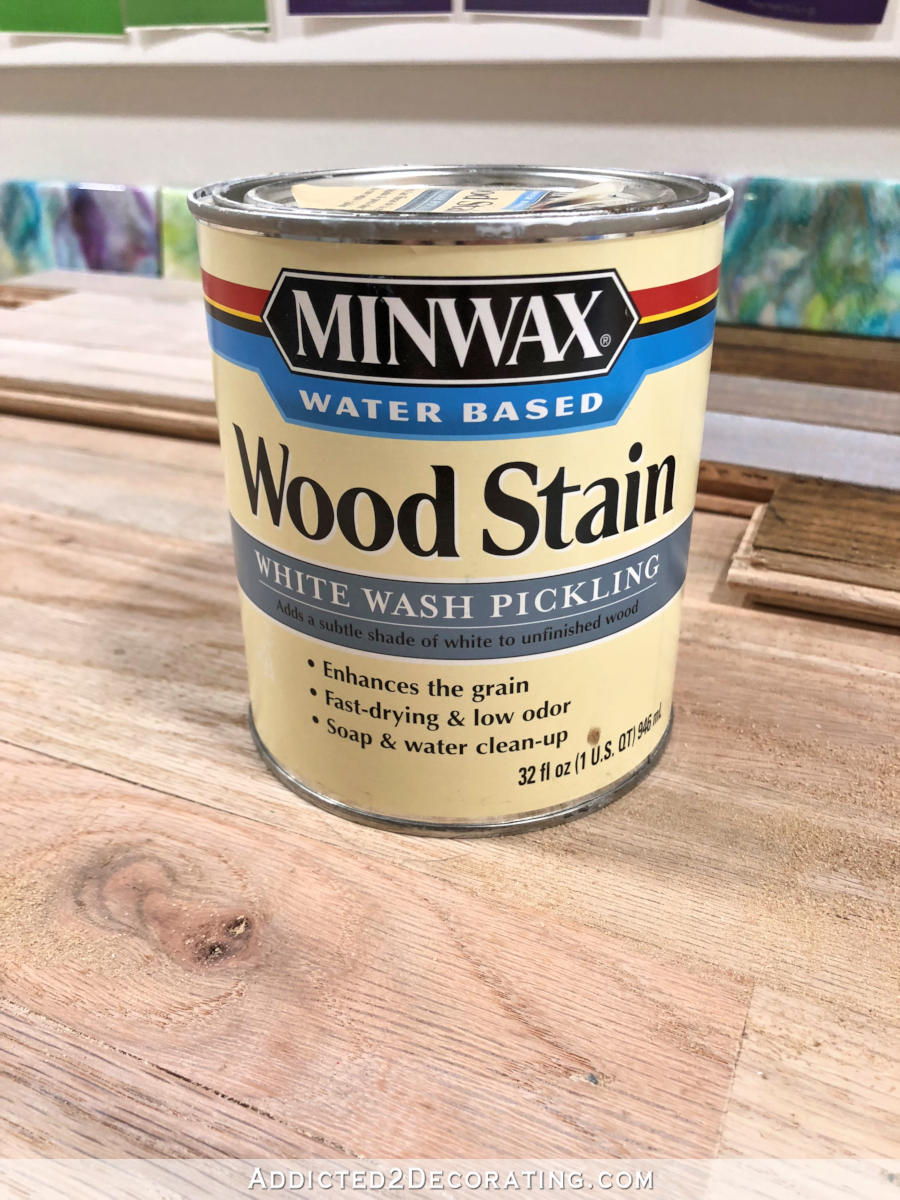 First, I tried it on the boards I had just stained. You can see the one stained board with one coat of the white pickling stain on it, and then the other just below it with two coats of the white pickling stain over it. Of those two, the one with one coat of the pickling stain is my favorite.
It's light while still maintaining a bit of warmth from the stain.
And then I tried using only the whitewash pickling stain by itself. I tried one coat on a few boards, and two coats on a few others.
Of those two options, my favorite is one coat of white pickling stain. It brightens the wood while still allowing it to look like wood. The two coats seem to basically hide the fact that there's actual wood under there.
But one characteristic of red oak is that unmistakable pinkish/orangish undertone that affects every finish you put on top of it, whether it's just a clear coat or a stain color. So after doing more reading, I've decided to try to bleach the wood before staining or topcoating it. That's supposed to help reduce or eliminate that pink/orange undertone, and since I love trying new things, I've decided to try it out. Bleaching wood is actually something I've been wanting to try for a very long time now, so I figure this is the perfect opportunity.
I couldn't find any wood bleach locally, so I ordered some on Amazon, and it'll be here tomorrow. I can't wait to test it out and see how (and if) it works. I can just picture my dark purple cabinets with a light wood countertop (with no pink or orange undertones) and my colorful tile backsplash.
---
---
Update:
My pantry is finished! Want to see the entire project from start to finish? You can find every single post about the pantry build right here…
Or you can skip to the end and see how it turned out. Here's a peek of the finished pantry…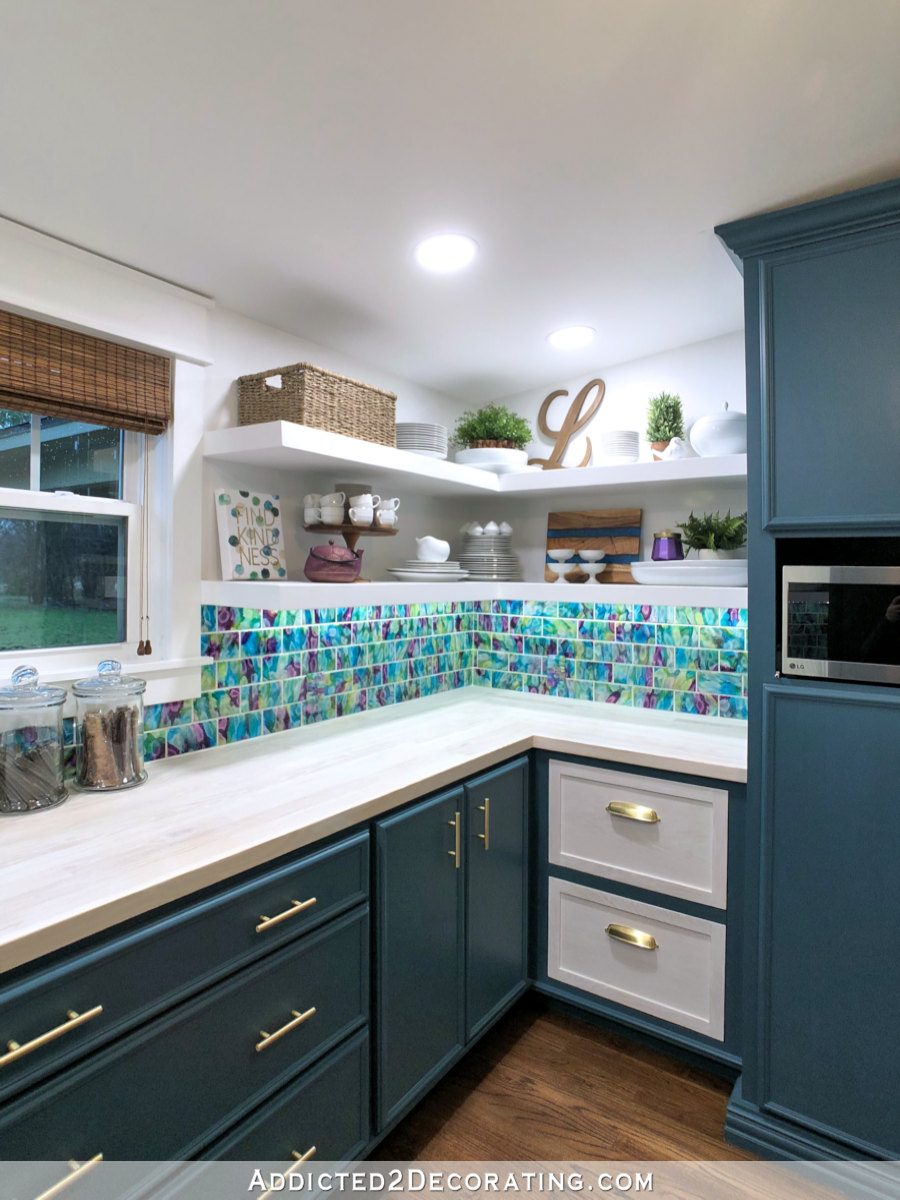 You can see more pictures on the before and after post right here…
Addicted 2 Decorating is where I share my DIY and decorating journey as I remodel and decorate the 1948 fixer upper that my husband, Matt, and I bought in 2013. Matt has M.S. and is unable to do physical work, so I do the majority of the work on the house by myself. You can learn more about me here.
I hope you'll join me on my DIY and decorating journey! If you want to follow my projects and progress, you can subscribe below and have each new post delivered to your email inbox. That way you'll never miss a thing!