My Revised (And More Realistic) Outdoor Projects Goals
Can you believe it's already September…and this month is almost halfway gone?! This year has flown by so quickly! And somewhere along the way, I seem to have lost sight of my overall master list of 2019 home goals. I've been focused on the studio for so long now (most of this year!) that other areas have been completely neglected.
As much as I'd love to have the studio finished, I also need to work around our central Texas weather. Cabinet building (which is the one last huge project that needs to be done in the studio) can be done inside and during the winter. So with cooler weather on the way, I want to be prepared to get some outdoor projects done!
Our temps generally stay in the 80s and 90s through September, but in October, we typically see some 70-degree weather at least on some days. And that's the perfect time to get stuff done outside!
I was looking over my 2019 home goals list to see what outdoor projects I had planned for this year. Here's what I had on that list…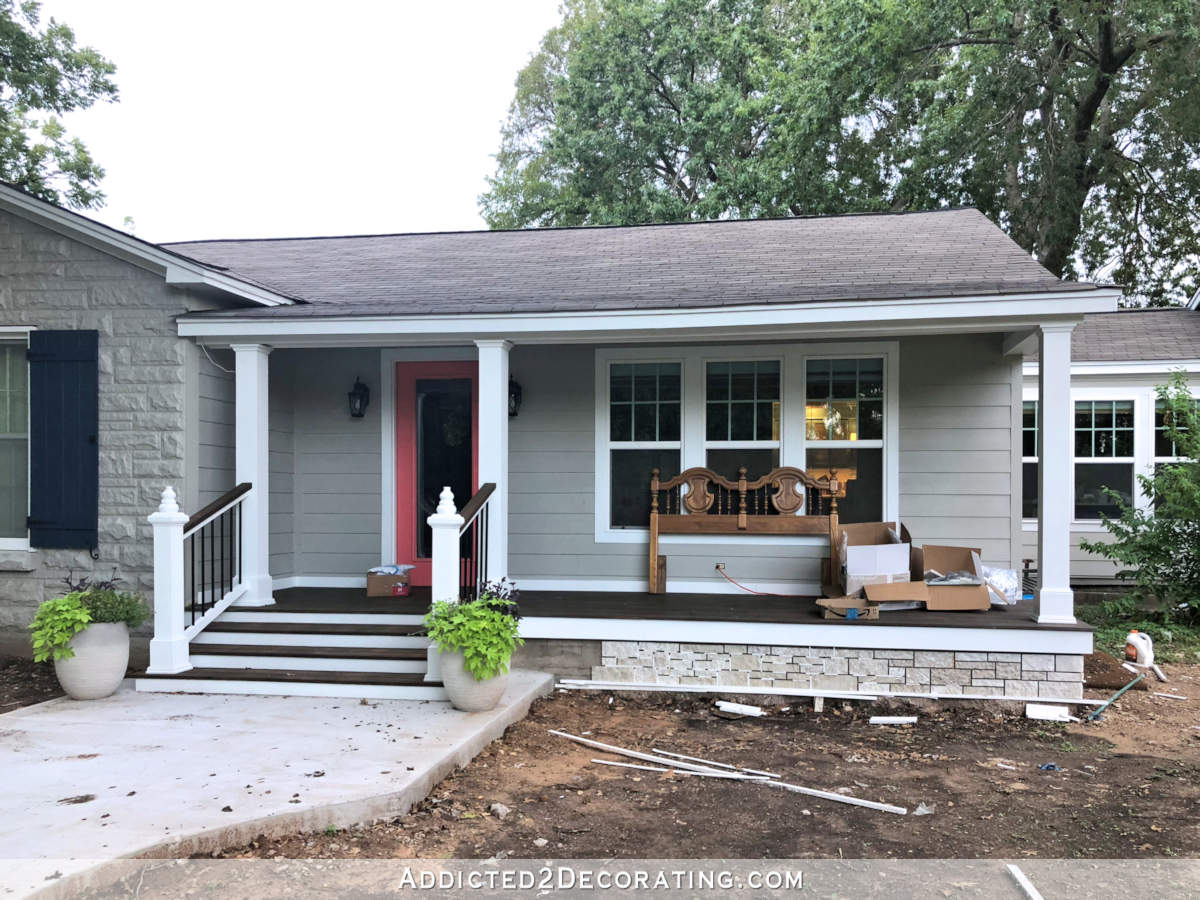 Build and install five window boxes
Add a watering system on a timer for the window boxes
Finish installing the stone around the porch and paint it
Add some chairs, small table, and possibly a swing to the front porch
Mark where planter beds will go, and at least add mulch and a few plants
Get rid of that huge plant in front of the breakfast room (it needs to be pulled up by the roots or it'll come back faster and bigger than before)
Add a water feature in the courtyard (my grand term for that tiny inset area in front of the breakfast room windows)
Lay sod, or at the very least, throw out some grass seed
Have the new driveway poured
Install lights, speakers, and outlets in carport area
Install the ceiling on carport
Paint the carport and the areas around it that have new siding
Add some landscape lighting in the front yard
That list seems a bit too ambitious this late in the year, but there are a few things on there that I'd like to tackle. And I noticed one pretty big project that somehow got left off of the list that I'd like to add.
Here are the projects I'd definitely like to do by the end of this year…
Finish installing the stone around the porch and paint it.
This is so close to being finished!! I have all of the stone, adhesive and paint. I'd just need to buy some mortar (since I installed mine with spacing between the stones), so finishing this up could be a relatively quick and cheap project.
Get rid of that huge plant in front of the breakfast room.
This thing has taken over. It basically fills up almost the entire area that I refer to as a "courtyard" in front of the breakfast room, and I would guess it's at least nine feet tall now. I've cut it down at least two or three times now, and it just keeps coming back faster and bigger each time. So it definitely needs to be pulled up with a chain and a truck, or I need to find some way to actually kill the roots this time.
Build the steps to the side door on the studio.
I can't believe that this didn't make it on my original 2019 house goals list. This seems to be the door I use almost exclusively now, since it's so convenient to park right next to that side entrance and go in that door. For the first year after that door was installed, I didn't use it much at all because it was just a big step down onto dirt. Then when we had the carport built, I had them pour this little concrete pad by the door…
…and there are just three cinder blocks there for a step. (And, of course, the framing around the concrete pad is gone now.)
So now that this is my main entrance into the house, I'd like to have something a little more comfortable and convenient than cinder blocks to stand on while trying to unlock that door.
I want to build steps that will match the steps I built on the front porch…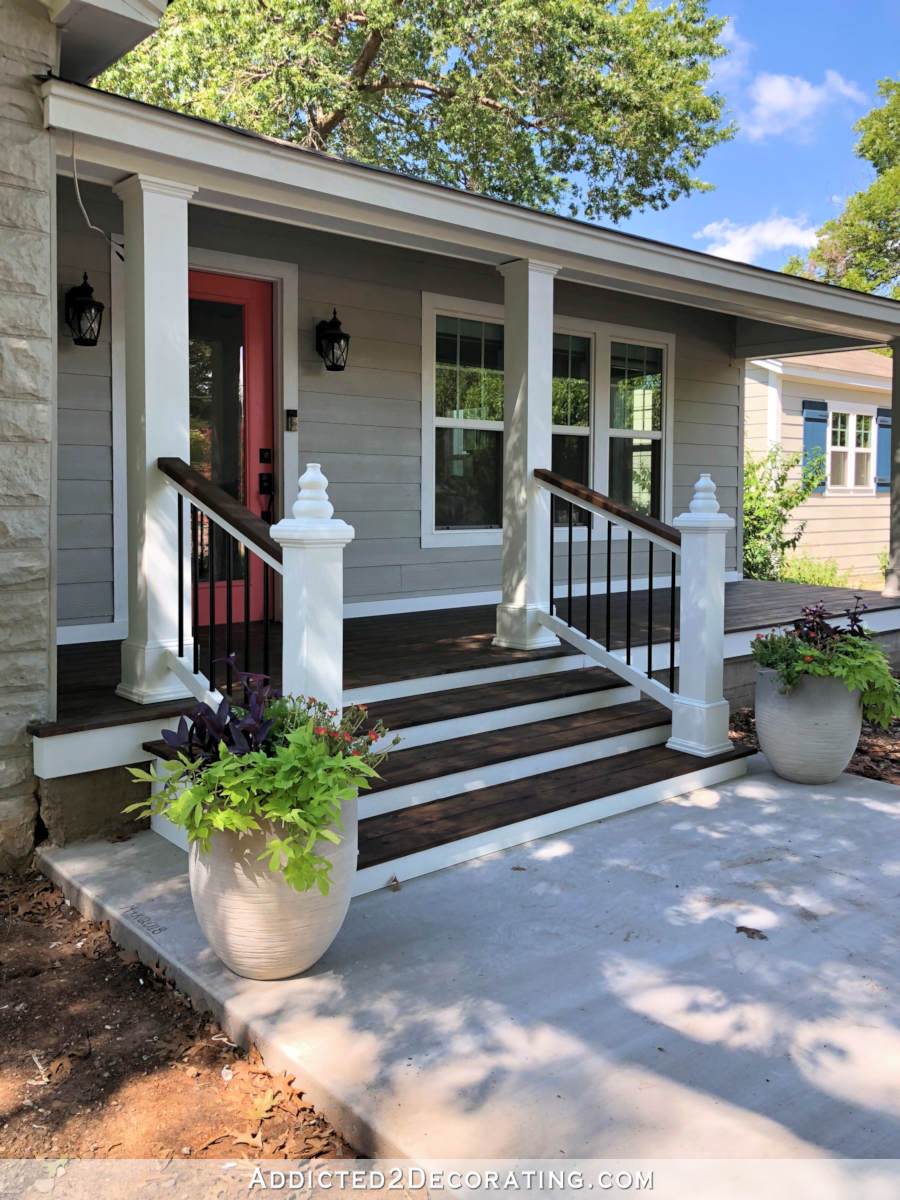 If you missed that project, you can find the detail here…
I want the side steps to look pretty much exactly the same — white newel posts, risers and railings, stained cedar steps and handrails, and black balusters. The only difference is that the side steps won't have ice cream cone finials. 😀
So those are the three main projects I hope to get done this year. If time and circumstances allow, I'd like to add two more…
Build a pergola above the breakfast room windows.
I've wanted to do this project for a very long time now, and have just never found the time. But I want a pergola similar to this one that I can grow a pretty vine on above those breakfast room windows. I don't have a new picture of this area (and it wouldn't do any good to take one since the massive tree has overtaken the area anyway), but you can see the inset "courtyard" area with the three breakfast room windows to the right of the front porch here…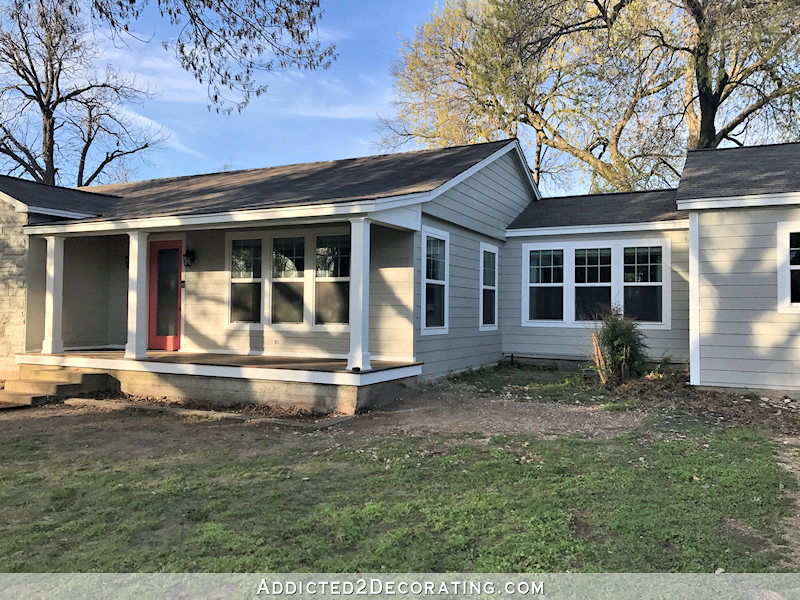 I think a pergola above those windows with some pretty vines would add so much to that area.
And finally…
Build and install five window boxes.
This is another project I've wanted to do for a long time, and I even purchased the little corbels for the boxes about a year ago. They're just sitting in a box in the sunroom waiting for me.
But I have a sneaking suspicion that this will have to wait until the spring. Two of the windows where the window boxes will go are being replaced during the Phase 1 bedroom/hallway remodel. If you missed that, you can read about it here…
So the timing of the window box project will depend on when those new windows are installed. I won't get my hopes up, and I won't be too terribly disappointed if that has to wait until next spring.
But for now, the porch stone and the side steps are my main outdoor priorities. Those two things barely make a dent in my original list of outdoor projects that I had planned for this year. But if I can get those two finished, I think they'll go a long way towards making the front of the house look finished.
Now, fingers crossed for cooler weather soon. 🙂
Addicted 2 Decorating is where I share my DIY and decorating journey as I remodel and decorate the 1948 fixer upper that my husband, Matt, and I bought in 2013. Matt has M.S. and is unable to do physical work, so I do the majority of the work on the house by myself. You can learn more about me here.