DIY Edge Grain Plywood Herringbone Coffee Table
My living room coffee table is finished! Y'all, this might be my favorite thing I've ever built. If not my favorite, it's definitely in my top five. Here's how it turned out…
Isn't that pretty!? And it's plywood! Not just plywood, but the edge grain of plywood. As in, the part that most people generally try to cover up. But instead of covering it up, I made it the feature of this coffee table. Here's a video of the process…
You'll have to give me a little grace with that video. I waited until yesterday to do my narration, and of course, I woke up with a cold. I couldn't breathe out of my nose at all, and I had watery eyes, constant sneezing, and a sore throat. It was like Monica Geller in The One with Rachel's Sister (a.k.a., the one where Monica was sick) narrating a video. But in the end, it all worked out fine…d. Fine…d. (It's a really hard word to say!) 😀
And by the way, if you're ever wondering about my tool and product recommendations for DIYers, you can see what I use and recommend in my Amazon Storefront. Click here to find that. When you're there, you'll find three different categories for now (I may be adding more in the future). So for this project, you'll probably want to click on the Tools & DIY Products to see the specifics. Lots of my choices would make great gifts for DIYers as well!
Anyway, this was a very time-consuming project since I had to glue and nail over 550 plywood pieces for the top (and that's for a relatively small coffee table), but there's nothing particularly difficult about this build. If you have lots of patience and moderate building skills and confidence with power tools, you can totally do this! Let me show you how I did it…
I started with one full sheet of birch plywood. I had Home Depot cut it down into manageable pieces for me (about 12-inch-wide pieces), and then I brought it home and cut those pieces into strips that were 1.5 inches wide.
Then I cut those strips into 3-inch pieces.
Since I had to cut so many pieces (over 550 pieces), I clamped a scrap piece of MDF to my miter saw so that I didn't have to measure each piece before cutting. This process actually went much faster than I had expected.
As I cut the pieces, I placed them on my work table in a herringbone design.
This was the only way I could determine how many pieces I'd need to make a table the specific size I needed. I tried to do math to figure it, but kept coming up with the same obviously wrong answer that I'd need four SHEETS of plywood for the top. 😀 I knew that couldn't be right. Clearly I was making some errors in my calculations (good thing I never wanted to be an engineer), so this way just seemed easier. As it turned out, I needed about 2/3 of a sheet of plywood.
Once I had enough pieces for my table top, I sanded each piece by hand.
The reason I did this is because even though I had a brand new fine tooth blade on my saw, it still left those hairy wood fibers everywhere. And those got in the way of the pieces fitting really snug up against each other. I wanted to assembly to be as easy as possible, so I decided a little extra time (or two hours) of sanding would make things easier later.
To start the herringbone design, I made a series of "L" shapes using pairs of wood pieces. I glued and nailed these together using 1.5-inch 18-gauge nails. Then I glued and nailed those "L" pieces together until I had a row of them long enough for the width of my table.
I wanted the finished width of my table to be about 18 inches, and since a herringbone design leaves jagged edges that have to be cut down, I made each row about 24-26 inches. I just measured as I went along to make sure I had enough area in the middle (minus the jagged edges) for my table.
On the subsequent rows, I made sure to glue and nail each piece into the edge of the piece on the previous row, as well as into the face of the piece on the current row. In the video of this build, I show what happens when you fail to nail the pieces to the ends of the pieces in the previous row. Spoiler alert: Everything falls apart. 😀 Which should have been obvious to me, but somehow escaped my attention on my first attempt at building the table top.
After leaving the table top overnight for the glue to dry, I took it outside and used the belt sander with 40-grit sandpaper on it.
If I had a planer (or access to a planer that will work on something almost 30 inches wide) this would have been the time to use it. But unfortunately, I had to resort to using my belt sander. It did the job, and it did it very quickly, but that is one of my least favorite tools to use.
But then I followed up with the very pleasant job of fine sanding with my rotary sander.
With the top mostly smooth, I used my track saw guide to cut the edges. I was so afraid I'd make a mistake here and all of my hard work would be ruined, but I managed to cut the edges pretty perfectly with the Kreg circular saw guide. I was also losing daylight very quickly, but I was determined to get it done before it got too dark.
The next day, I moved on to the step that I think took this table top to the next level — routing the edges with a 1/2-inch radius roundover bit.
That was followed by lots of wood filling. If I had to do this all over again, I would have made sure that I had some full trowel wood filler on hand, and I would have troweled it onto the entire surface and edges. Plywood has LOTS of voids and cracks in it, and if you like a perfectly smooth surface like I do, full trowel wood filler is the way to go.
After that was dry, I started on my final finish sanding. I started with my rotary sander and sanded up to 150-grit, and then finished off with sanding everything by hand to 220-grit.
By the time all of the sanding was done, this thing had a super smooth finish. And I just love that rounded edge and how the design gracefully spills over the edge like that…
To finish the top, I used some clear water-based polyurethane (some that I had left over from the studio floor), and mixed in a little universal tint in white oxide. I wanted to lighten and brighten the wood, and remove some of the yellow color, without hiding the wood grain and the design. This worked perfectly.
When that was dry, I sanded with 220-grit sandpaper again, and then followed up with another coat of clear poly.
I wanted the top to be the star of this furniture build, so I kept the base as simple as possible. It consists of four legs and eight stretcher pieces, all cut from 1-inch-square lumber. This lumber started out as 1.5-inch-square (the same that I used on my studio desk), but that seemed a bit too bulky for such a small table. So I ripped the pieces down to 1 inch square on my table saw, and that seemed perfect.
This base couldn't get any easier. I simply glued and nailed the top stretcher pieces directly to the bottom of the table top, and then glued and nailed the legs to the stretcher pieces.
The I turned it right side up, and glued and nailed the bottom stretcher pieces into place.
I mean, it doesn't get any easier than that. Now I do want to emphasize that if I were building this to be used as a bench, I would add more support pieces, and I'd put everything together with additional joinery, like pocket screws. But when the glue dried on this, it was very sturdy and sufficient for use as a coffee table.
To finish the base, I taped and papered off the top, and then gave the base two coats of spray primer, two coats of spray paint, and one coat of spray clear finish. I sanded between each coat with 220-grit sandpaper so that the final finish would be as smooth as possible.
And once the paint was dry, I removed the paper and tape, and it was finished! I'm so proud of how this turned out!
I've noticed myself walking by my living room very slowly now just so that I can enjoy the view of my new coffee table. 😀
And the way that the design looks on those rounded edges is my favorite thing about this table.
By the way, if you'd like to see how a base like this would be built using pocket screws, you can refer back to my studio desk. It's almost identical in design and built with pocket screws and wood glue to be super sturdy. You can find that here…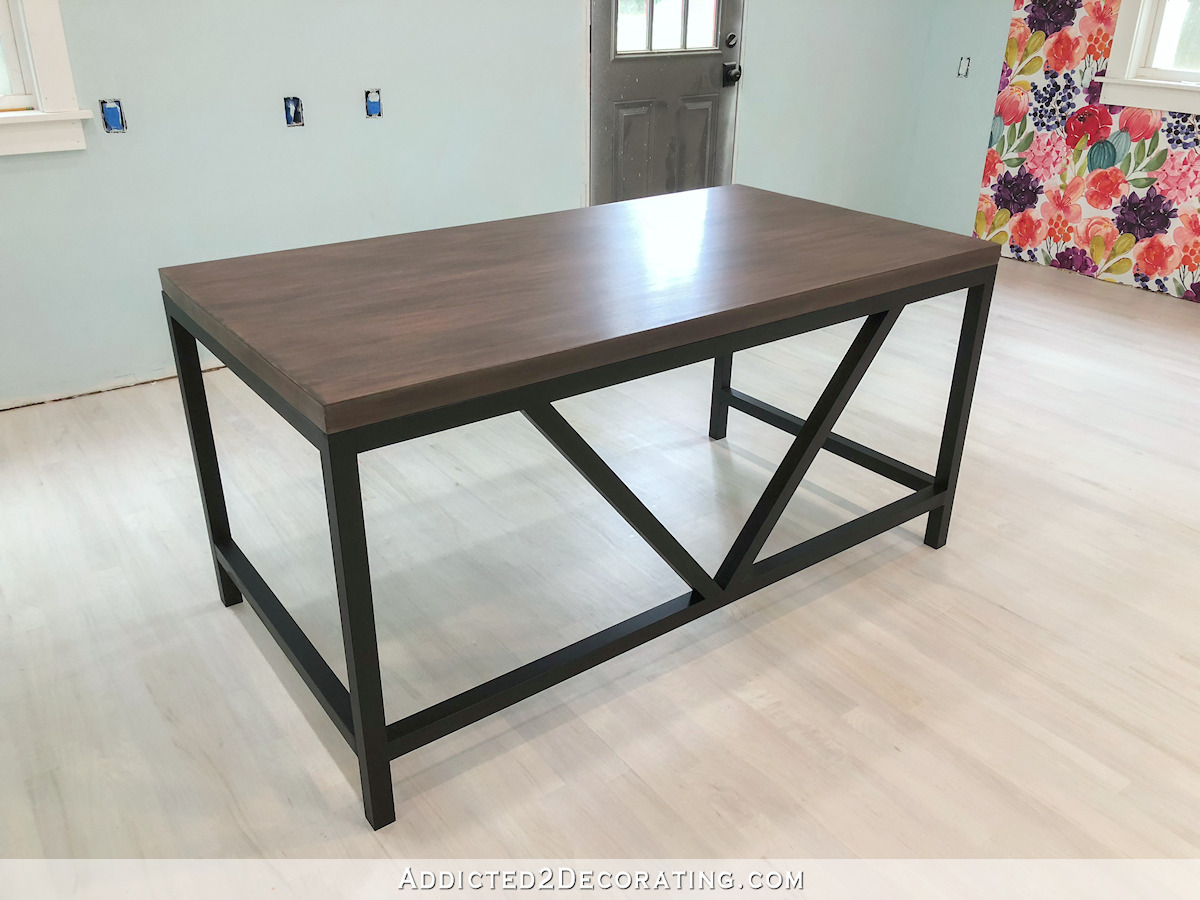 Addicted 2 Decorating is where I share my DIY and decorating journey as I remodel and decorate the 1948 fixer upper that my husband, Matt, and I bought in 2013. Matt has M.S. and is unable to do physical work, so I do the majority of the work on the house by myself. You can learn more about me here.