Very Simple DIY Console Table With Turned Wood Columns
Since I had a mid-project change of heart and decided to use my bird illustration gallery wall in the living room instead of the hallway (you can click here to see that if you missed it), I had to come up with a new idea for my hallway. I have about 50 inches of space between the bathroom door (when it's open) and the corner of the room to the left of the door, but I didn't want to do another gallery wall. I wanted something completely different.
I thought about a shelf or two, but I took down a whole wall of shelves from this hallway before any remodeling began, so putting up more shelves didn't really appeal to me. Then a couple of days ago, I came across this antiqued white console table while searching for random things on Overstock…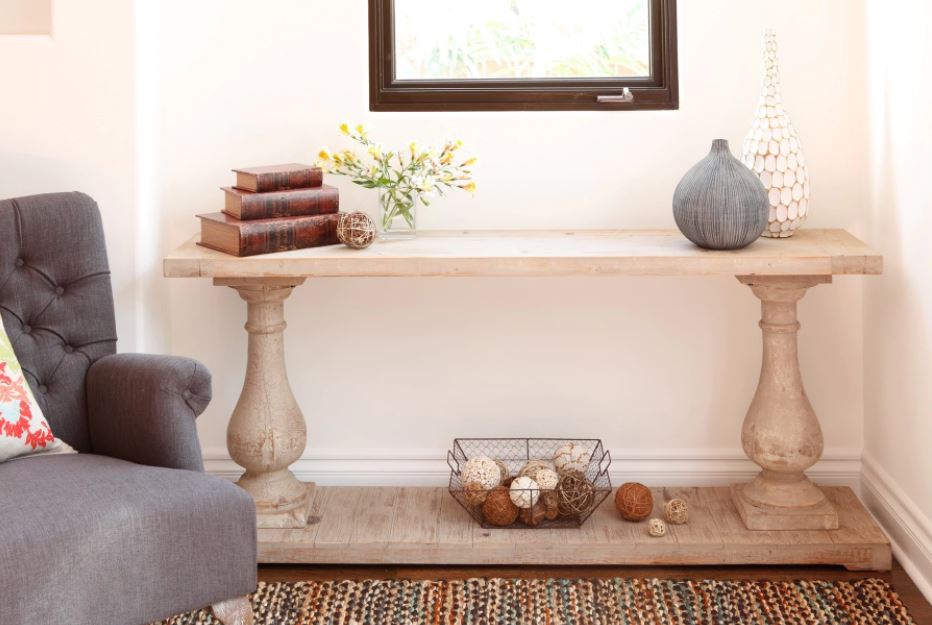 …and I thought, "I could so easily make that!"
Well, I couldn't make that exact one. Those turned columns alone would be hard to find and would cost quite a bit on their own. But I did happen to have two turned wood columns in my stash of stuff just ready and waiting to be used. I know you're thinking, "Who the heck just happens to have two turned wood columns on hand in their stash of stuff?"
These are actually two columns that I had left over from my kitchen remodel in 2014. My original plan for my kitchen needed four columns, and then somewhere along the way, I changed my plan and ended up only using two of the four on the wall of cabinets…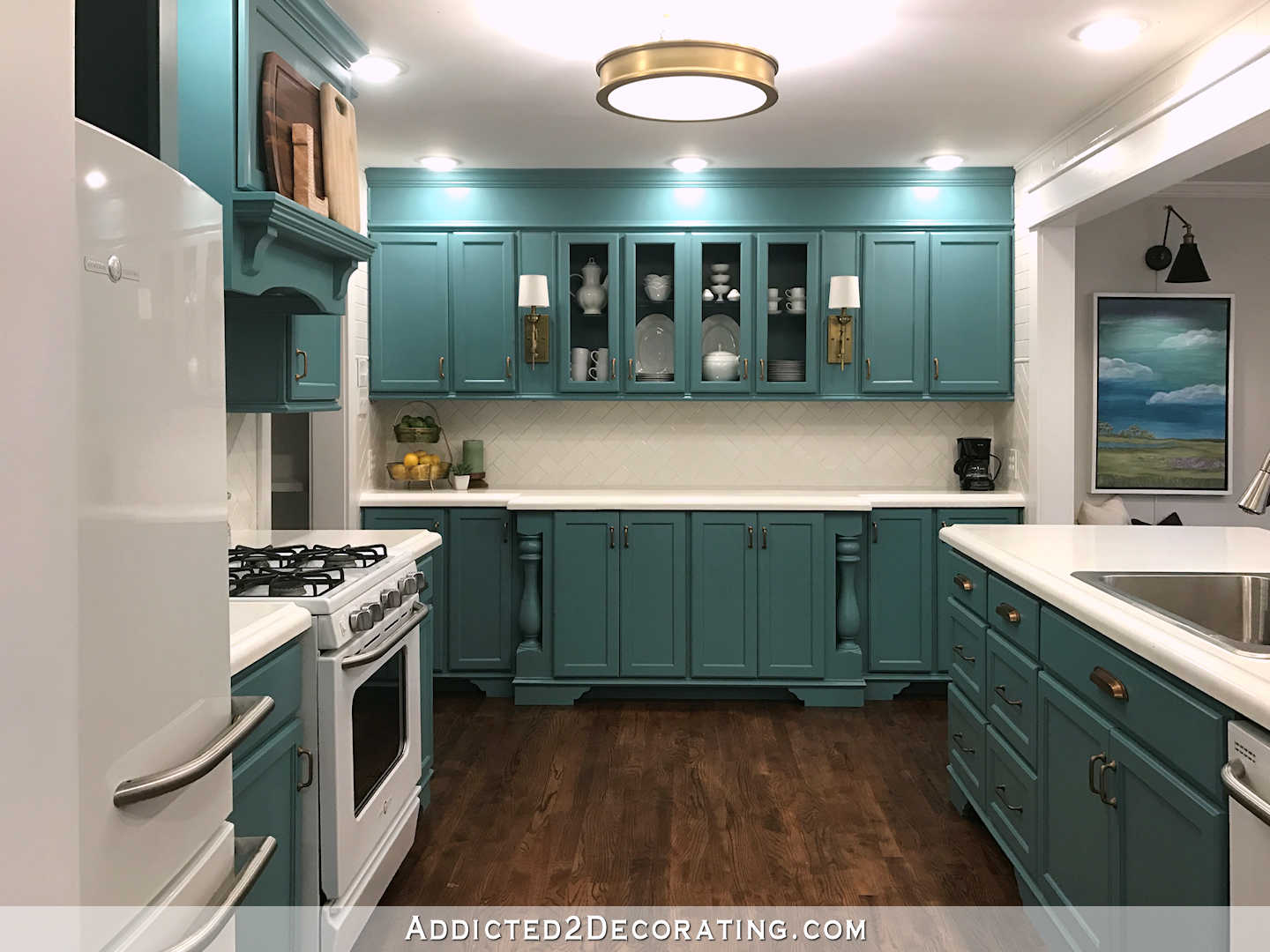 So I've had those two extra columns stored away, just waiting for a bright idea to come along. This idea is exactly what I've been waiting for!
I based my design on the Overstock console table, scaled it way down to fit my very small space, and added my own touches to it. This is what I ended up with…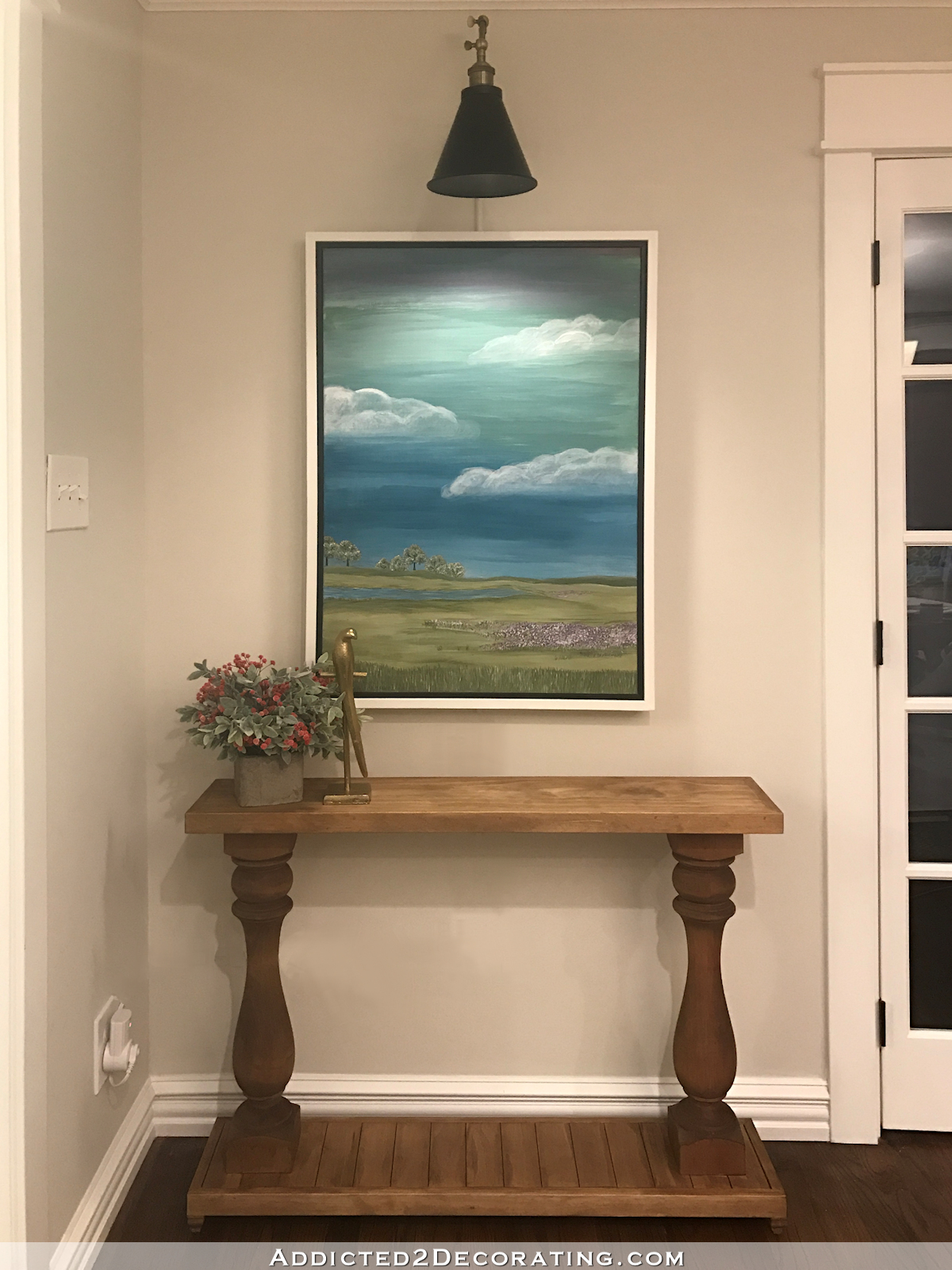 The finish still needs work. I'm actually not sure if I'm going to leave it stained or paint it. I'd love to leave it stained if I can get the color right. Right now, it's a little too orange for my taste.
And it is going in the hallway, but I put it here in the breakfast room temporarily to show (both myself and you) what it'll look like with artwork above it, since that's the plan in the hallway. But I don't have artwork for the hallway just yet.
Anyway, let me show you how I made this. And of course, it can be scaled to any size you need. I needed mine small, so the finished measurements are 40″ long, 30″ tall, and 8.5″ wide.
I started by making the top, and I just used a 1″ x 8″ piece of lumber cut to 38.5″ wide. Keep in mind that a 1″ x 8″ is neither 1″ thick nor 8″ wide. 😀 It's 3/4″ thick and about 7 3/8″ wide.
Next I used 1″ x 4″ lumber to "frame" the top piece, mitering those pieces on the corners and attaching them with 1.5″ 16-gauge nails in my nail gun.
Here's a look at the whole top with all of the edges framed…
Then I loaded that thing up with wood filler (I'm very messy and very generous with the wood filler usage 😀 ) in all of the cracks, crevices, corners and nail holes, and then set it aside to dry while I moved on to the bottom.
For the bottom shelf, I didn't want a solid piece like the top shelf. So I left out the center 1″ x 8″ piece of lumber, and just made a frame out of 1″ x 2″ lumber, cut to the exact same size that I used for the top shelf. I put the pieces together using 1.5″ 16-gauge nails on the corners.
Next I took some scrap 1″ x 2″ lumber, cut to fit the inside length of the frame, and ripped them into narrow pieces using my table saw. Then I nailed those pieces to the inside of the 1″ x 2″ frame with the bottom edge flush with the bottom of the frame, and making sure that the 3/4″ edge of the ripped lumber was the edge that I placed against the inside of the 1″ x 2″ frame.
And then I cut some pieces of 1″ x 3″ lumber to fit inside the frame, resting on the ledges that I created in the step above. I started by measuring and marking the center, and then placed and nailed the center 1″ x 3″ piece, and then worked my way out towards each end. I used some 16-gauge nails as spacers between the boards.
Here's how it looked when it was all assembled. The spacing didn't work out perfectly on the right end, but that's okay. 🙂
I wanted to add some little decorative feet to the bottom shelf, so I searched Home Depot for something that might work, and came across these corner pieces that are made to make baseboard installation easier and add a decorative touch to your trim. (These allow you to bypass having to make any mitered cuts while installing baseboards, and I found them on the aisle with the baseboards and other mouldings.)
I used my miter saw to cut off just the decorative part, and then used wood glue to attach one to each corner of the bottom shelf.
With all of the feet attached (I gave it about 15 minutes to let the glue set and then handled it carefully while it continued to dry), I loaded up the bottom shelf with wood filler. I tried to be careful not to get the wood filler between the slats, but I did wood fill where the slats met the outside frame, as well as the nail holes, corners, etc.
I let all of the wood filler dry (about an hour) and then sanded both the top and the bottom shelves smooth using 150-grit sandpaper discs on my rotary sander. On any areas where the wood filler did get in between the slats, I just used my 16-gauge nails (that I had used as spacers) to dig out the wood filler. It worked perfectly.
I cut my columns down to the right height using my miter saw, and then I was ready for assembly.
I simply measured and marked for placement of the columns. I wanted the columns to be the same distance from the edge on three sides. After getting it perfectly lined up and tracing around it with a pencil, I removed the column…
…put wood glue in the square, and then placed the column back and lined it up with the pencil marks. And then I repeated that on the other side.
For the top, I placed wood glue on the top of the columns, set the top in place, used my tape measure to make sure it was centered, and then shot one 18-gauge nail through the top into each column to hold it into place while the glue dried.
And here's the console table completely assembled.
I think that wood glue is strong enough to hold the table together on its own, but I will probably go back and put two screws going through the bottom of the lower shelf and into the columns, predrilling the holes first so that I don't take a chance at splitting the wood on the columns, just to be on the safe side.
Since the shelves and feet are pine, and the columns are maple, I didn't apply the stain in the regular way. I hoped to make the stain a little more even, so I mixed some stain (dark walnut) into my oil-based polyurethane and brushed it on.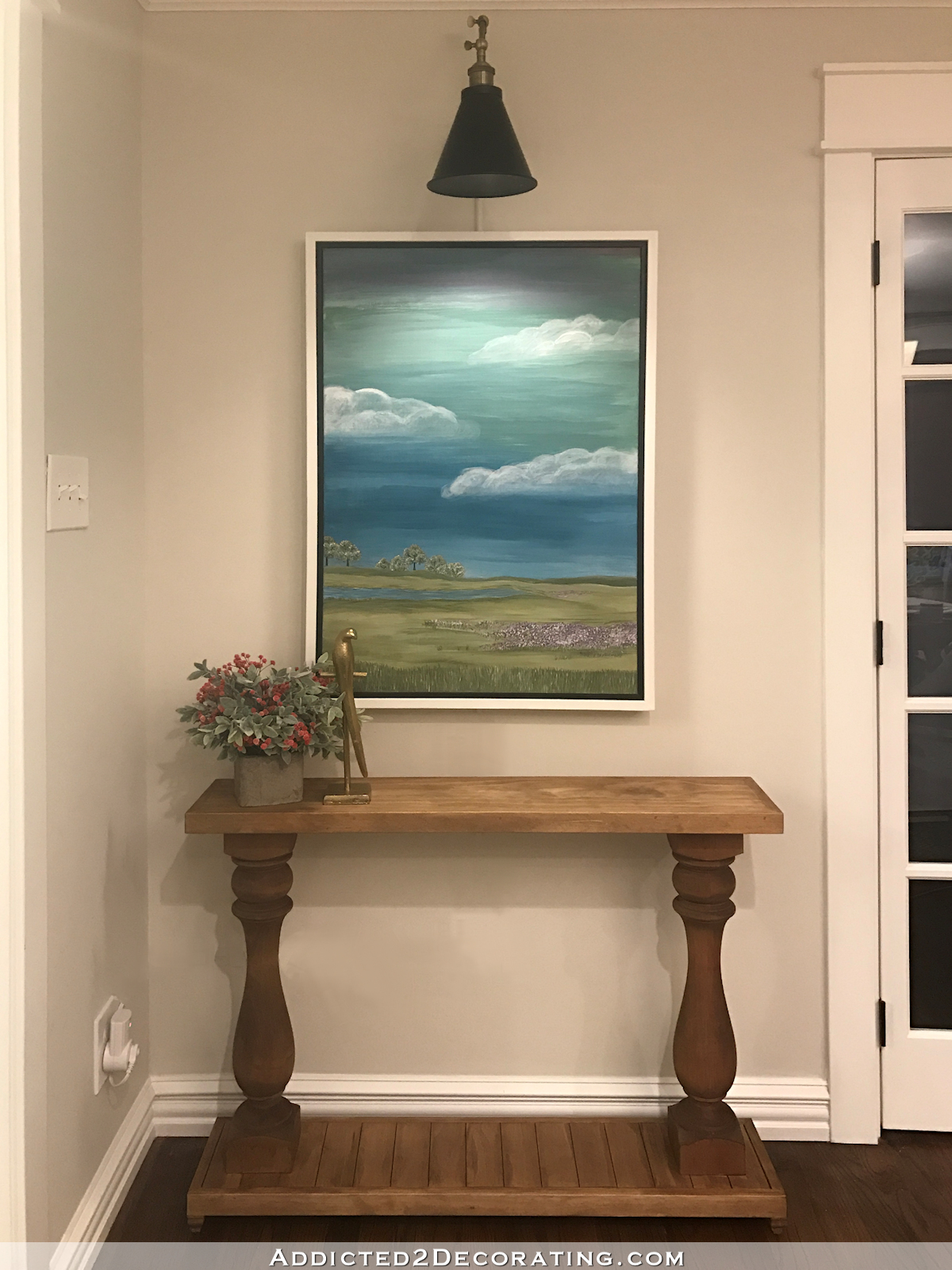 That actually worked pretty well, and I think if I were to brush one more coat of the stain/poly mix onto the shelves and feet, they would be a very close match to the columns.
But I'm going to hold off on that for now, and I'll make a decision once I get my artwork situation resolved. I have an idea for what I want hanging above this console in the hallway, but I'm having a hard time with the execution. Once that gets resolved and I can see the artwork on the wall, I'll have a better feel for the direction the color of this console needs to go, or if I just need to paint it.
Now I'll admit that this project isn't really a cheap project if you don't just happen to have some turned wood columns lying around the house. Those columns can get expensive. The ones that I used are currently $115 each in maple, and that's the cheapest wood species available in that design.
But this is such a simple project, and can be so easily scaled up or down for any space you need to fill, so don't write it off just because of the price of turned wood columns. One alternative to buying new columns is to keep an eye out at your local consignment stores, ReStore, Goodwill, Salvation Army Store, etc, for a piece of furniture that has wood columns or really chunky turned wood legs that you can disassemble and use. So often I see pieces in those stores with gorgeous turned wood legs or columns, and the price for the piece of furniture (that can be disassembled for the parts) is a fraction of what brand new turned wood legs or columns would cost.
Another idea, for those of us who don't own a lathe and aren't master wood turners, is to build a simple square wood column out of regular lumber and trim. To get an idea of how to do that, check out my pony wall and columns project from a few years back. I couldn't afford fancy turned wood columns for that project, so I improvised and built the columns with lumber and trim, and I think it turned out great! The same idea could be used for a table like this.
Addicted 2 Decorating is where I share my DIY and decorating journey as I remodel and decorate the 1948 fixer upper that my husband, Matt, and I bought in 2013. Matt has M.S. and is unable to do physical work, so I do the majority of the work on the house by myself. You can learn more about me here.