Last Updated on October 11, 2012 by Kristi Linauer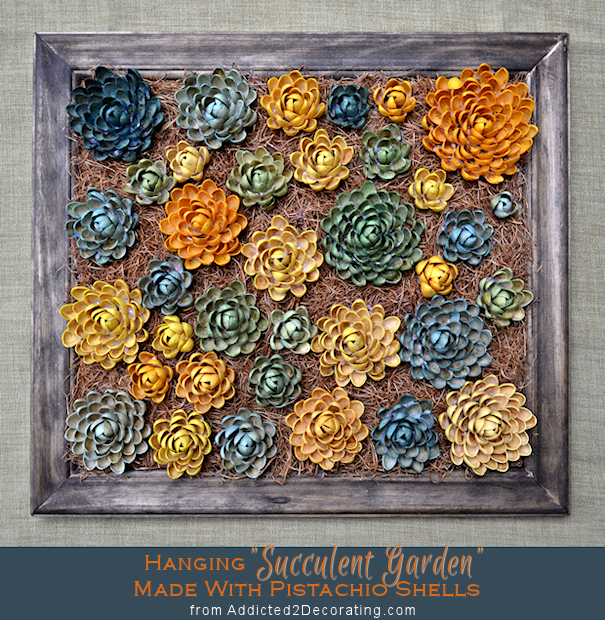 Yesterday I was torn between making a piece of artwork to hang on the wall with my pistachio shell flowers, and a wreath for my front door.  So, I ended up making a piece of artwork that is currently hanging on my front door in lieu of a fall wreath.  It's the best of both worlds!  😀
It's dark and rainy outside so I didn't get the best pictures this morning.  For now, these will have to do.  I have the best intentions of getting better pictures when the weather clears up, but in reality, you probably shouldn't count on it.  🙂
There are lots more pictures at the end, but let me show you how to make this hanging succulent garden.
If you make one this big, you'll need lots and lots of pistachio shells.  I saved the shells from five or six 8-ounce bags of pistachios.
To make the flowers, start with three shells and glue them together with your hot glue gun like this…
Now you're going to start adding shells and building out by gluing shells directly to that.  Just add hot glue around the bottom edge of the shell as shown here.
And then glue them to the first piece you made.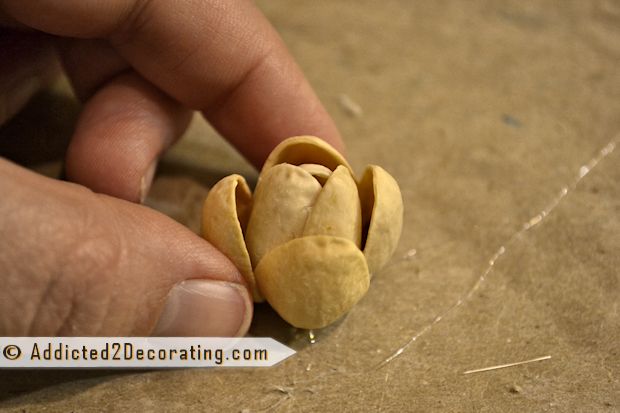 And basically, you just keep adding and building outward until you have a flower that is the size you want it.  So you're not gluing the shells to a base of any kind.  You're gluing the shells to each other.
After making several flowers, I finally realized that it was easier to make the middle section, and then add a dot of glue to the bottom and attach it to a piece of wax paper.
Then build the flower by turning the wax paper.  This keeps your work surface clear of any hot glue drips, and keeps your flower from sticking to your work surface.  When the flower is complete, just rip off the wax paper from the bottom.
Your finished flower will look something like this…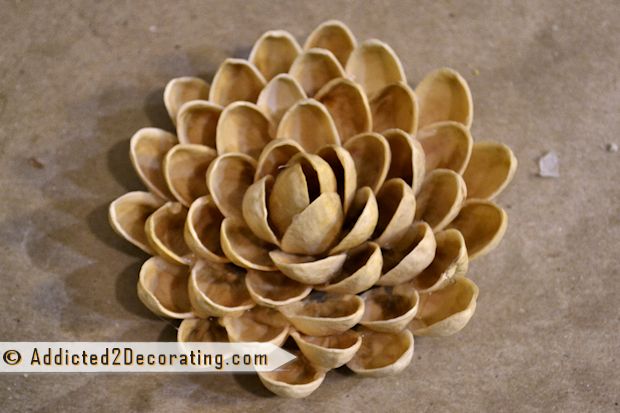 Make as many as you need to fill up your "canvas".  I just used a piece of 1/4″ plywood for my "canvas", and mine ended up being about 15″ x 17″.  Of course, it takes FOREVER to make that many flowers, so just be aware of that.  This is a good project to spread out over a few days, and just make a couple of flowers each night while you watch your favorite show on t.v.  I like to call these projects "Netflix Projects".  🙂
When all of your flowers are made and the glue is completely cooled, the flowers are ready for their dye bath.  I used powdered Rit fabric dye in four different colors, and I left the flowers in at varying lengths of time.  Obviously, the longer you leave them in, the more saturated the color.  I did have a couple of shells detach during their bath, but that didn't happen much.  My flowers stayed pretty well intact during their dye bath.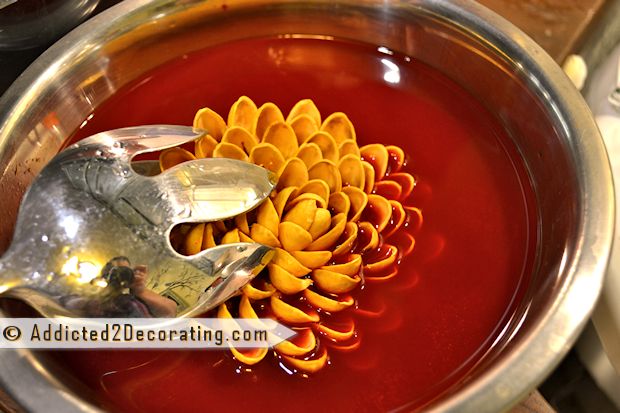 My flowers that are very light in color were left in about 30 seconds, and then turned upside down on paper towels for about 20 seconds, and then turned over (right side up) and misted with a spray bottle filled with water.  The ones that are more saturated were left in the dye bath for about three to five minutes, and then placed upside down on a paper towel for the excess to drip off, but I didn't mist those with water since I didn't want the color to get diluted.
You can see the difference in this picture below.  The flower on the top row on the right is dyed with the same teal dye as the flower on the bottom row second from the right.  The difference was the amount of time, and the water misting that the light one got after its dye bath.
With all of your flowers finished, prepare your "canvas" by gluing the backing of your choice.  I used this light brown moss stuff that I got from Michael's.  Be sure to leave the edges free since those will fit into your frame.
Now go ahead and put the frame on (I just made a very simple frame from moulding I found at Home Depot, and then stained it with Minwax Dark Walnut stain), and begin arranging your flowers.
As you do this, you might find that there are holes that need to be filled.  I ended up having to make four additional small flowers (in the top left corner) to fill empty space.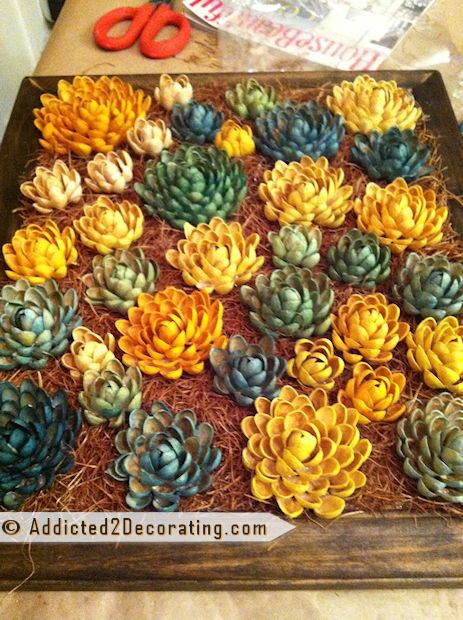 Then you're ready to hang your garden.  Because I wanted to hang mine on the front door like a wreath, and because I love big loopy, saggy bows, I cut strips from an extra canvas drop cloth, and dyed it with some of the leftover yellow dye that I had used for the flowers.
I just love these little flowers.  At a glance, they really do look like they could be real succulents (which I realize aren't flowers)…until you realize that these succulents don't come in bright orange, teal, and yellow.  🙂  And my green is even off.  But that's okay.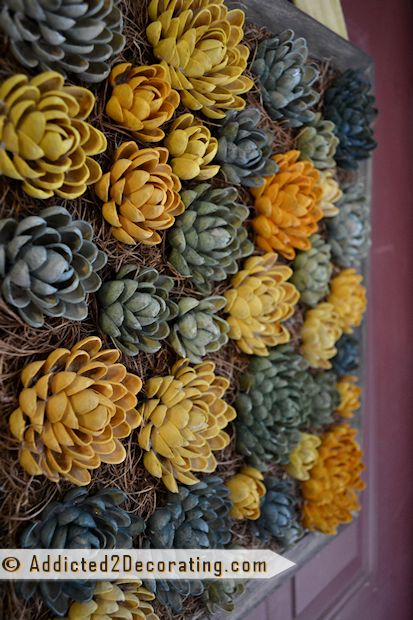 This one is my absolute favorite.  It got a bath in the teal dye for about 30 seconds, and then got a pretty good shower with the spray bottle.  I love the subtle aqua color.
I'm very pleased with how my little "succulent garden" turned out.  The best thing is that I won't be able to kill this one!!  That's the best kind of garden ever!
Addicted 2 Decorating is where I share my DIY and decorating journey as I remodel and decorate the 1948 fixer upper that my husband, Matt, and I bought in 2013. Matt has M.S. and is unable to do physical work, so I do the majority of the work on the house by myself. You can learn more about me here.
I hope you'll join me on my DIY and decorating journey! If you want to follow my projects and progress, you can subscribe below and have each new post delivered to your email inbox. That way you'll never miss a thing!