Testing Five DIY Resin Tile Ideas For Our Master Bathroom
Y'all know me so well. 🙂 Some of the comments on yesterday's post about our upcoming master bathroom remodel made me chuckle, because while y'all were suggesting that I try to make the perfect teal resin tile, I had already been busy at work in my studio trying out a few tile ideas.
I haven't yet hit on the perfect idea, or the perfect teal color. But I did test out five different ideas, and I found one idea (quite by accident) that I absolutely love.
If you want to see all of my resin tile tests on video, you can check that out here…
Having trouble viewing that video? You can check see it on YouTube here.
So I tested five different ideas. The first three were very similar to the ideas I tried (and ended up going with) for the pantry remodel. I made my own tiles for that room, and this is how they turned out…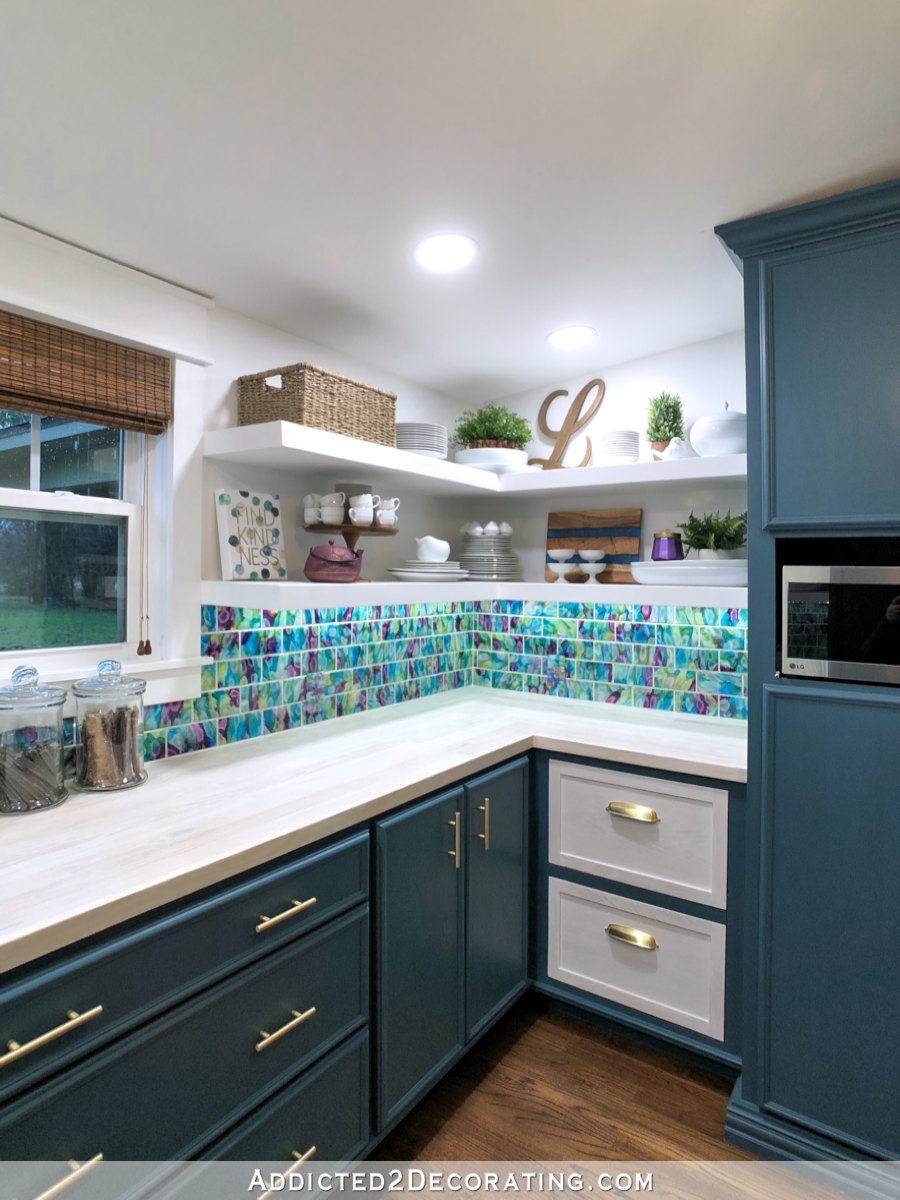 If you missed my pantry before and after, you can see it here…
For those tiles, I used blues, greens, purples, and white. They turned out crazy and colorful and bold, which I absolutely love, but they also don't cover a whole lot of wall. I don't know if I could handle that much pattern on an entire wall. And for our bathroom, the tile is going to cover one large wall, plus it may be used as accents in other places as well.
So I don't want anything too crazy for the bathroom. I mainly want to stick with teal, with possibly some white thrown in there as well.
Anyway, here are my five test tiles…
Resin tile test #1 – Blue alcohol inks dropped onto clear resin
For the first test, I used five different colors of alcohol inks in every shade of blue and blue-green I had on hand. (In the video, I said I used six different blues, but evidently I was using two bottles of the same color. 😀 ) The colors were:
Pool (Ranger)
Mermaid (Ranger)
Sailboat Blue (Ranger)
Turquoise (Ranger)
Baja Blue (Jacquard)
I spread the clear resin over the tops of the tiles, and then dropped the alcohol inks onto the resin randomly. I wanted to cover the entire tile with drops of alcohol ink.
I failed to put those on a level surface to dry, so the inks kind of slid towards one side. But I actually thought the effect was pretty when the directions of the tiles were alternated. Obviously I'll take more care to level the tiles if I decide to do this for the bathroom.
Anyway, here's how these turned out when they were dry…
I realized almost immediately that the colors weren't quite right. There's way too much blue and not enough teal in these for my taste. So I would probably need to mix my own teal or see if I can find an actual teal in another brand of alcohol ink.
Resin tile test #2 – Blue alcohol inks and white dropped into clear resin
For the second pair of tiles, I used the same colors as above. But this time after dropping each color onto the tiles, I topped each drop with a drop of white alcohol ink.
And here's how these turned out…
Of the three tests with the alcohol inks, these were my favorite. That's not surprising, since these are the most similar to the pantry tiles, and obviously I love those.
The white gives it some excitement, while the simple palette of all blues gives them a more subdued look than the pantry tiles.
But again, those blues are too blue for me. I'd want them to be more teal.
Resin tile test #3 – Blue alcohol inks dropped into clear resin and topped with white
For the third pair, I once again used the same blue alcohol inks as above. But this time, I put all of the blues on first (just like test #1), and then added white to the top once all of the color was on.
I also used a stir stick and heat gun to swirl and marble these colors together. Here's how they turned out…
It's pretty, but I don't love it. But I can't tell if it's the marbled look that I don't particularly like, or if it's just that the colors are too blue. But as they are, they're just okay for me. Nothing special, though.
Resin tile test #4 – Resin tinted with green and blue pearl tints
For these tiles, I used ArtResin tints in Pearl Green and Pearl Blue. I had never really used these tints before, and I wasn't that impressed. I was actually pretty shocked at how much tint was required to get the depth of color, and even then, the color was still way too light for me.
And here's how they looked when they dried…
I did end up liking the subtle color variations in the tiles, but I didn't like the pearlescent look of the tints. And the tiles were way too light in color.
Resin tile test #5 – Resin tinted with green, blue and turquoise tints
For the final pair of tiles, I used ArtResin tints in green, blue and turquoise. But right off the bat, I mixed in way too much green, and then struggled to get the resin to even appear a little bit blue.
I ended up mixing more blue tint into the little bit of resin I had left, poured it on top of the green, and then swirled them around together.
This was a happy accident, and actually ended up being my absolute favorite of the five. While the color was way off, the effect of the two similar-but-different colors swirled together was just stunning to me. And I also loved the richness of the color, even though it was the wrong color. 😀 If I could get a bluish teal this dark and rich with those subtle swirls, I'd be ecstatic.
So while I didn't find the one, I think I did narrow down the look that I'd love for my bathroom. Of course, there are entire weeks between now and the time this remodel starts, and y'all know how I change my mind. 😀 But it's fun to play and dream and create.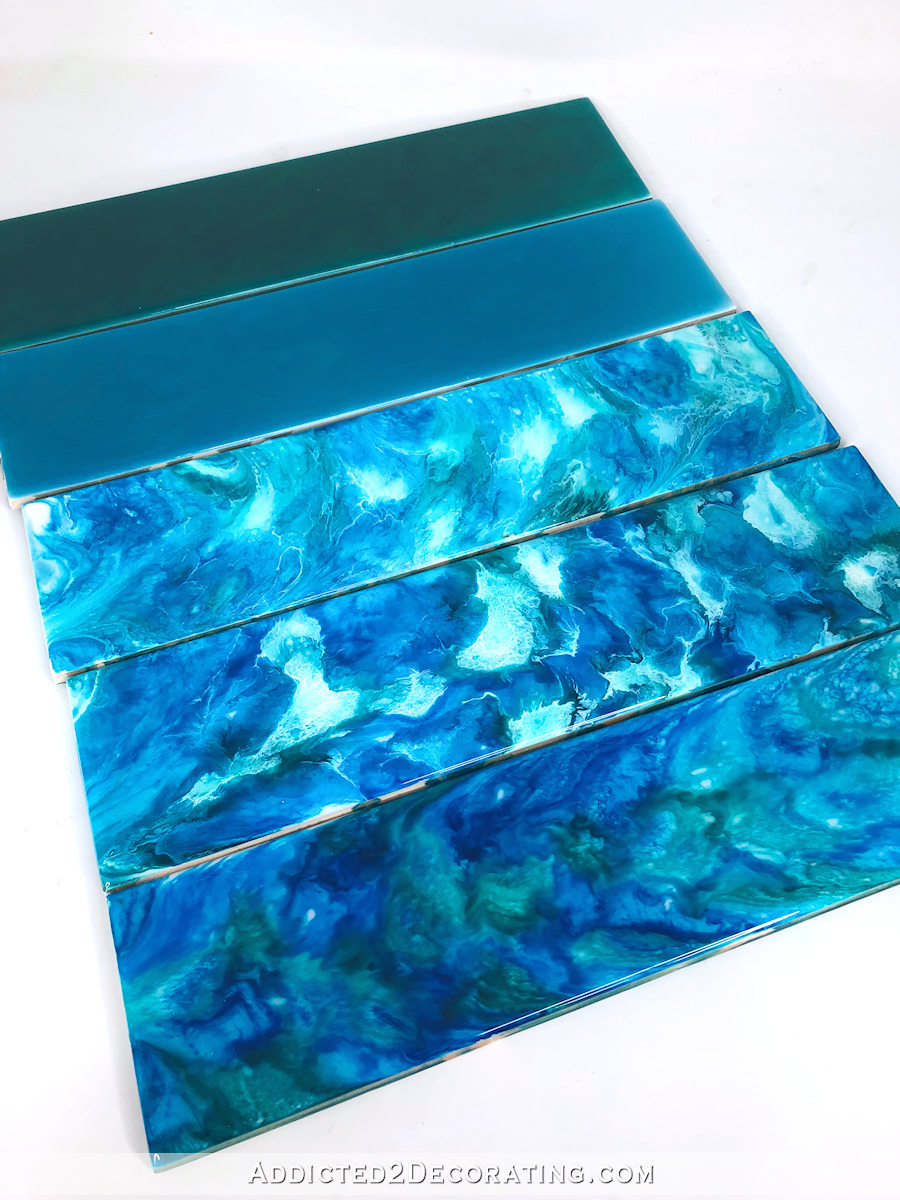 Addicted 2 Decorating is where I share my DIY and decorating journey as I remodel and decorate the 1948 fixer upper that my husband, Matt, and I bought in 2013. Matt has M.S. and is unable to do physical work, so I do the majority of the work on the house by myself. You can learn more about me here.