DIY Hand Drawn Floral Line Drawing Wall Mural (Part 1 – Progress)
*This post contains affiliate links.
It took me a few starts and stops and changes of plans, but I finally landed on a wall design for the guest bedroom that I love! I ended up doing a DIY floral line drawing wall mural. It's hand drawn, but here's the secret. It's incredibly easy because I used an overhead projector to project the design on the wall, and then just traced it onto the wall.
First, let me show you the progress I've made so far, and then I'll go back to the beginning and show you the steps. So far, here's how the wall looks…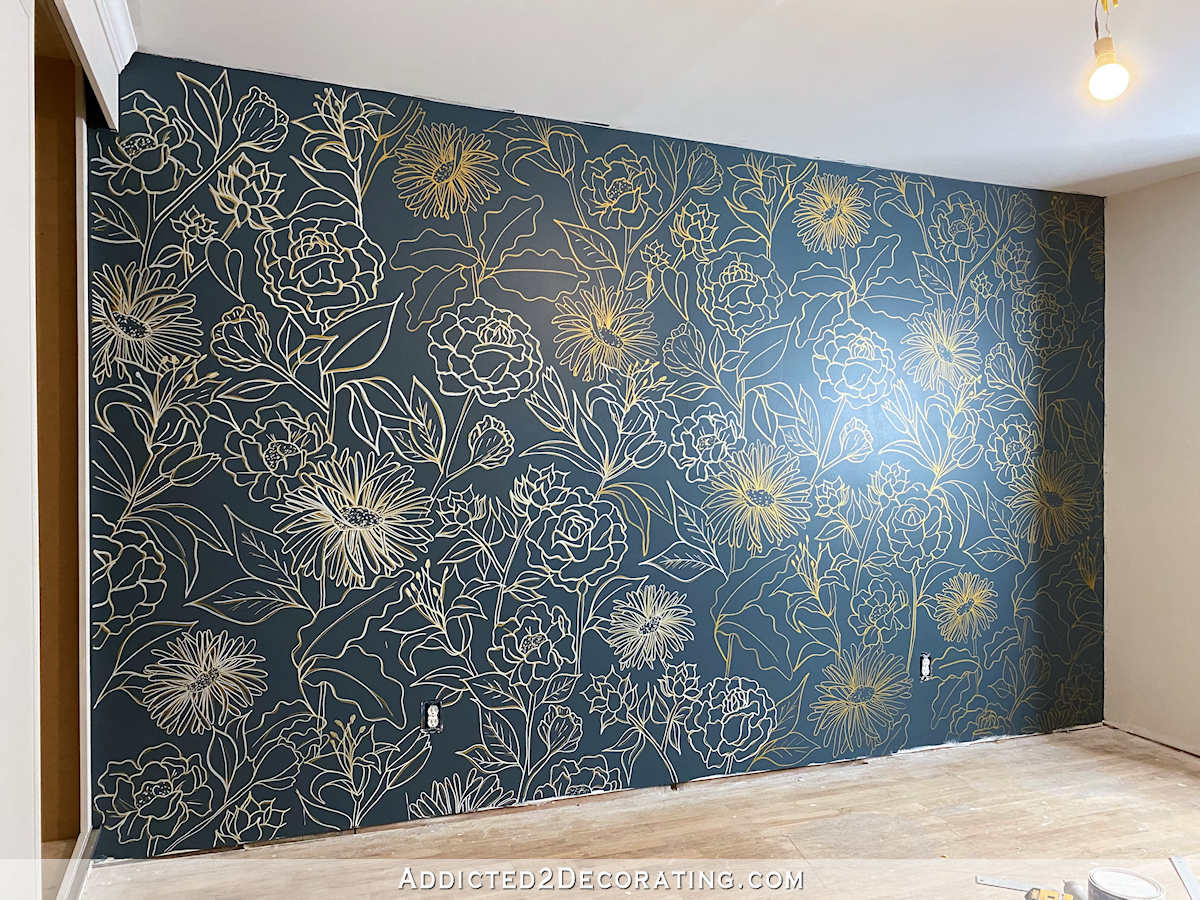 I'm pretty sure I can finish it today, so hopefully I'll have a finished wall to show you tomorrow.
As I said, I used an overhead projector for this project. I bought a very inexpensive one a few years ago when I did the butterfly and branch design on the entryway wall. I think it was around $50 on Ebay. So once I had my designed printed on a transparency (which I had done at FedEx Office), I was ready to go.
I set up my projector and the transparency with the design on one side of the room…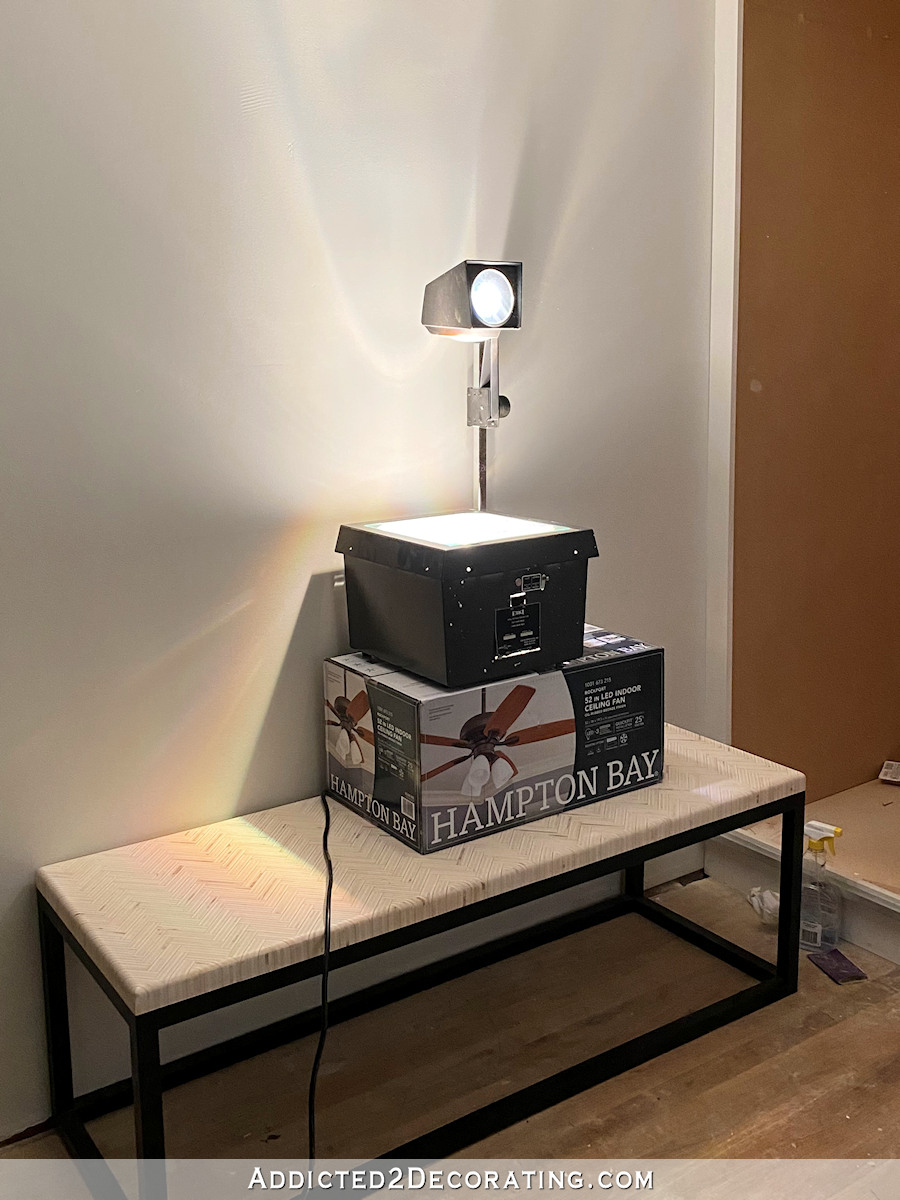 …and started on the top left corner of the wall…
And then I began tracing, and tracing, and tracing.
These are the pens I used for the design — DecoColor extra wide acrylic paint marker in gold and a Sharpie extra wide water-based paint marker in white.
My original idea was to do the entire design in gold only. When I got the first section done, I loved it.
When I got the second section done, I still liked it, but the whole design was looking a little dark and blah to me. That particular gold pen was darker and more yellow than I had hoped, but there just aren't many options when it comes to thick gold pens that will work on a wall. It was pretty, and if you're a person who doesn't like a lot of high contrast, this would probably be perfect for you. But I tend to be drawn to higher contrast, so I began to wish that I had done the design in white instead of gold.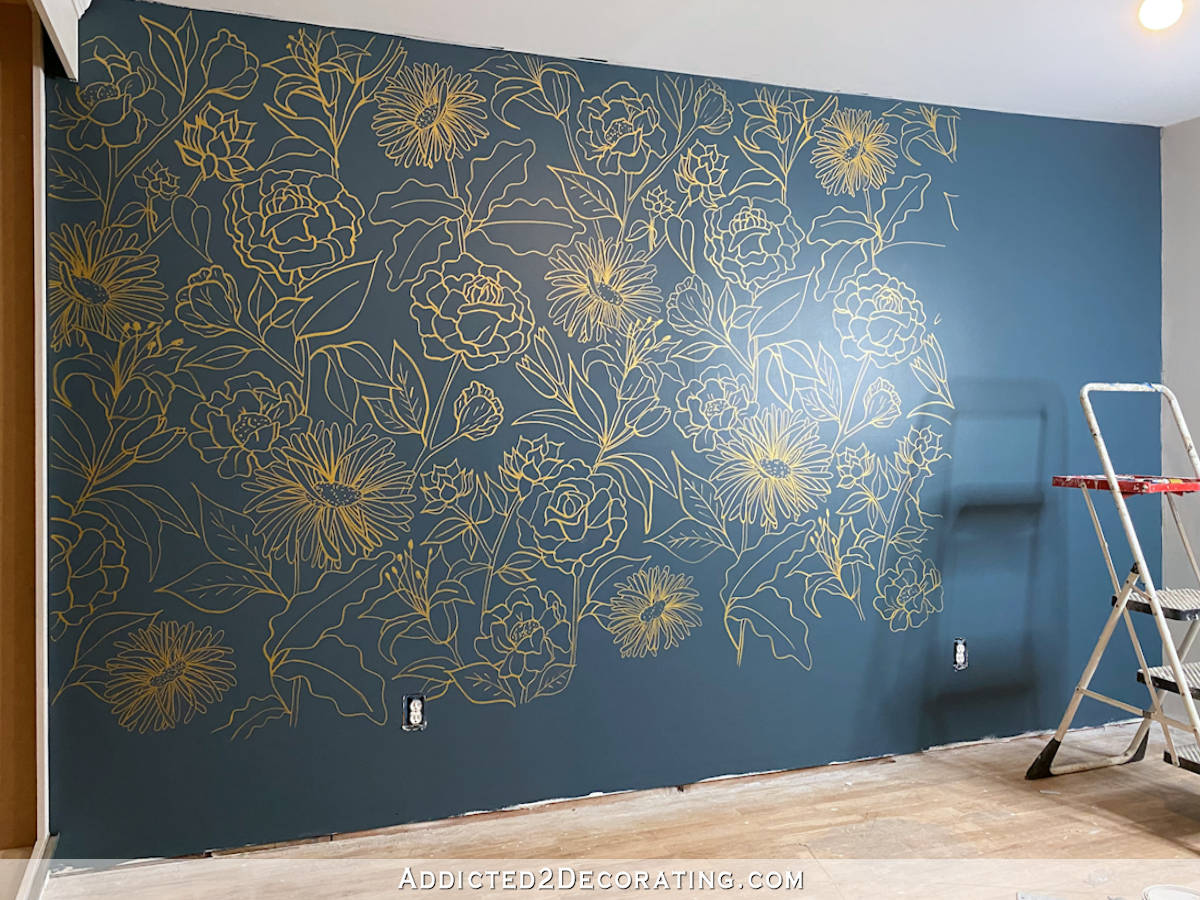 So after showing it to my mom and telling her that I wish I had gone with white instead of gold, she suggested that I go over the gold in white. But instead of doing it carefully and trying to cover over all of the gold, she suggested that I do the white in such a way (quickly, imperfectly) that quite a bit of the gold still shows. So I tried that out, and I loved it! And the big white water-based Sharpie worked perfectly on the wall.
Here's a close-up peek at the design. See how there's still quite a bit of gold showing?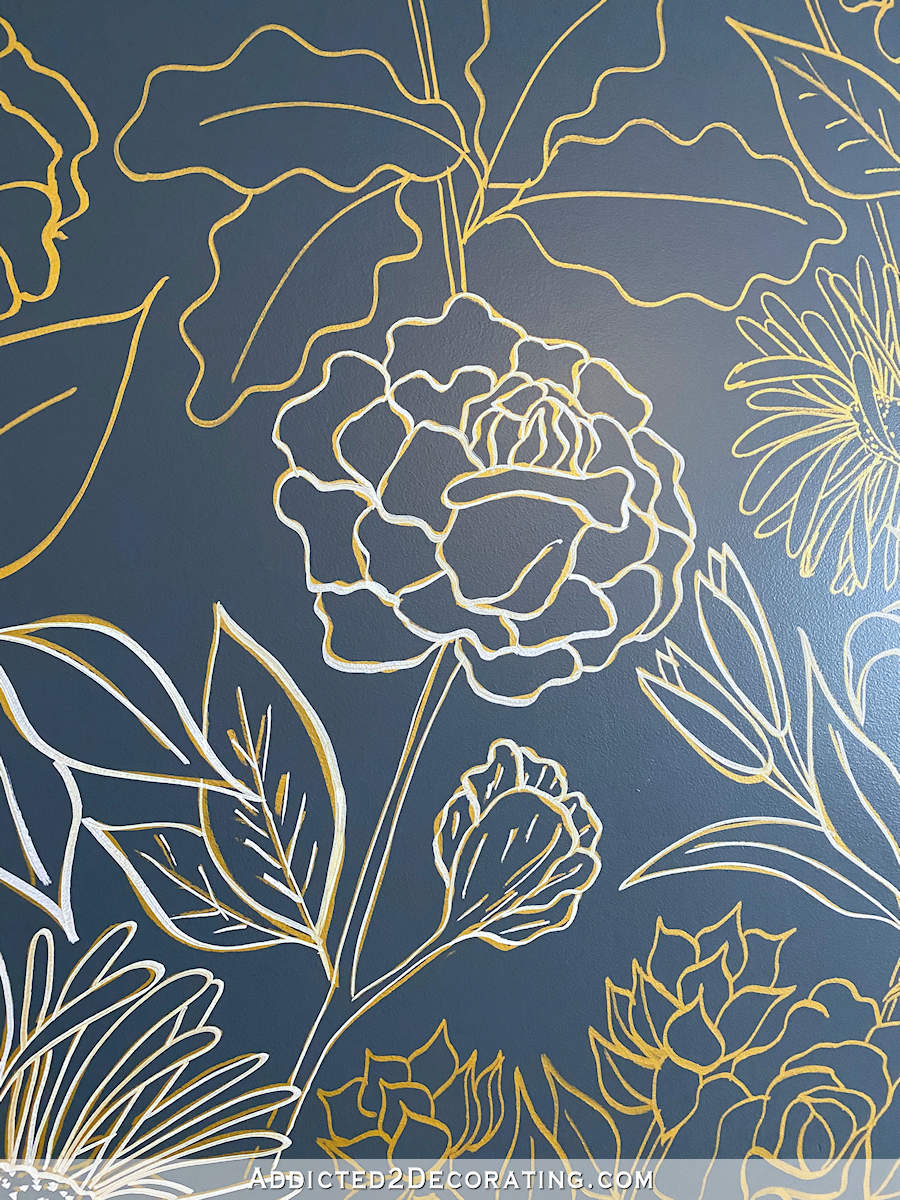 And let me tell you, I wasn't striving for perfection at all with this design. I think the fact that it looks like messy doodles adds to the charm of the design.
So after getting all of the gold finished, I started on the white.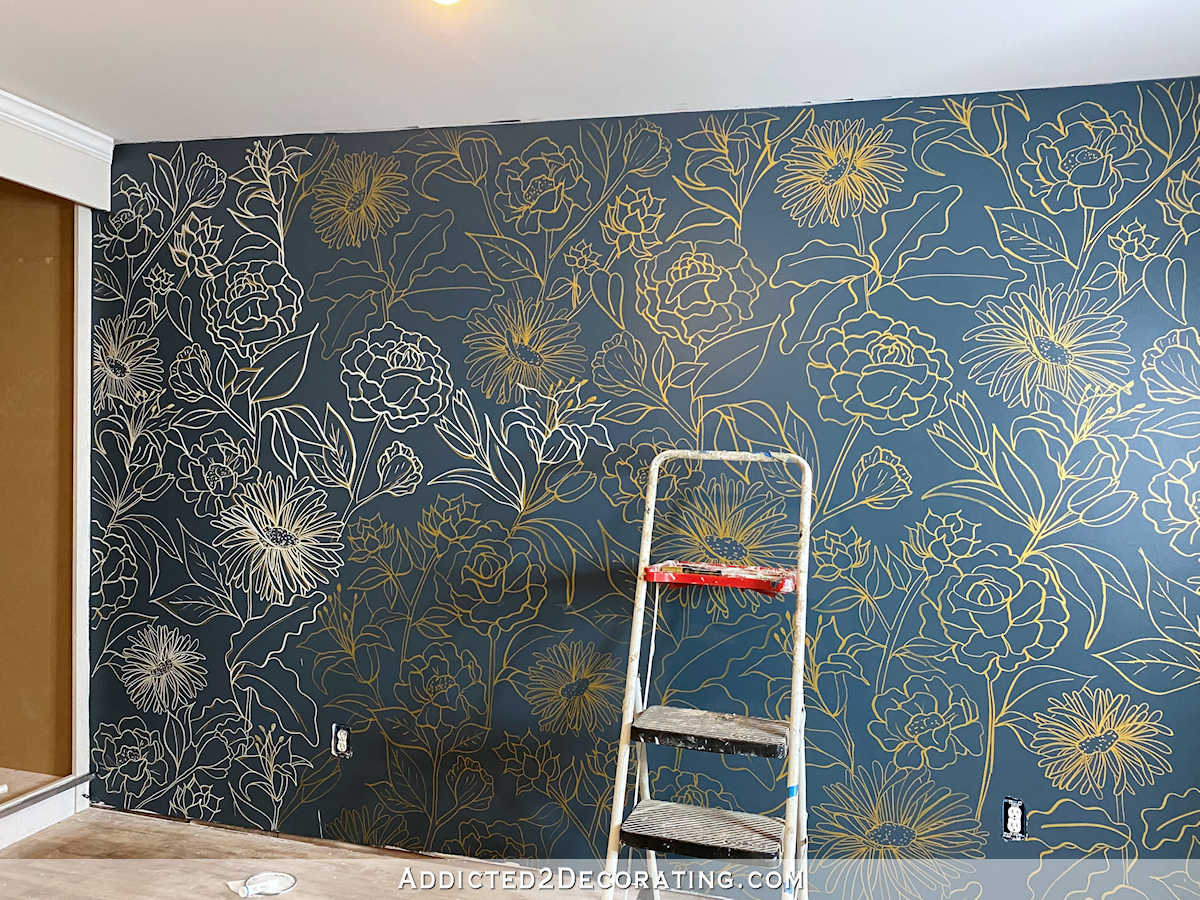 I'm loving how the wall is turning out. This was my progress when I stopped working last night.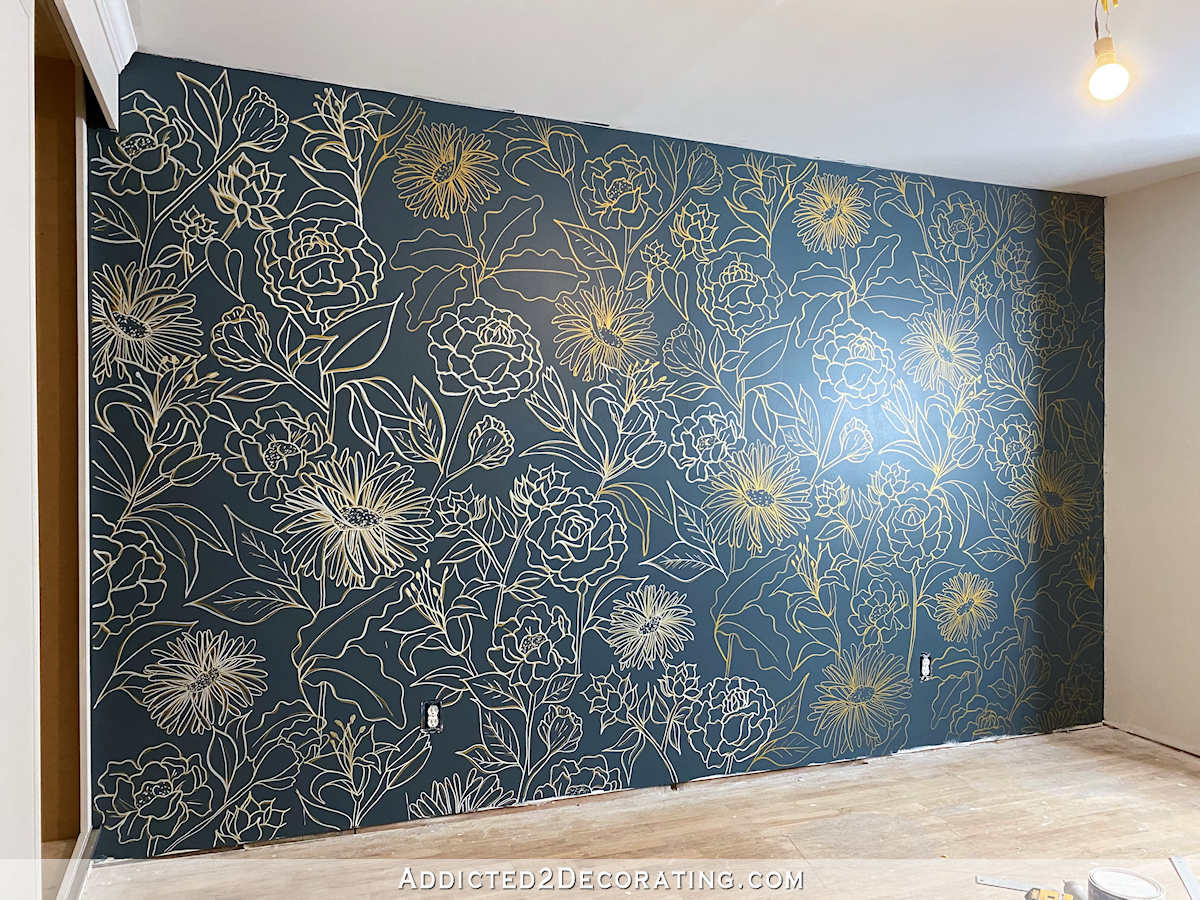 The gold was the hardest part, especially because the design I had made wasn't a seamless repeatable pattern vertically. I had intended for the design to cover the entire height of the wall, but I couldn't get my projector back far enough to make that happen. So I ended up having to piece together the design and freehand some of the elements at the bottom of the wall, but I think I made it work.
The white part goes fairly quickly, so I think I'll be able to finish up the whole wall in about an hour and a half. Since I used water-based pens, I think I might have to put a clear coat over the whole wall when it's finished. And since brushing or rolling might mess up the paint pen design, I'll probably have to spray it. I'll use my favorite General Finishes High Performance Topcoat in a flat finish. Then hopefully I can get the trim up and have a finished feature wall.
By the way, a few of you asked for wall color details. It's a custom color match, and here's the formula…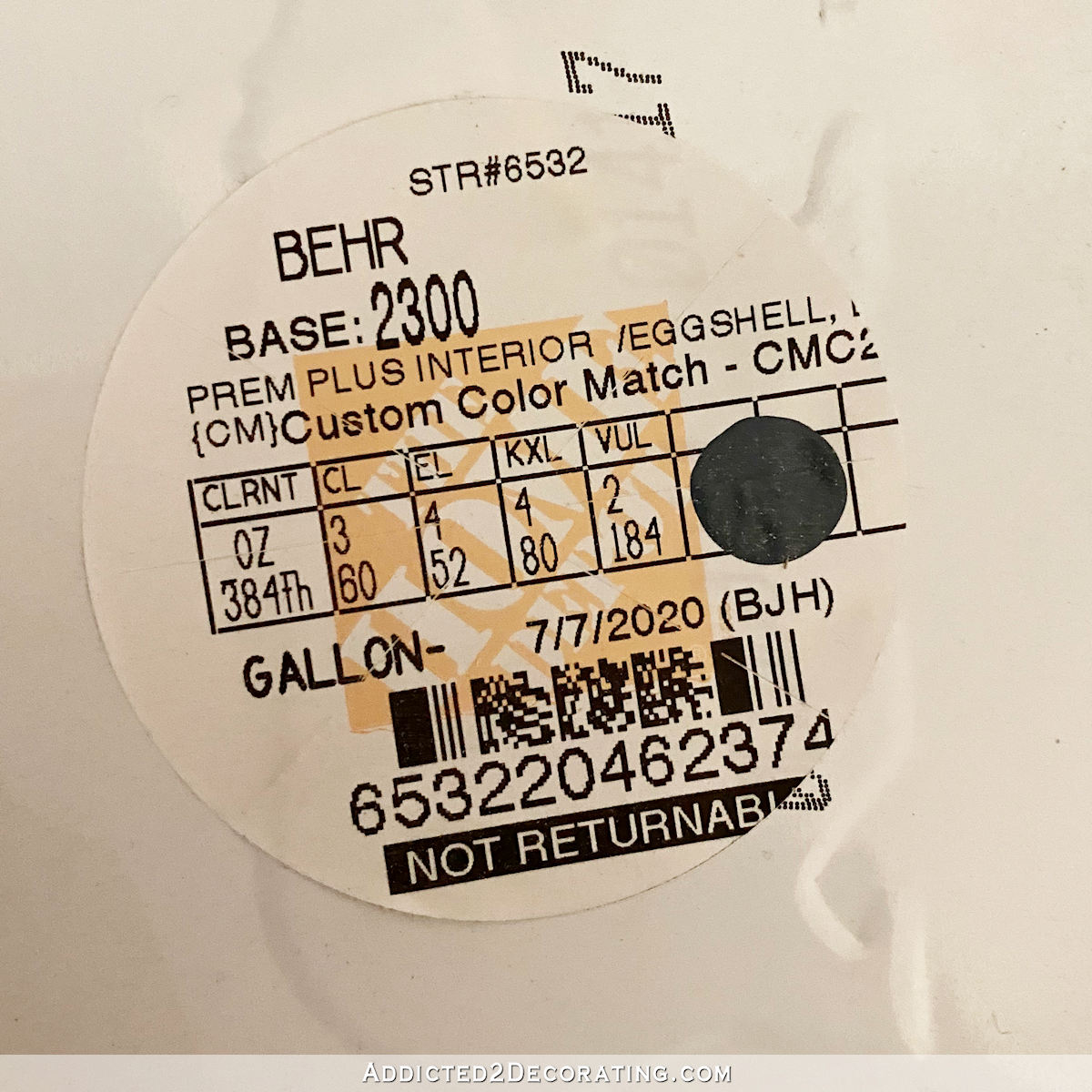 UPDATE:
The hand-drawn wallpaper feature wall is finished! You can click here to see how it turned out.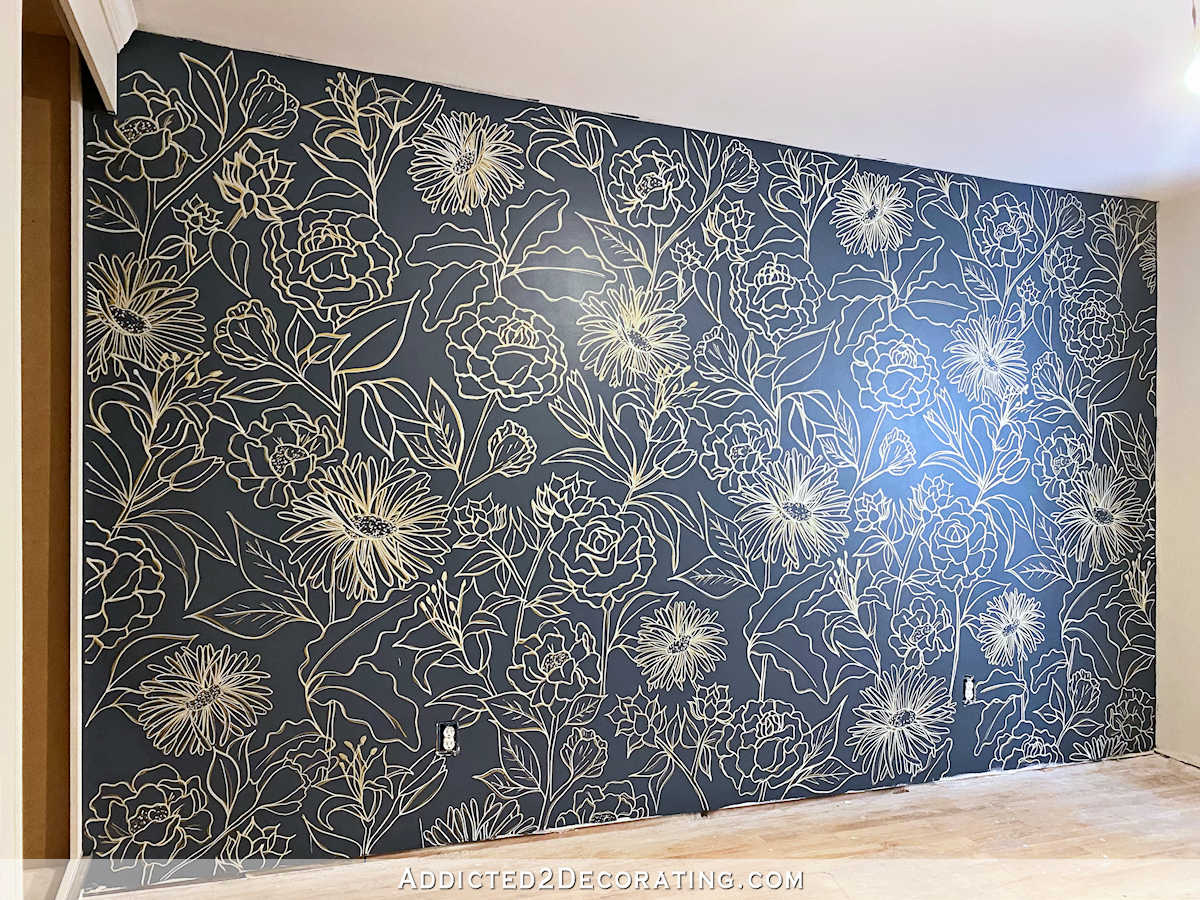 Want to see how the room turned out? You can click here to see the whole before and after of our guest bedroom remodel.
Addicted 2 Decorating is where I share my DIY and decorating journey as I remodel and decorate the 1948 fixer upper that my husband, Matt, and I bought in 2013. Matt has M.S. and is unable to do physical work, so I do the majority of the work on the house by myself. You can learn more about me here.