DIY Whitewashed Red Oak Studio Floor – Part 1
My whitewashed red oak floor isn't finished yet, but we did get the most important (and definitely the most difficult) step finished yesterday — the actual whitewashing of the wood floor. So I wanted to show you how it turned out, and also share the whitewash stain formula that I ended up using.
The floor still needs to be polyurethaned, and that will happen later this week. I ordered the polyurethane late, so it's not scheduled to arrive until Wednesday. I'll also be adding some white universal tint to the polyurethane to brighten and smooth out the finish a bit more, so the final floor should be a bit whiter and brighter than it is now. But this first step was a very good start towards cutting the red and pink undertones of the red oak floor, and giving the floor a nice, bright appearance.
Before I show you the whitewashed floor, let me remind you just how red red oak flooring really is…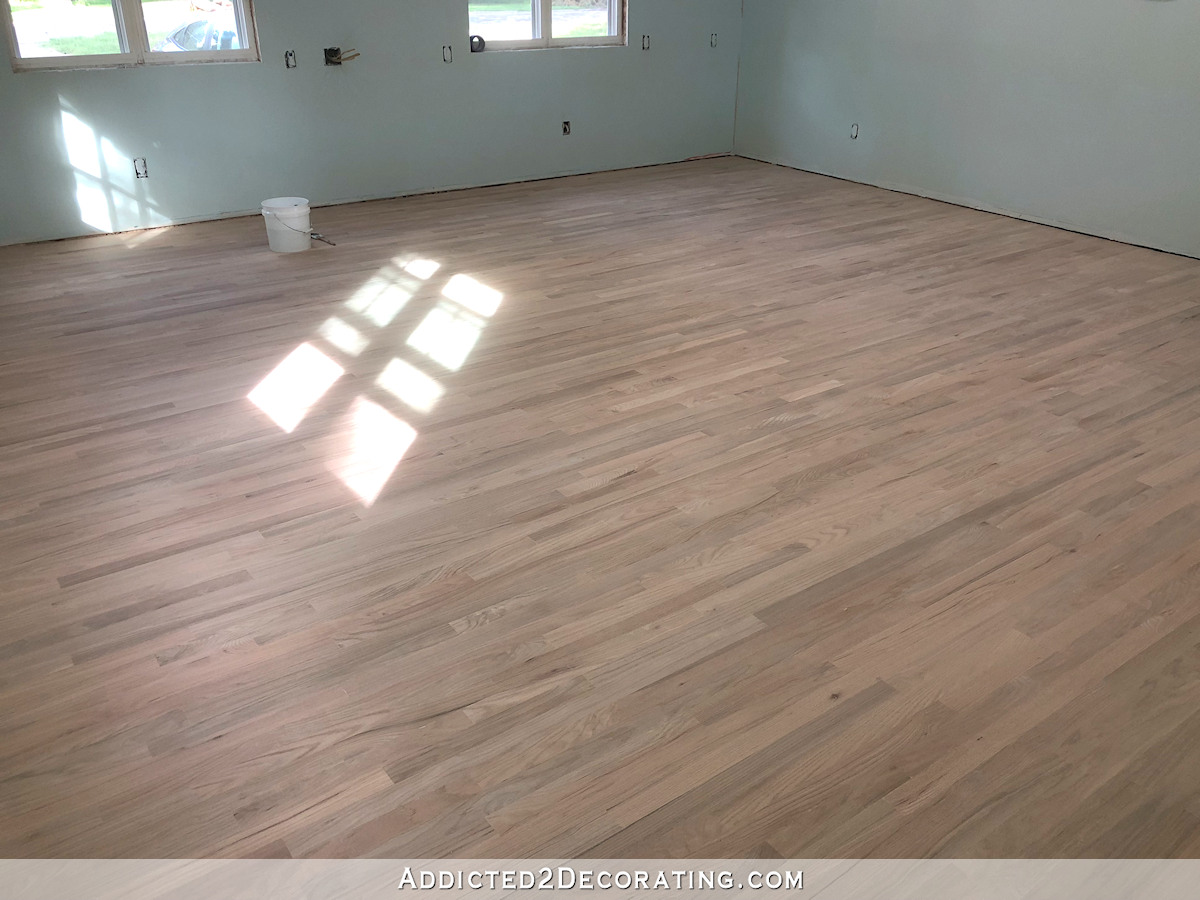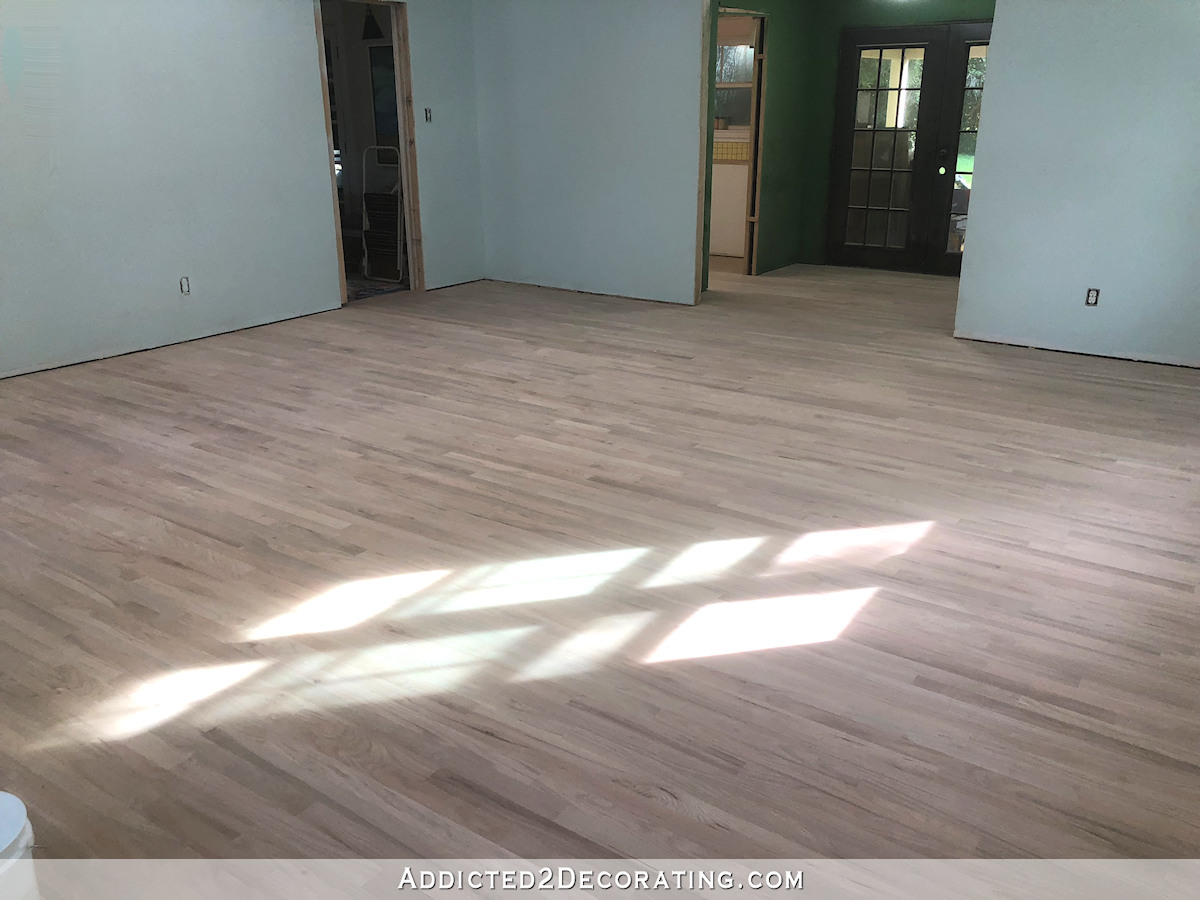 Many of you suggested that I just seal the floor in its natural state, but red oak is way too red (pink, actually) in its natural state for my personal taste, and any clear sealer (yes, even water-based) enhances the pink even more.
I used red oak flooring because that is the flooring that's throughout the original part of the house, and in the event that Future Kristi wants this floor to be stained to match the rest of the house, that can be done since I used the same species of wood. But for now, I want this floor light and bright.
This was definitely a two-person job. My brother used a rag dipped into the stain mixture, and wiped the stain on the floor. Then I came behind him with dry rags and wiped away the excess. Because water-based stain dries ridiculously fast, we had to work pretty quickly.
Here's a look at what the whitewashed area looks like compared to the natural red oak floor during the whitewashing process…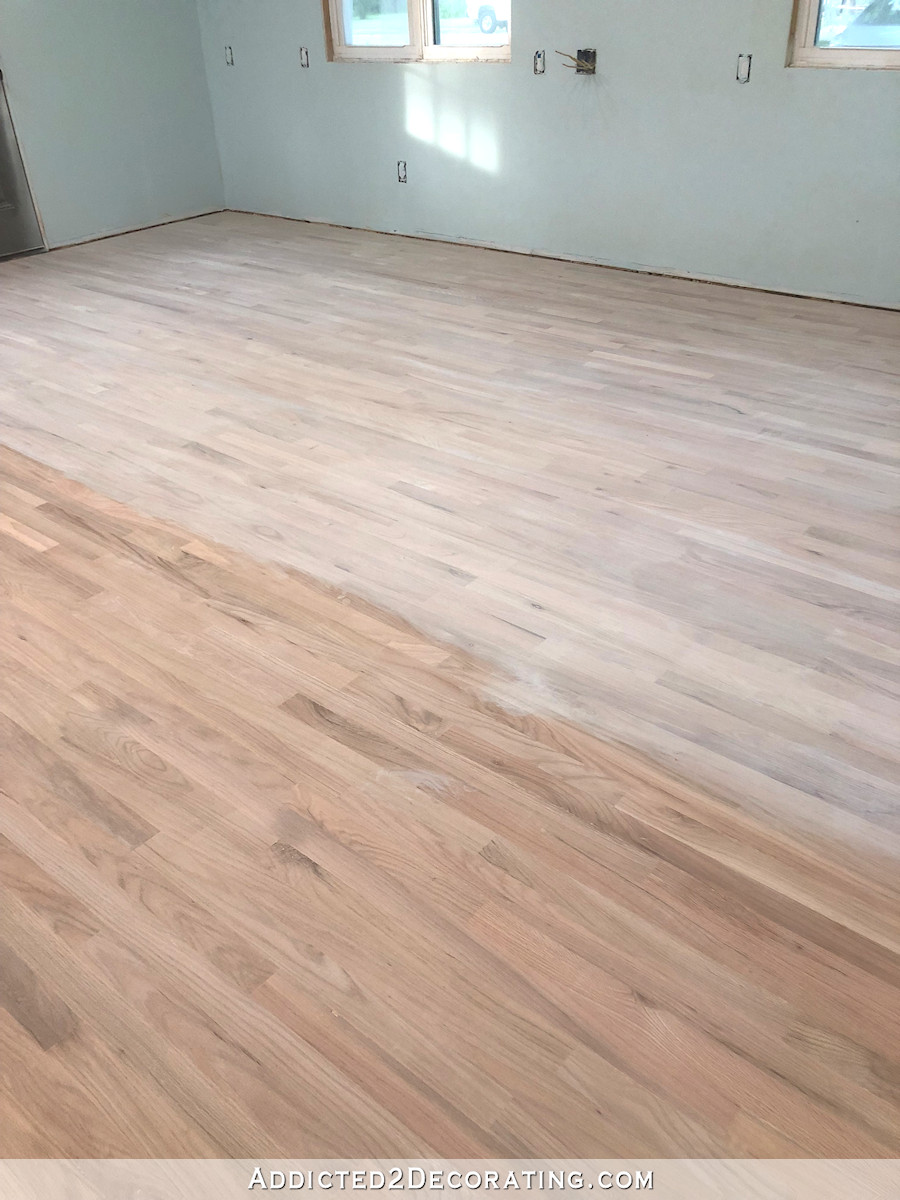 You can see that the whitewash is subtle, and yet it drastically cuts the red/pink color from the wood.
It took us just under three hours to do the whole floor — studio, half bath, storage closet and back entry — but just look at the beautiful results!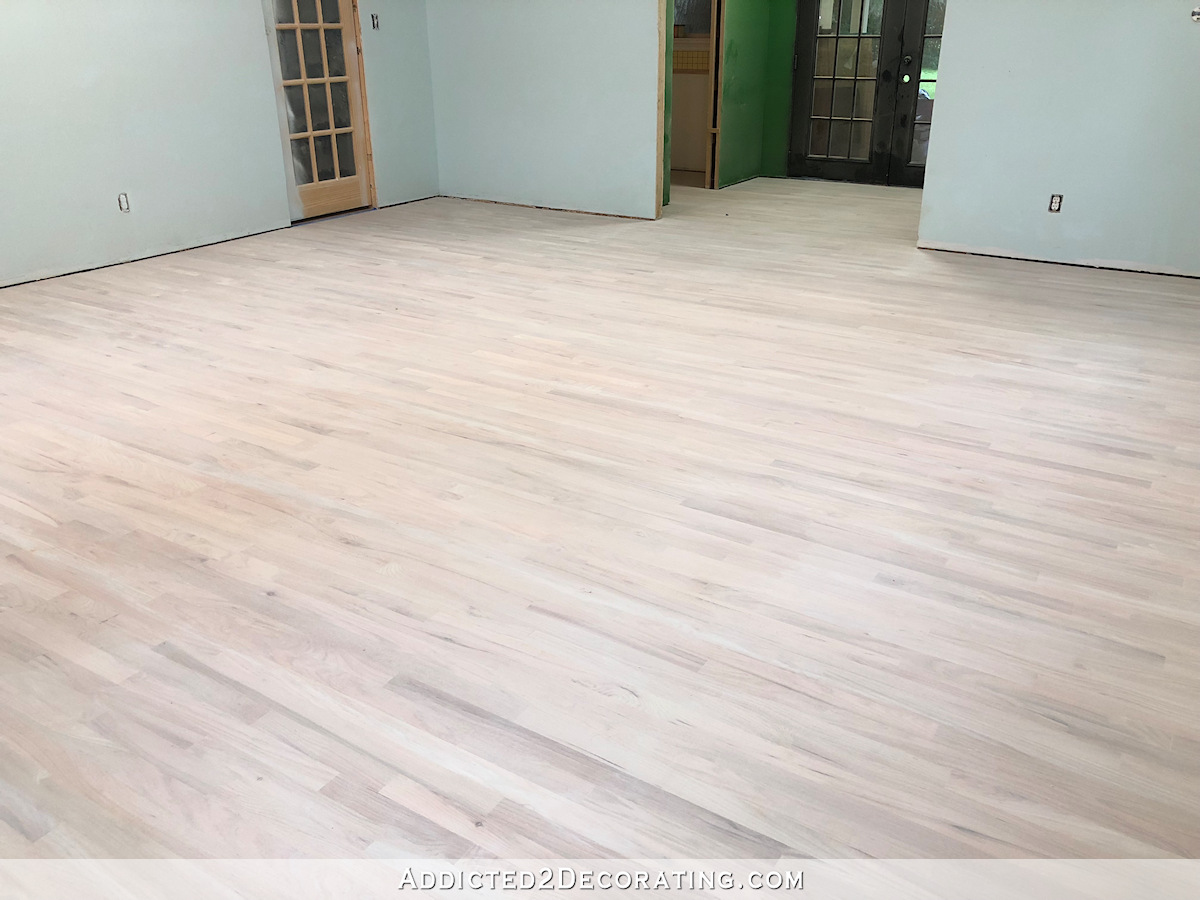 Once again, here's the before picture…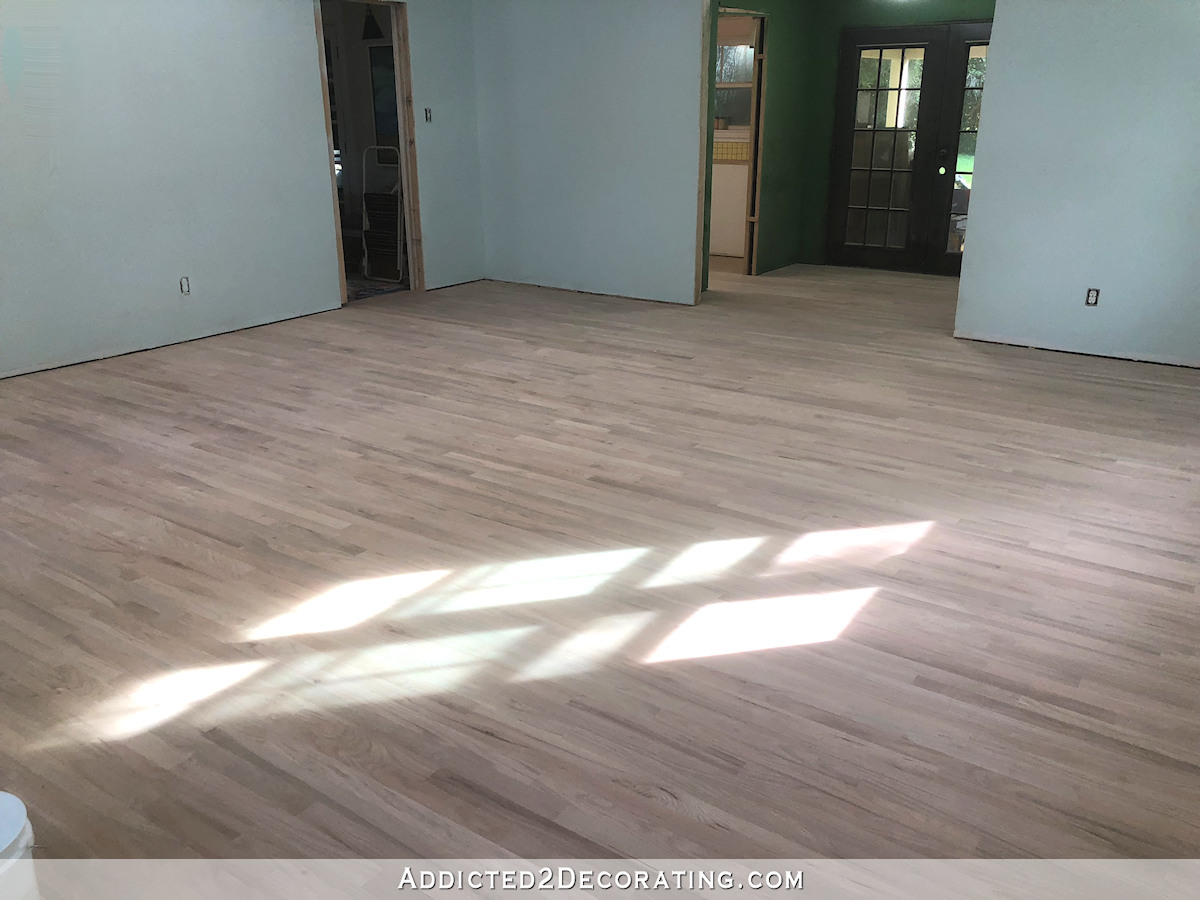 Here's another view of the whitewashed floor…
And here's how that same view looked before the whitewash stain…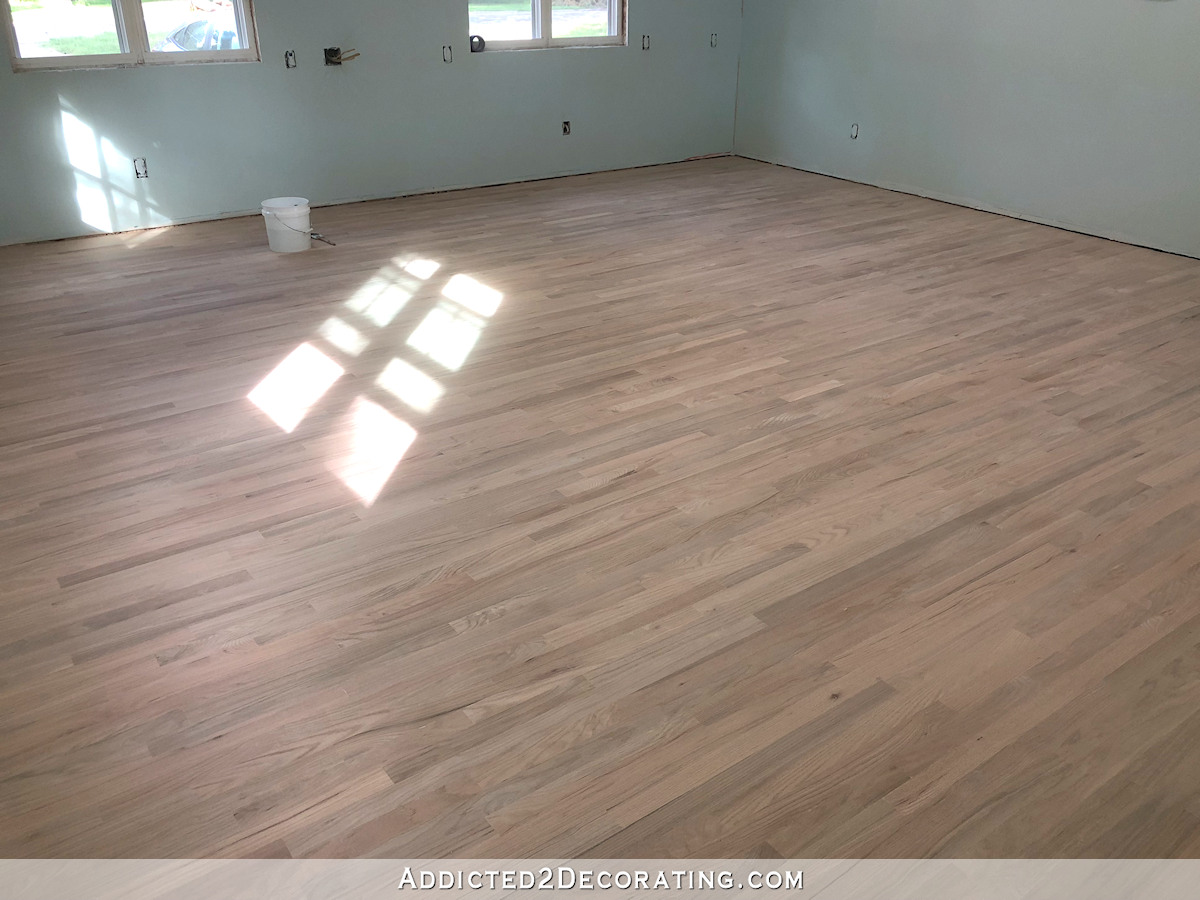 That's not quite an apples-to-apples comparison since those pictures were taken at different times of the day, which affects the natural lighting in the room. But there's nothing inaccurate about the red tones in floor in that before picture.
As I mentioned, the floor finish is only halfway done. I still have to polyurethane the floor, and that will make it whiter and brighter. But I'll share those details, as well as the finished floor, later this week. But here's the most important info I can give you about this first step…
Stain Formula For Whitewash For Red Oak Floor
First, let me make clear that I wanted my floor to be whitewashed and have a light and bright appearance, but I did NOT want a rustic, farmhouse result (like this). Rustic is not my style at all. I wanted a clean and consistent look to the floor. The last thing I wanted was a streaky appearance, or the look of whitewash stain over dark wood, or the look of aged wood hidden under a chipped off white finish. So if any of that describes the look you're going for, then this may not be what you're looking for. Or at the very least, you may require a staining step with a dark stain before you whitewash the wood.
I'll also say that the stain I used specifically says on the can "not intended for floors." That didn't stop me. 🙂 But just be aware of that before you try this.
Anyway, I purchased a two-gallon bucket from Home Depot, and for my 550-square feet of flooring, I mixed:
1 gallon of Varathane classic water-based white tint base wood stain
6 teaspoons of green craft paint
1 cup of Behr white flat ceiling paint (no colorant added — just use it right out of the can)
1 cup of Floetrol
1 cup of water
This was plenty of stain for my 550-square feet, and I even had quite a bit left over.
The purpose of the green craft paint was to add a slight green tint to the stain to counter the red undertones of the wood. And in fact, the Varathane white tint base stain right out of the can has a slight red undertone to it. So the green cuts both. This is the specific green paint that I used, purchased at Michael's.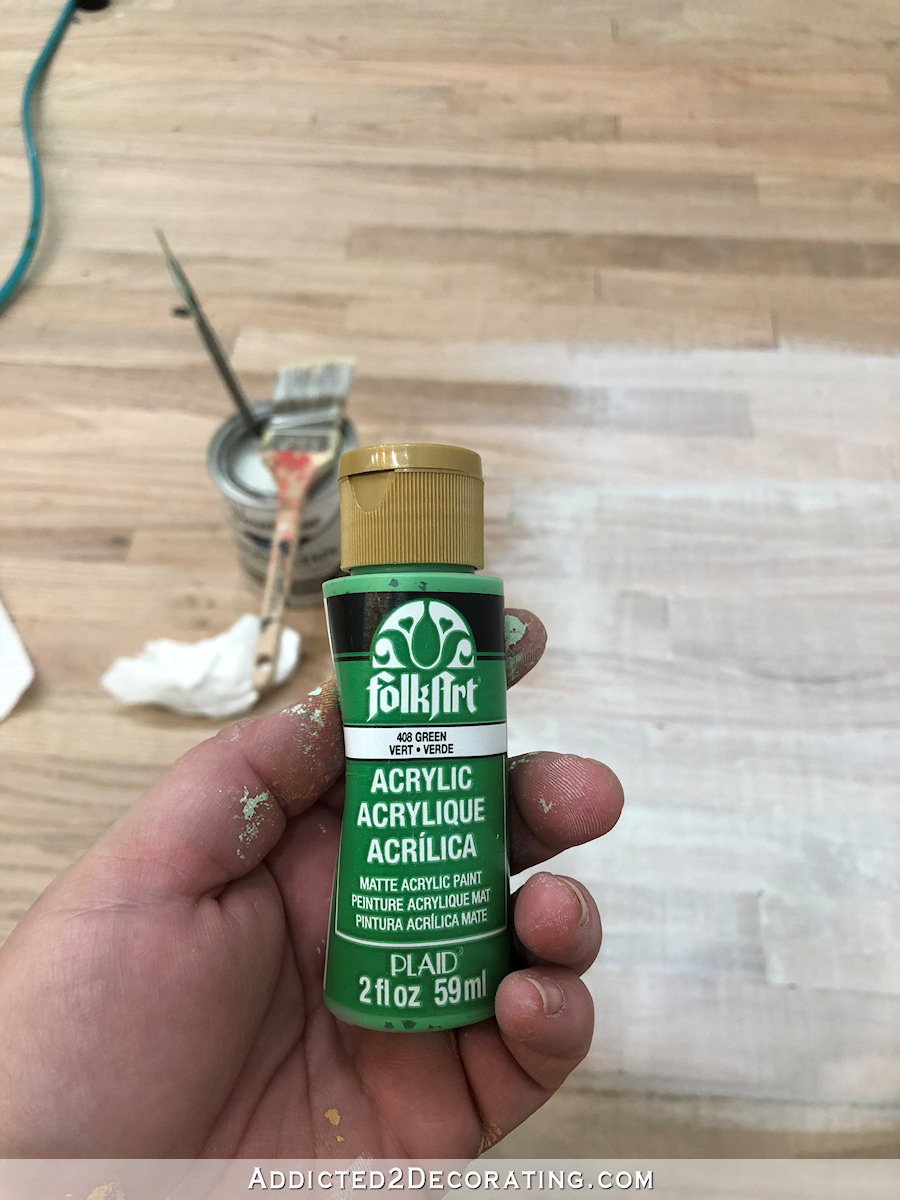 And the stain did have a green tint to it. It was subtle, but unmistakable.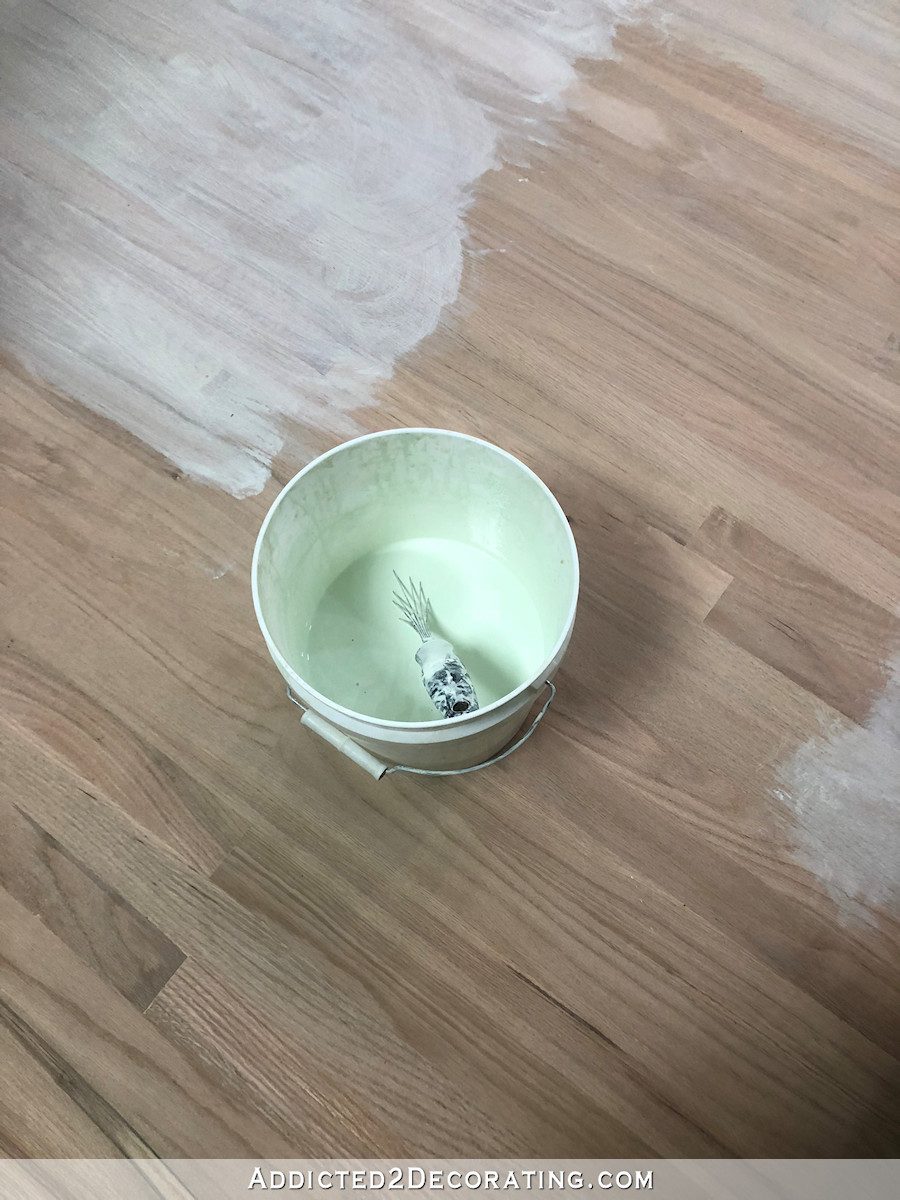 But you can see that once it was on the floor, the stain doesn't look green at all.
If your flooring has a different undertone that you want to minimize, just use the color that is opposite the undertone color on the color wheel. If your floor is really yellow, add a touch of purple. If your floor is really orange, add a touch of blue. You get the point.
The white paint was added to add a bit more solids to the very watery stain. A few days ago, I tested this stain on the floor before I sanded. The first two samples that I tested were one coat of stain (one straight out of the can, and one with a bit of green tint added). The one coat seemed way too sheer. So I tried a third sample with two coats of stain, and that seemed too white and opaque. So I thought one coat of stain with some paint to add more solids to the watery stain might be a good in-between compromise between the one and two coats of stain that I tried the other day. (You can see those samples here). The one coat of stain with a bit of white paint added did seem to get me somewhere between those samples a few days ago.
I added the Floetrol in hopes that it would slow the drying time just a bit. The main thing that makes water-based stain so frustrating to work with is that it dries so fast, causing problems where a wet edge meets an already-dry edge. The Floetrol did seem to help a great deal. But I would still recommend turning off ceiling fans and anything else in the room that causes too much air flow that might dry the stain faster. The longer you can keep a wet edge, the better the result will be.
But even if you are very careful, turn off anything that creates air flow, and work really fast, you might end up with some areas of overlap that dried too fast and could't be wiped off with a rag, like this…
If that happens, don't panic! Just let it dry completely, and then use some 220-grit sandpaper and lightly sand the overlapped area until it matches the rest. If you keep trying to rub the drying stain with a rag to get rid of the overlap, you might end up taking all of the stain off instead, and then if you try to add more stain, you'll make an even bigger mess of things. So it's better to just let it dry and then sand it lightly and strategically to make the line disappear.
And finally, I added a bit of water just to bring the whole mixture back to the consistency of stain.
So that's Step 1 in the whitewashing process. I can't wait to get this finished!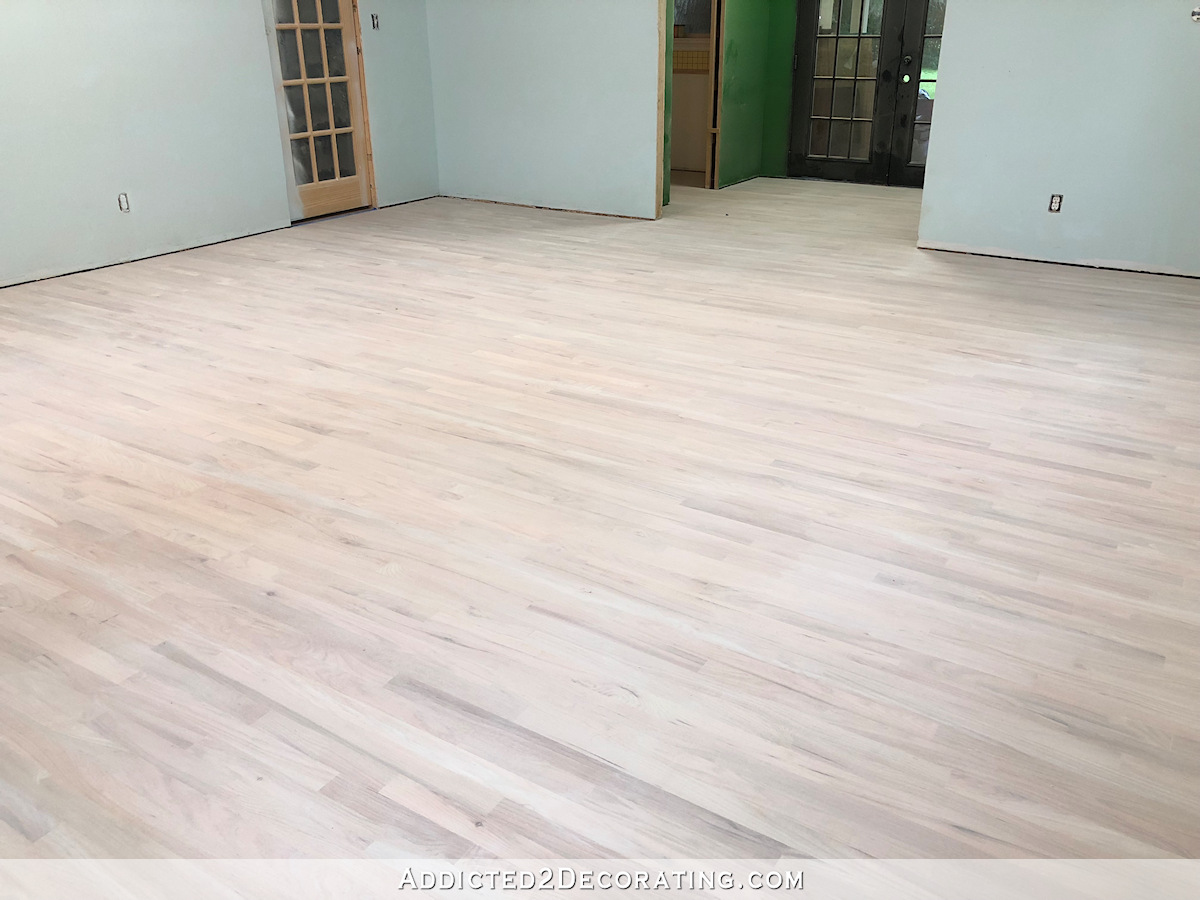 Update:
My whitewashed red oak floor is finished! Here's how it turned out…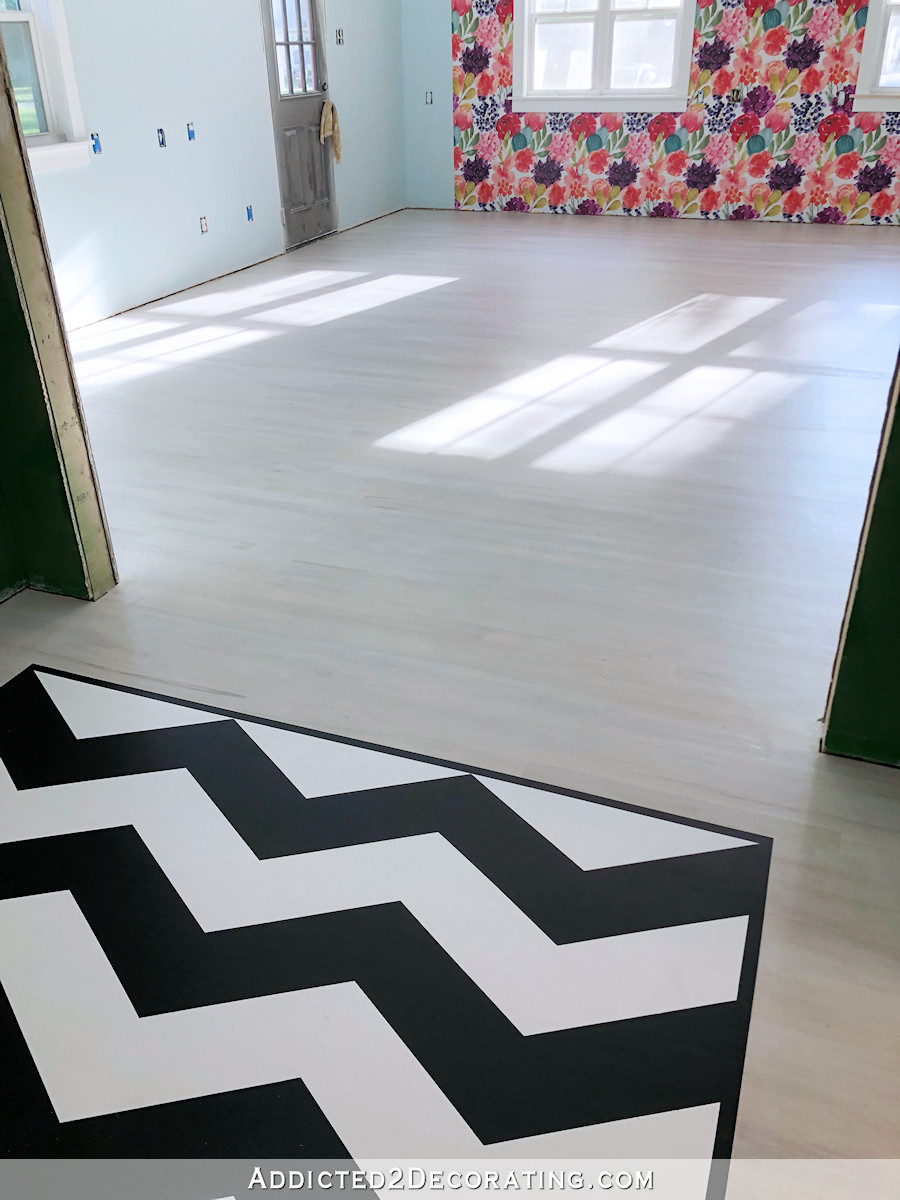 You can find the next post for this project here…
And see the final post, and the finished floor, here…
Addicted 2 Decorating is where I share my DIY and decorating journey as I remodel and decorate the 1948 fixer upper that my husband, Matt, and I bought in 2013. Matt has M.S. and is unable to do physical work, so I do the majority of the work on the house by myself. You can learn more about me here.