Last Updated on October 25, 2019 by Kristi Linauer
I had hoped to be able to show you my completely finished studio floor today, but I didn't quite get everything done. BUT…I did get the entire whitewashing process finished, and I was way too excited about how things turned out to wait until Monday to show you.
If you missed the first part of this project, you can see that here…
So to this point, I installed the floors (obviously 😀 ), rented the big drum sander and sanded the floor, stained the floor with a custom mix of whitewash stain, painted a black and white chevron design on the back entry floor, and added two coats of white-tinted polyurethane.
I still need need to do three coats of clear polyurethane on the floor (four coats on the painted part, since I didn't use the white-tinted poly on that part). But since those clear coats of poly shouldn't affect the color at all, what I have now should be the finished color.
So just a reminder, I started out with unfinished red oak hardwood flooring, which looked like this…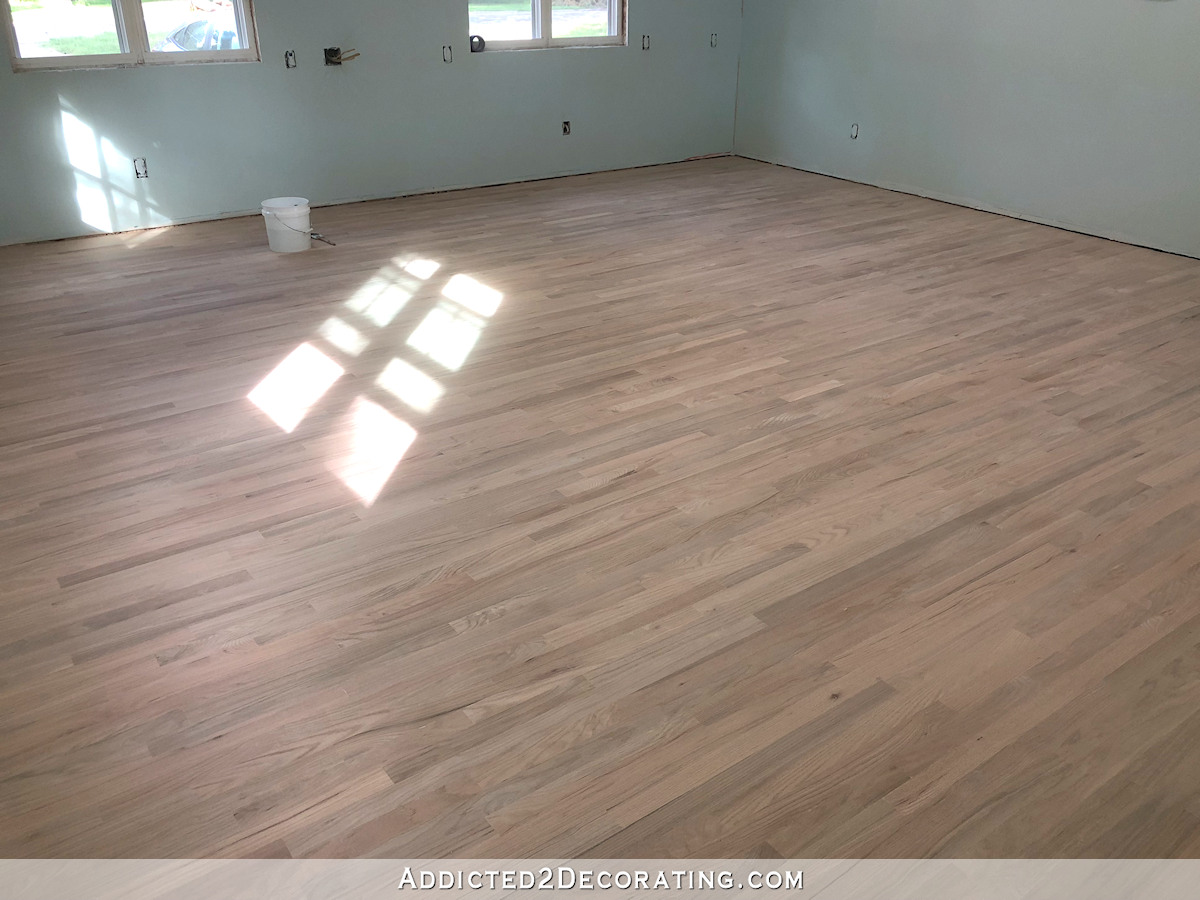 Red oak, as the name would suggest, has some very obvious red and pink undertones, and I didn't want my finished floor to be red/pink.
So now, after the whitewashing process, the floor looks like this…
Y'all!!! I'm am giddy with excitement over how this floor turned out! I had high hopes, but this exceeds my expectations.
I am so glad I didn't go with dark floors in there. The room is so light and bright and airy!

So the hard part is finished, and I'm breathing a sigh of relief. I was so concerned that I'd wind up with a splotchy or rustic-looking floor. But there's nothing rustic about my whitewashed floor, and the finish is so smooth and even. There's not a splotch to be seen.
The clear coats should be the easy part, and in order to avoid the need to lightly sand the floor, those three coats have to be done today. If I wait until tomorrow (more than 24 hours since the last coat), the entire floor would have to be lightly sanded. I've already sanded this entire floor by hand (on my hands and knees) once, and I think I'd cry if I had to do it again. 😀
Finishing this floor was such a major hurdle in the studio project. I feel like a huge weight has been lifted from my shoulders, and it seems like a downhill slide from here on out. I can get to the fun and colorful stuff very soon. And speaking of fun and colorful, my wallpaper should be here on Monday!
I will be writing a post next week in which I'll share every detail of whitewashing the floor, including all of the info about how I mixed up the white-tinted polyurethane, and how I applied it. So if you're considering whitewashing your floor and wondering about the process, that info is coming. I just wanted to finish the entire process before writing about it in detail.
Update:
My floor is finished! Here's how it turned out…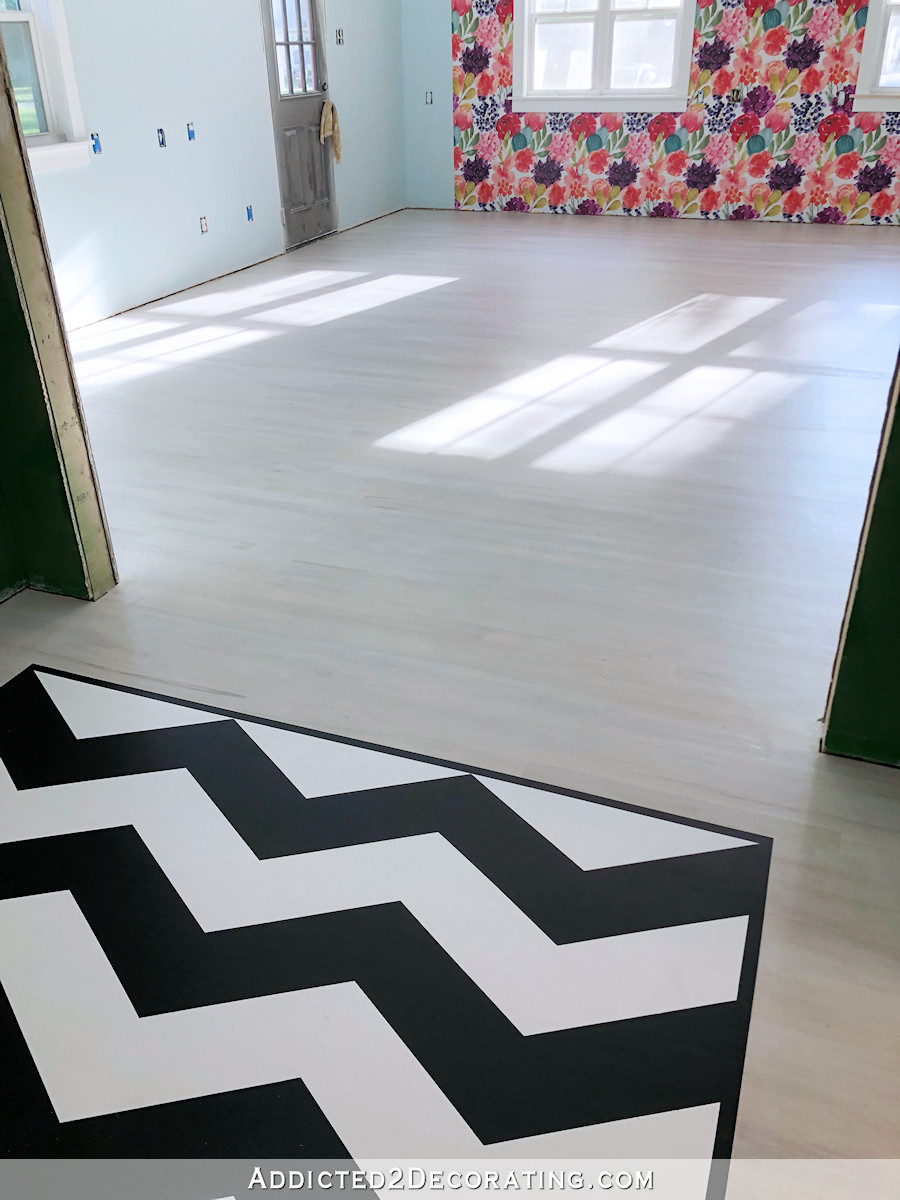 You can see the final post of this whitewashed red oak flooring project here…
Addicted 2 Decorating is where I share my DIY and decorating journey as I remodel and decorate the 1948 fixer upper that my husband, Matt, and I bought in 2013. Matt has M.S. and is unable to do physical work, so I do the majority of the work on the house by myself. You can learn more about me here.
I hope you'll join me on my DIY and decorating journey! If you want to follow my projects and progress, you can subscribe below and have each new post delivered to your email inbox. That way you'll never miss a thing!