Conclusion: I Just Don't Like Light Neutral Paint Colors (Except White!)
Let's forget striped draperies, green fireplaces, black fireplaces, and everything else for a bit, and just talk about wall colors. You know how I say that I don't like gray? Well, I think my issue might be with more than just gray. I think my issue is with all medium to light neutral paint colors, with the exception of bright whites.
When Matt and I moved into our condo in 2006, the walls in the whole place were painted a flat builder white. The place looked so lifeless, and I couldn't wait to get paint on the walls. I searched and searched for the perfect neutral color to give the walls just a touch of color, but after bringing home sample after sample of various light neutral paint colors, I finally got so frustrated that I just chose one at random, painted the living room and kitchen, and lived with it for about two years before I really started working on the condo.
The color was awful, but I determined that the reason all of those neutral colors looked so terrible was because of the lack of natural light. After all, the entire condo only had four windows in it, and the two windows in the front of the condo (one in the breakfast room and one in the living room) were both underneath a second-story walkway, so the rooms always felt dark.
After a couple of years, when I finally did get serious about working on the condo, I remembered that frustration of trying to pick a neutral paint color, combined with the fact that the condo didn't get much natural light, and decided on a soft buttery yellow for the walls. Yellow is the brightest of all of the colors, so I thought it would give the rooms some brightness. It did just that, and I absolutely loved the color on the walls — white trim (Behr Polar Bear) and light yellow walls (Behr Rich Cream).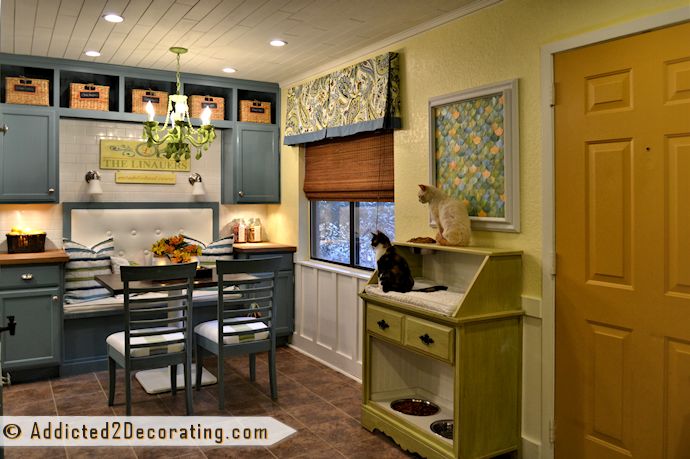 Well, fast forward seven years, and here I am working on my dining room and entryway in the house. And for about five months now, I've been looking for the perfect neutral paint color to go above the chair rail in those rooms. So far, I've got nothin'. The room that finally made me decide to do the picture frame moulding both below and above the chair rail in those rooms was this bedroom by Sarah Richardson.
via Sarah Richardson Design
But finding the perfect neutral to go above the chair rail in my rooms has felt like an impossible task. I've purchased about thirty samples so far, and considering that some of those have been the pricier Benjamin Moore samples, that means I've spent over $100 just on paint samples for my dining room in the last five months. I've tried some obscure Behr colors, but I've also tried some of the most popular neutral colors that are commonly used today.
Remember this sample board I did last October?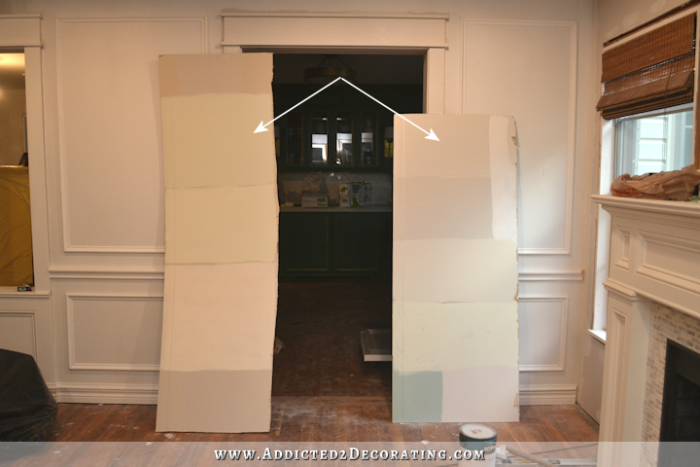 The two samples that I was considering — Behr Climate Change on the left, and Spun Wool on the right — just didn't work out. The green one glows, and the other one has red undertones, so neither made the final cut.
That second color down on the right side is Agreeable Gray. That color is incredibly popular right now, and has been for at least a couple of years. I love how it looks in other people's room.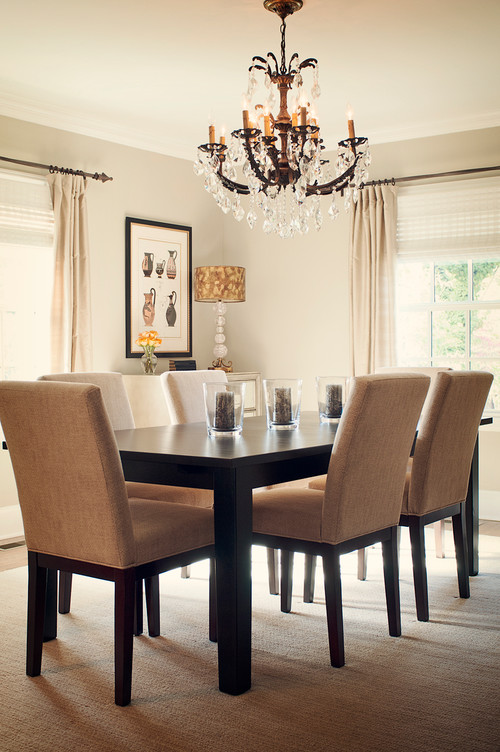 Traditional Dining Room by Greenville Interior Designers & Decorators Stephanie Swander Interiors
Traditional Living Room by Dallas Architects & Building Designers Domiteaux + Baggett Architects, PLLC
Isn't that pretty? It seems like it would be perfect! The problem is that Agreeable Gray has ever-so-slight lavender undertones in my room in the mid-morning light. I don't know how, but it does. And I really dislike purple in any form.
I also tried the very popular Anew Gray.
Traditional Bedroom by Greenville Interior Designers & Decorators Linda McDougald Design | Postcard from Paris Home
That was too dark for my room.
Now I know some of you are thinking, "Kristi, you don't like gray! Stop trying grays!" Right? But believe you me, I've tried just about every brown-toned neutral that Behr has, and I haven't liked a single one of them. Here's just a small sampling of what I've tried.
Behr's Barely Brown, Jodhpur Tan and Race Track. Too light, purple undertones, purple undertones. No, no, and no.
Behr's Castle Beige, Old Map, and Armadillo. Too drab, red/orange undertones, and red/orange undertones. No, no, and no. Plus, I live in Texas, and the way most of us Texans see armadillos is as roadkill on the street. Why in the world would I want something called Armadillo on my walls? (Seriously bad call on the naming there, Behr.)
I could seriously go on and on.
Behr Off White. Yellow green undertones, and not in a good way. No.
I have stacks and stacks of paint cards with nothing but brown toned neutrals, and I don't like a single one of them.
So I went back to the drawing board (i.e., back to Pinterest) and just starting searching "most popular neutral wall color" and things like that. The color that came up over and over and over again was Benjamin Moore's Revere Pewter. It's listed all over as a gray, but I decided to try it anyway. That's actually what all of those paint samples are being held up against it the photos above.
Now for the record, let me say that Revere Pewter is absolutely BEAUTIFUL in other people's rooms. I really love it.
Contemporary Dining Room by Chicago Interior Designers & Decorators Michael Abrams Limited
I looked at probably over 100 pictures of rooms with Revere Pewter, and it's a really beautiful color. So I tried it in my house. I painted it on a large sample board, and lived with it and moved it around the room over a two-day period. At first I really like it. Then it was just okay. Then I noticed that in the evenings, it turns really dark and brownish in my room.
So I had them mix a sample at half strength, and tried that. At first I loved it. I lived with it a couple of days, moved it around the room, and I still liked it quite a bit. I was fairly convinced that it was the color I was going to use.
Then yesterday, I put some of the Revere Pewter at 50% on a paint stick, along with the Derbyshire from my kitchen cabinets, and decided to head to the fabric stores to see if I could find a fabric for my dining room draperies. (As much as I love the black and white stripes, I'm open to other ideas if the stripes just won't work.) As soon as I arrived at JoAnn's and got out of my car with my paint stick and dining chair fabric sample, I glanced down at that paint stick and my immediate reaction was, "Ugh! That's so drab! What am I thinking? That is going to suck the life right out of my room…and me."
*Sigh* I'm so frustrated with this. How can I love these colors in other people's rooms and houses so much, but really detest them in my own? And what is my issue with neutrals?! I can tell you…it's all of the undertones. I see undertones very clearly, and it ruins just about every neutral paint color out there for me.
So I'm to the point where I'm just going to stop fighting my dislike of light neutrals. There's something about the way my brain is wired that needs and desires color, so I think I'm just going to go with it. I had almost convinced myself to give Revere Pewter a try just to see how it looks en masse on my walls, but Benjamin Moore paint is kind of expensive, and painting that room around all of the picture frame moulding is going to take a long time. I tried the Behr version of Revere Pewter (from their color-matched formula that they have in their computer system) thinking I could at least save some money. Nope. Lavender undertones. It's awful.
Which way am I leaning now for my dining room and entryway? Green. Very light green. The color that I think I've decided on is called Feng Shui. It's a really light but bright green. I used Behr's ColorSmart tool to "paint" one of their rooms with the colors that I'll be using, and here's how it turned out.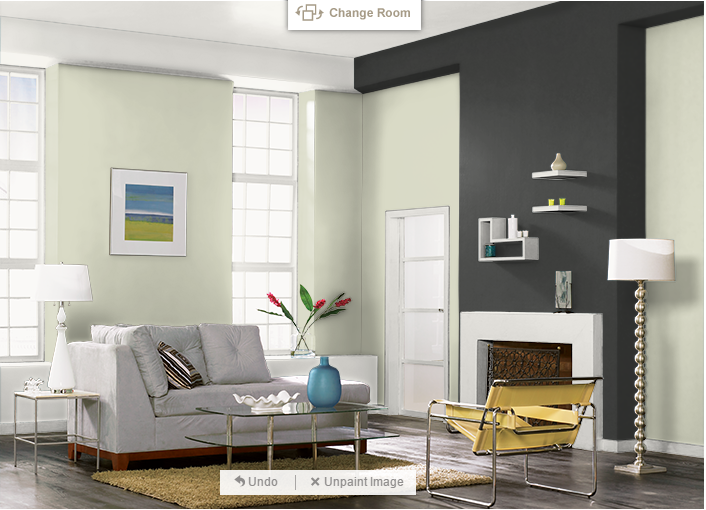 The walls are Feng Shui, the trim and ceiling are Polar Bear, which is what I use on my trim and wainscoting. And I also tried it with a dark charcoal color on the fireplace so that I could see what it'll look like if I decide to do my fireplace dark. I love it. This green also looks great with my kitchen cabinets AND with my coral buffet. (Not so much with my piano, so we'll talk about that later. 🙂 )
Green is a life-giving color to me. It energizes me and refreshes me. So unless I can make myself fall in love with a light neutral color (which is highly doubtful) between now and a few days from now when I'm ready to start painting that room, then I'm going with white wainscoting and light green above the chair rail. I know that means that it's back to the drawing boards for my choice of window treatments, but I'm okay with that. I just have to get these walls right.
Addicted 2 Decorating is where I share my DIY and decorating journey as I remodel and decorate the 1948 fixer upper that my husband, Matt, and I bought in 2013. Matt has M.S. and is unable to do physical work, so I do the majority of the work on the house by myself. You can learn more about me here.